IT'S MARCH 2021 in the coastal city of Malmö in southern Sweden. The country is nearing lockdown amid another surge of Covid, but there's an interesting sight at one of Malmö's pedestrian crossings.
Charlie Ryan, all 6ft 7ins and 115kg of him, is struggling to make his way across the road.
The Leinster second row is walking, just about. He's leaning heavily on crutches, having just had surgery on his knees. Tendonitis has been troubling him since the age of 16 and will eventually force him to retire from rugby in January 2023.
Ryan flew out to Sweden alone, laden down with documents to prove his travel was essential. He wasn't even sure he'd be allowed into Sweden. But he was determined to get to Malmö in order for the world-renowned professor Håkan Alfredson to operate on his knees.
The whole experience is made all the stranger by the fact that Alfredson keeps Ryan awake for the operations, which take place over two days. An epidural means the former Ireland U20s captain doesn't have to deal with the grogginess after a general anaesthetic. 
"I was trying to watch The Office on my phone with my AirPods in but I couldn't hear it over the sound of the surgery," says Ryan.
One knee the first day, the other the next. And then he's sent on his way.
"It was gas, they just say, 'There you go, well done' and you walk out by yourself with the crutches," says Ryan.
"I was staying in a hotel just up the road. I remember the lights at the pedestrian crossing going green and I started walking but I was going so slowly that it went red when I was still halfway through. No one beeped at me and I had to go again.
"I was so afraid to bend my knees even though I probably would have been fine. It went green, red, green again."
The story exemplifies how Ryan and Leinster did everything in their power to get him fit and healthy. It wasn't to be and he announced his retirement earlier this year at the age of just 23. The sheer effort that went into trying to get it right means that he feels at peace with his career being taken away from him.
It would be easy for Ryan to feel bitterness or anger. He was a hugely-promising player who led the Ireland U20s to a Grand Slam in 2019, the same year he captained the Leinster A team to Celtic Cup glory.
Despite being sidelined for nearly two years, Leinster gave Ryan a senior contract in 2022 in the hope that he'd finally recover and make an impact in the current season. Yet Ryan never got his chance to win a senior cap for his province.
Ryan Byrne / INPHO Ryan [centre] with Scott Penny and Rob Russell after the U20s Grand Slam in 2019. Ryan Byrne / INPHO / INPHO
Sitting in a café in the Dublin Docklands on a crisp, bright afternoon this week, having started working nearby with the family business, J.P. Ryan, the former second row recounts how he exhausted every avenue. There were three bouts of surgery, with a couple of trips to London as well as that visit to Sweden.
"The belief the coaching staff had, the time, the finance, all the effort," says Ryan, "I can honestly look back and say there's nothing else that could have been done.
"I biologically didn't have the knees to play rugby, fair enough."
Ryan is particularly thankful to Karl Denvir, his physio in Leinster who has since moved on to the Queensland Reds. Denvir put his heart and soul into Ryan's recovery.
"He'd call me up randomly on a Sunday evening to tell me he had a new idea, he had seen an article, then we'd be in at 6 in the morning trying something new," says Ryan.
"He has given me the gift of being able to move on with my life without any regrets about it all."
The issue with his knees dates back to his time in Blackrock College, where it became clear that Ryan was a major prospect in the second row. It was diagnosed as tendonitis around the time he was with the Ireland U18s, which was also when he realised he was potentially good enough to make it as a professional.
Noel McNamara was the Ireland coach and his own rise up the ranks meant he also coached Ryan with the Ireland U20s, Leinster A, and in the Leinster academy. McNamara was crucial to the young lock believing in himself.
"He made a huge difference to me as a rugby player but also because rugby is such a big part of my life, to my development as a young man as well," says Ryan of McNamara, who is now the attack coach for the Sharks in South Africa.
"Having someone believe in you that isn't your mum or dad is always great!"
In fairness, Ryan got massive amounts of belief from his parents, Noel and Emma. Blackrock College was on Noel's way to work in the Docklands and with Charlie having been such a big kid, it made sense to send him to such a well-known rugby school.
Charlie reckons he got his "gumption" from his mum, who grew up on a farm in Mayo with her seven sisters and became a Garda. They've been huge supporters, with Noel never missing a game. The U14 Bs, the U20s, Leinster A away in Cardiff – he was there.
"My dad was my biggest fan by a mile, I think he got more enjoyment out of it than me."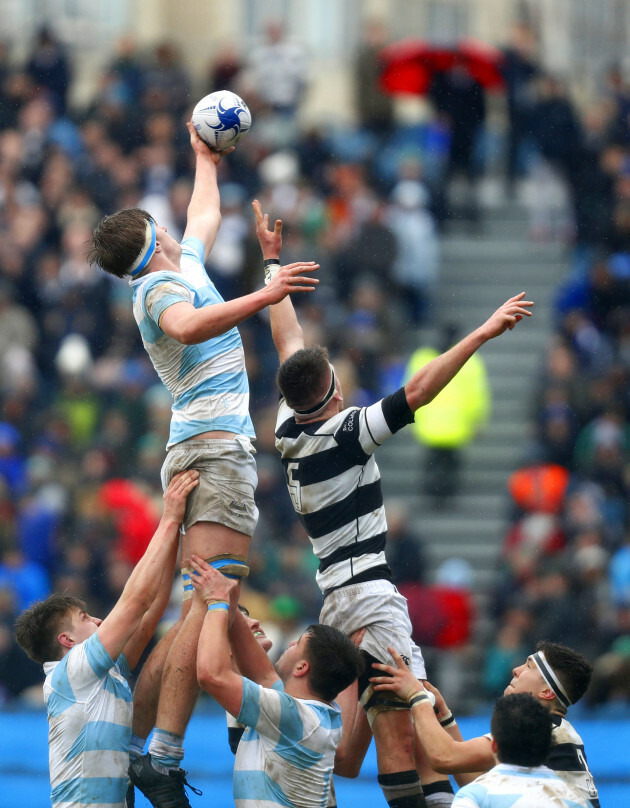 Colm O'Neill / INPHO Ryan wins a lineout for Blackrock College. Colm O'Neill / INPHO / INPHO
Winning the Grand Slam with the U20s in 2019 was a huge highlight for Ryan. He looked at a photo of that squad when he announced his retirement and realised that most of them are now professionals. Ryan was one of the standout players and he went into the Leinster academy with high hopes. He played club rugby with UCD, where he also studied for his business and legal studies degree, as well as shining for Leinster A when he was available. But the pain in his knees was gnawing away.
The aftermath of games was the worst. Ryan tried his best to steer clear of painkillers but says he did need the odd one. At times, he couldn't do much in the gym so his strength suffered. He often struggled to fully train on the pitch.
"I'd be training at a 6 or 7 out of 10 and in Leinster, that's not going to cut the mustard."
Ryan is grateful for the time and care Leinster gave him. He recalls Cullen coming over to him in the gym for a chat when Ryan had been sidelined for nearly a year.
"This is the school of life, Leinster," Cullen told Ryan, "it really teaches you about life."
The Leinster boss also gave Ryan his senior contract and another chance to overcome injury. Ryan would have completely understood Leinster letting him go at that stage.
"I'm not sure what he based off, but to show that belief . . . I hadn't played in nearly two years," he says. "I was able to pursue it right until the end, so I'll always be grateful to Leo and Leinster for that."
Ryan was sitting with Denvir in a café after another visit for surgery in London when they realised their efforts to get Ryan fit were finished. The moment was slightly surreal but it had been coming for a while. It wasn't a shock blow for Ryan, even if he admits to initially feeling the same kind of sting he used to get from losing big games. 
"I hate failing and I despised the fact that I couldn't get back playing, that the goal wasn't reached, but I've learned that failures are very useful," he says. "You learn from them.
"It's a bitter pill to swallow but I'm hugely grateful for everything in rugby. I'm not sure I could have learned what I have in any other environment."
He has built real resilience, for example. He knows exactly what a high-performance environment looks like. Ryan also learned how to manage the stress that used to feel overwhelming back in his schools rugby days.
He has already started his new career with the family business, an international logistics company specialising in food transport and liquid chemicals. He's learning the trade and enjoying the chance to work with his dad.
His sister, Johanna, is a solicitor in Dublin and Ryan jokes that she warned him away from law due to the crazy hours. So he's getting stuck into his new chapter and says it's great to have something he genuinely cares about as he moves on.
Ryan was asked to help out coaching an AIL team but he worries that being so close to it would just tempt him back into playing. He knows he has to be careful in guarding his knees now.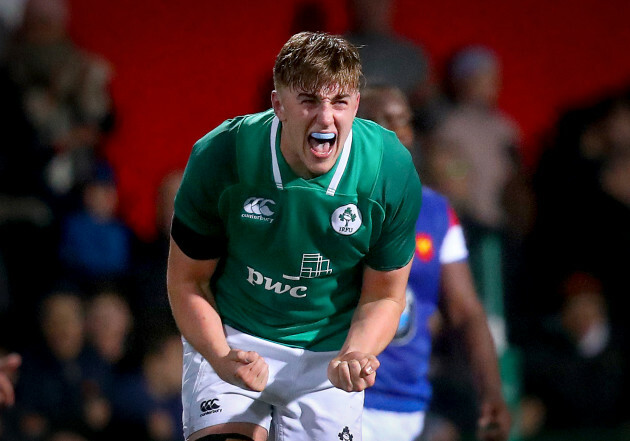 Oisin Keniry / INPHO Ryan feels no bitterness towards the game. Oisin Keniry / INPHO / INPHO
He does enjoy volunteering on Sunday mornings with the Seapoint Dragons, who give children and adults with additional needs the chance to learn and play tag rugby. Ryan would love to see a few new faces joining the Dragons at Seapoint RFC in Kilbogget Park.
He has a gym in the shed of the back garden at home, so he's still doing his weights, which will actually help his knees as he continues to rehab them.
"They're aching me, they're both a bit sore, but when you think about the health problems people have, this is absolutely nothing," says Ryan.
"My standard of life is brilliant, there are people who have real health problems and this isn't one, at all. It just didn't allow me to play at the top, top level I wanted to."
Ryan is thrilled to see some of his close friends in Leinster and Irish rugby rising through the ranks and showing their talent.
He loved watching Leinster's impressive win over the Lions last weekend with a squad that featured so many young players. This is how he will stay in love with rugby – watching his friends doing special things on the pitch.
"There's not one bit of jealousy or regret there," says Ryan.
"Seeing people I'm genuinely really good friends with taking that step to the next level, I feel like I'm a brother watching them.
"I'm so proud."