CHLOE MAGEE'S YEAR to remember has ended on a fantastic note with a double win at the Turkish Open.
The Donegal badminton player won the singles and mixed doubles titles on Saturday afternoon.
Magee, who represented Ireland at the Summer Olympics in London, beat top seed, Sashina Vignes Waran of France, 21-18 23-21 in the singles final.
Seeded third in the tournament, Magee reached the final after beating Bulgaria's Stefani Stoeva in straight sets, 21-14, 21-16, on Friday.
She then teamed up with her brother Sam to land the mixed doubles title.
The pair defeated Germany's Fabian Roth and Jennifer Karnott 21-14 21-10 in the decider to complete an excellent tournament.
The double win makes up for Magee's loss in the final of the Irish Open at the Baldoyle Badminton Centre two weeks ago. Before flying home to Ireland, Magee tweeted this: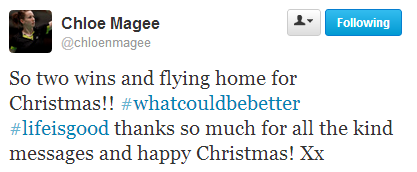 Chloe Magee: Life is good.
The Rapahoe native lost in three sets to Danish star Line Kjaersfeldt after dominating opponents on her way to the final.
Reaching the Irish Open final and capturing the Turkish Open will give her a significant, year-end world rankings boost.
Along with Scott Evans win the the Irish Open men's singles competition, Irish badminton has laid claim to three significant international trophies in the past month.