THERE AREN'T MANY, if any, stories in the rugby world quite as brave as Christian Lealiifano's.
And yet the Brumbies fly-half, who is about to ply his trade for five months with Ulster, still puts on a smile when he talks about it.
"Really and truly grateful for the opportunity that I get to play rugby again," is his overall summary of his situation.
Diagnosed with leukaemia in August 2016, the 29-year old would endure a brutal few months. Not only had his fledgling international career now hit the buffers, he would then undergo intense chemotherapy followed by a bone marrow transplant from his younger sister. All thoughts of a return to the rugby pitch he loved to grace were put on hold.
However, slowly but surely, Lealiifano's condition improved, enough to return to fitness work, then enough to undergo very light training, until eventually the 19-times capped Wallaby was back in full training with his team-mates.
On July 21st 2017 his astounding comeback was complete. Lealiifano came off the bench to a standing ovation, replacing James Dargaville just after half-time in the Brumbies' 35-16 Super Rugby quarter-final defeat to the Hurricanes.
The Australian didn't just beat cancer. He kicked it out of the park.
"I lost 14 kilos in 13 days and it was a tough period working back up, getting back to the weight, getting back to full strength and running fitness," Lealiifano grimaces.
"There's been a lot of people to thank and credit for that. Being in a (rugby) structure definitely helped with the process.
"It was tough. I look back now and I'm quite proud. It's hard, you never want to pat yourself on the back or anything, but to think of the journey I've had, and being here today, it's something that I'm truly grateful for.
"There's other people put the work in, and you owe them to put the work back out if that makes sense. It's tough but rewarding to be back in a position to be playing rugby.
"All I could do was enjoy each day for what is was, and be positive whatever the day throws at you. You never know, tomorrow could finish you and you're six feet under.
"That's my approach. Rugby was the end goal but I wanted to take each day and maximise each day."
Being grateful for the opportunity to be back on the rugby pitch is something that Leali'ifano, who arrived in Belfast on Wednesday with partner Luga and son Jeremih, repeats – a second chance at a professional career.
But he acknowledges that his priority was never on the rugby side of things, even though he loves the game. Rather, it was his family who remained foremost in his thoughts.
"I said all along my health was number one, just to get back to be a father and a dad to my little boy, that was number one, and being able to play rugby again is an absolute bonus," he states.
"I'm grateful every day that I get to step out again and do what I love doing while I can, and the opportunity that I have now, really, really stoked.
"I'm humbled that a team still values what I can produce and what I can do, that's exciting.
"To think that you probably couldn't play rugby again through that time is definitely hard, and then to be able to come through the other side is truly rewarding. To know you can pull a jersey on again and do some gym work and throw the footy around with the guys is rewarding."
Photosport / Andrew Cornaga/INPHO The Blues' Male Sa'u ties to evade Christian Lealiifano of the Brumbies. Photosport / Andrew Cornaga/INPHO / Andrew Cornaga/INPHO
Not only is Lealiifano unique in the path his rugby career has taken – prior to his cancer battle he was an established Australian international and a co-captain at the Brumbies – but now he's added a rather unique move to his employment list as well.
While five month deals for Super Rugby players to go to Japan are fairly frequent, a short-term deal in Europe is a rare occurrence as it means Leali'ifano will leave Belfast right in the middle of Ulster's season after their European pool campaign ends.
But the move was to benefit all parties – the player and the two clubs – and it was a familiar face to patrons of the Kingspan Stadium that would eventually push the move through.
"I was obviously through the recovery process looking at some different options to get some further rugby in," 'Leali' explains. "My agent was a former Ulster player as well, Clinton Schifcofske, so we explored a little bit and got a bit interested in and it was definitely something we wanted to explore.
"Knowing my agent played here and spoke really highly of it, and the history here, it was something I was really interested in. That was a big reason and hopefully bringing this organisation some success as well."
Exclusive Six
Nations Analysis
Get Murray Kinsella's exclusive analysis of Ireland's Six Nations campaign this spring
Become a Member
So a former player pushed the move through, but what are Ulster fans getting from their new man?
"I like to play attacking rugby, like to run the footy a little bit, and then try to be sort of solid in defence and not shy away from the breakdown work as well," Lealiifano details.
"I'm happy to add some value wherever I can and make the best impact I can. That's wherever the staff and the team think I can add value. I'm happy to play anywhere but I do prefer a little bit of 10. It's somewhere I like, directing the team and play the style we want to play."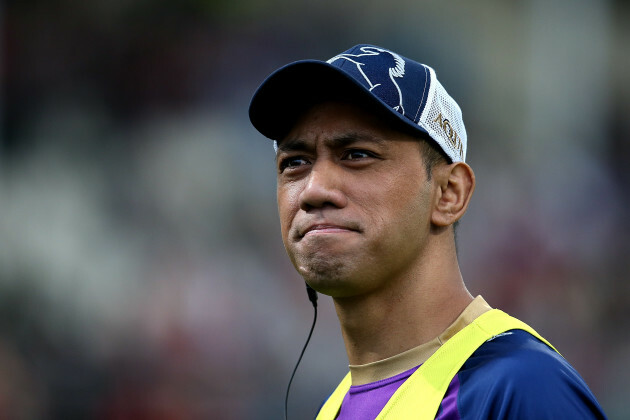 Photosport / Martin Hunter/INPHO Photosport / Martin Hunter/INPHO / Martin Hunter/INPHO
And, unsurprisingly for a man who's been cruelly starved of rugby for the last 12 months, he's champing at the bit to get onto the pitch and help his adopted province.
"To have this opportunity where all parties were okay with it, I definitely had to jump at it and I'm really excited that I've got the opportunity," he grins.
"I've only got five months here so I want to maximise every opportunity I can. Next Friday (against the Cheetahs) is something that I'm aiming for already."
The Aussie fly-half finishes by quipping he has to get used to the new media faces while he's here with a wide grin. He hasn't stopped smiling since he sat down for the interview.
He's just happy to be here. And even more delighted to be back.
- Originally published at 09.11, 25 August