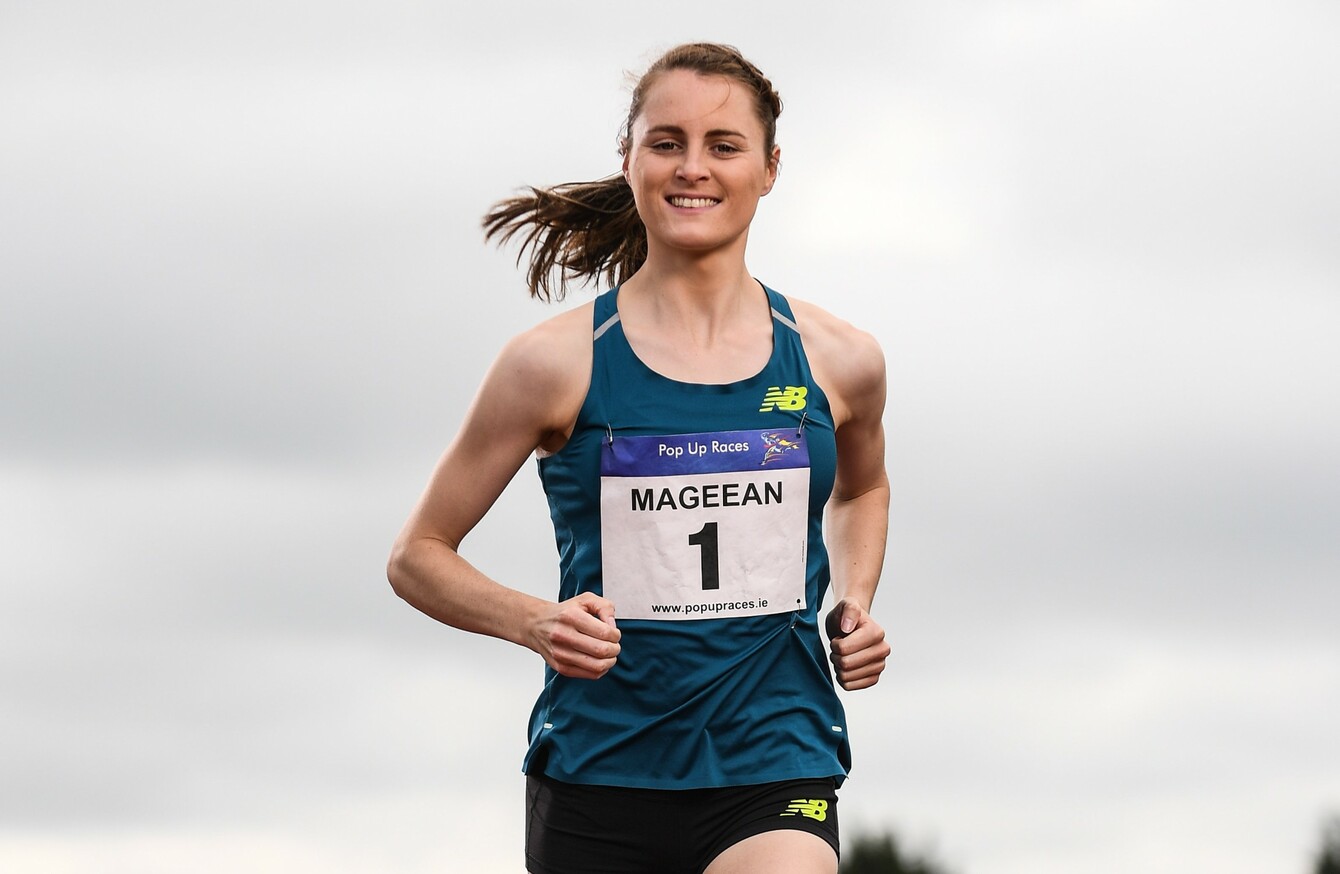 Ciara Mageean.
Image: Sam Barnes/SPORTSFILE
Ciara Mageean.
Image: Sam Barnes/SPORTSFILE
BACK IN MARCH, a visibly distraught and frustrated Ciara Mageean appeared on screens across the country.
Track-side in Belgrade, she had been forced to pull out of the women's 1500m at the European Indoor Championships. She looked to be in pain during the race and limped off the track prematurely, citing a problem with her Achilles tendon.
Frustrated with her performance, the Down native struggled to hold back the tears as she gave a heartbreaking post-race interview to RTÉ Sport.
"I don't have any answers," she said, her voice breaking. "Something's uncomfortable. Training's been going so well, and I'm like 'What's wrong, something's up'. I don't know why my foot is so sore right now.
"I don't want to be just there making up the numbers. I'm so frustrated right now, I'm just frustrated in my head.
"I'm very sorry for that performance there today," she concluded, as she finally got away from the spotlight, and rushed towards the safety of her physios.
Looking back now, Mageean is in a very different place. She's shown true resilience, and bounced back. She casts her mind back to that day, to that important lesson she needed to learn, as she says.
"It was a little bit of a niggle, a kind of ongoing thing," she tells The42. "It was very sore on the day. I think to be honest, it was an accumulation of a lot of things.
"I had been quite under the weather for the majority of the winter, not quite sick but not firing on all cylinders."
Mageean doesn't like to dwell too much on the past, but acknowledges what happened, and what she's done since to rebound, and ultimately ride the crest of a wave.
"I came back from there and had scans, got a bit of rest and recuperation which was very much needed. Even more so mentally than physically I needed it.
"I just needed a break. I left Dublin and I went back home to Portaferry, and was a wee hermit there for a while with my Mummy and Daddy. I didn't want to go anywhere, I just wanted to sit in the house and be their little girl, watch TV and have my dinner made for me.
"People see you up there as a sports star, but you're a person and below it all, it can hurt.
"It's tough. It was a hard road back for me, very much mentally."
That day in Belgrade came as a huge knock. A positive mentality and outlook is of the essence in any individual sport, and the 25-year-old smiles that she knows better than anyone.
She's worked with the necessary supports since, including sports psychologist Kate Kirby in the Institute of Sport, to counteract any demons that have bothered her in the past, and may arise in the future.
"It's not something that I ever overly struggled with before but it's something you can constantly improve on. People look at sports psychology and they say 'Oh goodness, it's a sign of weakness,' but I think it's strength.
"You strengthen your body every day and you train it, why wouldn't you train your mind?
"Believe me, whenever you're out running around the track, there's a little voice in your head and if it's not a positive one, it's very tough.
"You're constantly learning in this. People go 'You're well experienced,' but there's always something more to learn. I've kind of came out a more robust athlete, physically and mentally, after that because obviously it was a tough time out there.
"I'm definitely my own worst critic and nobody else could be as hard on me as I am on myself.
"People see a race like that and they see that moment in time. Then, their lives go on. They have work the next day and they forget about it.
"That's all well and good, but running is my life and my whole day revolves around it. Every week revolves around it, every month. And to be honest, my life revolves around it
"It's hard when you have a big blow like that to come back. You take it very personally and it's very hard."
Well, Mageean has certainly come back fighting.
Last Thursday, she clocked her second-fastest 1500m time ever — 4:04.49 — to finish in 10th place in a blistering fast field at Rome's Diamond League meet.
In doing so, the 2016 European bronze medalist finished well within the qualifying standard for August's World Championships in London, and also for next year's Commonwealth Games.
"It was nice to get out there and to get a 1500m — that was only my second race this year, I had just raced an 800m before," she smiles, her modesty shining through. "And to get into the Diamond League, it's right up there with the best races, just below the major championships.
"To get into that field was fantastic, and to run 4.04 and get my world qualifying time under the belt, and as well Commonwealth Games qualification standard for the following year — that was also pretty nice.
"It was good to post a time like that so early. It really gives me confidence, and it's nice going into the season.
"With Sifan Hassan running 3.56, it's just mind-blowing pace. It's fantatsic. Whenever you get into a race like that, people think 'Goodness, you're really far back in the field' but competing against the best in the world and coming 10th in a race of that caliber isn't so bad.
"As well for me, it really gives me confidence and shows me — I felt good running that pace — there's much more in me."
From Rome, she flew home to Dublin. There was a long wait in the airport — 'a bit of a bummer,' she grins — and then from Dublin, there was the drive to Belfast, where she went on to defend her Northern Ireland Championships crown at 800m.
How was the body?
"Ach, it was fine," she continues. "It wasn't too competitive of a race so I was grand going around.
"I felt very good in my warm up and I was like 'Ah, woo, fantastic, this is fricking great,' and then when I got onto the track I was like 'Oh I'm a bit heavier than I thought.' I think that was the travelling more than anything else.
"I ran 2.07 and talking to my coach after, he was like 'If I'd asked you to do a time trial in Dublin, I would have been happy enough with that,' so it was alright."
And finally, from Belfast, she headed to Portaferry to spend some well-earned time at home, 'spoiling her Daddy for Father's Day a week early.'
In terms of the next few weeks, Mageean's focus is firmly set on the World Championships.
A notable absentee from Ireland's squad for the European Team Championships in Finland later this month, she and her coach, Jerry Kiernan, have opted against it as it lies in the middle of an important training block.
"Me and Jerry sat down very early this year or late last year, and planned out the race schedule to really optimise me getting ready for World Championships as best as possible.
"And just where European Team Championships fall is in an important training block for me and Jerry, so it just didn't work.
"I'll be aiming high for the next few races and getting ready for World Championships in August."
Wednesday, 21 June sees her race in Sligo. Afterwards, and all going well, next up is the Diamond League meet in London. The Morton Games follow on the agenda and then it's the National Championships, before the big one.
"You could be racing every single week if you wanted to, but at some point you have to train and get ready for the [World] champs. Trying to plan all of that can be tight enough."
At the minute, Mageean is worlds away from that day in March.
"I'm feeling good now, and hopefully put to bed all of that.
"I'm in a really happy place right now. I'm loving my sport and I'm loving running, as tough as it can be.
"I'm not naive enough to think that there won't be speed bumps and hurdles ahead of me in the future. I'm just embracing it for what it is. I think that was an important lesson for me to learn.
"Things are going well, training's going well and hopefully I'll continue to race well and have a good season behind me."
In Rio last August after failing to qualify for the 1500m Olympic final, Mageean vowed to come back 'stronger, faster and better next year.'
Considering the beginning of her outdoor season, she can pretty much say that she's already ticked off all three boxes — and she's certainly hungry for more.
This week, Ciara Mageean was announced as Brand Ambassador for Pop Up Races, Ireland's leading race timing and event management company, for more see www.popupraces.ie
The42 is on Instagram! Tap the button below on your phone to follow us!