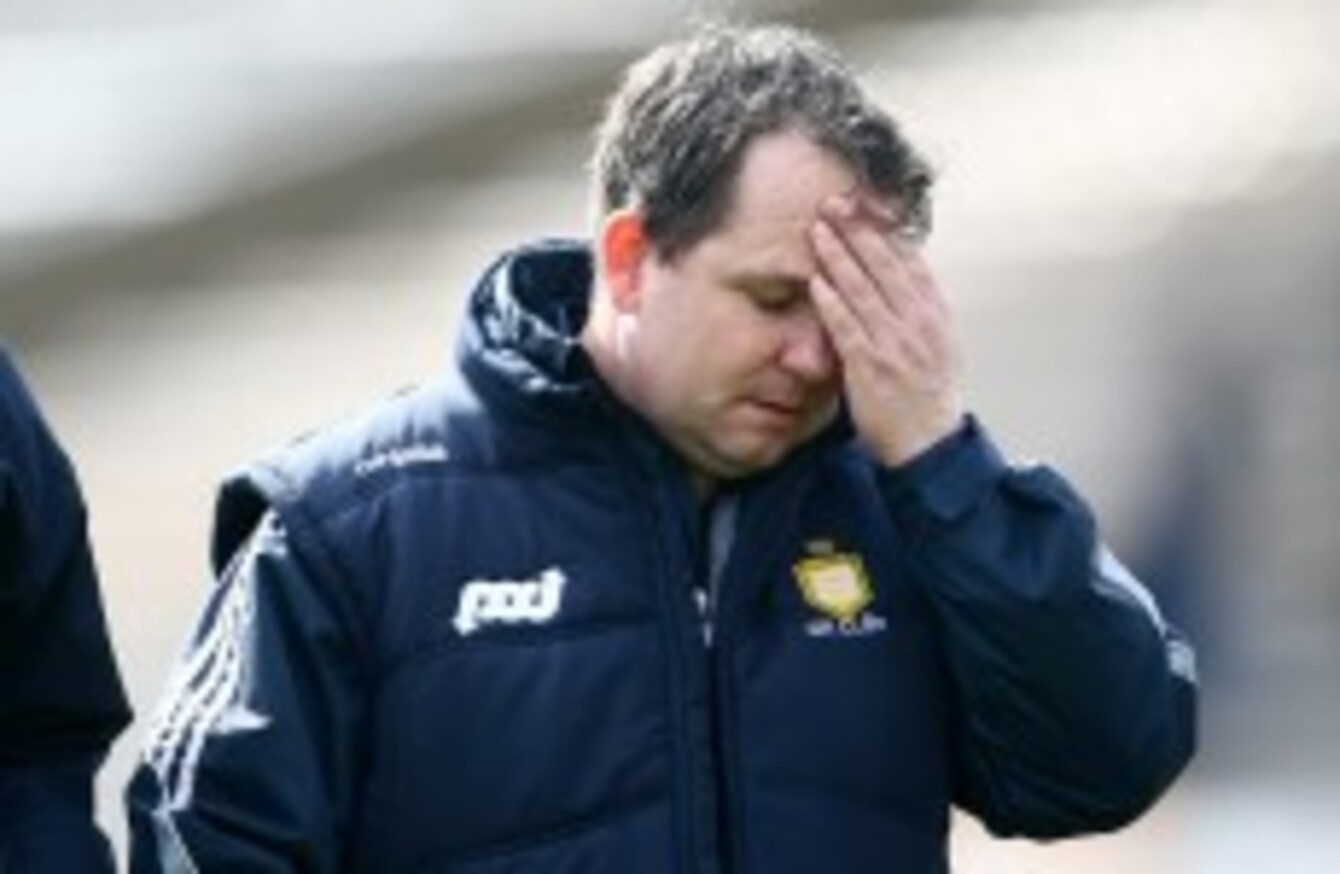 Davy Fitzgerald believes Clare are too good to go down.
Image: Cathal Noonan/INPHO
Davy Fitzgerald believes Clare are too good to go down.
Image: Cathal Noonan/INPHO
AFTER CLARE WERE relegated to Division 1B of the Allianz National Hurling League following a one point defeat to Kilkenny yesterday, manager Davy Fitzgerald claimed his side were too good to be relegated.
The Banner boss insisted they did very little wrong against Brian Cody's men and suggested that perhaps expectations in the county were too high as he believed his side had no questions to answer after the loss, even after the recent high-profile incidents involving Davy O'Halloran and Nicky O'Connell.
"I'm absolutely gutted, absolutely gutted. I think we were the better team today but fair play to Kilkenny, they got there. Hats off to them at the end, we've no complaints but it's disappointing as I really felt coming down here that we were going to win, I really did."
"We've four All-Irelands won in 130 years, they forget that in Clare so they do. They don't need to answer anything to anybody in my view so they don't. There have been a number of teams that have won Under 21's and never gone on to win senior so they haven't. I'm so proud that my lads have done that.
"We just want to keep working hard ourselves. Like, people might have questioned the lads and questioned different things but I think you can see today how the lads played for each other, they play for each other. Everybody out there was really working hard for each other and I think that was massive.
"They are a phenomenal bunch and we as a management and a panel are very, very, very tight and I think you can see that. I think that's massive so it is and it's just disappointing to end up the way we did today. I really believed that we were going to win today, I really did."
Fitzgerald also said that, while he doesn't believe his team deserved to be relegated, nobody in his camp will be complaining about the structure of the league.
"Listen, we're not happy about it so we're not but Cork went down there, Limerick went down there, Dublin went down there.
"I think the whole thing is up for review again anyway so hopefully there'll be a bit of sense seen in it. I don't think that we're a Division 1B team but if we have to play there, we'll have no complaint in Clare.
"We'll do what we have to do, no problem but I'd like to see a bit of common sense thrown into this. I think Limerick have spent long enough down in Division 1B as well as Wexford have so I think it's maybe time for a change.
"But if we have to go down, we'll go down, there's no hassle.
"It's all about from May onwards, that's when things really start heating up and we have work to do."
Additional reporting from Eoin Brennan.