SHE'S PLAYED FOOTBALL at the highest level both in Ireland and across the water, she's donned the green jersey through the ranks, she's played Champions League football and won countless titles and accolades, including camogie honours.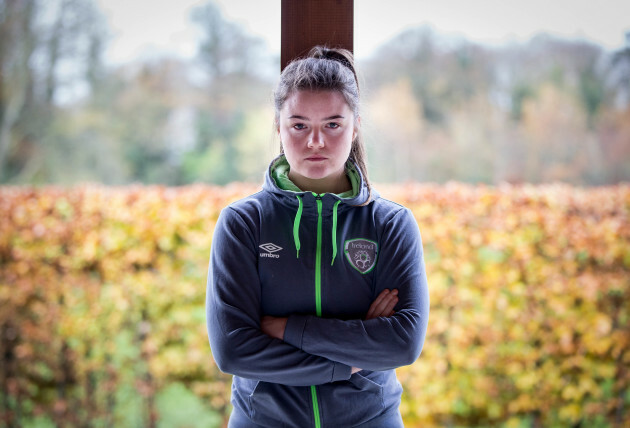 Gary Carr / INPHO 'I hit a low point but I'm back now. I'm in a much better place.' Gary Carr / INPHO / INPHO
She's also had to battle through almost career-ending injuries and fight the demons that very nearly caused her to quit football — and she's only 21.
Clare Shine has done it all.
Last month the Cork native officially made the move back home as she signed for Cork City FC following a successful stint in Scotland.
Her time at Glasgow City FC was unforgettable, but Shine is more than delighted to be home.
Also a talented camogie player, she's been involved with the Cork set-up in the past and featured in an All-Ireland senior final in Croke Park in 2012. The opportunity to potentially balance both sports isn't the sole reason for her return to Irish soil though.
"I kind of just wanted to be home and around my family and things like that," she tells The42. "Being away from home is difficult at times, and I felt I just wanted to recharge the batteries, you could say, and start again.
"I came home just before Christmas but I only decided afterwards that I was going to sign for Cork. I've been playing a bit of camogie too.
"I've been training nearly every day, trying to get my fitness back and match fitness back and stuff like that. I've been full-on the last month anyway.
"I completely missed the routine. So I'm living at home and back into my old routine from when I was like 16, 17, it's fab. I'm quite busy at the moment now with training and finding my feet again. I'm just happy to be home with my family and friends."
Shine had been with Glasgow City for the guts of two years. She signed in May 2015, and made an immediate impact from the get-go.
Ryan Byrne / INPHO Shine and Ireland teammate Katie McCabe. Ryan Byrne / INPHO / INPHO
In her maiden season, she scored 17 goals. Six months after her arrival on the Scottish scene, she truly made her mark. The striker hit a hat-trick in the 2015 Scottish Women's Cup Final as Glasgow won 3-0.
Last year, she was again the focal point of the Scottish kingpins' attack as they claimed their 10th consecutive league title.
Originally it was fellow Ireland striker Denise O'Sullivan who informed Shine that the club were interested in her. She travelled over with clubmate and now-Arsenal star Katie McCabe, and they were both offered contracts.
McCabe chose to stay in Dublin, as Raheny and Shelbourne joined forces before she made her own move to London in December 2015.
"I decided to go and see how I got on, I said I'd try it out. Denise [O'Sullivan], the first year, she helped me settle in and taught me the ropes, how to cook and clean!"
The club felt more and more like home as time passed.
O'Sullivan departed for American side Houston Dash, but Savannah McCarthy linked up with Shine at Glasgow in February 2016.
That summer Keeva Keenan made the move across the water and since Shine has left, former Shelbourne star and last year's Women's National League (WNL) Player of the Year Noelle Murray slotted in. Scottish-born Ireland international Ruesha Littlejohn has also had several spells at Glasgow over the years.
"It's great that there was a load of us over there. It felt a lot more like home with the Irish accent and stuff. It was difficult enough to get used to the Scottish accent at the start, but most of them can't understand us anyway."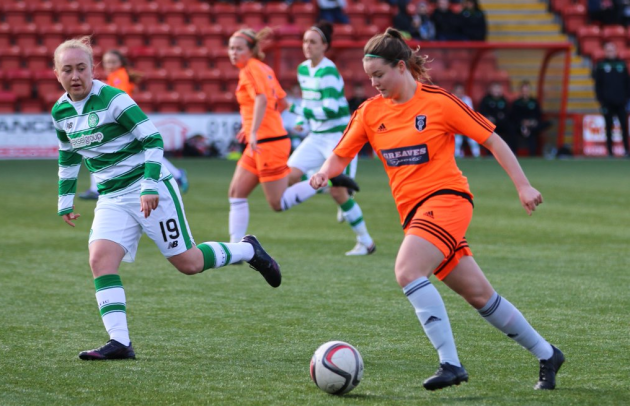 Glasgow City FC Twitter Shine was a key goalscorer for Glasgow City in her time there. Glasgow City FC Twitter
Returning to Ireland means leaving behind the almost-professional life she led in Scotland.
Shine has previous experience of the WNL, having played with Cork City in 2012 and Raheny back in 2013, but admits that life between the two leagues is very different.
"We trained maybe four or five nights a week with a game at the weekend. It was quite intense. And then gym sessions and that. It was kind of more of a professional environment.
"Whereas at home now I'm trying to look for a job and do other things with football two nights a week and a game at the weekend. I think there's more of a professional environment over there with more training and that."
While she experienced glittering success at Raheny — they won the league and cup double and lined out in the Champions League, where they reached the last 32 — she also experienced individual heartbreak.
Shine suffered a nasty leg break towards the end of the season, but battled back to fitness to star at the U19 European Championships. She even managed to score the winning goal in a memorable victory over Spain as Ireland topped their group.
From there, she went on to score four goals for the 'Pandas' in their Champions League campaign that August.
Everything looked to be going swimmingly for Shine. Things couldn't be going any better — or so everyone else thought.
Her return came too quick though and she faced a further, longer spell on the sidelines nursing her leg.
She was left in a dark place and began to turn against her once-beloved sport. At one stage, she considered throwing in the towel for good.
"It was a huge blow. Going from training every day and seeing my friends all the time to being on my own, doing my own rehab.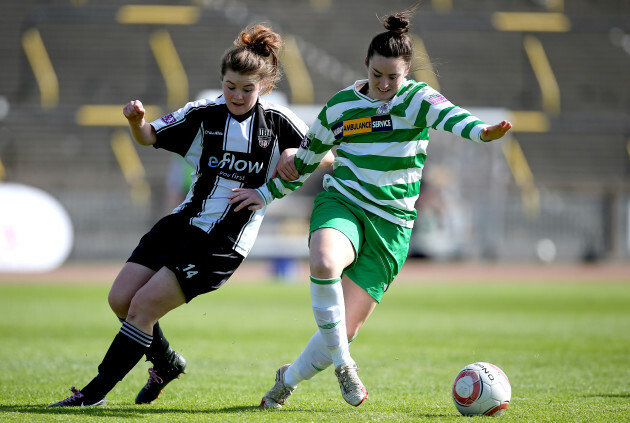 Ryan Byrne / INPHO Shine in action for Raheny in 2013. Ryan Byrne / INPHO / INPHO
"I hit a low point. I was just like, 'I want kind of a break'. I wanted to do my own thing for once, and make my own decisions.
"Thankfully it's healed and I'm back now. I'm in a much better place.
"I nearly gave it all up. Even when I finished up in November I kind of wanted to do my own thing and have my own time, but obviously I missed it straight away so I was straight back."
Shine has spent chunks of her teenage years in the Ireland jersey. Not only did she star as her U19 crop broke boundaries to reach the European Championship semi-finals in the same summer that she braved injury, she donned the U17 jersey at the tender age of just 15 and was a mainstay on both sides through the years.
The transition to international senior level wasn't just as smooth though. The injury and her young age were huge factors, of course, but she found herself in and out of camps and unsure of whether she'd be included from squad to squad.
She made her debut off the bench against Spain in November 2015.
Fresh home from the Cyprus Cup, the 21-year-old has also been included in Colin Bell's squad set to face Slovakia in a friendly on Monday.
"I am trying to nail a position in the squad and I've been working really hard towards that, so hopefully now over the next couple of months it's good, I'm injury free and everything goes well and I can nail myself a position in the squad.
"We're much more together anyway as a team, and I think everyone knows that we're good enough to make a tournament. It's much more positive.
"I think [Bell] is brilliant. He's excellent, he has a completely new structure and way he wants to play. He wants to get the best out of us. I think Cyprus was a really good tournament for us. Coming fourth — the best we've ever done. I think everybody is on board and willing to play part.
I've been to a World Cup, I've been to two European finals, which is amazing. But I want to push on and get to a senior major tournament. The quality is there and I'd love to be part of it. We're going to do our best anyway this year, and see what we can do."
Of course, the hype surrounding the women's national team this week cannot be ignored.
Exclusive Six
Nations Analysis
Get Murray Kinsella's exclusive analysis of Ireland's Six Nations campaign this spring
Become a Member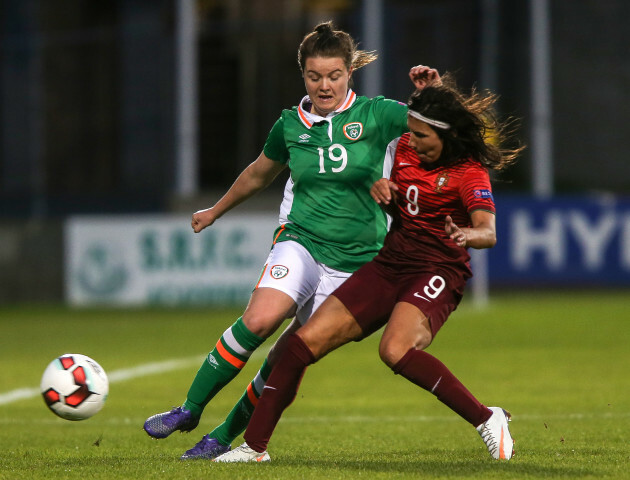 Gary Carr / INPHO 'I want to push on and get to a senior major tournament. The quality is there and I'd love to be part of it.' Gary Carr / INPHO / INPHO
On Tuesday, they outlined the extraordinarily low-quality working conditions they are expected to perform under in a last-ditch attempt to receive better treatment from the FAI. An agreement has since been reached.
Last month, captain Emma Byrne did an interview with FIFPro — an organisation which defends the rights of professional footballers worldwide — in which she expressed her concerns that Ireland were falling behind due to the lack of financial support and other issues.
Our conversation occurred before Tuesday's press conference, but Shine was adamant following Byrne's statements that changes must be rung in order to succeed.
"I completely agree with what Emma was saying. With international football, there's players taking time off work, their holidays, and losing out on pay for an international break. It's kind of ridiculous.
"But hopefully we're on the way up now that it's noticed and hopefully there is some kind of change in years to come because there is extreme talent in the league and we don't want it to go to waste. We can get to major tournaments, European championships and World Cups. It's just something we need to improve on as a country."
In terms of the Women's National League, over the past few years it's been the same story over and over with the same teams dominating year in, year out.
Last year was all Shelbourne as they did the double, while Wexford Youths and UCD Waves have been the only sides to truly challenge them for silverware.
All the while, Cork City have been keeping quiet down south but a rebellion of sorts is expected this year.
In their opening game of the campaign, they drew with last year's unbeatables Shelbourne, and Shine is confident that there'll be more of that as they get the ball rolling more and more.
"I think it was a really good game for us. I think Shels are disappointed with how they played. They kind of couldn't just break us down or they couldn't score. But as a team, with Cork we did really well. We executed what we needed to do, and we stopped them from playing.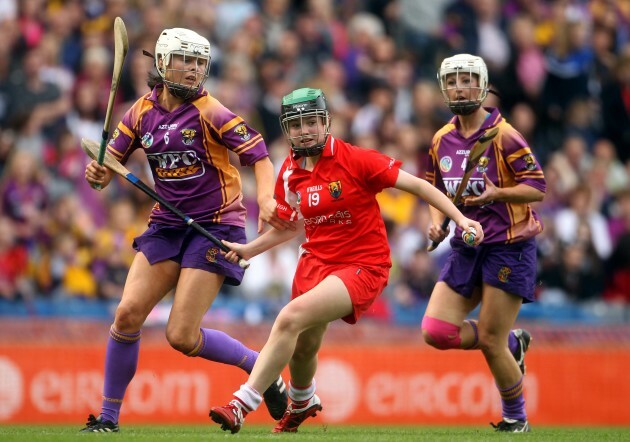 Ryan Byrne / INPHO Shine in action in Cork's 2012 All-Ireland final defeat to Wexford. Ryan Byrne / INPHO / INPHO
"We've definitely improved. The intensity of training has definitely improved anyway since I'm back. the heart and determination is there. It's been really, really good and I'm really looking forward to the rest of the season. It's going to be interesting."
And if anything is going to help Cork City's revival at the top, it's their attacking promise.
Shine's partner in crime up top is U17 Player of the Year Saoirse Noonan.
"Myself and Saoirse actually grew up in the same area. We played for the same club team, Douglas Hall. I've watched her come up the ages.
"I've never played with her before this year, so I'm really looking forward to having that partnership on the pitch and I think it will work in our favour."
Amid all of the football, both with Cork City and Ireland, Shine has still found a little time for the hurley and sliotar, and if possible will pursue it.
She may have come home to 'recharge the batteries' as she said, but Clare Shine is set for an undoubtedly hectic few months.
The42 is on Instagram! Tap the button below on your phone to follow us!