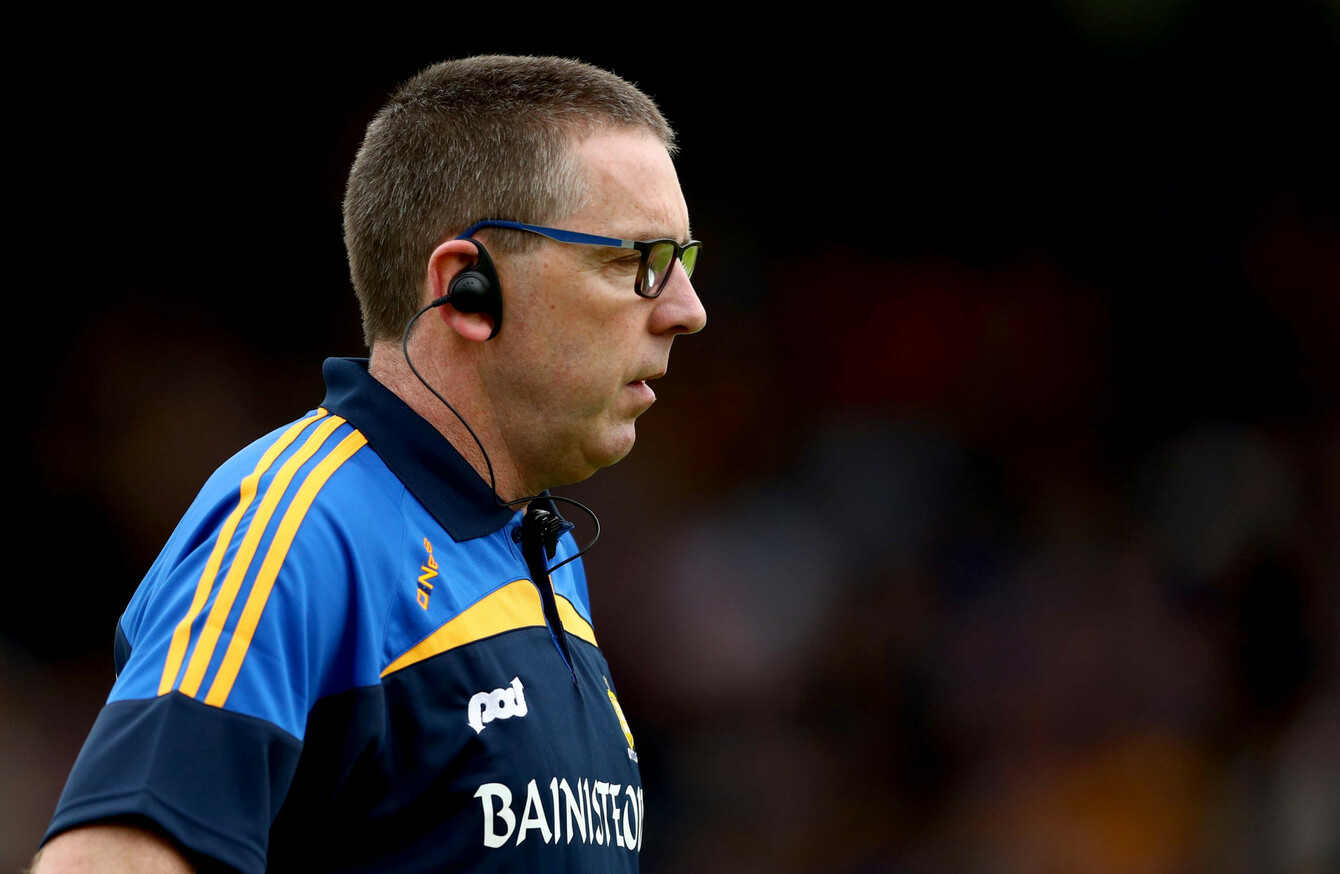 Image: James Crombie/INPHO
Image: James Crombie/INPHO
GERRY O'CONNOR FELT the future of the Clare joint management was on the line entering into yesterday's crunch Munster hurling round-robin clash with Tipperary.
Clare came from behind in a pulsating finale to knock Tipperary out of the 2018 race and propel themselves back into the reckoning this summer.
O'Connor was keenly aware of the pressure they were under yesterday in Semple Stadium, which was rooted in the 'phenomenal expectation' from the Clare hurling fraternity.
"Of course it was. Look it we've a two-year contract. You're judged, it's an absolute dog eat dog, inter-county environment. All we've done is won a game.
"If you don't feel pressure in this job, then you're not doing it right because there is phenomenal expectation from the Clare supporters and ourselves and we deliberately put pressure on the players and ourselves.
"That's the real beauty of today, when it really mattered, we showed our character and we delivered on the ability that we know is deep within this team on a regular basis.
"The character and the actual skill-sets and the stamina and the mentality and physicality of our team was tested to the absolute limit. We gave it in spades.
"It wasn't the complete performance by any means but it was a fantastic performance when we absolutely had to give a performance in that last 10 or 15 minutes. I've got to really add the crowd, our supporters, who we appealed to all week to come down and support us were phenomenal."
With Clare having a hiatus from activity last weekend, O'Connor was keen to point out that they utilised the time off to give their squad members a chance to impress.
"People were saying we'd a break of a week and we had a break of a week from games but we didn't have a break of a week from training. Our guys trained incredibly hard on Friday and Sunday and only that we trained hard on Friday and Sunday – Ian Galvin and Podge (Collins) and Jason McCarthy and Darragh Corry, they wouldn't have shown the form that they did to allow us to pick them to come in and do the job for us here today.
"It gave our guys that weren't in our first 15 an opportunity to put their hands up and say I can contribute hugely here. That's what happened. Our bench got us over the line here today."
In particular the Clare management had challenged goalscorer Ian Galvin to make his mark.
"He showed tremendous composure but look Ian's an assassin," said O'Connor.
"He's been showing that form all year in training and ultimately we challenged him all week, that you need to deliver on the promise you've been shown in training. He was calmness personified with the finish."
After a disappointing 2017 campaign that saw a Munster final loss to Cork and an All-Ireland quarter-final defeat to Tipperary, Clare had undergone a period of reflection before the 2018 campaign.
"Basically what we've been doing for the past six months is, we've been actually asking these guys why they're doing this," said O'Connor.
"The players have gone away and reflected what it means to play for Clare. But ultimately this is a player driven group. They're an extremely driven, proud group of players.
"The management team all we do is facilitate exactly what it is the players require. But ultimately these guys will review and reflect tonight and they will be none more critical on these guys than their own performance today."
The42 is on Instagram! Tap the button below on your phone to follow us!