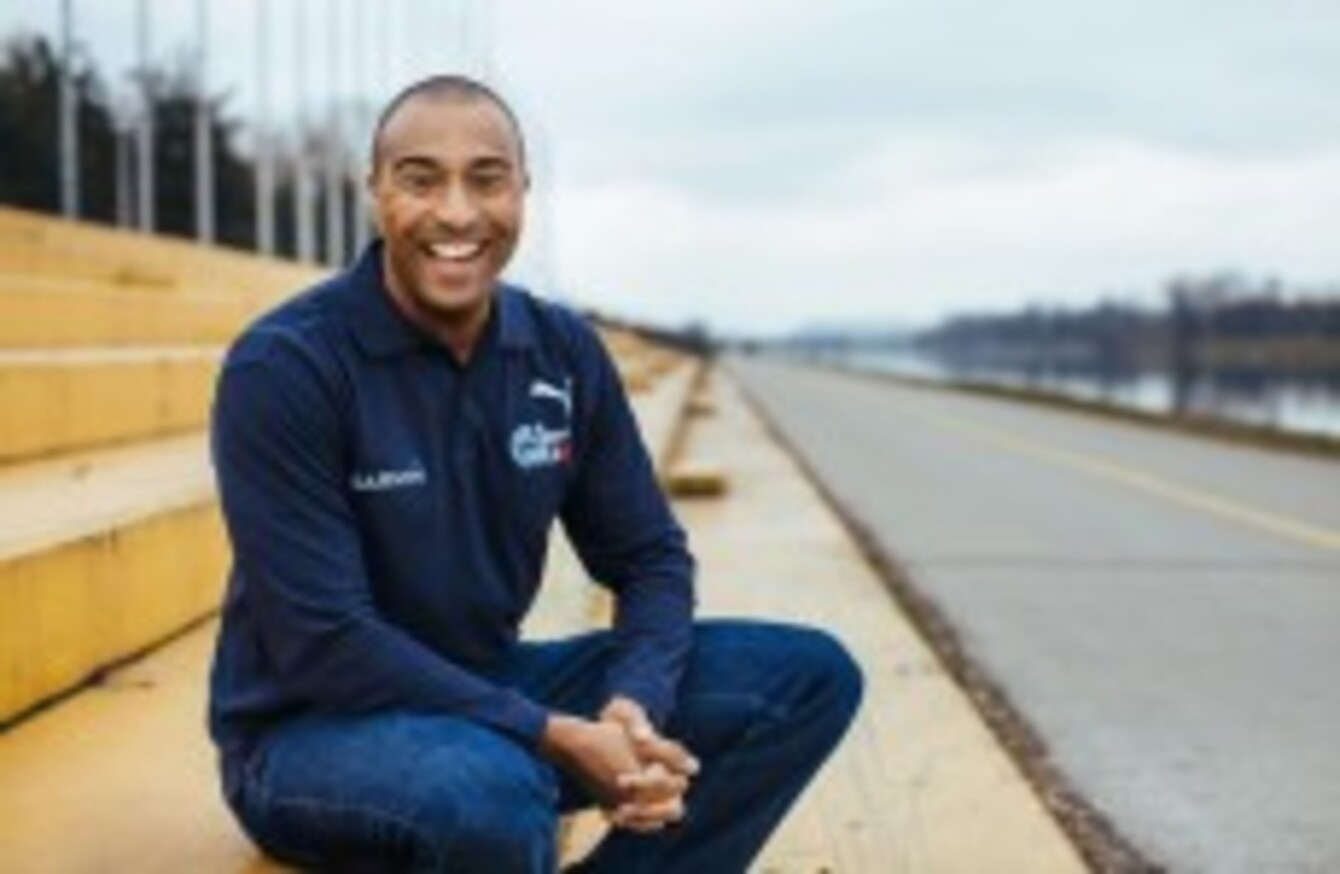 Jackson is a former Olympics silver medalist and World Championships gold medalist in 110m hurdles.
Image: tomislav moze
Jackson is a former Olympics silver medalist and World Championships gold medalist in 110m hurdles.
Image: tomislav moze
IT'S NO SECRET that Ireland currently has a problem with childhood obesity, with findings published last year suggesting only 12% of 10-18-year-olds in the country meet the Department of Health and Children physical activity recommendations of at least one hour of moderate-to-vigorous physical activity per day.
As a former Olympics silver medalist and World Championships gold medalist in 110m hurdles, among several other accolades he earned over the course of a distinguished athletics career, Colin Jackson is better placed than most to give advice on physical fitness.
The Cardiff-born retired athlete believes that the parents' role, in particular, is key in preventing the onset of early obesity and encouraging good physical fitness.
"I would lean heavily on the parents," he tells The42. "Parents are the people who can be inspirational to you as a child and direct the child, with aspirations of being good in sport, or even just participating."
Obesity in general is a big problem in Ireland, with recent studies suggesting as many as 24,000 people could have undiagnosed type 2 diabetes partially as a result of the epidemic. Jackson adds that keeping active, irrespective of what particular sport you prefer, is vital.
"You can be very creative, certainly in Ireland. All the coastline is absolutely fantastic, get out there for long walks, enjoy it, be active — that's what I always say, rather than [relying on] regimented sport. Sport is for everyone, you've just got to find something that's for you that gets you out there.
"If children find something that they enjoy, then they won't worry about a lack of confidence. Lots of times, people are doing structured sport and not everyone's great at structured sport.
"I can't swim, so I wouldn't enjoy swimming and I wouldn't be very confident or comfortable swimming, but I can run, so I steer my energy towards that. Some people can dance and they prefer to do that. Some people are great climbers, and they want to do that. So it's about just finding what's right for you in a particular moment."
Now an athletics coach since retiring at the 2003 World Indoor Championships, as well as keeping up his profile on shows such as Strictly Come Dancing and BBC Raise Your Game with Colin Jackson, the 48-year-old Welshman still takes a keen interest in staying in good physical condition.
"I think when sport is in your blood, it's in your blood," he says. "There may be a rebellious phase where you say 'I'm not going to do anything for the next 18 months,' but that never really happens.
"You're always active, whether it's going to the gym or playing tennis, going on a bike or playing badminton — you name it. It's important to get involved. In the winter, I spend as much time as I possibly can on my skis or on my snowboard — you've generally got to be fit just to have a good time in sport, so I guess I'm lucky that I'm still very active."
(Jackson is Global Director of Sport for the Wings for Life World Run)
Jackson's most recent pursuit has seen him undertake the role of Global Director of Sport for the Wings for Life World Run — more background info on which can be found here.
"My role is to see each and every one of the races to make sure that they are unified and go together," he explains. "I oversee 35 locations across the globe exactly at the same time and before that, my job is linking up with the co-ordinated teams on the ground as well to make sure they're happy and they know what they're doing and they're comfortable, and starting the race on time."
The former runner explains how he was inspired to get involved in the campaign after learning about spinal injuries and the race's association with them.
"The actual foundations of Wings for Life — it's about raising as much money as we can for people to do spinal cord injury research. When I heard the initial story about how the foundation was set up, it really brought it home to me how A), anybody on this planet can suffer from a spinal cord injury and secondly, they need money because everyone I've spoken to on the science side has said if we have more finance, one day we will definitely be able to sort this problem on spinal cord injuries.
"For me, it was a real inspiration behind getting involved in the Wings for Life foundation and of course, raising money via the run."
What are they
really like?
Rare insights on sport's biggest names from the writers who know them best. Listen to Behind the Lines podcast.
Become a Member
Moreover, those who aren't particularly keen runners or especially fit athletes need not be intimidated by the prospect of competing in the event, as Jackson explains.
"The best thing about Wings for Life is that the finishing line comes to you. With that in mind, you don't have to worry about how far you can run, you just go as far as you can go.
"So it's not like you need to do half a marathon or a full marathon, you just have to go as far as you possibly can. It also means we can engage with literally anybody. You could walk and eventually the Catcher Car will catch you, but you would get at least 4km even if you decided to take your time.
"So for us, it's one of those things that's very inclusive, and you can challenge yourself. But if you want to do half-a-marathon, why not? Go for it!
"I think people will really enjoy it, because they're running with the whole world. And when they get their finishing number and their finishing time, they'll see how they rank across the whole planet."
THERE'S ONLY 5 DAYS LEFT TO REGISTER: Registration is only €20 at WingsForLifeWorldRun.com (until Tuesday 28 April).  All of the  €20 entry fee goes directly to Spinal Cord Injury research. It takes place on 3 May at 11 o'clock UTC (noon Irish time)."