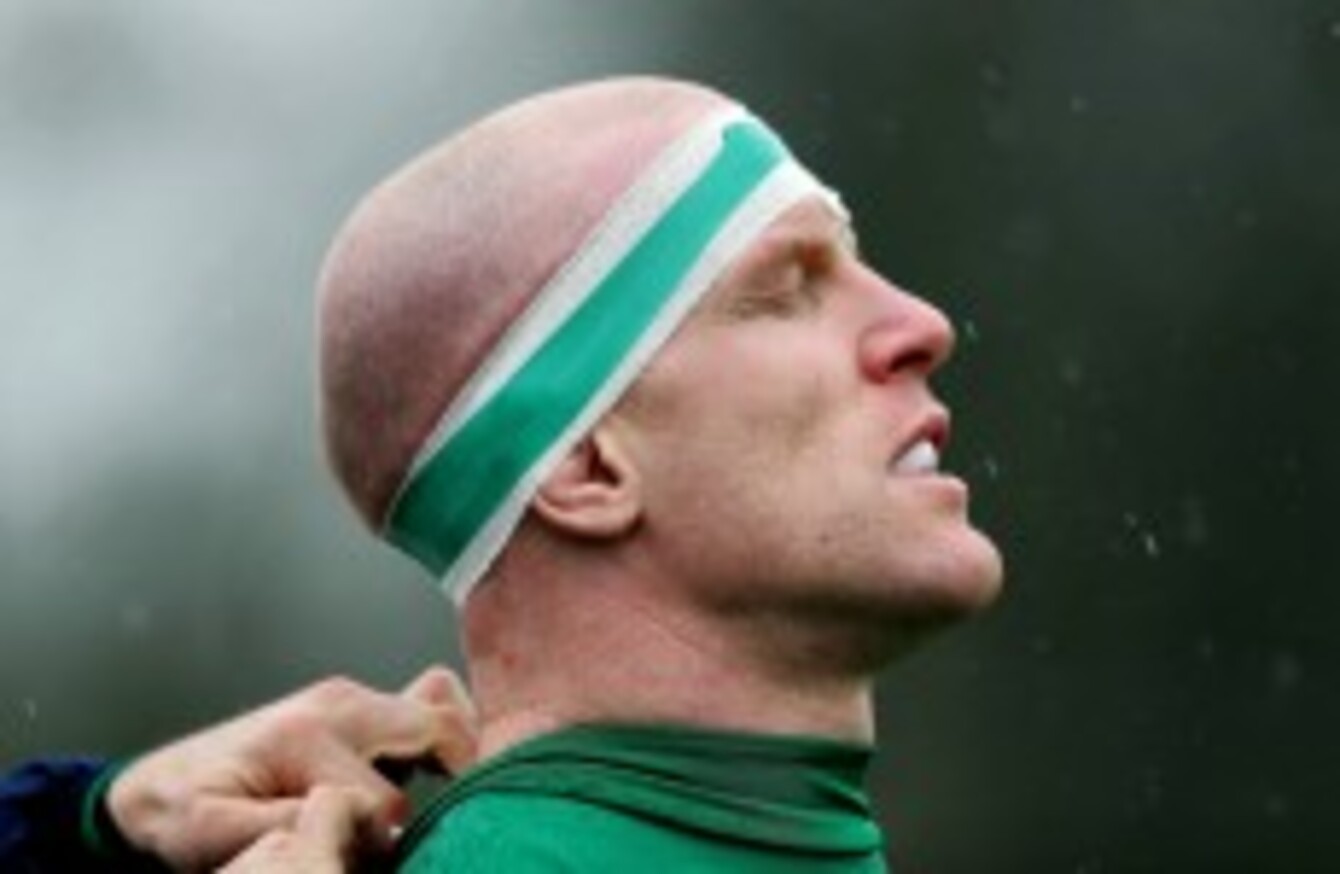 Ireland captain Paul O'Connell is fitted with his GPS and accelerometer device before training.
Image: James Crombie/INPHO
Ireland captain Paul O'Connell is fitted with his GPS and accelerometer device before training.
Image: James Crombie/INPHO
THE IRELAND INTERNATIONAL side are constantly looking for the next progression in performance, meaning they have come around to the latest developments in GPS monitoring and analysis software.
STATSports, a Dundalk-based firm, have been providing the Ireland set-up with game and training-related physical data for several seasons, although their new rugby-specific software has added a further cutting edge during the current campaign, including the victorious Six Nations.
While the measurement and analysis of markers such as high speed running, accelerations and decelerations, heart rate and dynamic stress load remain integral parts of the company's Viper system, there have been fascinating additions in recent times.
The match-sized box on the upper backs of the players has allowed Ireland's backroom staff even more insight into physical performance than ever before. Other rugby clients such as the RFU, Ulster, Leicester, the Chiefs and Saracens have also been enjoying the broadened data base.
Mark Geraghty, a Sports Science Analyst with STATSports and a former underage international for Ireland, joined TheScore.ie to detail the newest features and how they can help to improve on-field performance.
Collision analysis
The first port of call is an explanation of the collision analysis element of the software, which allows ball carries, tackles, ruck contacts, hitting mauls, coming to deck from line-outs, contact in the air while competing for a high ball, and more to be accurately measured.
"Especially in rugby, you can look at games across a wide spectrum of levels and there won't be a huge difference in terms of the distance players are covering and different speeds guys are getting to," says Geraghty.
"The main difference that you're seeing between games is always to do with the collision load of the games.
Source: STATSports/YouTube
"For example, you might have one very heavy collision game and one very low collision game, but the distances and speeds covered within them are the exact same. The fatiguing element, and the damaging element, is going to be that collision load."
STATSports built up an understanding of the contact involved in rugby by analysing 10,000 separate collisions taken mainly from Ulster and Leicester game, but interestingly also got a subjective view on the matter from the players themselves.
"We sat down with a lot of the players and tried to get an idea of what they thought were the harder collisions. We got good feedback from that.
With some of the collisions we saw and recorded, we thought, 'There wasn't much involved in that.' Then when we sat the player down and showed him the collision he was involved in, he said, 'No, that actually took a lot out of me.'"
The result is that STATSports can now accurately record the real force of each collision in a game or training session, alongside having an understanding of how players perceive different contact scenarios.
An accelerometer built into the GPS pack on the players' backs records the impacts, making 100 readings every second for a 96% accurate result. What it means is that teams like Ireland can have a more genuine reflection of the toll a game has taken on their players' bodies than simple running data alone can provide.
"It's a hugely appropriate feature," underlines Geraghty. "We look across games, even here with Ireland and some metrics aren't differing much in terms of distance covered, high speed running, or any of that kind of stuff.
"But when you look into the collision load side of things, you can see that certain games are a lot harder than others. For example, the England game this year in the Six Nations was a particularly heavily loaded game in terms of collisions.
"You could see that with the naked eye anyway, but we could accurately tell what players were experiencing.
"By seeing exactly what kind of collisions they were exposed to, you can plan their post-game recovery a lot more, so you might taper off a little more in training the following week depending on how they've got through the game."
Some remarkable data has been recorded with this collision monitoring and analysis software, particularly throughout Ireland's season.
Brian O'Driscoll sustained a 30.5G force hit from Scott Williams during the clash with Wales in the Six Nations, while Cian Healy inflicted 33.5Gs of damage on Richie McCaw when he ran over the top of the New Zealand captain in November.
Those are frightening figures, but Geraghty tempers that by highlighting the instantaneous nature of those incidents.
That reading is for that split second in time. People will hear things about going above 10Gs and you can die; that's only with a sustained force of 10Gs.  If you can imagine Brian O'Driscoll taking a sustained force of 30Gs on top of him, that would obviously kill him.
"But for that split second in time, that G force is measured and the body can take that impact. Those would be particularly stand out examples though."
Each and every impact for Ireland's players this season has gone towards building a "fingerprint" for them within the analysis of their collisions. As with heart rate data and high speed running measurements, Geraghty and his fellow analysts can understand each player's threshold.
The players themselves have constantly engaged with Geraghty this season – he has worked with the Ireland squad during the campaign – to find out how big their collisions are.
"The guys come off the pitch and they'll have a moment in their heads where they think they had a big collision. They'll want to see what the G force was.
"The players are usually very eager to find out what they've done in terms of impacts, and very competitive on the speed side of things also, as you can imagine with the outside backs. In impacts, the bigger boys are very interested to find out what they've been at."
Scrum analysis
Another of the prominent new features in STATSports' rugby-specific system has been the introduction of scrum analysis. The eight-man set-piece is such a constant facet of the modern game that any advantage in this area is seen as crucial.
Again, the accelerometer is the key to providing the data, relaying the force of each and every scrum.
When you get that initial engage, we can give impacts for individual players across the board. As you'd expect, the tighthead is taking most of it, then the hooker; the front row in general are taking a fair share.
"You get to see not just the scrum impact across the board, but also a 'sync time', as we call it. That is the time between the very first impact – that first impact in the front row – down to the very last impact.
"So for example, in the perfect case scenario if you're just looking for a head-on scrum, the tighthead hits first, gets his impact, then .29 of a second after that, your number eight is last in."
That sync data can reveal to the pack and their coach if a particular player is consistently off in their timing, thereby reducing the effectiveness of the collective. Linking the data to video footage, the coaches can then prescribe a technical solution to the issue.
There is more to the scrum analysis for scrum coaches to benefit from than simple sync time though.
We have a 'time to feet after scrum' measurement," outlines Geraghty. "The scrum is considered over when one player becomes fully upright again. So for example, if your number eight breaks first, once he comes up, that scrum is considered over and that's your zero line.
"Then you're analysing how quickly your other guys get up after that. I'm looking at an example here where a number eight has stood up first and four and a half seconds later, the loosehead prop is the last man to get upright from the scrum."
"You can track that as the game goes on; what guys' reactions in 'time to feet' are. Are they dwindling a bit; taking six, seven or eight seconds to get back to their feet after a scrum?"
The benefits of tracking that data are clear, and may begin to be more influential in substitutions and longer-term planning of rest periods for forwards. In a similar vein, the measurement of immediate activity when the pack have actually 'returned to the feet' after the scrum is of interest.
"We look at post-scrum acceleration too, so that when you do become fully upright again, what the first acceleration is off that, what your first movement is like," says Geraghty.
What are they
really like?
Rare insights on sport's biggest names from the writers who know them best. Listen to Behind the Lines podcast.
Become a Member
"Obviously, we link this up to video, because you might have a scrum in a wide position and the job of the back row might actually be to hang out wide, so they might not have a huge acceleration.
"On another occasion, when you're looking at it with the video feed, you can say 'well, we actually needed the flanker to move there and he didn't accelerate as much as he needed to.'"
Scrummaging is a complicated and nuanced part of rugby, meaning that the analysis of the impacts and physical outputs around it need to reflect that. Geraghty underlines that a technical coaching outlook on the data is needed to avoid any misunderstanding.
"I'm looking at a scrum here and the tighthead has a 15G impact after the 'set' call and the loosehead only has a 4G impact. I was talking through this one with a scrum specialist and he was saying that on this scrum it looked like the team wanted a shoulder from the tighthead.
That's why he gets the big hit and the loosehead's the third man in after the hooker in the sync times, because they were looking to get the scrum up on one side. You have to look into the technical element of it as well.
"Maybe if we'd seen on that graph that the loosehead had a bigger impact, even though we were looking to get the tighthead up on that particular scrum, we could have told him he needed to hold back a little more and let the tighthead go harder the next time we tried it.
"It's the match-up of that impact with the actual technical and coaching side of it as well."
Max intensity period
The continuing need for development of the overlap between the physical data picked up by STATSport and the video analysis of games is highlighted when Geraghty moves on to the next feature of the system Ireland used this season.
"We monitor and analyse a 'max intensity period' for the players, which is basically his most intense three-minute period where he was involved in collisions. It's all well and good looking at the data, but you have to be aware of what impact that guy is having on the game.
"It happened during the Six Nations where we had one really high workload period, where a guy had covered a huge amount of distance in this period of three minutes. But when we looked at the three-minute period in the video, he had little or no impact on the game as a whole.
So it's a bit of headless stuff and he's not actually making any decisions or influencing the game. You have to be careful what the relationship is between what they're physically doing on the pitch and what impact they're having on the game."
The rugby-specific STATSports software now links up with SportsCode – the video analysis programme of choice for the many rugby teams – and allows players and coaches to access their three-minute max intensity period, and other physical data, alongside the match tape.
In that way, technical feedback from the coaches on, for example, the player's footwork pre-collision or their fight through contact is backed up by data readings of the individuals' real acceleration into and through the collision, as well as the impact of it.
Somewhat related to the max intensity period is the 'time to feet' monitoring in open play. Similar to the data collected post-scrums, this reading allows coaches to know "how long guys are taking to get back to their feet after contact."
"Being able to record that 'time to feet' over the duration of a match can help you see why guys maybe weren't in position in attack or getting set in the defensive line early."
Taking the data to the next level
[image alt="Richie Murphy, John Plumtree, Les Kiss and head coach Joe Schmidt 18/2/2014" src="http://cdn.thejournal.ie/media/2014/05/richie-murphy-john-plumtree-les-kiss-and-head-coach-joe-schmidt-1822014-630x409.jpg" width="630" height="409" class="alignnone" /end]
Any data in professional sport is essentially meaningless unless it can be used to bring about improvements in performance. That STATSports' system can do so in rugby is clear, but Geraghty says the sport must be focused on continuing to push the technology.
"We're all starting to try to find trends within the figures. For example, if all our front row have a hit of above 6G, more than likely we'll get a front foot in the scrum, things of that nature.
"We're looking to try and find these trends from the data, because there's obviously not a huge history or bank of data to draw from there."
Geraghty mentions the possible future development of pressure gauges in the shoulder pads of the players' jerseys and it's clear that sports science has many more steps to make. All in the name of improvement.