TO REACH THE Olympics is a main goal of any serious athlete.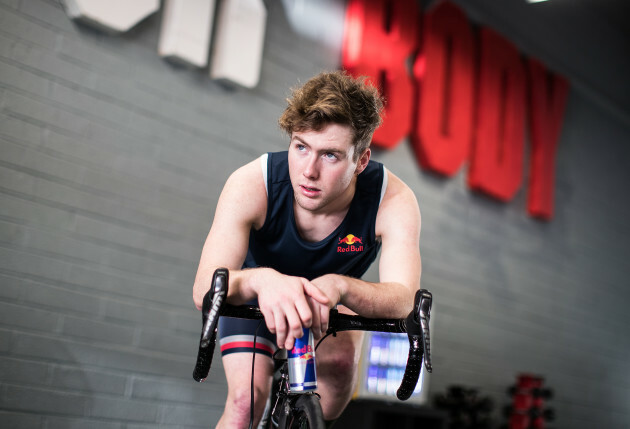 Getting there and competing, most people would be over the moon with that. Representing your country on the world stage whilst mixed in with the world's elite is every athlete's dream. Never mind the medals, most athletes would be content being there.
But not Con Doherty.
"Winning is what I'm here for," the young triathlete tells The42. "I don't want to just go to the Olympics. I'm very much about winning and the podium.
"Other athletes just want to, and are happy about getting to the Olympics, but I want to win. Being a kid, winning was what I always wanted.
I'm not just here as a participant to improve my PB — I'm here to win."
You might not have heard his name before, but you'll remember it now.
Doherty is one of the most promising triathletes in the country at the moment. The 21-year-old from Mayo has taken the triathlon scene by storm in Ireland and further afield, and has his sights firmly set on Tokyo 2020.
Like many kids, Doherty started swimming from a young age and was eager to try as many sports as he could. From there stemmed his competitive streak and it wasn't long before he found his niche.
"I was swimming from about five or six, and then I tried I don't know how many sports — rugby, soccer, gaelic, hurling, karate, I think horseriding and then boxing as well. I was always trying out new things but I always did swimming.
"Then at maybe 12, I got on the school cross country team, just about I think by one place. I decided to start running, and then I realised I had a lot of endurance. Even as a little kid, I just wanted to run for miles and miles and miles and miles, even though I didn't have the speed.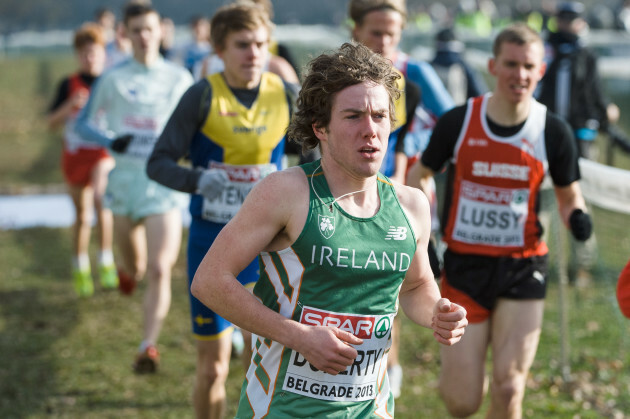 Sasa Pahic Szabo / INPHO Sasa Pahic Szabo / INPHO / INPHO
"I remember I wanted to do something crazy like run across America whenever it was, I was ten or twelve. But Dad was like 'no no no, calm down, maybe try something like an Ironman'. So I kind of looked into what that was, and it was the coolest thing I had ever heard of.
"I bought a bike with my confirmation money I think, and then started cycling. At around 14, I got onto the Irish team but I stopped, well not stopped, but my focus has changed from since then anyway.
I did my first triathlon at 14 I think. I think you have to be 16 to be allowed do them I can't even remember how I managed it, I just snuck into it whether I was supposed to be in the race or not but I did it."
And that's been his life ever since.
Currently studying in the University of Limerick, Doherty has quite an intense training schedule especially with the fact that he has to split his time and efforts between swimming, cycling and running.
When asked about his favourite of the three, he hesitates: ""It usually depends on which one I'm going best at," Doherty smiles.
Having represented Ireland in athletics before, he does admit that running is his favourite training-wise. He finds it almost as a meditation, and he says that no matter what fitness he's in he can always do the runs.
Preferences have to be pushed to the side however, with early starts and vigorous sessions across all three disciplines filling almost every day of the week.
"At the moment, I'm up at half 6 swimming Monday to Friday and there's a mix of intensity and easy swimming. There might be one easy session, three higher-end sessions, not super hard but tough, and one very very hard.
"Then, the runs I'm doing 2-3 hard runs a week; one's a tempo and there's a gym run just with the weather and everything. On the treadmill you can kind of do hill work, and you don't have to come back down. It's pretty easy to work with but obviously the treadmill isn't ideal. And then, I'd have maybe four easy runs alongside that, so in total 100k a week.
"And cycling-wise, I've got a turbo session, which is the main session a week. It's on a stationary bike, similar to a spin bike and the structure is central to that where you're working the higher end so it's good for racing. Then the respiratory I just build up with spins whenever I have any extra time outside of college to do them. It's usually a long spin on a Sunday and two other rides during the week.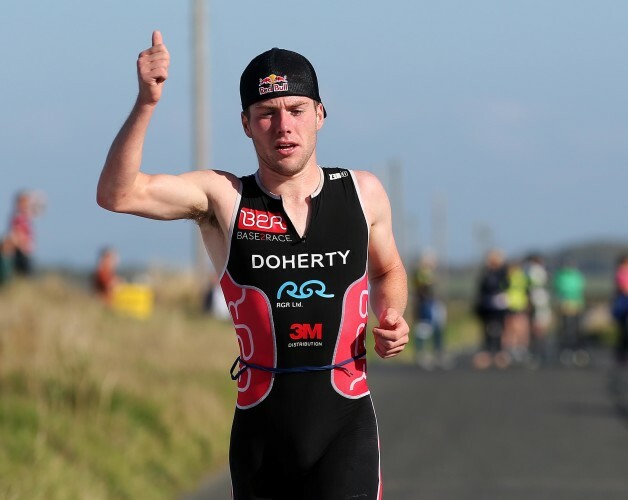 Ryan Byrne / INPHO Ryan Byrne / INPHO / INPHO
"That's it," he says. "In total, I spend three and a half hours a day [training]. At the moment between college it's only between 21 and 24 hours, and then when you get into the racing season and summer season, you have a lot more time so it's be up on 30+ hours."
Like most athletes, Doherty has to put in his fair share of time in the gym and strength and conditioning work. Every morning before getting in the pool, the gym is his first port of call.
Otherwise, he does another one or two key sessions. It's all free body work with no weights involved, mainly geared towards injury prevention and mobilty.
"It's all to improve your form for your run or bike, or your swim depending on what it is. I wouldn't enjoy the S&C work as much as the sports because there's no real competition in it like, I'd rather be out.
It's just yourself so it's harder to get into that zone and rhythm. It's still not laborious, I do it to improve so I don't mind it."
For any athlete, nutrition is obviously of huge importance. The fact that Doherty trains for over thirty hours a week makes it even more so.
"At the moment I'm on a low carb diet so it's all burning fats and proteins, shredding carbs and anything that are sugar and carbs, they're natural so fruit, veg and stuff like that. I find that if I'm eating crap food, not even crap foods — breads and stuff, and I wouldn't be gluten intolerant — I don't like it. I found that I feel a lot more healthy and lively when I'm not eating breads and carbs and starch products.
"I wake up and I don't eat before I go swimming. I might have a coffee and then swim, come back, and have your — of course, a salad with a huge omelette with cheese and bacon. During the day, I might have another salad, with nuts, I eat a lot of nuts, and fruit and stuff like that snacking. And then for dinner, probably like a vegetable stir-fry with a bit of meat thrown in."
That being said, he still allows himself a treat every so often: "I love sugars more than anybody, chocolate is like my favourite thing. Occasionally I would allow myself a treat, but not that often."
Healthy eating is a big part of his life, and although the Product Design student knows he has to do it, he also enjoys it.
Exclusive Six
Nations Analysis
Get Murray Kinsella's exclusive analysis of Ireland's Six Nations campaign this spring
Become a Member
"I don't find anything to be a chore — if it's beneficial, it's not. I kind of feel if I was to eat the same, I'd feel worse for eating it than I would for, not in a way that I'm like 'I shouldn't be eating this much sh**e' but I know that I'll benefit from eating better."
A full-time student and pretty much full-time athlete, Doherty finds it difficult to manage everything but then again, once he finds his balance it's feasible.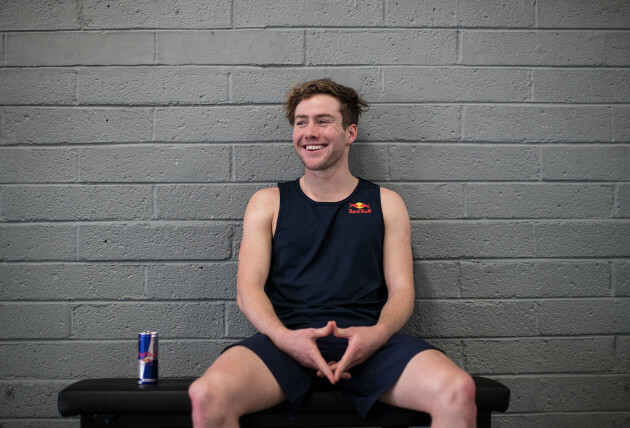 "It's very vigorous. The hours are much higher than I expected coming into the course. I spend about 30 hours or more a week on college work, at least. Between being in college and being at home. But I absolutely love it.
"Second to sport, it's my biggest passion. I love what I do so I can't complain about it. I wouldn't complain that the hours are too tough because I love it so much.
He also lives with his training partners, and considers them his best friends so he can't complain that he doesn't get to spend time with them. He also doesn't miss out on the social aspect of college life, with "the odd night maybe once every two weeks — it's the perfect balance."
Doherty is also an ambassador with Red Bull Ireland, so he has that to manage too thrown into the mix. As part of his work. he takes classes, has a fitness blog on their website and helps promote working out and fitness around the country.
"They're like family, honest to god. I wouldn't be able to do most of the racing I do if it wasn't for them. I'm helping them out with whatever projects they're pushing. I love working with them.
"I had to do a spin class up in Dublin one night recently. That was pretty cool. I don't think I'd actually taken a group of people before for any session. It was weird like, I didn't know what to expect, shouting at people on a bike, but it wasn't too harmless."
So what's next for the rising star?
More of the same, he says, with Tokyo 2020 always in his mind of course.
"I'll continue as I am — international racing, European and world cups, I'll be racing this side of the season a bit in Ireland and then once I have my exams done, we'll base ourselves out in spain or somewhere warm at least and then race from there around Europe.
"This year is all about racing as much as possible at the highest level and bumping up my points, gearing towards Olympic selection."
The42 is on Instagram! Tap the button below on your phone to follow us!