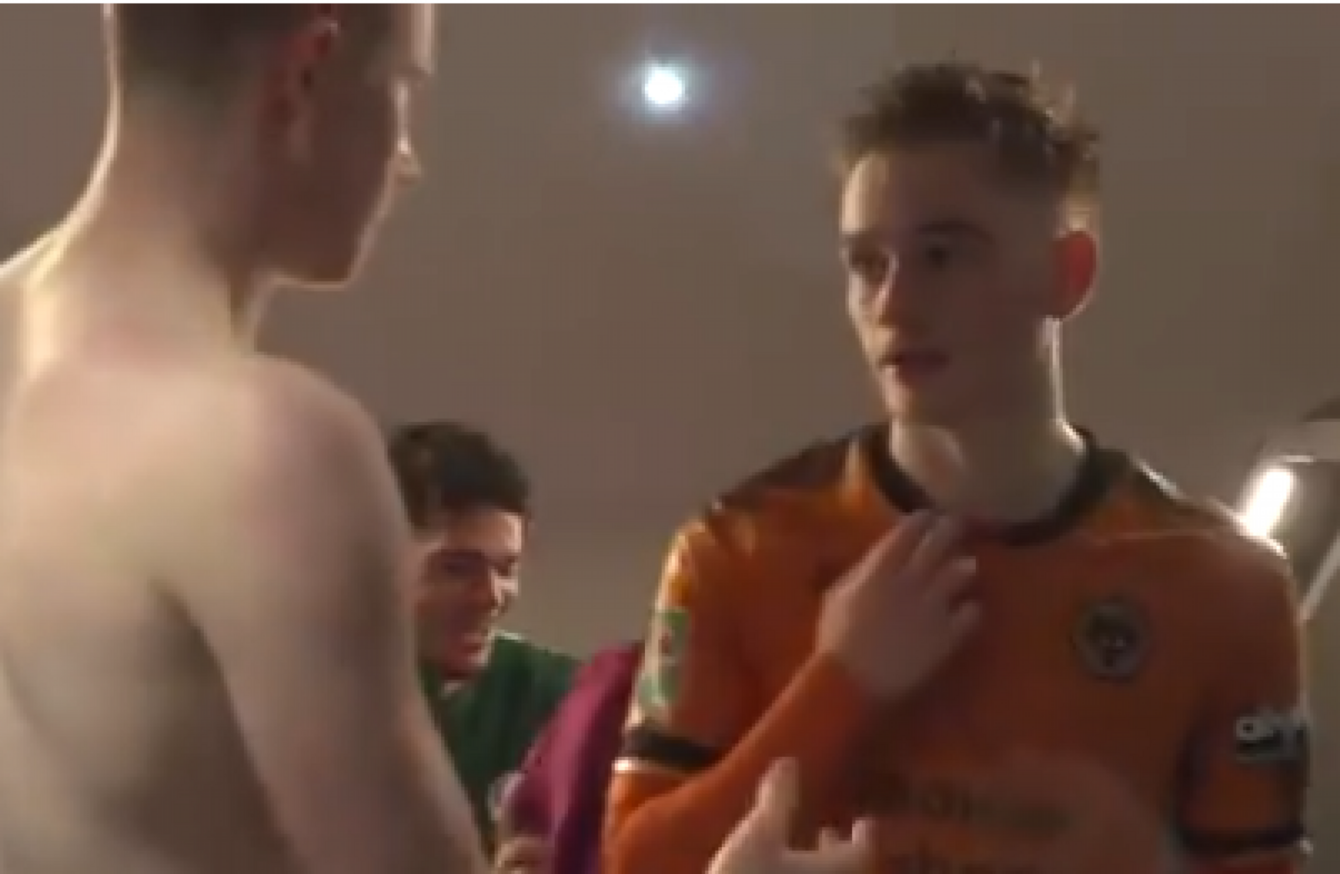 A screenshot of De Bruyne asking for Ronan's jersey.
A screenshot of De Bruyne asking for Ronan's jersey.
IT MAY SOUND odd but it is not inconceivable to imagine Man City superstar Kevin de Bruyne empathising with Wolves and Ireland underage starlet Connor Ronan.
At 19, Ronan is one of the most promising youngsters in the Championship. Like De Bruyne, he is an attacking midfielder whose primary function is to score and create goals.
It is just under a year since then-manager Paul Lambert chose Ronan to come off the bench in the 67th minute at Anfield, helping his team to see out a shock victory in the FA Cup against Jurgen Klopp's Liverpool. A month later, he also made an appearance in the same competition as a substitute against Chelsea, with the Championship outfit failing to repeat their heroics against Premier League opposition on this occasion and going down 2-0 ultimately.
Since then, however, the youngster has seen his game time limited. Injury problems have not helped matters, while the team has gotten considerably stronger in the close season.
Manager Nuno Espírito Santo's summer appointment coincided with a major recruitment drive. The new arrivals at Wolves included Rúben Neves, a midfielder the club bought for €18 million from Porto and Diogo Jota, a highly-rated Portuguese underage international, who has come in on loan from Atletico Madrid.
Such strong competition means it is increasingly difficult for homegrown youngsters like Ronan to get a chance in the first team.
And while this situation may seem a million miles away from what De Bruyne — arguably the Premier League's player of the season so far — is experiencing at Man City, it is easy to forget that the Belgian international was once in a position not dissimilar to Ronan.
De Bruyne was a year older than Ronan is now when his move from Genk to Chelsea was confirmed. During a two-year spell with the London club, he made just three Premier League appearances. Much of his time on the books at the Stamford Bridge outfit would be spent watching on from the sidelines and on loan at clubs elsewhere.
And at 26, it has taken a while for De Bruyne's talent to be fully recognised — it is just over two years since he made his City debut and belatedly began to establish himself as a top-class Premier League footballer (although he had made his name before then as a potentially world-class player in the Bundesliga with Wolfsburg). So like Ronan, he is well aware that young footballers almost always require plenty of patience as well as ability.
I always knew it was going to be a tough season for me personally with the players that they've brought in," Ronan, who has seven senior appearances under his belt in total since the start of the 2017-18 campaign, tells The42.
"But you've got to respect the players they've brought in and when he gives you a chance, you try to impress him as much as possible and do a job for the team."
Ronan was handed a big opportunity in Wolves' League Cup match with City the week before last. He was introduced after 73 minutes and garnered plenty of acclaim for an eye-catching performance, with his side only narrowly failing, as they were just a penalty shootout away from stunning the Premier League leaders following a 0-0 draw between the teams.
"It was good just to be involved and around the game," he says. "To be on the bench and having not had that many minutes for the first team this season, for the manager to trust you in a game like that, when it was still 0-0, was big.
"The way City are playing at the moment, to come on against that calibre of player in a full stadium was good and it was great to have my family there watching as well.
"It's just a shame we couldn't get a win, but I think we gave a good account of ourselves with the performance we put on and obviously, everyone was proud of each other."
It was no accident that Wolves showed such confidence and self-belief on the big occasion. Beforehand, Nuno urged his team not to be overly deferential towards City, who have been in imperious form this season, and they remain unbeaten in all competitions.
"The manager before the game said he got the feeling that there was a bit of a nothing-to-lose attitude around the team. But he didn't see it like that, he said there is a game to lose, it's a cup game and we want to win the game.
There was pressure on us to win the game and we had to go into it like any other game, expecting to win — having that attitude helped us a lot.
"Because if we go into the game thinking '(we've) nothing to lose,' it could have gone the wrong way, but we went in thinking: 'Lets's try to get the win and show everyone what we've been doing in the Championship.'"
As impressive as Ronan's performance was against top-class opposition, it was a post-match incident involving the Ireland youngster that gained the majority of the online traction afterwards.
great moment for Connor Ronan @tim_spiers_Star @WWFCFancast
sure he'll have more great moments IN a Wolves shirt as well pic.twitter.com/tkCLadS0O3

— The Absolute Boy JC (@TheBirmingham6) October 26, 2017
A video doing the rounds on social media showed De Bruyne asking Ronan for his jersey, with the Wolves starlet visibly taken aback by the request.
"My little brother's a Man City fan, so my dad mentioned to me that after the game, if you get on, try to get a shirt for him," he explains. "I kept that in mind after the match had finished. I just went over to (De Bruyne) and said: 'Can I get your shirt?' He said: 'We'll exchange in the tunnel.'
I met him in the tunnel and he gave me his shirt. I was thinking that would be it, but then obviously, he asked for my shirt and I was a bit surprised by it.
"I think a few of the other City players did it as well. It was nice of them to do that, it makes you feel appreciated."
As an avid football-watcher, Ronan is well aware of just how fundamental De Bruyne has been to the Etihad outfit's success so far this season, and so it is no surprise that he regards the 26-year-old as somewhat of a role model.
"When you're watching the big Premier League games, he's definitely standing out in that team at the minute. I try to do the kinds of things he does — get goals and assists, effect the game in a positive way, try to attack when I get the ball and play a positive role."
And while Ronan was not involved as Wolves consolidated their lead at the top of the Championship with a 2-0 win over Fulham on Friday, he is optimistic in general about managers in English football's willingness to give young players a chance.
While there are obvious exceptions too, Mauricio Pochettino playing a relatively inexperienced 21-year-old in Harry Winks twice against Real Madrid in the Champions League recently, and 20-year-old Tammy Abraham's 14 appearances in all competitions for Swansea this season are two stark examples, which undermine any notions that promising youngsters do not get chances at Premier League or Championship level.
"It definitely does depend on the manager, but every footballer's path is going to be different.
"One manager might not want to play you every week and one manager might not see the same thing as the other one. With this manager, we definitely have the right balance of the players who were brought in while keeping the young lads around it.
A lot of managers at the minute, even in the Premier League, are finding a balance between the big names and trying to integrate the players in, so it helps the younger players going in with those big names. The big players in the team (tend to) help the younger players."
Be part
of the team
Access exclusive podcasts, interviews and analysis with a monthly or annual membership.
Become a Member
And while the influx of new players at Wolves makes competition for places in the team all the more intense, Ronan is determined to "see it as a positive thing".
He continues: "Wherever they're coming in from and however much money they've been bought for, they're going to be playing for the same team as you and they're in the same position as you at the club.
"You're going to be fighting for places, especially at a big club like Wolves, and that's why they have spent that kind of money and brought the players in to try to get the club back to the Premier League, where everyone thinks they belong.
"With the players they've brought in, you just try to learn off them and (try to) get better every day."
There are few if any managers outside of the Premier League in England whose stock is higher than Nuno's right now. The man, who was in charge of Porto as recently as last season, has even been linked with the vacant Everton hotseat of late. And like everyone else seems to be, Ronan has been highly impressed by the manner in which the 43-year-old coach has gone about his business since arriving at Molineux.
"He's brought his own style of football in and it's different to what I've been used to, coming through under a few different managers. It's been very positive since he came in — there's definitely a buzz around the place that himself and the staff have created, not just by the way they're playing but the results we're getting and where we are in the table.
His will to win (is what makes him stand out). Sometimes, with other managers, you might go into games thinking: 'It's a tough game away, we might get a point.' But with him, every game he sees as a win. 'We have to win this game, we have to win this game.'
"It's definitely rubbing off on the boys and the lads are thinking the same way, trying to get a win every single game. If you get a point, maybe it's seen (now) as two points dropped rather than one point gained."
And given how well everything is going currently, Ronan acknowledges that it would be considered a disappointment if the club are not promoted come the end of the season.
"With the players they brought in, that ambition (shown by) the club, no one's trying to hide it, everyone knows we want to go up this season.
"It is early to be talking about it, because we're only so many games into the season, but even before the season started, everyone knew the plan was to get promoted and then after these games, it's started to become a bit more real.
"But no one's getting carried away, we know there's still a long way to go and it's easy for people to get their hopes up after the results we've had."
Ronan is also currently part of a highly successful side at international level. The Ireland U21 team are unbeaten in their European Championship qualifying campaign so far. Moreover, with 10 points from a possible 12, they sit top of Group Five.
Like many of the players in Noel King's squad, Ronan was born and raised in England (Rochdale to be precise), yet has opted to declare for the Boys in Green ultimately, despite two initial appearances for the England U17s team.
"I'd never played international football until U17s," he says. "There was interest from Ireland, they knew my grandparents were Irish, and I eventually got a call-up.
"I was due to go away with Ireland but three or four weeks before then, I got a call-up from England.
"I had a chat with the academy manager at the time, the U18s guy at Wolves. He said: 'It's up to you, but just make your own choice.' I wanted to go away with both teams, experience both camps and see what it's like. So I went away with England, played a few games with them, went away with Ireland and Ireland just ticked the boxes for me really."
Ronan, whose grandfather and grandmother are from Kilkenny and Galway respectively, came on as a late substitute in Noel King's side's recent draw with Norway. Given their near-perfect start, he is also hopeful of helping to guide the team to qualification for the 2019 Euros, despite the Boys in Green finding themselves in a difficult group that also includes Germany. The experience of international football, he adds, is different to what he has become accustomed to at Wolves.
"Sometimes the performance is irrelevant. At club level, it matters, because you've got to keep taking it into every game.
With international football, you've just got to win and win in every game. Especially for Ireland, all the lads know you wear your heart on your sleeve and just have to try to do everything to get the win.
"There's definitely a good vibe around the boys, getting the victories we got and we were unlucky not to beat Norway. But then, we got the win against Israel
"It was good to end the trip on a win and end it top of the table. Then, once we got back, Norway got a (positive) result against Germany, so I think that helped a lot as well."
Ronan says it is a "boost" to see the likes of Sean Maguire and Callum O'Dowda recently graduating from the U21 team to the senior set-up. The fact that Martin O'Neill and Roy Keane attend Noel King's side's games in person when possible is also encouraging from the youngster's perspective.
However, even if Ireland beat Denmark over two legs in next week's play-offs, this coming summer's World Cup in Russia will probably have come a bit too soon for Ronan. That said, if he does manage to establish himself as a regular in the Wolves side, there is always an outside chance he could feature at senior level sooner rather than later, particularly with young Irish attacking midfielders not exactly plentiful currently.
"I haven't really thought about it," he says. "I've just been focusing on the U21s campaign and we've been trying to qualify for the Euros. If we do qualify, it will be in the back of our minds, but my main focus is trying to get into the Wolves team and get some minutes. Hopefully that comes with it and I get the attention of whoever it needs to be to try to get there… And then you never know, do you? I could get that call-up."
Subscribe to The42 podcasts here: