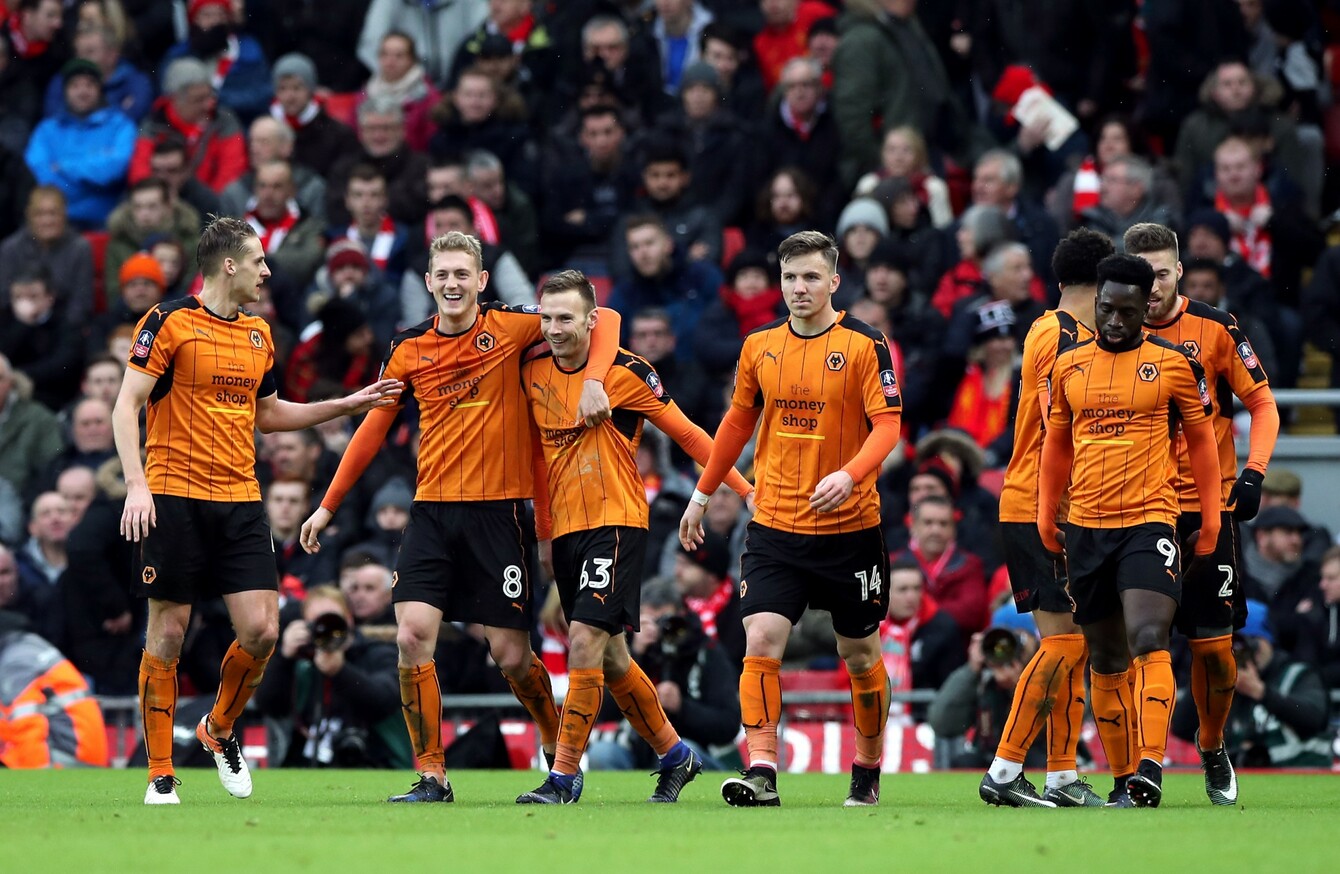 Wolves players celebrate at Anfield yesterday.
Image: Peter Byrne
Wolves players celebrate at Anfield yesterday.
Image: Peter Byrne
1. Ireland U19 player impresses at Anfield
IT IS A measure of the esteem in which he is held, that with Wolves leading 2-0 in the 67th minute of arguably their biggest game of the season, manager Paul Lambert brought teenager Connor Ronan off the bench.
It was just the 18-year-old's third appearance for Wolves at senior level. He had previously appeared as a substitute in the 2-0 win over Nottingham Forest in December, in addition to starting the 0-0 draw with Sheffield Wednesday on 2 January.
However, surely neither experience would have been as daunting as featuring at Anfield in a televised game with his side holding a shock lead.
Yet the teenager, who was born in Rochdale and originally represented England before switching to the Irish youth set-up, acquitted himself admirably, showing plenty of energy and tenacity out wide as his side held on for a memorable victory.
With the emergence of similarly talented young Irish players in the Championship this season, including QPR's Ryan Manning and Reading's Liam Kelly, the future is suddenly looking brighter for the national team.
2. Upsets aplenty on an FA Cup weekend to remember
There were a number of stunning upsets and near upsets over the course of this weekend.
While the FA Cup may have lost some of its magic over the years, the competition still has the capacity to entertain if the evidence of the past few days is anything to go by.
In addition to Wolves shocking Liverpool among other Premier League clubs exiting the competition at the hands of lower league opposition, the fifth round will feature two non-league sides for the first time in the history of the competition — Lincoln, who beat Brighton yesterday, and Sutton United, who overcame Leeds this afternoon.
Of course, these upsets are partially down to the bigger teams' lack of interest in the competition and their subsequent tendency to field reserve sides.
Yet these factors shouldn't detract from the smaller clubs' achievements of late. Even Premier League reserve teams have far more money and talent within their ranks than the average lower-tier side, so there is still a degree of novelty and enjoyment in seeing the latter teams triumph.
Moreover, their success is also an indication of the growing standards across the footballing ladder. With the Premier League now dominated by foreign players, the type of solid hard-working British or Irish pro once commonplace in the top flight now finds himself in a less prestigious position.
Therefore, the influx of talent from abroad arguably means that a top Championship team now is roughly at the equivalent standard of where a lower-to-mid-table top-flight side was 20 or 30 years ago.
3. Can Schweinsteiger still do a job for United?
Man United took a while to get going against Championship strugglers Wigan today. Marouane Fellaini's opening goal, scored in the 44th minute, was the Red Devils' first attempt on target.
One man who played a big role in breaking the deadlock was Bastian Schweinsteiger. The German's inch-perfect cross allowed the Belgian international to score a trademark header, before the veteran midfielder rounded off proceedings with a well-executed overhead kick in the 81st minute.
Schweinsteiger had previously been banished to the U23s by Mourinho, but it is a testament to the player's professionalism that he refused to throw his toys out of the pram as a result, instead going about his business with minimal fuss despite the Portuguese manager's harsh snub.
Granted, he was playing against a poor team today, but surely Schweinsteiger still has something to offer United this season. At 32, he is no longer the supreme athlete he once was, but the star's technical ability and creativity would come in handy against Premier League sides that stick 11 men behind the ball, while his lack of pace and general defensive deficiencies would not be readily apparent against these unambitious outfits.
Michael Carrick, at 35, has this season proven that there is still room for an elder statesman in a top Premier League team, and when he's not available, Schweinsteiger could undoubtedly perform a similarly important role in the side.
4. Hard to blame Premier League clubs for their unpopular stance
Premier League sides and Liverpool in particular have received plenty of criticism in recent days for fielding second-string teams in the FA Cup.
Gary Linker hit out at Jurgen Klopp on Twitter amid Liverpool's surprise loss to Wolves, while others have been similarly vocal in their dismay.
Yet football has been a business for quite some time now, and for pundits to expect clubs to show deference to a particular competition purely for sentimental reasons seems naive at best.
The finances received from performing well in the Premier League dwarf the benefits of going far in the FA Cup, so most clubs are always going to prioritise the former.
There were similar complaints last year when Leicester fielded a reserve side in the cup against Tottenham, but that certainly wasn't what people were reflecting on at the end of the season at the King Power Stadium.
Football is a game of small margins, and while it's not always the case, that 1-2% extra degree of energy derived from players getting a rest during cup games can potentially be the difference between survival and relegation, or between a Champions League spot and a disappointing season. Clubs would be foolish to risk sacrificing these goals in favour of trying their hearts out in a competition they have little chance of winning or gaining substantial income from.
5. Dele Alli shows his class
Arguably the most entertaining game of the weekend came at White Hart Lane on Saturday.
There was no shortage of drama, as third-place Premier League side Tottenham took on the team in sixth position in League Two, Wycombe, with the former dramatically prevailing 4-3.
The underdogs took a 2-0 lead, before Spurs drew level with two quick-fire second-half goals.
An injury suffered by full-back Kieran Trippier reduced the hosts to 10 men after Mauricio Pochettino had made all three changes, before Wycombe re-took the lead, only for two last-gasp goals to hand Tottenham a victory that had looked unlikely for significant portions of the match.
The crucial moment arguably came amid the second-half introduction of Dele Alli and Mousa Dembele.
Spurs were visibly lifted when these two first-choice players were brought on, and Alli — who racked up countless lower-league appearances for MK Dons before joining Tottenham — took little time to make an impact.
The England international showed admirable skill, composure and poise to draw Tottenham level in the 89th minute with a fantastic finish, coming good when his side most needed it and emphasising why so many people have been raving about him in recent months.
The42 is on Instagram! Tap the button below on your phone to follow us!