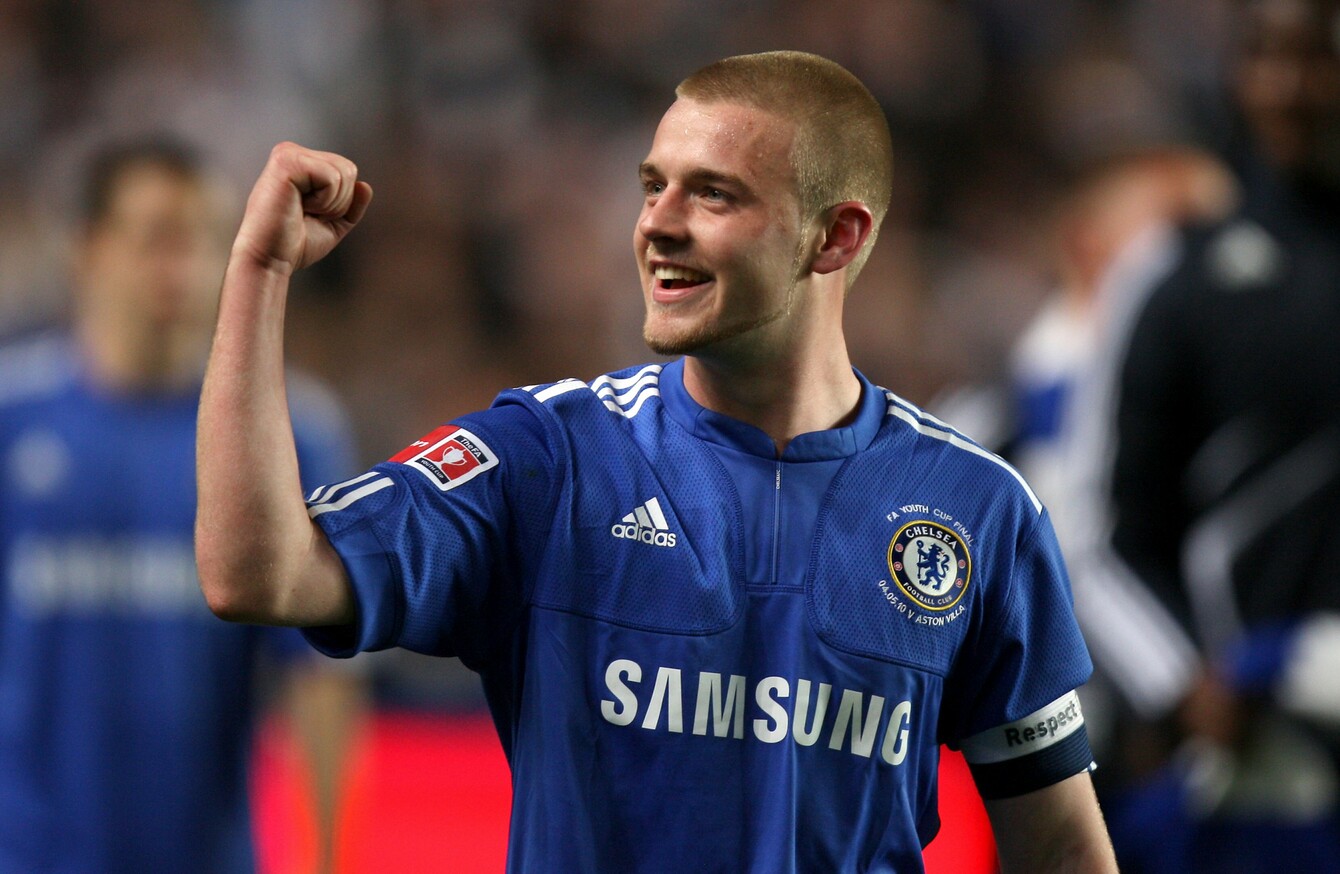 Image: John Walton
Image: John Walton
AFTER CONOR CLIFFORD scored the winning goal for Chelsea in the 2010 FA Youth Cup final, he was interviewed on the pitch minutes after the full-time whistle.
Breathless with excitement, he struggled to even get the words out.
"The best feeling in the world. I dreamed of this – playing in front of Chelsea fans at Stamford Bridge and look at this. It's unbelievable".
It was the first time in 49 years the club had won the trophy. Clifford, the 18-year-old diminutive midfielder from Palmerston, was the captain. Not the imposing Jeffrey Bruma at centre-half, who had already tasted first-team action or the highly-regarded Josh McEachran, who had spent time training with the senior side.
"Before I went across, I used to watch it on the TV", Clifford tells The42.
"I remember watching Christy Fagan playing for Man United. And I remember thinking it would be great to play in it if I got to go over. And Chelsea hadn't won it in so long. When I got in the Chelsea youth team, everyone would talk about it. That night I had all my family over from Dublin – about 40 people were there and it was brilliant. One of the best nights of my career".
Clifford had been there for three years and made the leap from the academy to the reserve team. But catching the eye of the top brass was more difficult, owing to the continuous managerial merry-go-round. When he arrived in 2007, Jose Mourinho was Chelsea boss but not for much longer.
"Brendan Rodgers looked after me and I trained a couple of times with the reserves straightaway", Clifford remembers.
"And he brought me in to meet Mourinho and he knew my name – which I was delighted with. He knew everyone's name. He'd walk around – down to the cleaners, to the chefs – everyone. He knew everyone. And everyone loved him".
But by September 2007, Mourinho was gone. And by the time Clifford got to the fringes of the first-team squad, the club had already been through Avram Grant, Luiz Felipe Scolari and Guus Hiddink.
But under Carlo Ancelotti there was progress. Clifford was training everyday with the first-team. Suddenly, there seemed to be more possibilities.
"We were playing Newcastle in the Carling Cup in September 2010 and I was meant to be on the bench", he says.
"It was horrible. That was my big chance. My parents had booked the flights to come over because I was told I'd a great chance and more than likely I was going to be on the bench. But I picked up a stupid injury in training and that was that. And a year later he (Ancelotti) was gone and I had to start again. I could've come off the bench and God knows what else"…
His voice trails off.
That night, Chelsea lost 4-3 and were knocked out. No more League Cup games for fringe players to impress in. But Clifford was still on a high. He was playing well for the reserves and other teams were beginning to sniff around.
And it was at that moment that Clifford became a sort-of nomad, bouncing between clubs and divisions but with Chelsea still owning him. And with every new loan deal, the chance of ever making a senior appearance for the club slipped away. He found himself in no-man's land. He was a well-regarded member of the reserves but still so far from impacting the senior side. Chelsea were reigning Premier League and FA Cup champions. Their midfield featured Frank Lampard, Michael Essien, John Obi Mikel, Ramires and Florent Malouda. Well-regarded senior players like Yossi Benayoun couldn't even get minutes.
As Clifford describes the experience, you can't help but lose yourself in the physics of it all. That the momentum of something that's moving so quickly can change speed and trajectory dramatically when there's a change in the environment. At this stage, he's lost count of the changes.
"I had that great year in 2010 and then I went on loan to Plymouth and was really enjoying my football under Peter Reid", Clifford says.
But they went into administration. They got an embargo put on them and they couldn't sign anyone until the end of the season. So I got sent back to Chelsea. Then I went to Notts County and was really enjoying it but Paul Ince got the sack and it was stop-start all the time. At one stage I was farmed out to Crawley. I remember when I arrived that the manager didn't even know if I was right-footed or left-footed. It was all a bit of a mess, really – going all over the place.
At Chelsea, you'd get to train with the first-team and think you were building up a bit of momentum and then that manager gets sacked and you have to start all over again. I think I had nine different managers there. One week you'd feel you were getting a little bit closer, maybe half a chance of making a Carling Cup squad or anything like that and then the manager gets sacked. You get shipped out on loan, that loan doesn't work because that manager gets sacked and you get called back. A lot of it is being in the right place at the right time".
Clifford's next destination was Yeovil, then in League One, and he joined in late-2011. While there, he scored his first senior goal in an FA Cup clash with Fleetwood Town in December but it was a short-term arrangement and he was back at Cobham the following month.
Still, he felt he had something to give Chelsea and he signed a one-year extension to his contract in February 2012. But the club's interest was waning and Clifford could tell.
"When I was at Plymouth, they had me watched", he says.
I think that was because I'd just come off the Youth Cup and had a bit of interest from other clubs and was playing really well. At one stage, I think there were 44 players out on loan so it's difficult for Chelsea to go and monitor all of them because there's so many. I think it becomes routine. You finish reserve team football and there's nowhere else for you to go so you get shipped out on loan. And that's still the case now. 30 or 40 players out on loan every season. It's so difficult for players to break through".
For the start of the 2012/2013 campaign, his itinerant ways brought him to Portsmouth when the side were knee-deep in administration. He became just another name to add to the conveyor-belt of players arriving and departing. In August, there was a brief moment of positivity when Clifford scored in a 4-2 loss in Carlisle. But by October, he had already returned to London.
That same month, and in keeping with the chaos of his professional life, he found himself on the bench for the Republic of Ireland's 6-1 World Cup qualifier mauling at the hands of Germany in Dublin. It seemed a suitably odd development at a very strange time.
Finally, in January 2013, five months before the end of his contract, Chelsea released him. Still, no hard feelings.
"When you're hot you're hot and when you're not you're not", he says.
Football is all about momentum. It only takes a couple of goals and you're grabbing headlines and if you're injured or out of the side, you're forgotten about. I went to one of the biggest teams in the world and I knew before I left that it was going to be really difficult to break through but I had a great grounding. Training every day was brilliant, the area I lived was beautiful. It was difficult but I really enjoyed my time at Chelsea. Training with the best players in the world. The best facilities. It was great"
It was Nigel Pearson who pounced and brought Clifford to Leicester in March as they chased promotion from the Championship. The deal was until the end of the season but he didn't see a minute of action and was a free agent, once again, in the summer.
He dropped to League Two and signed for Phil Brown's Southend where he got games under his belt. It was a two-year deal in a lower division and, after bouncing from one club to the next, a chance to settle down and just play. There was some security, at last.
His first season at Roots Hall went well and the club reached the play-offs. But the following campaign was difficult. Clifford was in and out of the side, restricted to just ten league starts. By the turn of the year, he was on the outside looking in.
In May 2015, Southend got to Wembley and pipped Wycombe in a thrilling penalty shootout in the play-off final. But Clifford wasn't there. He was still contracted to Conference side Barnet, who he'd joined on a loan deal a few months earlier. But he proved a key ingredient in their own title win which secured a return to league football.
In the summer, he waited for an inevitable deal to be ironed out.
"I was meant to sign for Barnet", he says.
"I had won the league with them. Everything was sorted but it got messed up because of contracts and all of that stuff. I was waiting and waiting and it was getting closer to the season. My agent was saying, 'Just wait another week, another two weeks – we'll get something sorted' and I just got fed up. The clock was ticking and I just said, 'I don't care where I go – I just want to go and enjoy it and play football'.
All of that side of the game was just doing my head in. The politics of football – it just got me a bit down. I fell out of love with it. Not the game – I loved playing the game on a Saturday – it's just all the other crap that goes with it. I ended up signing for Boreham Wood and it was kind of a stupid decision. I had just won the league and then I signed for a club that had just got promoted into that league. It didn't really make sense".
There were other issues at play too. He had a good friend who had just signed for Boreham Wood – another player from the Chelsea Youth Cup win – Billy Clifford. But it was a bad fit from the start. It was a decision made in frustration rather than anything else and Clifford now admits it was a mis-step.
"I broke up with my girlfriend and I was living with Billy and he had said to come down, sign for a year and play some games", he says.
"It was the lowest part of my football career, I'd say. No disrespect to Boreham Wood but it wasn't where I wanted to be. It was a rash decision, really. I left at 15, I'm over there 10 years and I loved it over there – don't get me wrong. Just the last year or two have been difficult. Playing in the Conference was not where I wanted to be. A few things were getting on top of me. I should probably have come home then, to be honest. It's been a while. A few things have made me want to come home. But I can't wait to get started and get my career going again".
The new start is at Dundalk, with Clifford signing with Stephen Kenny's side earlier this week.
When we chat, he doesn't sound jaded or beaten-down. But excited. Energised. And desperate to make up for lost time.
"I felt like I needed a change and be home and around my family and start again almost", Clifford says.
"Start enjoying my football again. At Dundalk I feel I can do that and I feel the manager I'll be playing under will get the best out of me. Playing in the National League over there – I just wasn't enjoying it at all. But this is a fresh start. And I can get my mojo back and get myself going. And I really believe I can do that.
When I was younger and in school I always said I just wanted to make a career out of it. And I'm still playing football for my job. I'd still love to be in England at the top league but for one reason or another it hasn't worked out. But I'm still young enough and feel like I have a lot to give. And I'm still hungry to prove to myself and others that I still have the ability to do well in the game. And I'm sure I'm going to be able to do that under Stephen Kenny".
The manager's name crops up a lot as Clifford talks about the future. There was interest from other teams but when Kenny spoke, he listened. What he said made sense.
"I knew within a couple of minutes speaking to him that he was the guy I wanted to play for", he says.
I had a chance to got to another team in England and it was give it one more try over there or come home and sign for Dundalk. Stephen wanted me to come and I knew he was the man I wanted to play under. The way he sees the game, the way he wants his team to play – that high-press, energy game, to keep the ball and play good football and excite the crowd…He said he knows I have ability and it was about getting the head down and enjoying the game and he thinks I can do well for Dundalk. And I really think I can. I just want the opportunity to get out there and get going again.
I watched all of the European games and was chatting to friends about the club, trying to explain where Dundalk was! And how well they'd been doing. A lot of people over there were so impressed with the style of football they were playing against these big, massive European teams. And I was just really proud to say it was an Irish team that was doing that to big teams in Europe".
But Clifford has been well aware of Dundalk's recent ascent. Underage, he played alongside Richie Towell and Andy Boyle at Crumlin United. In Towell's case, he used a successful return to Ireland as a springboard for another shot in the UK.
But Clifford wants to be patient. He's learned the hard way.
"I'm not really thinking about going back over to England", he says.
"If it happens it happens. I just want to do well for Dundalk – play well, score goals. Just get the head down and train hard for the next six or seven weeks and try to impress Stephen Kenny and get in the team. That's the focus right now.
I'm just delighted to be home and see it as a clean slate now. Everything in the past is finished and I'm hungrier more than ever now".