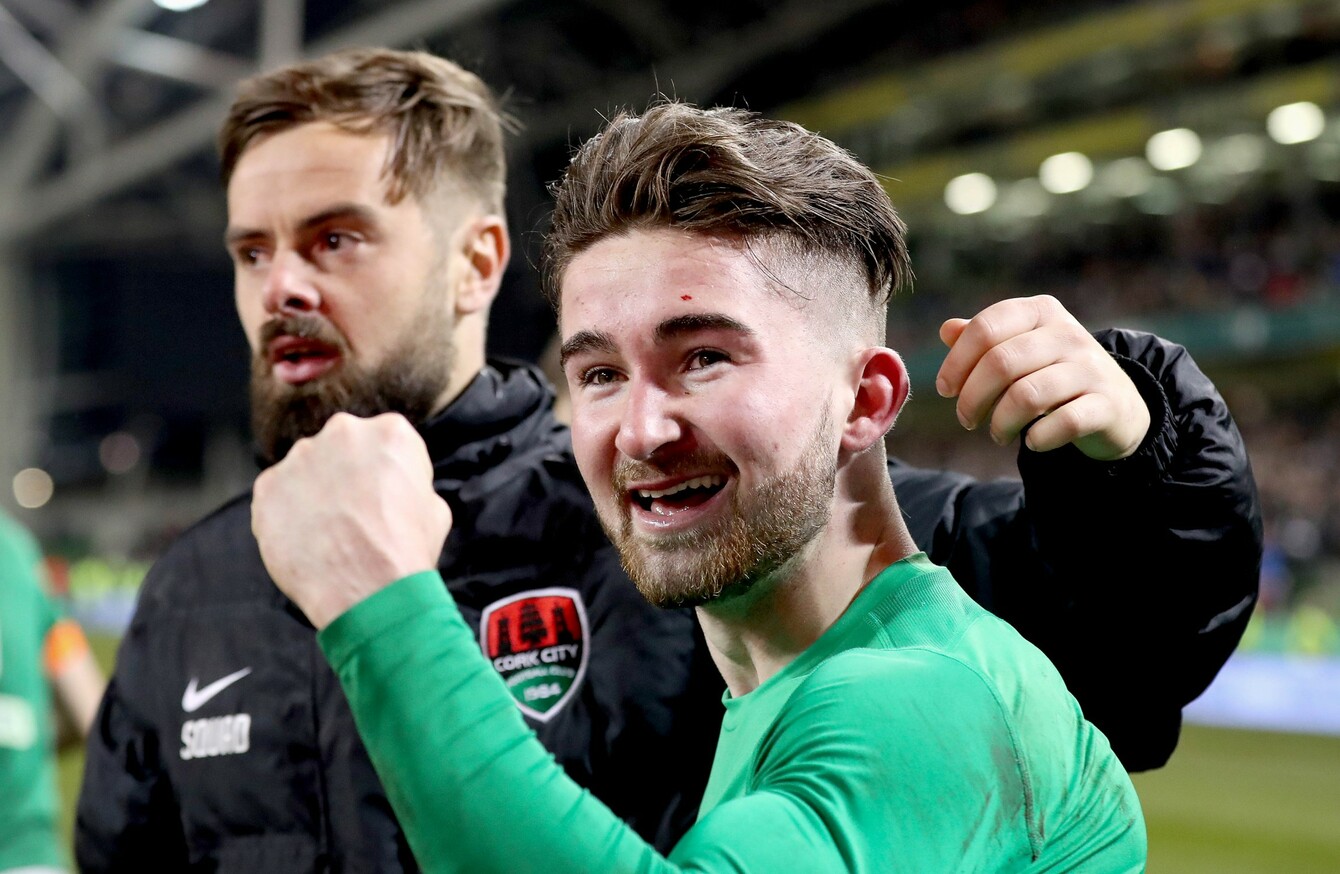 Sean Maguire celebrates after scoring the winning goal in the 2016 FAI Cup final.
Sean Maguire celebrates after scoring the winning goal in the 2016 FAI Cup final.
Updated at 20.00
THIS TIME LAST year, Sean Maguire's career appeared to be at a crossroads.
The young striker had a endured a disappointing experience in England. Having joined West Ham from Waterford United in 2013, he ultimately failed to make a first-team breakthrough at the Hammers, despite getting as far as the substitutes' bench for an FA Cup tie against Nottingham Forest.
Following loan spells at Accrington Stanley and Sligo Rovers, Maguire was released by the Premier League side at the end of the 2014-15 season.
In matter of months, he had gone from being a Liverpool fan growing up in Ireland to sharing a dressing room with players such as Joe Cole and Andy Carroll. The experience was so fleeting that Maguire barely had time to take it in, but the sense of anti-climax it led to certainly hardened him to the rigours of life as a professional footballer.
After returning to Ireland, Maguire joined Stephen Kenny's Dundalk, but again found regular first-team football hard to come by. In the 2015 FAI Cup final against Cork, he didn't even make the bench, such was the strength in depth of the Lilywhites' squad.
And so Cork subsequently snapped Maguire up following this brief and unsuccessful spell at Oriel Park. The frustrated striker had already taken a few knocks in his young career by this point, but when speaking to The42 last year, he didn't exactly sound short of confidence.
After all, he was still the same player who finished as the 2012 League of Ireland First Division's joint-top goalscorer as an 18-year-old, which prompted the high-profile move to the Hammers along with hyperbolic comparisons to Lionel Messi.
I'm not saying I'm going to be walking straight into the team — you see the players that are down in Cork — but once I'm given an opportunity, I'm sure I'll take it," he said prophetically at the time.
And such positivity is perhaps integral to the player's recent success. Many young Irish footballers who don't make it at a Premier League side are promptly lost to the game. It's a testament to Maguire's resilience, and perhaps also a sign of the growing esteem with which the League of Ireland is held, that he has managed to thrive since departing West Ham.
Moreover, last year, Maguire was key to a memorable season for Cork. For long periods, they threatened Dundalk's place at the top of the league, before their title challenge eventually petered out in the dying weeks of the campaign.
Source: RDinHD/YouTube
The Leesiders also performed with distinction in the Europa League, upsetting Swedish team BK Häcken in the second round before narrowly losing out to a highly rated KRC Genk side, who are still in the competition at present.
It was fantastic season too from a personal standpoint. Maguire finished as the league's top scorer with 18 goals. He also hit an extra-time winner in the FAI Cup final, coming back to haunt former side Dundalk in the process.
"The Christmas before last I really worked hard in the off-season and I came back probably the fittest I've ever been," he tells The42, speaking prior to his unfortunate injury yesterday.
I worked hard in the gym and stuff. It all paid off at the start of the season. Even in pre-season last year I was scoring a few goals in every game.
"Throughout the season, I was playing on such high confidence. I got the plaudits for scoring a few goals here and there, but there was a togetherness about the whole squad — I couldn't be around a better group of players. It's a pleasure coming in every day and playing with them, because the banter and the craic is the best I've been involved with in any team. I've had a few teams, but it's a privilege coming in every day, I look forward to it.
Last year was brilliant, finishing top goalscorer… But not winning that cup final would have felt like all the hard work came to nothing."
And of course, scoring the only goal of the game against the side that had deemed him surplus to requirements a year previously made it all the sweeter.
I always said to myself: 'I'd like to get back here' and prove myself to everyone that I shouldn't have been where I was at Dundalk. There were a few people writing me off when I went to Cork saying: 'Why are Cork signing this fella, he hasn't really done much at Dundalk?'
"I know myself I'm a good player, I just need to be given a good run of games in a good team and I'll score goals.
Scoring that goal (against Dundalk) was great. I'll be the first to admit it wasn't one of my best games, it was probably one of my worst games. But I'll take that all day — scoring a scrappy goal to win your team the cup final."
Such heroics over the course of the campaign inevitably meant Maguire was linked with a swift return to England.
After the cup final, his manager John Caulfield suggested that the club might find it difficult to hold onto the 2016 PFAI Young Player of the Year.
We have 12 of the squad under contract for next year. Sean isn't and he knows we want him. There may be an opportunity for him to go to the UK, so we'll decide over the next week. The situation with a lad like Seanie, when he moves on, as a club and as a manager, you want him to go to a higher level again," the Cork boss said at the time.
The 22-year-old, who was born in Luton but grew up in Kilkenny, says that the interest from a number of clubs abroad was concrete, yet he ultimately opted to reject their advances in favour of another season with Cork.
"When you're doing well in this league at a young age, there's going to be a lot of speculation and interest overseas," he explains.
Us doing well in Europe, myself doing well in Europe — I think my best games for Cork were probably in Europe… At the end of the season, there was interest and offers there. I had a chat with my family and a lot of people I take advice from.
"I always wanted to go back to Cork — I didn't want to leave with unfinished business. We finished second in the league and I think this year is our year to go and win the double. John's brought in a couple of good players to strengthen the squad so far (in pre-season).
I had offers to go abroad but I feel at home in Cork. I was sick of moving from club to club."
Furthermore, the potential for a Dundalk-style run in the Europa League, among other factors, was extra motivation for Maguire to extend his stay with the Rebels.
In Europe, we kind of got stitched up in the third round last year against Genk," he adds. "They were probably the hardest draw we could have got and we still put it up against them.
"I don't really go home much when I'm down in Cork. I'm a Kilkenny man and I just stay down in Cork most of the time.
There's no better feeling when you're doing well in Cork and you walk out of Turner's Cross and hear the roar from 4,000 or 5,000 people. It's brilliant and hopefully the crowds are going to develop from last year because we've done well. We hope the crowds will get even bigger to drive us on and hopefully collect that league medal at the end of the year."
Caulfield too played a big role in the youngster's willingness to commit for another year. The Cork legend met up with Maguire shortly after the cup final and convinced him that there were greater days to come at Turner's Cross.
He said 'imagine winning the league here' and 'imagine the scenes around Cork'.
"When you win trophies in Cork, there's no better place to be in the whole country because the fanbase down here is incredible.
I'm only 22. I know I'm good enough to play at a higher level in England. I went over at a young age and I know I'll get back there one day.
"Another year in this league will mature me and make me a better player, off the pitch, on the pitch, physically and mentally. I think it was the right decision to make."
On reflection, Maguire believes he went over to England at too young an age. Like many young Irish footballers before and since, some familiar problems such as homesickness made life difficult.
Going over to England at 18 years of age in a massive environment like West Ham — there were just so many players.
"It comes down to a matter of opinion. I could walk into Chelsea and start every week or I could go down to League Two and not even get in the squad. It's that kind of way if the manager doesn't like you. There could be a different style, a different way of playing. You need that bit of luck as well.
When you go to England, everyone knows you have the ability, it's whether you can fit in. Look at the example of Ryan Manning. He got the opportunity to go in and play at QPR and he's doing brilliantly. He made an assist in his second game and scoring there last weekend.
"He probably needed that slight bit of luck for an injury and he got his chance and took it. I think it's all down to that — when you get your chance, you have to take it. At West Ham, I didn't really get the chance. Sometimes, when you go abroad, you get caught up in the surreal environment.
At West Ham, I could have done things differently, but I don't think I could have done a whole lot (more). There were about four or five strikers my age. It was tough."
But despite past negative experiences and all the loyalty he has shown to Cork of late, Maguire is honest enough to admit that a return to top-flight football in England remains the end game.
I suppose this league is kind of like a stepping stone for players to develop physically and mentally.
"Players (who come back from playing in England) see it as taking that one step back to go two steps forward. It's a good league and it's starting to develop that bit more.
There are a lot of teams — probably five or six — that are going to be up there this year. They're going to be battling for Europe and three or four teams will be battling for the title."
On that note, Maguire insists his side do not feel inferior to Dundalk — the Premier Division champions for the past three consecutive seasons. Cork's record in recent games against the Lilywhites certainly supports this assertion, with Maguire suggesting a first league title since 2005 is a distinct possibility for the Leesiders if they can play with greater consistency against the smaller teams.
We showed last season that we're on a par with Dundalk. I know they did well in Europe, but they only beat us once one out of five games. We beat them four times including the cup and the President's Cup.
"We're going to take the confidence of the cup final into this season and obviously three new players (Achille Campion, Jimmy Keohane and Conor McCormack) coming in is great.
People will look at Dundalk and think they've lost three of their best players from last season (Andy Boyle, Daryl Horgan and Ronan Finn).
"But you see the players coming in, the likes of Sean Hoare, Jamie McGrath and Conor Clifford. You know they're going to be as strong or stronger for next year."
So where exactly is there room for improvement in the coming season, as far as Cork are concerned?
It's probably down to ourselves as a team. John (Caulfield) himself can't do much about it. We need to treat every game the same. There should be no difference if we're playing Dundalk or Longford. That's probably what we did wrong last season — we went into games thinking we were going to beat the opposition, which we shouldn't be doing.
"This year, John's going to drill it into us — treat every game the same. It's a lack of real concentration.
And personally, I need to be more clinical. I played a lot of games last season where I missed sitters, which is something I need to work on."
Yet for all his modesty and awareness of the need to improve, there is no doubt Maguire is one of Ireland's brightest attacking prospects in what is an admittedly fallow period for top-class strikers in this country and throughout Europe to a degree.
Of the current established options available to Martin O'Neill, Kevin Doyle, Daryl Murphy, Jon Walters and Shane Long are all 30 or over. Adam Rooney, who turns 29 in April, was the youngest striker in the most recent squad to face Austria.
So it's perhaps inevitable that Maguire, who has picked up a number of Ireland caps at underage level, is being mentioned as a possible alternative up front in future. But notwithstanding the recent call-ups of then-Dundalk duo Daryl Horgan and Andy Boyle, Maguire is happy to play down any talk relating to international football for now.
It's always nice getting recognition from the media and people like that. I don't really look too much into it. I know the two Dundalk boys got called up, but they were doing quite well in Europe and doing it at a high level. Obviously, if it was something they were going to look into, I feel I would be able to step up because I played at U21 level, I played in Europe against centre-halves that are worth millions and it didn't really faze me at all.
"If I get called upon, I'd be well up to the challenge. But there are a lot more (equally deserving) players in the league — Kevin O'Connor at Cork and Sean Hoare of Dundalk… I could mention others that could play at that level.
The league and clubs should build on what (Andy Boyle and Daryl Horgan) did last season. It's great for the league. It puts it on the map and is definitely something to build on in the coming years.
"Cork showed last year that we can put it up to teams at a European level. We went out to Hacken and they thought they were going to walk all over us. They looked down on us and we showed that we were much better out there. I know at times it was a bit hectic at Turner's Cross but we got the job done and beat them 1-0.
Against Genk, we were disappointed going away with a 1-0 loss. I felt we could have got a draw at least. I missed a couple of sitters in the game. We had a few other half chances and could easily have won.
"It shows you how the league has gone and is going in the right direction, going away disappointed with a 1-0 loss (away to Genk). This year, we can only develop. We want to get to that stage again and go even further. And if we can show we can do it at European level, you never know what will happen."
The42 is on Instagram! Tap the button below on your phone to follow us!