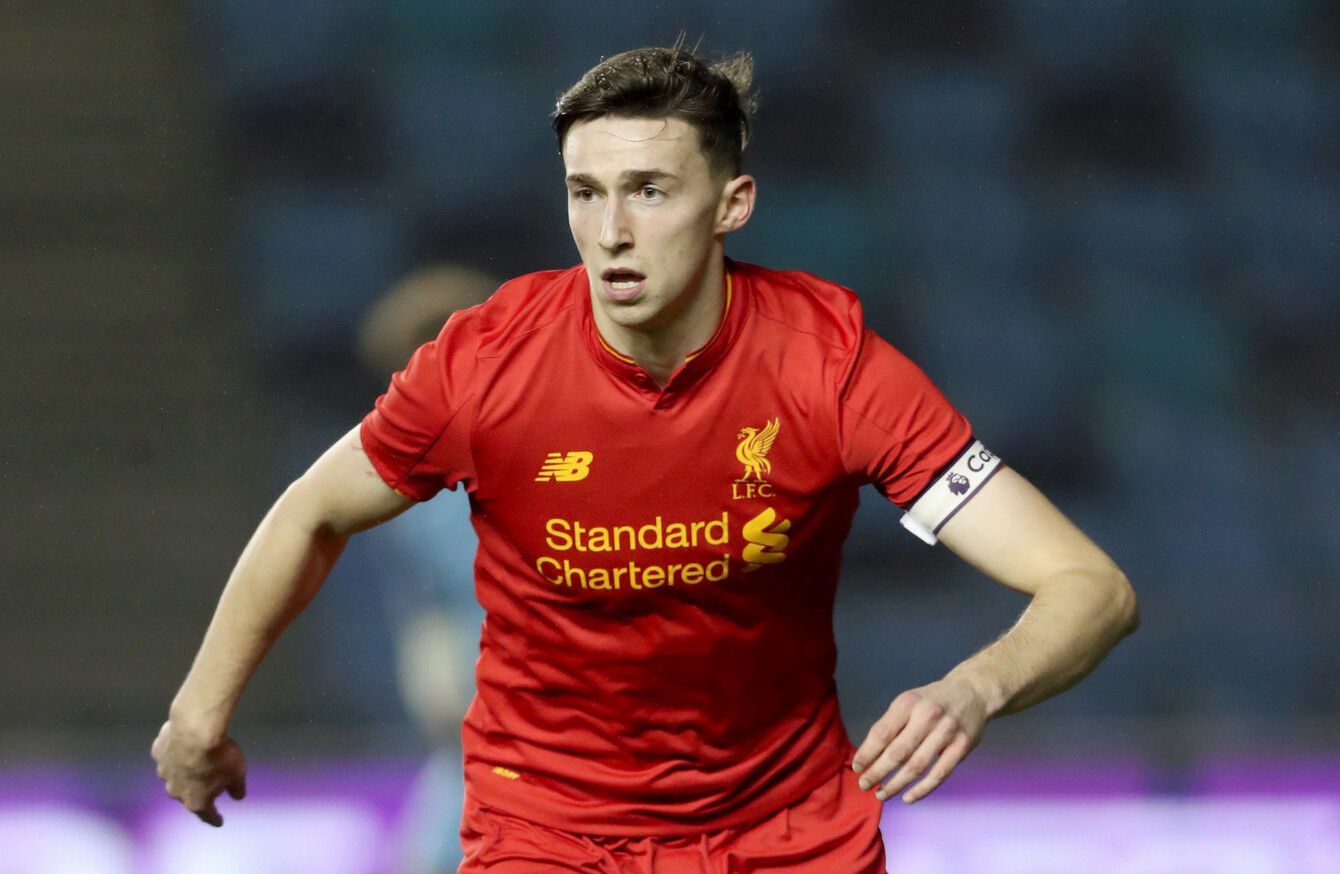 As Liverpool skipper in the FA Youth Cup last year.
As Liverpool skipper in the FA Youth Cup last year.
"HE WAS JUST one of those all-rounders. If he was playing chess, he would have been good at that as well!"
Conor Masterson is a name you will probably have heard plenty about in recent weeks.
At just 19, the Kildare-born defender appears to be on the verge of a first-team debut for Premier League giants Liverpool, having been named on the bench for games against Manchester City and Everton this month.
If he is handed his senior bow by German coach Jurgen Klopp, it will be the result of years of work, dedication and sacrifice by a player who signed a €1 million contract with the Reds from Lucan United back in 2012.
However, we could quite easily have been watching the teenager line out in the white of Kildare GAA, as he was an extremely-talented Gaelic footballer before choosing to concentrate on soccer.
"Conor was a top-class footballer," Gerry Kearns, who coached Masterson at his local club Celbridge between the ages of six and 14, told The42 this week. "I would have seen him play soccer, and he was even more effective as a Gaelic footballer.
"He was a lovely lad to work with. He had great application and he was confident but, whereas some kids at that age might be a bit cocky, he was never that way."
A rangy midfielder with good height and the technical ability to play anywhere on the field, Kearns remains adamant that Masterson would have been destined to play inter-county football for the Lilywhites had he not opted to pack it in.
"There's no doubt he would have made it to the top," says Kearns. "That age group was fairly strong, but in Kildare, he would have been the top player by a good bit.
I don't think there was any question about it. There was no one from that year that could have stood side-by-side with him."
If that wasn't impressive enough, he also tried his hand at the small ball.
"Conor was fantastic in the hurling as well," he adds. "He wouldn't have been as prolific, as he didn't have the time to perfect the skillset because he was always busy. He was nearly training professionally with Lucan at that stage, then he had football training with us and county sessions too."
According to Kearns, the entire club are hugely proud of how Masterson has developed and they continue to follow his progress closely.
"For any young fella who has the chance of playing professional sport, you will always say best of luck to them. If it was a case that Celbridge had €200 million, I'd buy him in the morning!
"It's great for a fella to go and make career for himself, and hopefully everything will work out for him. He has the application and he just needs a bit of luck to get a start and he'll go on from there.
"Everybody down here is extremely proud of him. We would have had Paddy Brophy, who went off to the AFL [Australian Football League] for two years. He's back but it's great for any of them as, unfortunately, we don't have that option in the GAA."
Conor's one and only football club prior to the dream move to Liverpool was Lucan United. His father, Ciaran, had brought him down at an early age and he ended up agreeing to take charge of the team when they were in need of a manager.
With more than three decades' experience coaching Palmerstown Rangers and Dublin Bus, he set about building a strong side that would compete in the notoriously-competitive Dublin District Schoolboy League (DDSL) Premier, and Lucan would go on to reach an All-Ireland final and win a Dublin Cup.
That help the club keep hold of its biggest assets instead of losing them to the league's heavyweights likes St Kevin's Boys and Cherry Orchard. Masterson was one of 10 Lucan team-mates to earn underage international caps, with the likes of goalkeeper Mark Travers joining Bournemouth, while Brandon Payne moved to Celtic, Sean Whelan was signed by Preston North End and Cristian Magerusan ended up at Bohemians.
Confident in his own ability and always eager to learn, his former coach John Doyle says Conor was an absolute joy to work with.
"You could see straight off that he had talent, but lots of kids have talent," Doyle remembers. "The difference with Conor was that he worked really hard, even from a young age. He wanted to do extra training and he would always be at the top of the session when we were doing drills.
"He wouldn't be doing things by half, no matter what it was. It was full on and the work ethic was there. It helps a lot that he is very clever. He's a studious boy and he would have done well in his Leaving Cert.
The technical ability came very quickly and he grew to a good height early on. But he wasn't your typical clumsy, tall lad who would win the day with physicality. He was clever and he always tried to play football.
"He's a good leader too and he captained those teams growing up. He knows how to deal with other players. He wasn't a shouter, but he gets to know players and what makes them tick.
"We've some good coaches in the club. Alan McGovern would have been one of his early mentors. He worked with the FAI and knew his stuff inside out. Alan would be going through things with the players and Conor would pick it up straight away. He was a sponge.
"Outside the club, he would work extremely hard and do his own stuff to get fitter and stronger. He didn't just depend on Lucan United and he would be away doing his own bit out of season.
"There are so many talented kids out there but it's following it up with the work that gets you there."
What are they
really like?
Rare insights on sport's biggest names from the writers who know them best. Listen to Behind the Lines podcast.
Become a Member
As well as learning from coaches like Doyle, McGovern and his father Ciaran, Ger Desmond was another figure who had a big influence on his development.
Now a centre-half by trade, the Ireland U19 international featured in various positions growing up.
"In those days, he probably played more up front than he did at the back, but he chopped and changed," adds Doyle. "He might revert back to centre-half for a big game if we needed him.
"It depended on the personnel. If we felt we were strong at the back, he would then go and play up front and he scored a lot of goals. He could play midfield too — pretty much anywhere. He had a very good footballing brain from an early age."
Templeogue United were the top club of the age group born in 1998. Managed by Alan Kinsella, his son Steven was the star of the team and the young winger went on to secure a deal with Everton in 2014.
Masterson enjoyed trials with several of the top clubs and there were contract offers on the table from Manchester United and Man City, but Liverpool felt right. Kenny Dalglish had welcomed him with open arms on a visit to Merseyside and Conor became the first signing under Brendan Rodgers — the deal was wrapped up the morning that Fabio Borini.
The defender trained with the first-team squad during the Rodgers era at just 16, but it is under Klopp that Masterson has featured in matchday squads at senior level.
He may be with one of the top clubs in English football, but Masterson hasn't forgotten his roots and he can often be found back at Lucan United's training ground during visits home to Ireland.
He's very humble about the club and he will always tell people Lucan got him where he is," reveals Doyle. "He comes back all the time, whenever he's home he is up at our academy. He has trained with our first team when he's been here too.
"I do think he's going to be a player. Liverpool are a top club and it's very difficult for an Irish player to get in, but he will do everything possible to succeed and if he does I think he will prove himself. But if the cards don't fall right for him, he'll go somewhere else and be a success."
The42 is on Instagram! Tap the button below on your phone to follow us!