CORA STAUNTON HAS hardly had a minute to sit back and take in what's happened over the last few months.
Morgan Treacy / INPHO Cora Staunton. Morgan Treacy / INPHO / INPHO
In September, she led Mayo onto the Croke Park field to contest their first All-Ireland senior final since 2007. That day ended in heartbreak though, as Dublin's four goals were key and they lifted the Brendan Martin cup.
From there, it was straight into the thick of club championship. The county semi-final, final and Connacht semi-final were played out over three consecutive weekends. Then, there was a quick trip to Australia.
Of course, the big news came in October when she signed a professional contract with the Greater Western Sydney Giants in the AFLW.
But then it was straight back home for the Connacht final against Kilkerrin-Clonberne. She made it fairly clear that her focus was on club no matter what.
That provincial decider went to a replay, the Mayo kingpins edging past on second asking. There was a week's break and then the All-Ireland semi-final against St Macartan's.
Another down weekend saw her collect a record-equaling 11th All-Star on Saturday night and now, here she is. Captaining her club in an All-Ireland final against Cork and Munster champions Mourneabbey on Sunday.
"Busy, busy but it's a good way to be busy," she smiles at the launch in Croke Park on Tuesday. "It's good to be back in a club All-Ireland.
"Obviously Australia is the main talking point for a lot of people but to me, I'm just focusing on Sunday and hoping that we'll get over the line. I know it's going to be tough."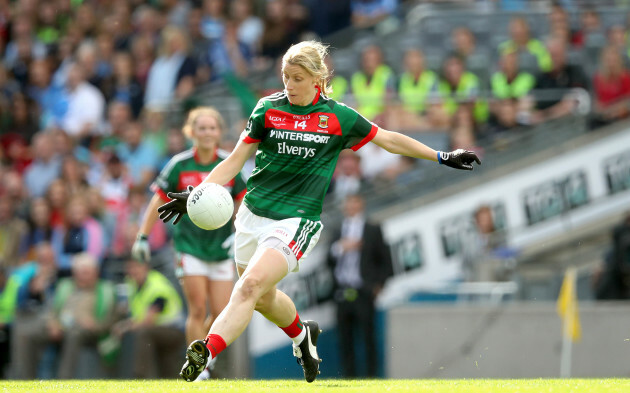 Ryan Byrne / INPHO Staunton in action for Mayo. Ryan Byrne / INPHO / INPHO
The 35-year-old admits that she hasn't had the time to reflect on Mayo's All-Ireland final loss to Dublin just yet, but it's probably no harm.
Like most successful sportspeople, she doesn't dwell too much on the past. She's always looking forward.
In terms of the venture Down Under, Staunton will have to have her bags packed before she graces Parnell Park as she flies out on Tuesday. 'All bearing it won't go to a replay!' she adds.
Every avenue is planned for though. Her contract may have started on 10 Novemeber, but there's an agreement with the club that if the sides can't be separated, she's staying around for the replay.
"But Tuesday evening I'll be flying off, please God with an All-Ireland club medal in the back pocket," she grins.
"Looking forward to it, haven't thought too much about it with trying to keep the focus on the club. It'll probably be Tuesday evening when I'm flying to Abu Dhabi that I get into that mode of AFL and stuff."
In terms of her inter-county future, it's something Staunton has been asked over and over towards the latter stages of the last few years.
And this move to Sydney has caused more hype. She's due back sometime in mid-April which means she'd be able to play the tail end of the league and then straight into championship, and Mayo's bid for their first All-Ireland title since 2003.
She's staying tight-lipped on that front though.
"I can't make any decision going forward because physically, I don't know what shape I'm going to be in coming home," she continues.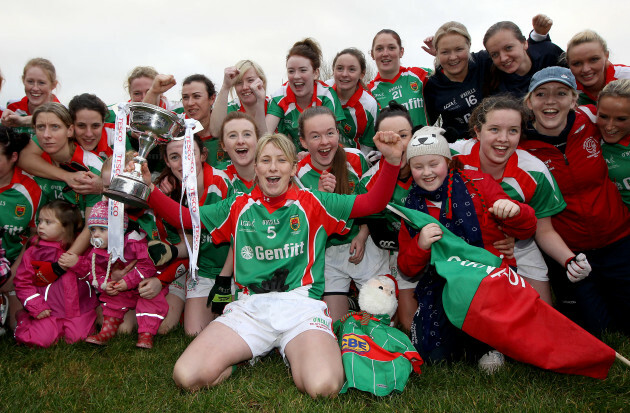 Ryan Byrne / INPHO Carnacon last won the All-Ireland title in 2013. Ryan Byrne / INPHO / INPHO
"Some say, 'You should be in better shape, you're going out to a professional environment,' but this is month 12 happening now. Next week, 12 months of the season will be done and I have to try and fit another four in.
"So whether the body will be able for that… [It depends] how the body is, how the mind is come April. If I'm able to go for another season, who knows?
"Will I be able for another couple of months with Mayo? Who knows. I could be in great shape or I could be the opposite.
"I certainly won't be making any decisions [until April], I've made that clear."
As she's stressed over and over, her focus is on her beloved Carnacon first.
This weekend brings their ninth club final, and Staunton has been involved in all of them. She first captained club at the tender age of 16 in 1998, and that was when they won first county title.
In 2002, they won their first All-Ireland title and she accepted the cup.
"It's 15 years since I captained the team to our first All-Ireland so 15 years on we're going for our sixth one so who knows," she continues.
"We've been at the top of club football in Mayo for the last 19 years, we won our 16th Connacht title a couple of weeks back. We've been at the top for so long and people expect so much from us all the time."
Absent from the All-Ireland final since their last win in 2013, Staunton says Carnacon are back where they want to be.
"For the club it's great to be back. At the start of the year we wanted to be back in an All-Ireland final but we know a lot of the girls on the team are getting older, they're more established players and we have a huge gap between older and younger.
"It's trying to bridge that gap to get the younger girls enough experience for times ahead when we won't be there."
She adds: "It's nothing new to us in Carnacon. It's obviously a little bit different to Mayo, it's a little bit more special. It's very community based.
Exclusive Six
Nations Analysis
Get Murray Kinsella's exclusive analysis of Ireland's Six Nations campaign this spring
Become a Member
Ryan Byrne / INPHO 'There's just that culture in the club for winning, we don't really know much more.' Ryan Byrne / INPHO / INPHO
"We came home from the All-Stars on Sunday and went back to club training and you're just back to being a normal person again and one of the gang. You're 35 but you're running beside a 14 or 15-year-old at training. There's great banter between us all, we know each other very well.
"The younger girls, they're fearless. They don't mind that it's an All-Ireland final."
And then there's the older, more recognised players like Staunton, Martha Carter and Fiona McHale to balance things out.
"We've huge leaders in the team. We've a lot of vocal people. Myself being one of them, Martha being another, Fiona being one, Michelle McGing being another. We have a huge amount of experience there.
'These girls have been around as long as I am. They maybe don't get as many headlines or, but they're mainstay for our club. Our managers would tell you, our county girls are very loyal to the club.
"When with Mayo we'd still attend at least one training a week. We always make it our business to go and do a bit. I think that's important, that you're never too focused on Mayo and leaving your club behind."
With 10 Carnacon players on the Mayo panel, she notes, that Croke Park heartbreak in September has driven them on to succeed at club level.
"When your year ends badly obviously it's great," she says. "You're able to just step back into club football and a winning mentality and winning well.
"That's probably half the reason I'm playing football as long; when you leave Mayo after a disappointing season, you're into club and you're going in with similar minded people. There's just that culture in the club for winning, we don't really know much more.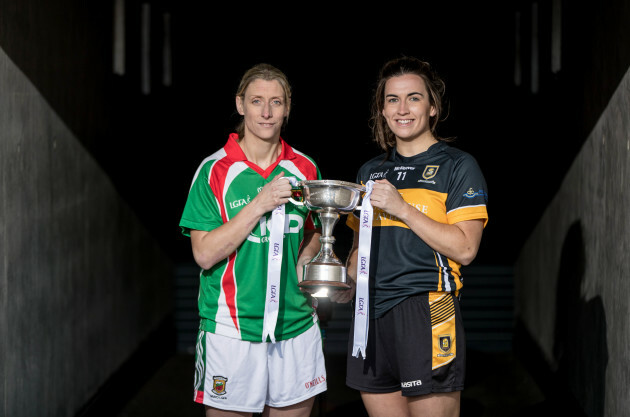 Morgan Treacy / INPHO Staunton and Mourneabbey captain Bríd O'Sullivan. Morgan Treacy / INPHO / INPHO
And Mourneabbey on Sunday, it's a 'unique pairing'. They've never met before, they know very little about each other.
The Clyda outfit lost back-to-back finals in 2014 and 2015 and were knocked out by eventual champions Donaghmoyne at the semi-final stage last year.
Carnacon, likewise, fell at the same hurdle in 2016. But they're hoping that 2017 is their time to end the wait for a sixth All-Ireland crown.
"Really all we can do, and we have all year, is to focus on our own game and try to get things right," she concludes.
"Mourneabbey, they've been there or thereabouts and they just haven't got over the line so we know it's going to be very difficult. They're trying to get over the line, we've got over the line quite a few times but we've lost also and haven't performed in All-Ireland finals.
"The main thing we're looking at the next day is to try and perform and if we can get our best performance out I think we can get over the line."
The42 has just published its first book, Behind The Lines, a collection of some of the year's best sports stories. Pick up your copy in Eason's, or order it here today (€10):