NOT MANY LADIES footballers are known by their first name across the country.
Then there's Cora.
Currently in her 23rd season, Mayo's Cora Staunton has grabbed headlines throughout her career, and established herself as a true legend of the game.
She's renowned for her prolific scoring, while she's won four senior All-Ireland titles in green and red. Before the league kicked off this year, there were doubts surrounding her return, but she's well and truly back.
The 33-year-old spoke to former Cavan goalkeeper Alan O'Mara on the latest Real Talks podcast about how hard the decision was, and how Andy Moran was one of the many who advised her to return.
"This time it was definitely 50/50, even a little bit more on the 60/40 side that I wouldn't go back," she told O'Mara.
"To get to Croke Park on All-Ireland final day is obviously the main goal now. We're trying to leave Mayo football in a healthy place, it won't be one or two going when I go, it'll be a core group.
"To win a Connacht title and win an All-Ireland in Croke Park. That's every footballer's dream, male or female."
At a young age, Staunton played with the Ballintubber boys team alongside Alan Dillon, before she went to secondary school in Ballinrobe 'solely based on a Gaelic football decision.'
The Carnacon sharpshooter first linked up with the Mayo senior team at the age of just 13.
In 1999, she was involved in her first All-Ireland final. The Sunday before, Staunton broke her collarbone in a training game and in the final she made a 30-second cameo from the bench.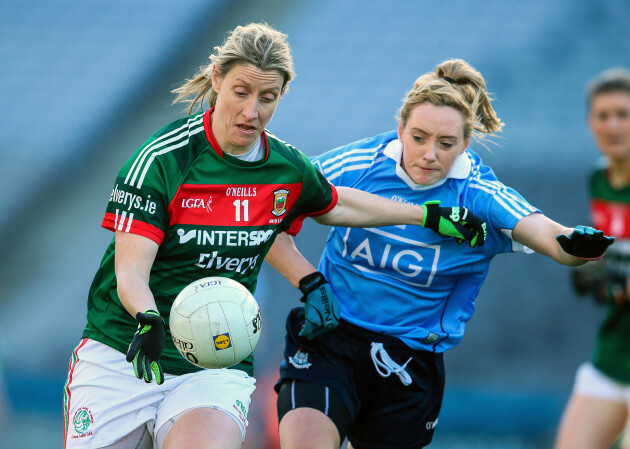 Gary Carr / INPHO Gary Carr / INPHO / INPHO
Looking back, she says it was 'a crazy decision,' but a 'token gesture' for what she'd gone through the previous year – her mother passed away following a battle with cancer.
"I stopped football for a few weeks after my mother had died. I found everything really hard going and fell out of love with the sport for a short period of time.
"It was very difficult. My life had been in turmoil for the 12 months previous, and I hadn't been in a good place.
"Things were coming back right again, and then the biggest day in your career comes and you think it may only happen once. To be injured — I was barely able to speak to anyone for a day or two after it happened.
"I was absolutely devastated inside but I had to have a positive mentality. It was massive, but deep down, I didn't feel like I had achieved what I wanted to achieve."
She went on to discuss how much sport has helped her, and how she has a lot to thank it for — both in a physical and mental sense.
"The only constant that I had right throughout was sport. If I didn't have sport, I could have went down many bad alleyways and life mightn't be as good from a physical and mental point of view.
"Sport is a drug. It's very difficult to walk away, and that will be a concern when you leave — filling that void.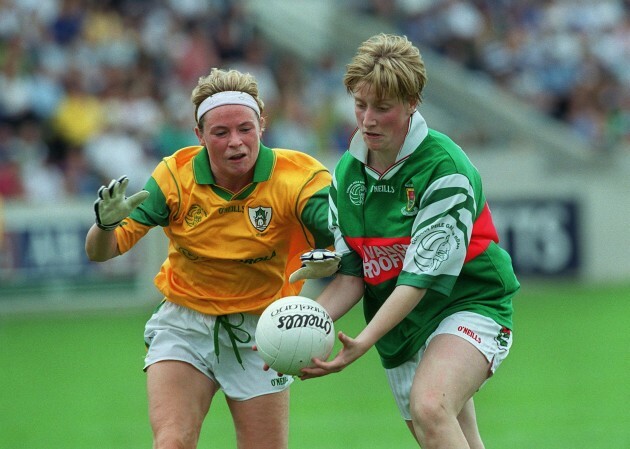 Lorraine O'Sullivan / INPHO Lorraine O'Sullivan / INPHO / INPHO
"If you're in bad form on any given day for whatever reason, and you go to training or a match, the majority of the time you'll come home in a better mood. That's the one thing I'd be worried about — if your form isn't great, what have you? It's a release, it's huge.
Staunton also discussed how she, and other sportspeople — Aidan O'Shea is an example she uses — are normal people, and about how the media and fans often 'vilify' players.
"How would they feel if that was their daughter or son? That part of the GAA, I don't like.
"A lot of bad stuff is said about you, which doesn't bother me. But it bothers me to think that they're [family] listening to that in the stand, and it can get quite heated.
"People forget that you're a normal person too. It's like you're people's property. I don't mind talking to people in any way, but they forget.
"I'm Cora at home, I'm not Cora the footballer.
You can listen to the full interview by clicking on the link below:
Real Talks / SoundCloud
The42 is on Instagram! Tap the button below on your phone to follow us!