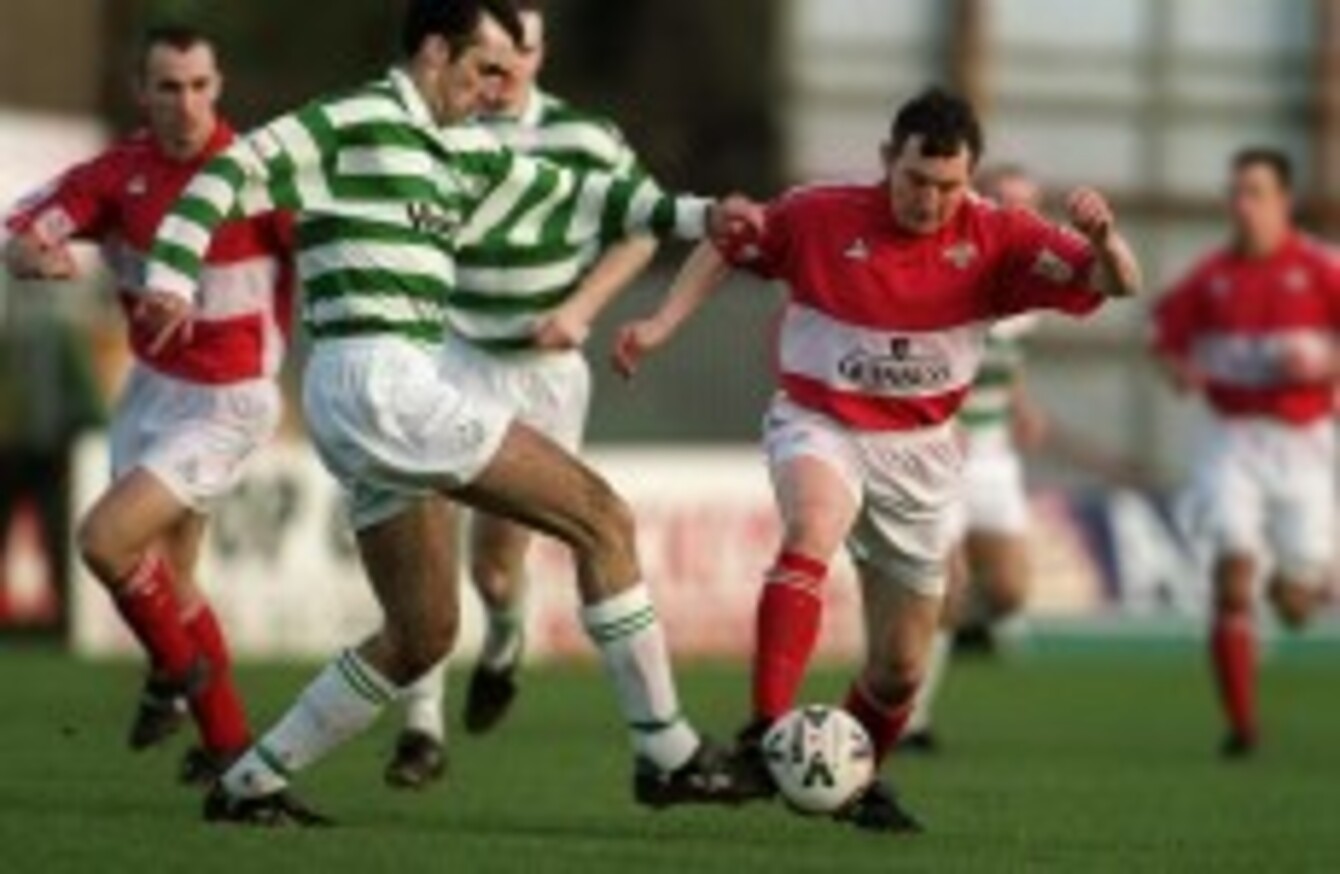 Caulfield (right) playing for Cork back in 2001.
Image: ©INPHO/Lorraine O'Sullivan
Caulfield (right) playing for Cork back in 2001.
Image: ©INPHO/Lorraine O'Sullivan
CORK CITY FOOTBALL Club has confirmed that John Caulfield is their new first team manager.
Caulfield holds the record for most appearances for Cork, while also sharing the top goal scorer record, meaning he should prove a popular appointment with the Cork fans ahead of the 2014 season.
The new manager has signed a two-year deal with the Airtricity Premier Division side and says his goals include making Turner's Cross a fortress and improving on the sixth-place finishes of the last two seasons. Getting support back into the Cork side's home ground is another key objective.
Cork City FC chairman Mick Ring welcomed the announcement as hugely positive news for the club, expressing his pleasure that the deal has been completed while highlighting the level of competition Caulfield had faced.
We are delighted to announce John as the man to lead Cork City FC into 2014. Holding the record for all-time appearances for the club, coupled with his record as joint-top goal scorer, has given John a deep perspective into the workings of the club.
"Since retiring from his playing career, John has been inducted into our Hall of Fame, and has been virtually ever-present at Turner's Cross. In short, John Caulfield is a Cork City legend.
"At the outset of the recruitment process, we were blown away by the calibre of candidate who put themselves forward for the position. We are very grateful to each of them for showing an interest, but John demonstrated knowledge, passion for the club and hunger to succeed to such an extent that it made him the standout candidate."
Caulfield wants to fill Turner's Cross in 2014. ©INPHO/Donall Farmer.
Caulfield himself, who is set to be officially unveiled this afternoon, told CorkCityFC.ie that he was delighted to have the opportunity to manage a club he is "very passionate" about. The new Cork boss also addressed the matter of his club's squad for the 2014 season.
The most urgent thing is to talk to the players that were at the club last season and tie up the players that we can. I want a base of good, strong local players. We have a very good Under 19 set-up so we will look to promote players from within, and obviously attract players from the county and the province."
Caulfield is optimistic about the impact he can have at Turner's Cross in his new position.
"My targets are very positive.  We finished sixth in the last two seasons and I feel that we can get higher. The potential at this club is fantastic and I really want to see if we can get the crowds back in and make Turner's Cross a fortress again.
"I want all of the people from West Cork, North Cork, East Cork, all around the county and the city too, to rally around and come back. We want to get back the support we have lost, the people who have stopped coming to games, because we all know that Turner's Cross, with 3,500 or 4,000 or 5,000 people in it, is a fantastic place to be."