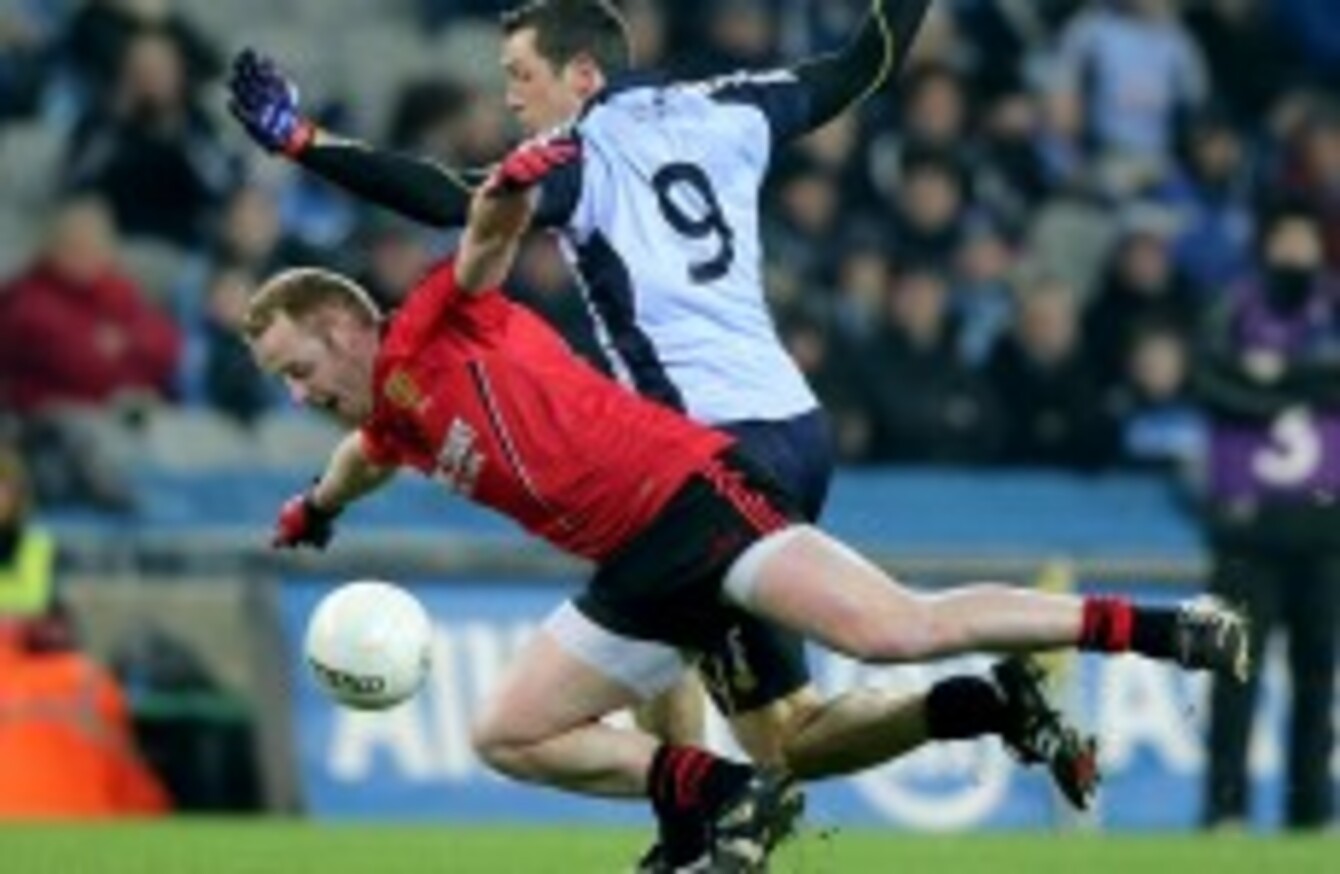 Image: Morgan Treacy/INPHO
Image: Morgan Treacy/INPHO
DOWN FORWARD BENNY Coulter believes that the new Black Card rules will not be successful in changing Gaelic Football for the better.
Statistics released earlier this month showed that scores had increased by 10% since the introduction of the new sanction, but the Mourneman feels that it is no discouragement to teams setting up with a defensive ethos.
"There's a lot of pundits and people saying there's a lot more scores this year but I think the game's still very defensive," Coulter said at yesterday's launch of the Kellogg's Cul Camps Programme.
"I know Dublin the other day were fantastic but managers are still going to set up with the same systems they've had over the last number of years, so I don't think the black card is going to help that way."
"There are still the same fouls but it's not even that – they're still playing a defensive system and it's just hard for forwards at times to break that down.
"They [defenders] are probably not fouling as much as what went on before but it's not the fouling that has made the game for me the way it is, it's just the defensive systems and the amount of men dropping back and the cover and stuff like that has made the game the same."
The Mayobridge marksman has previously been critical of the blanket defence system that has pervaded Ulster football and beyond, questioning the entertainment value given by supporters who pay to attend games.
His stance on the issue has not changed and with the league campaign now out of the way, Coulter hints that it would be no surprise if the average rate of scoring were to decrease again when managers get down to the serious business of the the Championship.
"It's probably not as enjoyable as it was years ago and I don't think the black card will change that."
He added: "We'll just have to wait and see how the Championship goes. Different managers will set up in a different way for the Championship than they do for the League. "
When that Championship does come around, Coulter agrees with the consensus that Dublin are a clear favourite to retain the All-Ireland crown, but anything can happen when the Championship whittles down to eight teams.
"They're the best team in Ireland by quite a distance, I feel. They're playing the best football. It's great to see as, like, I love watching them.
"But you never know: they can get caught on a given day. They could have a bad quarter-final or semi-final, a one off and they could be beaten. Just because they're playing great football and they are the best team, like, even if they get beaten this year they are the best team in Ireland. But on any given day they can be caught."