Dot Television / YouTube
TOMMY BYRNE WAS always ahead of his time, right from the moment he took his first breath in the world.
Born in the back of a car speeding its way towards Our Lady of Lourdes Hospital in Drogheda, it was a fitting precursor for the life of a man who would make a name for himself pushing both cars, and people, to the limit.
Those who saw him in action were often left in awe. Those who worked with him were often left wondering if it was really worth it. For some it was.
Eddie Jordan — who worked with both Ayrton Senna and Michael Schumacher said:
Forget Schuey and Senna. Tommy Byrne was the best of them all."
That's just one of the stories in Crash and Burn, a new Irish film airing at the UK's biggest documentary festival in Sheffield on 11 June.
The film tells the story of the most dramatic part of Byrne's life when, in little over four years, he went from driving a Mini Cooper in a stockcar race to Formula One. If the rise was meteoric, Byrne's fall was spectacular.
The trouble with such a life, is that it can be difficult to separate the fact from the fiction. That was one of the challenges facing producer David Burke when making the documentary.
"There are two theories about Tommy's career," Burke told The42 this week.
"One is that he made a complete mess of it and the other is that he didn't get a fair shot and, as with all these things, the truth is probably somewhere in between.
"Tommy always worked around the edges and some would say that Tommy was all edge. Formula One is an elitest sport and they don't react well when you get this scallywag from Ireland coming in and rubbing a lot of people up the wrong way.
"The other thing about F1 is that you need money. I mean the reason Michael Schumacher got a drive with Eddie Jordan originally is because Mercedes put a cheque in front of Eddie and said 'this guy is driving for you'.
"Tommy just didn't have the money. He'd have nights where he'd come back to Louth and try to raise some money doing events and he might make £400 when he needed £4 million.
"He was just from a completely different world than the rest of these people."
David Burke / Dot Television Byrne's talent was never in doubt. David Burke / Dot Television / Dot Television
Byrne may have left his peers in disbelief with his skill on the track, but because most of his exploits happened away from the glitz and glamour of Formula One, few people remember him.
"If you remember the Texaco Sports Awards? Tommy won that one year and there's a picture of him and Sean Kelly and nobody knows who the guy standing beside the cyclist is.
"There's an element of him being this mysterious figure who arrived on the scene really quickly, made a few waves and then disappeared.
"But he could have achieved so much and while sport is full of hard-luck stories I think what separates Tommy is that a) he wasn't like a footballer who was happy to just prolong his career at a lower level and b) just the level of talent that he had.
"I mean, Senna is basically deified at this stage and Tommy was that good, their records show he may have been even better.
"The most telling aspect is that they both drove for the same team for a while but while Senna had to pay to get the drive, Tommy was being paid by the team to drive for them."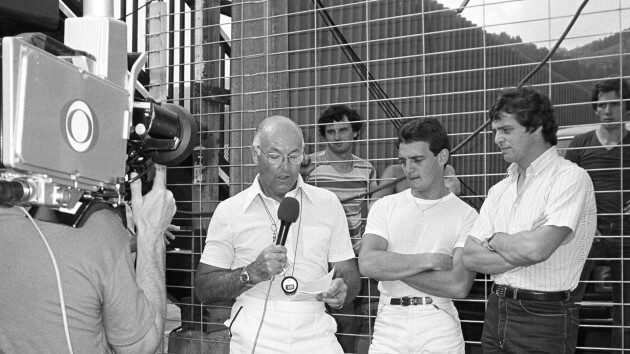 David Burke / Dot Television Byrne being interviewed post race. David Burke / Dot Television / Dot Television
While Burke's documentary will focus on all of Byrne's life, there are two really defining moments when trying to sum up where it all went wrong for the Louthman.
First of all, he got a drive in a Formula One car but it was a poor car, and he actually threatened to get a hitman to take the chief engineer out. But that was just the kind of character he was and that all just fizzled out and he ended up getting drunk and just throwing a chair at him.
"But F1 is a very small bubble and word got out as to what he might be like. After that, because he won the F3 Championship that year he got another drive in the McLaren car — Niki Lauda and John Watson would have been their drivers at the time.
"Tommy got a hold of the car and it was the fastest any driver had ever taken it around Silverstone, including Lauda and Watson, and he just blew the barn doors open. So the question is why didn't he get another chance in Formula One after that?
"I suppose the answer is somewhere between his reputation and the fact he didn't have the financial backing of other drivers. An awful lot of it was hearsay with people thinking he was arrogant but in the documentary Tommy denies ever saying the car was 'a piece of shit', as has become the legend.
"Eddie Jordan made a very good point about that test (where it emerged that the engineers tampered with the car to deliberately make it slower), it didn't matter that he wasn't given full throttle, he still set a faster time than anyone else and the clock doesn't lie.
"He'd gone faster than Watson, he'd gone faster than Lauda, so it must have been all the other stuff around Tommy that cost him a seat."
Despite having the times behind him, Byrne didn't have the financial clout to keep trying to win an F1 seat and so gave up on the dream and, in the words of Burke, threw himself to the wind.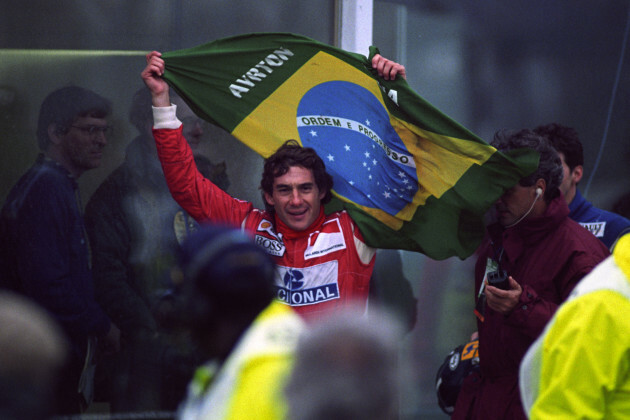 PA Archive / Press Association Images Byrne's great rival Ayrton Senna after winning the European Grand Prix in 1993. PA Archive / Press Association Images / Press Association Images
Byrne turned first to alcohol and found himself driving in the US for "a millionaire manic depressive who was convinced he was going to become president".
He then swapped alcohol for drugs and the States for a spell driving F3 cars in Mexico where, in his book, he described his boss as a "gun-crazed alcoholic" who celebrated his victories by arranging orgies.
However, Byrne's is no tragic tale, either. He eventually settled down and has made quite a successful career for himself in the United States as a driving coach and the now 58-year-old even made peace with his nemesis Senna before the Brazilian's death in 1994.
"Tommy's very keen to stress in the documentary that he's happy with his lot in life now, even if people were quite worried about him during that spell in the US and Mexico," Burke says.
"Senna and Tommy actually got on fine at the start and Tommy picked him up from the airport when he first came over to England. But what happened was that Senna took a sabbatical from racing in 1981 and, during that time, Tommy was asked to drive his car and he won the Formula Ford World Cup in it.
"They were both driving for the same team at the time and Senna was not too impressed with it all. But because Tommy had won, he got the drive Senna wanted in F3 and that pissed him off and they fell out.
"Down the line, they did make up when Senna approached him in England to put the past behind them and they shook hands."
Crash and Burn will premiere at Sheffield Doc/Fest, the third largest documentary festival in the world, on 11 June.