WITH A PLACE in the Guinness Pro14 semi-finals already assured by dint of their first-place finish in Conference B, Leinster's lead-in period to the Champions Cup final has been uniquely protracted.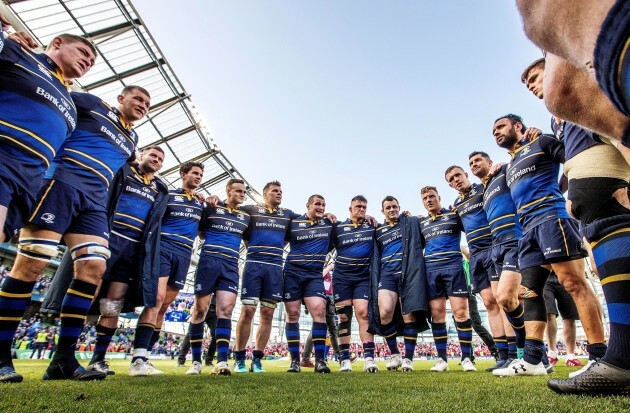 Tommy Dickson / INPHO Leinster are seeking to win their fourth European title. Tommy Dickson / INPHO / INPHO
By the time the province kick-off against Racing 92 in Bilbao on Saturday week, Leinster will have had a two-week build-up window to the biggest game of their season, and for many of the players their last outing will have been in the semi-final win over Scarlets.
The chance to wrap the likes of Johnny Sexton, James Ryan, Garry Ringrose and Scott Fardy up in cotton wool ahead of the final has been most welcome, but the challenge for the coaching staff is to ensure the players are at their absolute peak come 12 May.
A few days off at the start of the week allowed the squad to refresh their bodies and minds before the serious business began, with much of the heavy legwork on the training paddock and video analysis room done as early as possible.
And at the end of a long, hard campaign, a lot of the focus revolves around maintaining freshness and concentration on the task in hand, as well striking the right balance between all of that and the added pressure surrounding such a high-stakes period in the season.
"The big thing is the pressure, but we don't even use that word, everyone just knows there's a heightened sense on everything that is being done," Leinster senior performance nutritionist, Daniel Davey, tells The42.
"What you're looking for is that the players are as fresh as possible, both physically and mentally, and my job is to try and create as many different key trigger points around the basics.
"You don't change anything leading up to a big game but what you to try and do is be really clear about the simple messages — making sure the players are getting enough energy and fuel, that their timing of meals is on point and that they're getting enough sleep and that their preparation is absolutely on point.
"It's hard to imagine how much pressure all of these athletes are under. There are so many different areas they're having to focus on, whether it be from a strength and conditioning point of view, all of the different plays that they're learning and what's happening on the pitch.
Dan Sheridan / INPHO Daniel Davey also works with the Dublin senior footballers. Dan Sheridan / INPHO / INPHO
"So my job is to simplify their targets and bring something a little bit fresh to what they're doing — that might mean different flavours and tastes to meals and in general, making sure everything is on point and even better than it normally is."
At this stage of the season, the margins between success and failure are so fine and Davey's responsibility is to ensure the players are fuelling themselves correctly by paying closer attention to everything they're doing around preparation — but it's also important to break up the monotony of a fortnight of training.
He continues: "It is about me going through the whole process and routine to make sure it's on point every day but also that there is an element of fun and enjoyment in the environment.
"We might do something as simple as a toastie day, believe it or not. We'd bring in the ingredients and the players build their own sandwiches and things like that, and that breaks the monotony.
"For me, that's the big thing, as long as everyone is doing what they're meant to be doing, that's core and then you're thinking about all the other things like making sure they don't get sick and they're comfortable with what they need to do.
"But the players are extremely focused. We've got such an experienced group and even the younger guys are so, so professional. It's just about executing everything we do every week of the season even better."
Whatever about the challenge Racing provide on the pitch, Davey is working hard behind the scenes to ensure everything is place for when the squad travel to Spain a couple of days in advance of the final. Nothing is left to chance.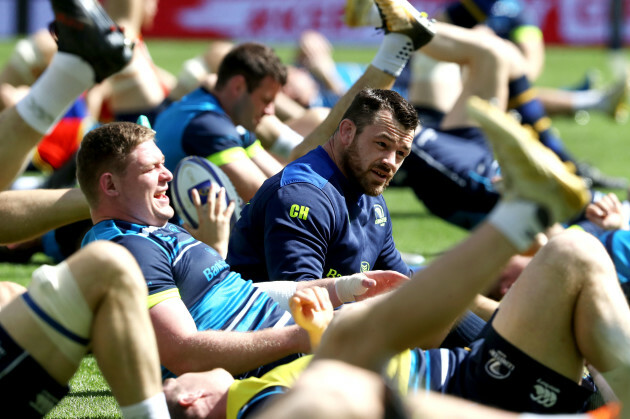 Bryan Keane / INPHO Leinster are knee-deep in preparation for the Champions Cup final. Bryan Keane / INPHO / INPHO
And then there is the added factor of the weather, with temperatures in Bilbao next week set to be in the high-teens, meaning hydration becomes another key focus for the backroom staff throughout the 80 minutes.
"The big challenge is that we're in a different country with different types of food," Davey adds.
"And you're making sure the food is as familiar as possible and the way it is prepared and cooked is not out of the ordinary. The big thing is hydration. You're concerned with the change in temperature and humidity, you want to make sure the players know the extra fluids they may require in that type of environment.
"It's about having a good strategy around that and having a very well planned menu so that means regular contact and communication with the chefs and hotel managers so they know what we need and there's nothing that is going to spook the players when we get there."
Optimum Nutrition's Gold Standard 100% Whey Protein is now available in SuperValu and Dunnes Stores nationwide. Optimum Nutrition, Official Sport Nutrition Partner to Leinster Rugby, is fuelling success on the field as Leinster Rugby stars Scott Fardy, James Lowe and Dave Kearney prepare themselves for the European Rugby Champions Cup Final on 12 May.
The42 is on Instagram! Tap the button below on your phone to follow us!