THIS WAS TO be his 13th professional bout, so Dave Hill had seen it all before.
Cocky pre-fight predictions and boastful statements of intent in interviews, what Hill encountered prior to taking on Conor McGregor was nothing new.
When he first came face-to-face with McGregor at the Roganstown Hotel near Dublin Airport, however, Hill quickly realised that there was something different about this next opponent.
The Englishman didn't hesitate to accept when he was offered the chance to fight McGregor for the vacant Cage Warriors featherweight title. The bout would take place on Saturday, 2 June, 2012 — three years ago today — at The Helix in Dublin.
Hill had already heard of McGregor at that point but had yet to see what the fuss was about. The Irishman was beginning to earn himself a reputation and fighting him in his hometown would make the task even greater, but Hill was excited by the challenge.
He had taken on a similar one 18 months earlier by going to Finland to face Tom Niinimaki in his own backyard. Things didn't go Hill's way that night, so perhaps this was an opportunity for redemption; a chance to prove that he was capable of halting the progress of another UFC-bound featherweight, while furthering his own claims for a place on the roster of MMA's largest organisation.
Along with coach Marc Goddard and team-mate Tom Breese, Hill flew from Birmingham to Dublin on Thursday, 31 May — two days before the fight with McGregor — and focused on shedding his final few pounds before the Cage Warriors 47 weigh-ins, which would take place the following afternoon at the event hotel just outside Swords.
"When I was offered the fight, I'd heard McGregor's name but I hadn't seen any of his fights," Hill says. "So I went on YouTube and watched a few and thought: Fucking hell, this guy's going to be a handful."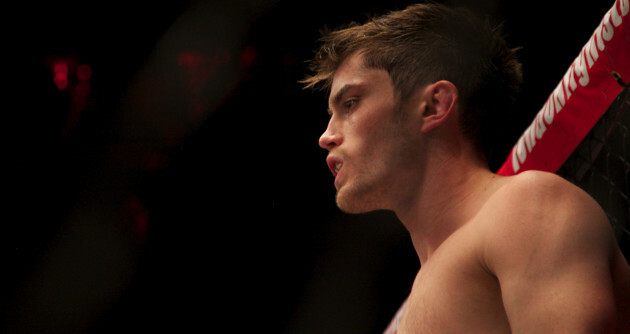 Dolly Clew Dave Hill Dolly Clew
As the fight approached over the preceding weeks and months, McGregor had been dismissive of Hill's chances via the MMA media in the UK and Ireland. The Dubliner saw himself as Europe's best featherweight and he'd prove that at The Helix on 2 June, he said.
That didn't bother Hill. He wasn't one to pat himself on the back during interviews and he usually saw it as a sign of weakness in his opponents when they did so: "That kind of bullshit really winds me up. I think guys do it because they're not confident in themselves, so they have to say it on social media so that the people reading can tell them that they're great and they need that reassurance."
But that wasn't to be the case with McGregor. When the pair weighed in ahead of their bout, Hill was anticipating some posturing from his rival. What transpired had a major impact on his mindset.
"When I saw McGregor doing that kind of stuff in his interviews, I thought he was just chatting shit like everyone else.
"But when we were at the weigh-ins and he kicked off at me, I thought: Fuck, this guy really believes this. That was the first time it dawned on me quite how ridiculously confident he is and the self-belief he has.
"I walked in and I could see him eyeballing me straight away from the other side of the room. I stared him back, smiled at him and thought nothing more of it. When we squared up — I'd seen him square up to people and get in their faces before so I was ready for that — he started driving me backwards.
"He did throw me off, and he threw me off more than I'd like to admit. When you haven't had anything to eat or drink for 24 hours, and you've just spent three hours in a salt bath sweating off your last bit of weight, the last thing you want to do is kick off with someone.
"At the time, Marc [Goddard], was like: 'Are you alright mate?' And I was like: 'Yeah, it doesn't bother me.' But looking back, it definitely flustered me. Afterwards I was just thinking: Fucking hell, this guy is just so game and loves the aggro. It was just something I hadn't experienced before."
Cage Warriors TV / YouTube
Since his subsequent rise to the top in the Ultimate Fighting Championship, much has been made of Conor McGregor's apparent ability to break his opponents mentally before the fight has even begun. Not only is he an immensely talented fighter, but he's an expert at mind games too.
One wonders how psychological warfare can become such a key component of a contest between two professional fighters. Regardless of whether mind games have been involved, the story always culminates with the athletes settling their differences by locking themselves in a cage and trading blows.
How do words and actions beforehand manage to make that a more intimidating prospect? Hill mentions that he felt "overwhelmed" by McGregor, both at the weigh-ins and during the fight, but how has McGregor managed to master that?
"I think it's his inner confidence. He's obviously such a confident bloke. I cleared my head after the weigh-ins but then during the fight he started talking again. He was saying: 'I'll go all day with you, you look soft, I'll go five rounds if you need to.' Then I started wondering if I should say something back, because I'd never been in that position before.
"So you start thinking of how you're supposed to react and that kind of messes with your head as well. It's definitely his confidence and that shows in the way he fights. He's constantly moving forward, pushing you back and inflicting his game on you, so you don't get a chance to inflict your game on him."
Dolly Clew Conor McGregor receives the Cage Warriors belt at the expense of a dejected Dave Hill. Dolly Clew
In spite of the drama at the weigh-ins, Hill felt that he had regrouped afterwards and was in good shape — physically and mentally — for the fight. With Cage Warriors visiting Dublin for the first time and an Irishman bidding to win a title, The Helix was a complete sell-out and the atmosphere was befitting of the occasion.
As Hill made his way to the cage, to his right he could see and hear a group of McGregor's supporters gesturing towards him. The visiting Englishman can't quite remember what was said, but they weren't wishing him an enjoyable stay in Dublin.
"They were all going fucking mental and I think I blew them a kiss. But I didn't even notice them as soon as I was in the cage. Even though they were cheering for him, it still gets you pumping."
While referee Neil Hall was issuing the fighters with their instructions before the bout began, McGregor resumed the conversation he had started with Hill at the weigh-ins.
'I'll go all day with you, you look soft, I'll go five rounds if you need to'.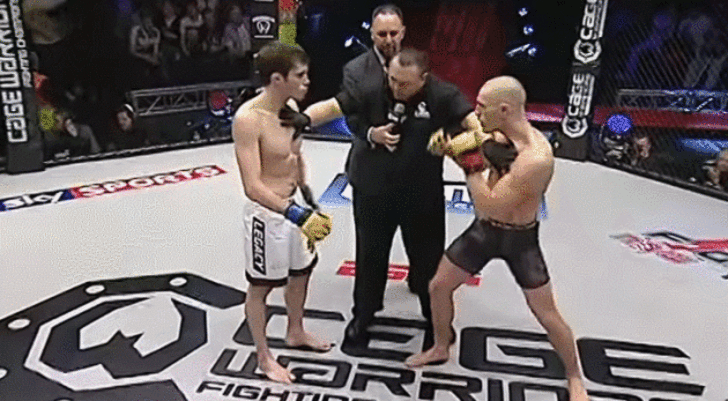 Hill: "It sounds stupid, but when he said it I was asking myself: Do I look soft? You're not used to someone talking to you when it's fight time. It puts you off a bit.
"Then when the fight started, when we clinched up against the cage, he started saying it again. Again, he was making me wonder how I should react. Should I have responded and told him to fuck off or something? And that's obviously not the kind of thing you should be concerned about during a fight, but it can put you off your game."
The fight itself was billed as an acid test of McGregor's progress. With his two losses to date having come via submission, taking on a grappler like Dave Hill would reveal if he was more adept in that discipline than his defeats to Artemij Sitenkov and Joseph Duffy seemed to suggest.
Hill knew he didn't have the striking skills to live with McGregor while the fight remained standing, so the gameplan was to get it to the ground as early as possible.
"I always enter fights thinking I'm going to take the guy down, but that was even more so with McGregor because of his striking. But that didn't quite go to plan."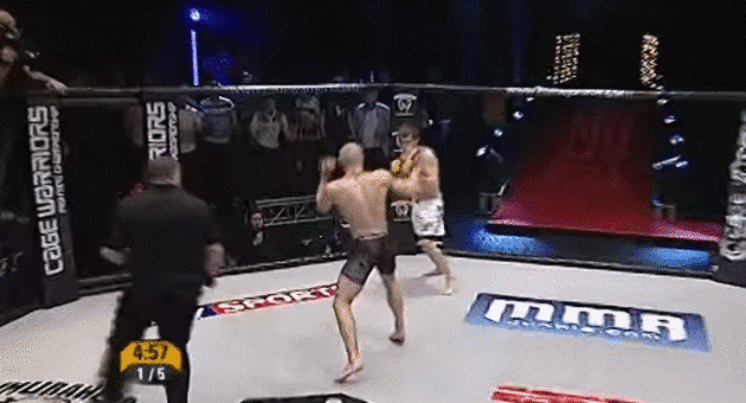 Hill's first takedown attempt came with just four seconds on the clock. As many opponents have since discovered, getting McGregor down is tough. Keeping him down is even tougher.
"That was the only time I was really on top," Hill says. "It was a bit of a premature shot. I shouldn't have gone for it that early. He jumped guard for a guillotine, which suited me fine, but before I know it he just popped back up again. I expected him to be good, but he was a lot better than I realised at the time."
It was a dominant first frame for McGregor and he was en route to another 10-9 round in the second, before forcing Hill to tap to a rear-naked choke with 50 seconds remaining. It was the first submission win of McGregor's career.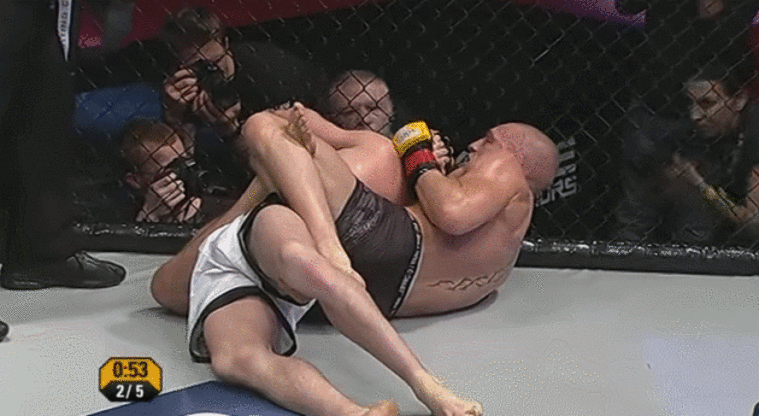 Hill: "I never thought at any point during the fight, I'm done here. But I think I was quite overwhelmed by him, which I'd never experienced before. I got battered in Finland for the entire fight but I never had that same feeling of being overwhelmed. It's quite daunting, almost.
"And it's surprised me that he's been able to carry that into the UFC, even against the top-level guys. When he fought Dustin Poirier, I thought McGregor would win, but I didn't think he'd get in Dustin's head because Dustin is very experienced and high-level. But he made Poirier look shit. He gets in your head and it really overwhelms you.
"During the fight, you're not thinking: Shit, I'm going to lose this fight. But you are thinking: Fucking hell, let up on me a little bit. He's constantly on top of you and in your face.
"He's got a presence about him and I'd never experienced anything like that before. You find that you're trying so hard just to keep up with him but he's always one step ahead of you… and he makes it seem quite effortless too.
"People will always put on a brave face, but you can see moments of weakness when guys don't know what to say or how to react to him. I always thought that because those top guys in the UFC are at such a high level, they're not just going to back down. But he gets in everyone's head a lot more than you'd think and I think that's why he makes a lot of them look so crap.
"And again, part of me says there's no way Jose Aldo gives a shit about what he's saying or what he's doing, but then there's little moments. A lot of the videos I've seen make me think that it might be working on Aldo as well."
After submitting Dave Hill, McGregor celebrated by launching himself into the crowd. When he returned to the cage to collect his Cage Warriors belt, he got stuck into some push-ups — his way of telling the audience that he still had plenty left in the tank. At first, Hill wasn't impressed by his opponent's actions.
"If you had asked me straight after the fight, do you want McGregor to do well? I'd have said: Fuck no. But I've warmed to him since and I like him now. I'd like him to go in there and do well against Aldo.

"We spoke a little bit straight after the fight in the medical room. I just congratulated him and that, and I think I remember him tweeting at one stage that I was the toughest guy he'd fought, which was nice to hear even though you've lost.
"Then not long after he signed for the UFC I sent him a message on Twitter to say congratulations, and he replied and said if you ever want to come over to Ireland to train it'd be great to have you here. That was a couple of years ago now and that's the last time we had contact
"Straight after the fight he wouldn't have been my favourite person in the world because of how he was. I thought it was unsportsmanlike at the time. I came out of the fight thinking: What a prick.
"But he'd been decent after the fight and I just find him really entertaining now. The way he is now is how he was to me at the time, but I know now that that's what makes him so marketable. I quite like him now."
Cage Warriors TV / YouTube
Dave Hill remains one of the top featherweights in Europe and he still has ambitions of joining Conor McGregor in the UFC. However, since that defeat in June 2012, the 29-year-old has only managed to compete on three occasions.
His job as a successful graphic designer in Warwickshire has prevented him from pursuing MMA as a full-time career thus far, but he certainly has the ability to be more than just another guy who lost to Conor McGregor.
Three years later, Hill is still often asked about it. What's it like to fight Conor McGregor? Few will want to find that out for themselves, but they're still curious. And Hill has the answer.
"People are interested in it because everyone fucking loves him, don't they? Also, if people ask you who have you fought and what have you done, everyone knows who he is so they tend to be quite impressed," Hill says.
"It's just a shame that when they go and watch the fight on YouTube, it's me getting battered for nine minutes."