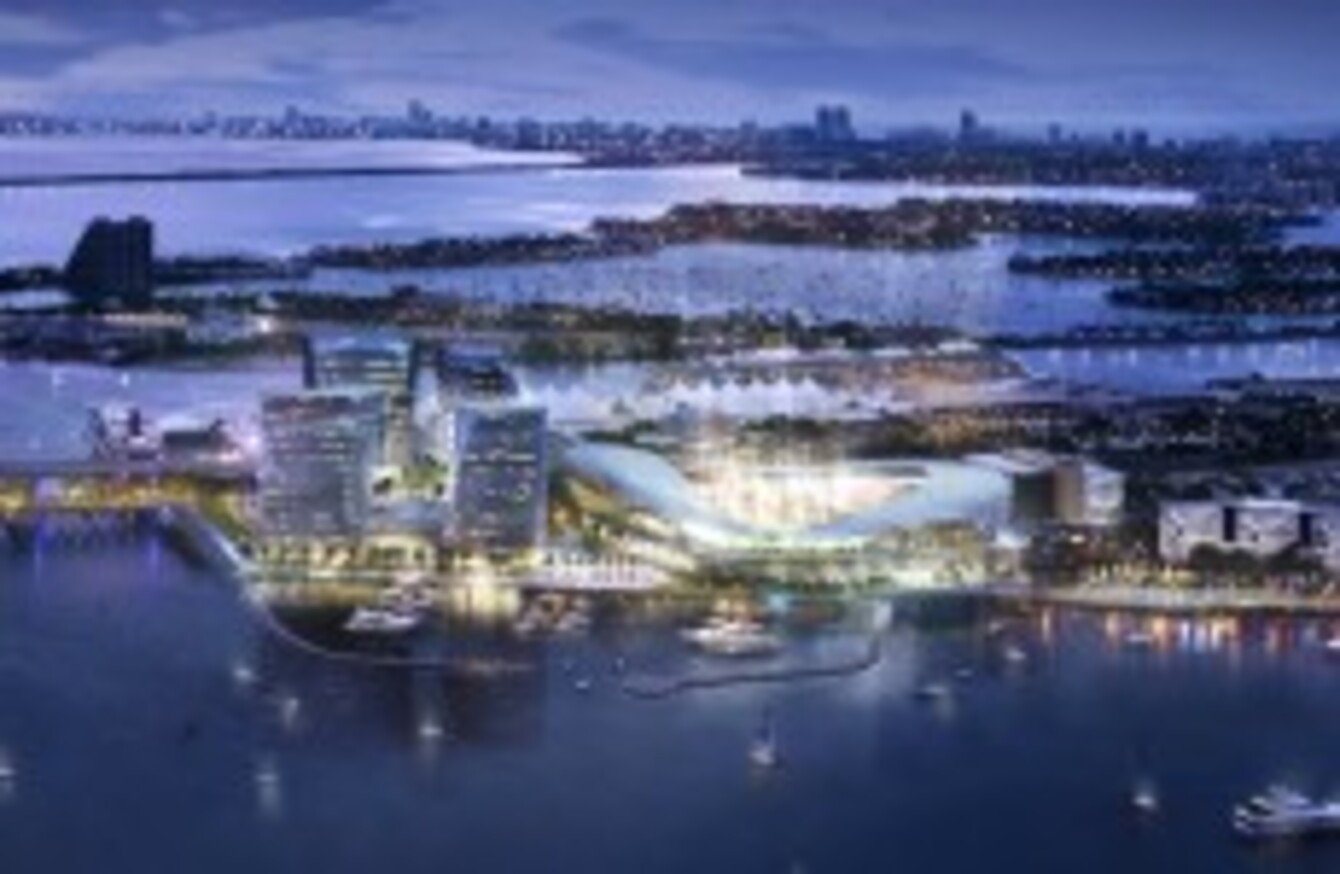 An artist's illustration of Beckham's proposed stadium.
Image: AP/Press Association Images
An artist's illustration of Beckham's proposed stadium.
Image: AP/Press Association Images
DAVID BECKHAM'S AMBITIONS of seeing his new Miami football team playing at an eye-catching state-of-the-art stadium at the city's port are facing growing local opposition.
An influential group striving to safeguard "the long-term success of the port" has issued an open letter railing against the former England football star's stadium plans, saying thousands of jobs and millions of dollars in investment could be at risk.
"We support a soccer franchise in Miami wholeheartedly and there are several suitable sites that would benefit tremendously from a stadium. However, PortMiami is not one of them," Miami Seaport Alliance said in its letter.
"We cannot support locating a stadium at PortMiami due to the risks it would pose to jobs, cruise and cargo operations, and the port's promising future."
The alliance, which counts cruise lines and cargo carriers among its members, added: "Even the hint of a disruptive, non-port operation — such as a stadium — could put thousands of jobs at risk."
The letter by the alliance, which includes Royal Caribbean Cruises, was published as a full-page advert in Monday's Miami Herald.
PortMiami is Miami-Dade County's second-largest economic engine after tourism, the alliance says, contributing $27 billion annually to the local economy and supporting more than 207,000 jobs in South Florida.
Beckham's plans for a Miami team in Major League Soccer (MLS) have been generally well-received locally, although the side is not expected to take to the pitch until 2017 at the earliest.
The former midfielder, who played for Manchester United, Real Madrid, LA Galaxy, AC Milan and Paris Saint-Germain, is looking to build a stadium for 25,000 spectators, with his preferred place the port because of its prominent location and sweeping views of the downtown skyline.
John Alschuler, Beckham's real-estate adviser, told The Herald: "People are responding to speculation.
"I've got confidence that (county) commissioners, when presented with a formal recommendation by the mayor — and a full, factual briefing — will respond to the facts."