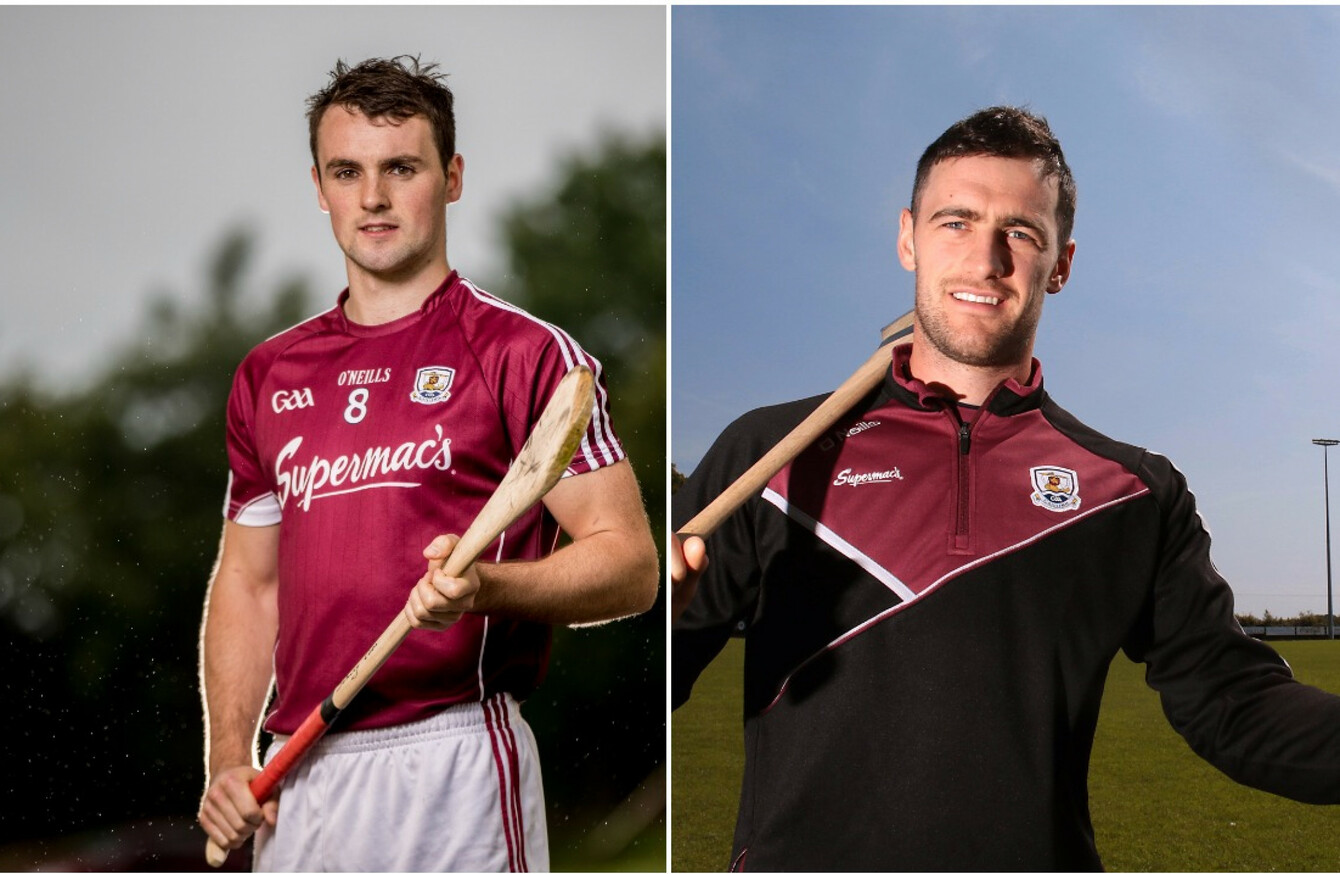 Galway's midfield partners Johnny Coen and David Burke.
Image: INPHO
Galway's midfield partners Johnny Coen and David Burke.
Image: INPHO
GALWAY'S MIDFIELD PARTNERS go back a bit.
Johnny Coen went to secondary school in his home town of Loughrea. St Thomas David Burke came in the road to join him in the classrooms of St Brigid's.
When they finished up after Leaving Cert, they both headed down to Limerick and came back after their university days with Coen a metalwork teacher and Burke a woodwork teacher.
They returned to teach in the secondary school where they were taught, immersing themselves in the hurling heartland of Galway.
"We see enough of each other anyway," laughs Coen.
"He's across the hall (in school). He's one year older than me, he's January '90, I'm March '91. We'd be talking the whole time.
"I finished up in 2008. I did four years down in Limerick and went straight back in 2012. I've five years teaching done at this stage.
"The school has a huge big catchment area from Sarsfields, Thomas, Loughrea and these clubs. It's a pure hurling school.
"Even the principal and deputy principal would be big GAA people as well, so it all helps. I was over the first year and second year teams (this year).
"David then would be over the senior team, on match days I'd be going along helping out and stuff like that.
"The students are all mad into hurling but what I always say is we'll leave the hurling talk to lunchtime. There's no point, we're here to do a job at the same time."
When Galway faced the last hurdle in their pursuit of the Liam MacCarthy Cup five years ago, the pair were in different sectors of the pitch.
Coen was anchoring the defence at corner-back and Burke spearheading their attacking drive at wing-forward.
In time Burke drifted back to midfield, nailing down a spot there and becoming one of the leading exponents in the country.
Last year Coen moved out to join him, free from placing defensive reins on fearsome forwards and afforded the space to direct a game.
They formed a winning midfield partnership together at U21 level in 2011 and are now aiming to replicate that at higher altitude.
"It's no big deal," says Coen.
"Every game is different, sometimes you might be picking up a specific fella if you're around the middle of the field.
"Other times you're better off just to let loose and go out and go hurling. When you're out around the middle of the park, lot of different things happen anyways so you're as well to just go for it."
He grew accustomed to midfield play with Loughrea. When the club ended a 65-year wait for a Galway senior hurling title in 2006, their journey to St Patrick's Day caught his imagination before Ballyhale and the Reid brothers intervened to administer defeat.
It's been agonizing stuff since then for Loughrea, losing four county finals betwee 2009 and 2013 during Coen's senior tenure, including a replay loss in 2010.
"I won't lie it has been tough, no doubt. But, you know, there's a huge amount of good people in the club.
"We're after developing our own astro-turf and there's a lot of good fund-raising. They talk about the pride of the parish and the pride of the club and you have to be giving something back to the club.
"I would have come on when I was 17 years of age and I'm 26 now so I'd be hoping I'd have a lot more left to give to Loughrea.
"My father was training the team (in 2006) and my brother was actually playing on the team as well, that's as good as it gets.
"It was a great experience and great for the town itself. There was a great buzz around the place."
He's still chasing Croke Park glory of his own on the All-Ireland stage. Last year they were felled by a point by Tipperary and watched their conquerors blitz Kilkenny in the final.
"At the time it was a game we could have won but the two injuries before half-time really shuffled the whole team around. Yet we were there or thereabouts up until the last five or ten minutes.
"The two goals kind of killed us off a small bit. But hats off to them, they actually went to a much higher level in the All-Ireland final. They were fully deserving of their victory."
A year older and a year wiser. It was noticeable how restrained Galway were in their celebrations after last month's Leinster final win in comparison to the hysteria when they stunned Kilkenny five years ago.
"In 2012 we kind of went a bit mad really. We were complete outsiders to beat Kilkenny on the day. We hurled out of our skins that day.
"This year it was more about getting a job done and progressing into the semi-final at this stage."
The next challenge looms large on Sunday against Tipperary. The Galway minors will burst into action in the curtain-raiser against Kilkenny.
Coen will be keen to hear how two of his students – Mullagh's Ronan Glennon and Cappataggle's Donal Mannion – fare there.
Then the senior assignment comes along at 4pm. When school comes back around in early September, they'll hope a pair of All-Ireland finals will consume conversations in the classrooms in St Brigid's.
The42 is on Instagram! Tap the button below on your phone to follow us!