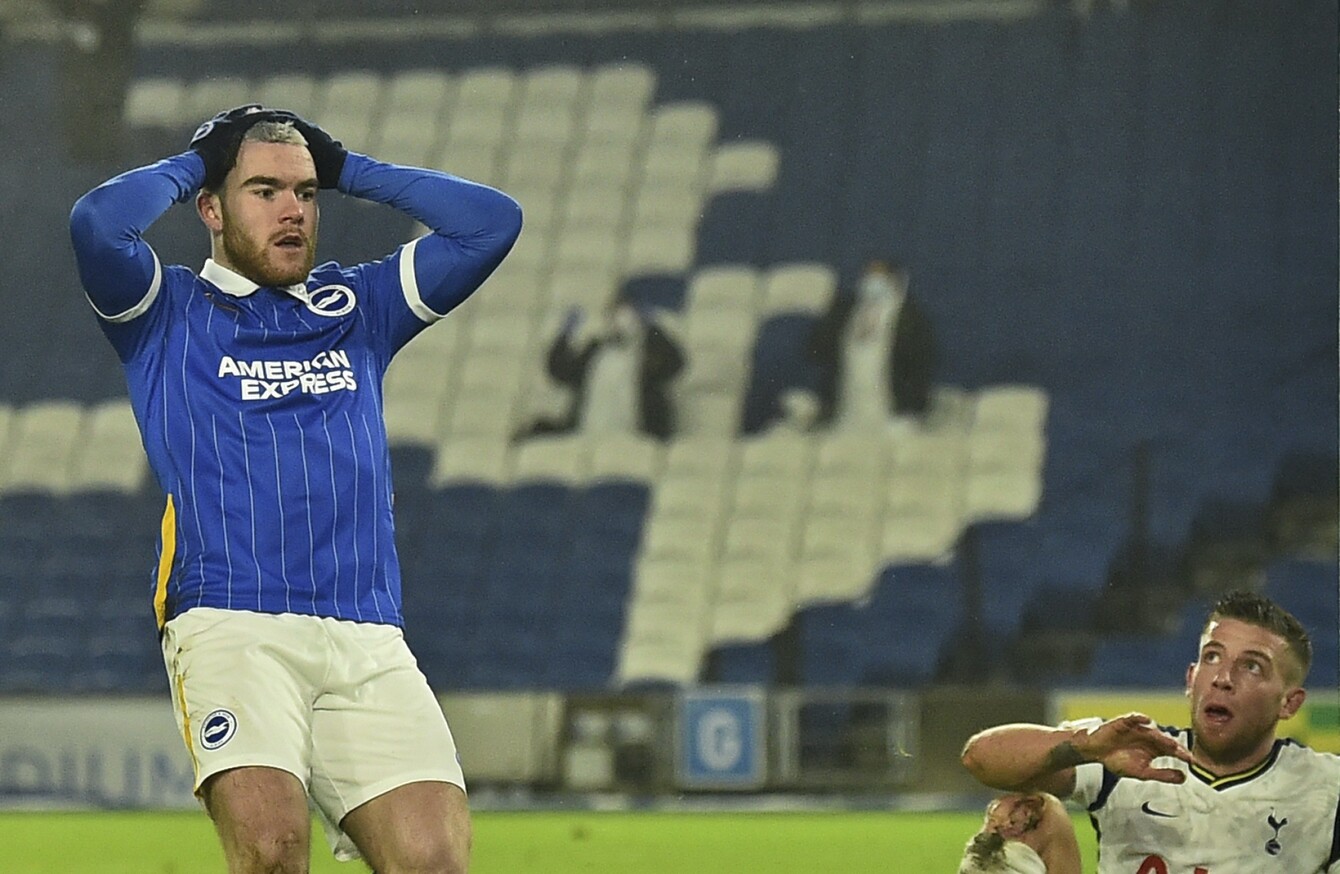 Connolly and Alderweireld during last Sunday's game.
Image: Glyn Kirk
Connolly and Alderweireld during last Sunday's game.
Image: Glyn Kirk
EX-IRELAND INTERNATIONAL David Meyler has joined The42 as our new football columnist for this season.
Every Friday, the former Hull City and Sunderland midfielder will give expert insight and his predictions ahead of the weekend's Premier League action, alongside the latest William Hill prices. 
In his latest piece, speaks about the issue of social media abuse and looks ahead to the meeting of current champions Liverpool and league leaders Manchester City. 
Burnley v Brighton, 3pm Saturday 
Ireland's Aaron Connolly was on the receiving end of online abuse over this past week after he didn't convert a late chance for Brighton in their 1-0 win over Tottenham.
Spurs defender Toby Alderweireld made an outstanding last-ditch block on the line when the Seagulls forward looked odds on to score.
Galway native Connolly was sent vitriolic tweets by a number of people — some of whom had seemingly backed a 2-0 victory — prompting him to delete his Twitter account. 
It isn't the first time something like this has happened, and it certainly won't be the last because so many of us use social media nowadays. It is part and parcel of being a footballer, a top athlete or anyone in the public eye.
I've spoken to my father about this topic many times. He has always said if you have an account, you open yourself up and give people access to target you. 
If at any stage it becomes too much, you need to step away so Aaron has done the right thing and I applaud him for that.
I have personal experience of how toxic it can be. During my time at Sunderland, I received one of the quickest red cards in Premier League history.
Having been brought on as a late substitute away to Portsmouth, I lasted just 115 seconds on the pitch after leading with my arm in an aerial challenge with Steve Finnan. 
I was 18 months living in England and had a Facebook account. I thought it was fantastic in the beginning. You're in and around the first team and when you've played well people are coming on saying 'Well done, Dave. You're unbelievable'. It's nice to read those things about yourself.
Players will be quick to post after they win. You get onto the social media person at the club and the photographer, and watch the positive comments roll in. 
On the flipside of that, if you have a bad game you tend to see the negative stuff and can begin to question yourself.
After the red card, the abuse I received was tough to take. 
My advice to any young footballer reading this is that you have to prepare yourself for the criticism that will inevitably come. If you want to post on Twitter, Instagram, TikTok or whatever, you need to be capable of taking abuse because when things aren't going well you will be bombarded with messages — some really nasty.
Everyone has an opinion. I could tweet now and say 'I think Kevin De Bruyne is better than Bruno Fernandes'.
I'll be hit with an array of different replies. Some will agree with me, some will disagree, others will say 'I don't care, they're both better than you' and then you might get a couple calling you names you wouldn't say to your worst enemy.
It took me a long time to understand and accept. Eventually I was able to tell myself that, in my mind, these people's opinions don't matter. You might reply to the odd one here and there, but in the grand scheme of things they don't affect my life.
There have been times when I've posted a photograph of my daughter on Instagram, and fellas have replied by making reference to her in a sexual way. My daughter has just turned five years of age.
My wife is a lot more sensitive than I am, but I'm still thinking 'that's my child they're talking about'. For that reason, many footballers don't post about their kids.
These people think it's a laugh and a giggle. Some of the online hatred is from the younger generation who find it funny if they can get you to bite. Then their friends jump on the bandwagon, that's the culture.
Just remember that they might be footballers, but they are human beings with feelings and families too.
We're still seeing many examples of players being racially abused — Marcus Rashford and Reece James were victims of it only in the past few days.
Most people reading this will know I'm very good friends with James McClean. James has been subject to some vile abuse — not only towards him but towards his wife and kids. He has received bullets in the post.
I remember a campaign aiming to stamp racism out of football was launched, and rightly so, but James felt he had never been backed by the FA or Kick It Out.
He did an interview and spoke about the fact that team-mates didn't support him. It took me by surprise and I had to take a step back and think 'During my time with James at Sunderland and Ireland, could I have done more to back him?' The God's honest truth is yes.
I spoke to James after he did the piece and he told me I was someone who helped him, but I could have done more and I think a lot of people could have.
In Ireland, there have been examples such as the teenager who escaped criminal conviction this week after admitting to sending racist messages to pundit Ian Wright, and Shamrock Rovers condemning racist and sexist online abuse of their girls' and boys' U17 players. People have to be held accountable and it's up to the social media companies to take some responsibility too.
You see someone like Alex Scott, a very successful footballer who had an outstanding career with Arsenal and England. She'll give an opinion on, for example, whether the Gunners should play four or five at the back, and will receive unacceptable online abuse. Why does she get it? Because she is female.
There is a dated view that women have no place in football but those people need to grow up. My sister is an avid sports fan. Before the pandemic, she would travel all over Cork to watch hurling matches.
She's as qualified as anyone to comment on those games. She grew up in a sporting family and watched everything. It's 2021, football is the sport we love and it should be for everyone.
Getting back to Aaron, he's a very talented player and is not even a hot prospect for Ireland anymore. For me, he should be one of the first names on the team sheet when the internationals return next month.
The weight of the country is going to be on him to produce and that will be tough, but he has the ability to lead the line.
It's 16 months since he scored those two goals against Tottenham to announce himself on the Premier League stage but he has been in and out of the Brighton team this season.
He should have an unbelievable career, but it will be down to him.
I watched Brighton against Spurs and they looked good. It was their first home win of the season, and they have gone on to pick up an incredible victory over Liverpool at Anfield on Wednesday.
That said, Turf Moor is a horrible place to go and I fancy Burnley to nick it — 2-1. 
Liverpool v Man City, 4.30pm Sunday
Sunday is a must-win game for Liverpool, who are now seven points off Man City with one game more played after the defeat to Brighton.
City appear to be in fantastic form and the Reds have a lot of ground to make up. In past articles, I've gone for high-scoring games when the big sides are playing and they have often ended in draws or wins by the odd goal.
This fixture has brought us some great spectacles over the years, but I'm going to try some reverse psychology and back 1-0 Liverpool in the hope that it's a goal-fest!
William Hill odds above correct at the time of writing. New online customers get €30 in free bets when they bet €10 with William Hill. Just use the promo code H30. For all the latest prices, visit williamhill.com. 18+, always gamble responsibly. For more information, see gamblingtherapy.org