JUST OVER A year ago, David Pocock was in Mana Pools National Park standing metres away from wild lions and elephants.
His stint in the bush at the wildlife conservation park in northern Zimbabwe was part of Pocock's six-month break from professional sport, which in turn was part of his year-long sabbatical from Australian rugby.
Pocock's six months off were bookended by spells with Japanese club Panasonic Wild Knights, but now he finds himself happily back in a Wallabies jersey and facing up to beasts of a very different kind.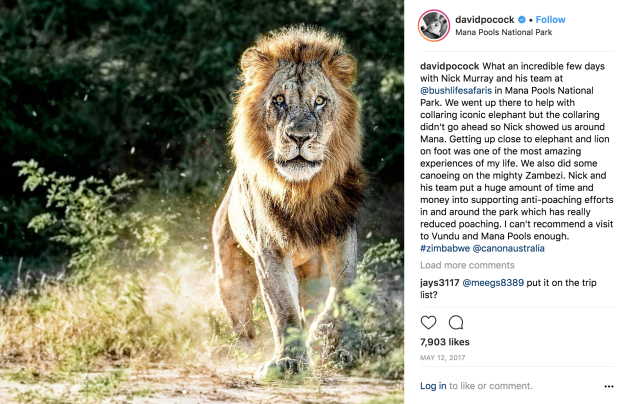 David Pocock / Instagram David Pocock / Instagram / Instagram
An intelligent, considered and engaging character, Pocock is a rather unique rugby player, as passionate about speaking out on issues like same-sex marriage as he is about wearing the green and gold.
Pocock and his partner, Emma, even decided a few years ago to put off their own legal marriage until same-sex marriage was legalised in Australia, with the law officially passed in December of last year when the flanker was playing in Japan.
Pocock was famously arrested in 2014 after he chained himself to a digger during a protest at a coal mine in New South Wales and he has been consistently outspoken on environmental issues, as well as homophobia.
Clearly, there is a lot more to the man than rugby, but even still it was something of a risk to press the Australian Rugby Union to give him 12 months off at a time he was one of the most dominant players in the global game.
"It was something I wanted to do," said Pocock in Melbourne this week as the Wallabies prepared for their second Test against Ireland. "In rugby terms, it was a risk."
It does appear obvious that 30-year-old Pocock's longevity will benefit from the stint away and the long absence from Test rugby didn't appear to have affected his skills last weekend against Ireland, as he made his first Wallabies appearance since December 2016.
"You are always going to have those thoughts, those doubts," said Pocock of how he felt before the Wallabies' 19-8 win. "It's human. Being able to sit with that and acknowledge those doubts and be able to know that you have prepared well, and I guess back your ability to step up when your team requires you to.
"I guess that's my approach. The more you try to rid yourself of any of those thoughts, or suppress them, the more they dominate. It is a matter of being able to live with a bit of ambiguity, where you can have nerves, have doubts, but you can also be very confident."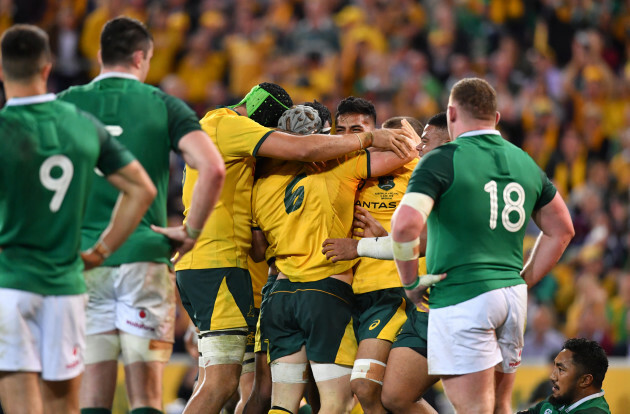 AAP / PA Images Pocock scored a try against Ireland last weekend. AAP / PA Images / PA Images
Pocock believes his time away from rugby is the best thing he could have done, as he returned home to Zimbabwe and threw himself into working alongside animal conservation experts and got stuck into hard agricultural work in his native land.
Pocock – born in the city of Gweru – and his family fled their farm during a time of major unrest in Zimbabwe in the early 2000s, when the now-Wallabies back row was just 12.
The government had announced its intention to take over white-owned farms across the country and Pocock's family were warned to vacate theirs. Violence took hold in many places and one of their local friends was even shot dead on his farm.
It was a traumatic time for Pocock and it left scars, as recounted in the excellent 'True Grit' documentary on Pocock, as his parents moved the family to Brisbane.
"Things got out of hand in the early 2000s there," said Pocock. "It was something that really hit headlines because it was white farmers but I guess the abuse of black farm workers and the whole history… it hasn't got as much press.
"People who experienced trauma in their lives, and there are a lot of victims, but incredibly resilient people, optimistic people and my understanding is there is a provision in the new constitution for forgiveness and conciliation, learning from the South African model.
"That's probably down the track but as someone who was born there and grew up there, you love the land, you love the people, and I'm optimistic for what it can and can't become."
Exclusive Six
Nations Analysis
Get Murray Kinsella's exclusive analysis of Ireland's Six Nations campaign this spring
Become a Member
Indeed, Pocock feels genuine love for his native country despite those deeply difficult experiences as a child, and he and Emma cherished basing themselves in Zimbabwe and getting to know the country better during his six-month break from rugby.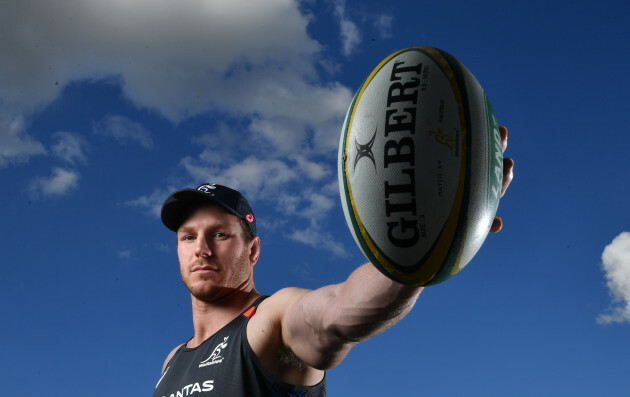 AAP / PA Images Pocock loves his Zimbabwean roots. AAP / PA Images / PA Images
The country was in political turmoil at the time, with a coup d'état eventually forcing the resignation of longstanding president Robert Mugabe last November.
"It was challenging, it was sort of before the president resigned, so it was pretty tough-going economically. The country was struggling. We were trying to farm, trying to sell tomatoes, no one had money, the markets were not doing that well.
"So it was a bit of an eye-opener but it has got a special place in my heart. I love it, I love the land, love the people and I guess at the end of the day, if you are a Zimbabwean, everyone is a victim in some ways.
"There were the cycles of dispossessions, I guess now it is what you make of it. I am optimistic about the future of Zimbabwe and I think a lot of people, those in Zimbabwe, those Zimbabweans living abroad, are also optimistic."
The42 is on Instagram! Tap the button below on your phone to follow us!