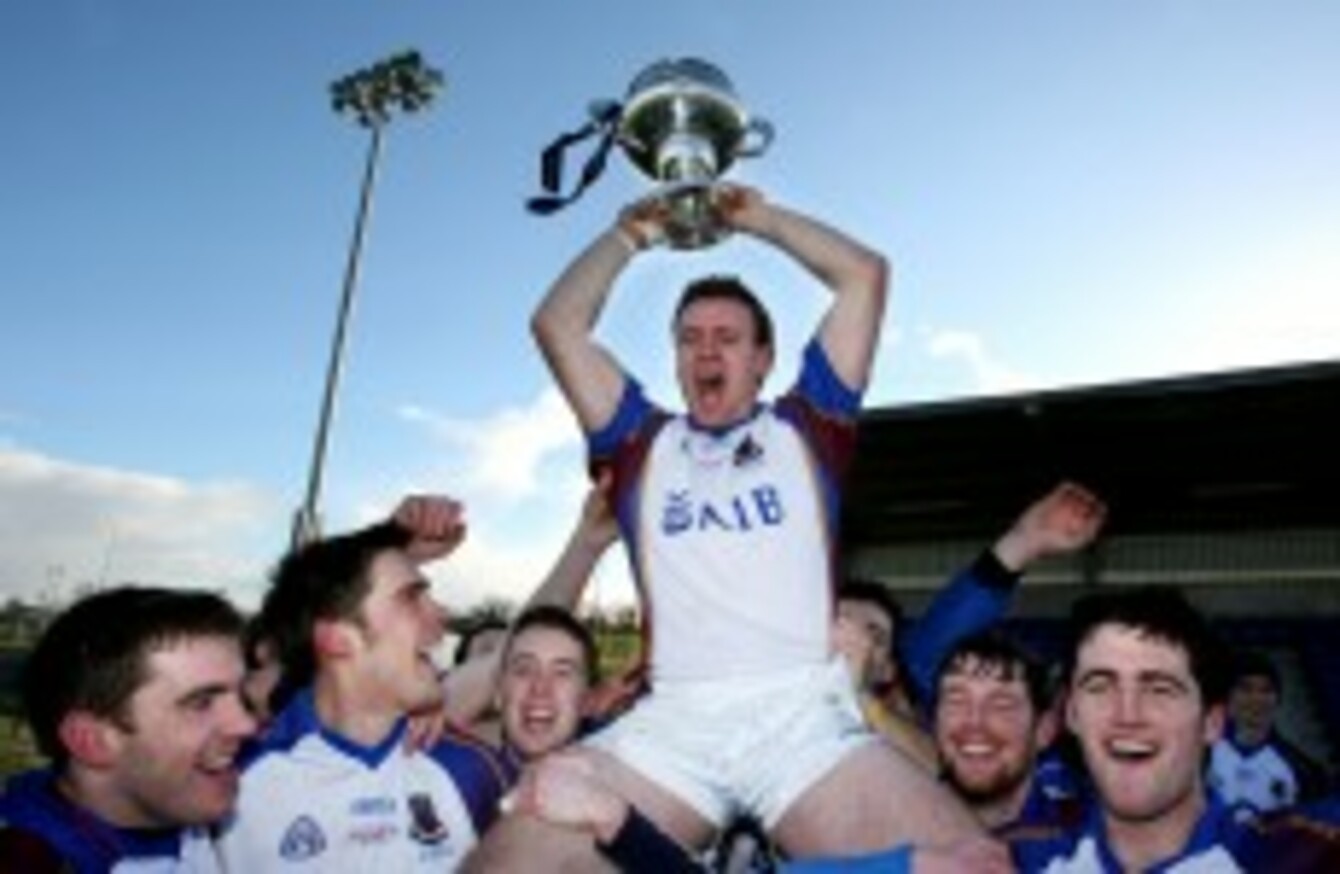 UL captain Kieran Joyce is carried shoulder-high after their 2011 Fitzgibbon Cup win and the Limerick side are short-priced favourites to regain the crown.
Image: Cathal Noonan/INPHO
UL captain Kieran Joyce is carried shoulder-high after their 2011 Fitzgibbon Cup win and the Limerick side are short-priced favourites to regain the crown.
Image: Cathal Noonan/INPHO
IN THE LONG history of the Fitzgibbon Cup, which traces back to 1912, there has never been a more star-studded group of management teams assembled than those on display in Limerick this weekend.
The four remaining teams will not want for playing experience on the sideline with eight All-Ireland senior medals, nine Allstars, and two club All-Ireland medals between the amazing quartet of bainisteoirs.
The42 has decided to profile each of the competing coaches in what is truly is a Fitzgibbon weekend to savour with the action on the pitch well complimented by the personalities on the sideline.
Davy Fitzgerald (Limerick IT)
The former Clare goalkeeper has made a seamless switch from playing to coaching and his record speaks for itself, winning two Fitzgibbon Cups with LIT as well as the coveted Liam McCarthy Cup with Clare in 2013.
The Banner supremo has an insatiable thirst for hurling and he has helped turn LIT into a modern-day nursery for future stars with the likes of Eoin Kelly and Joe Canning honing their skills in Moylish.
As hosts it will be intriguing to see what type of psychological warfare he will wage with former Clare full-back Brian Lohan, who was the last line of defence in front of Davy for years.
Who can forget LIT coming through the bushes to disrupt the UL warm up in last year's shock quarter-final win, a stunt that showed his ability to think outside the box in order to outfox the opposition.
If the three-time All Star can somehow conjure another Fitzgibbon Cup success with a team devoid of stars, it may well be his greatest achievement.
Brian Lohan (University of Limerick)
The legendary number three was one of the greatest players of his era and one of the iconic images of the 1990s was seeing his red helmet bursting out of defence to relieve Clare with a monster clearance.
Recognised four times as an Allstar, the Wolfe Tones club man is UL to the core having captained them to the Fitzgibbon in 1994, winning Player of the Tournament in the process.
Lohan returned to UL as manager but success has still managed to escape the university side, who must be classed as underachievers with only two titles since that Lohan-inspired win despite the immense talent at their disposal.
He is sure to have learned a lot having been outmanoeuvred by Davy last year but he will need to rid complacency from his players' minds if they are to get their hands on the coveted colleges trophy again.
Colm Bonnar (Waterford IT)
At 50-years-old he is the oldest of the four managers patrolling the scene at the weekend but Bonnar's experience and impeccable record in the Fitzgibbon Cup stands alone.
A two-time All-Ireland winner with Tipperary as a skilful midfielder, the Cashel King Cormac's club man has trained WIT to a remarkable five of their Fitzgibbon wins, including four in six years from 2003-2008.
The former Wexford manager pulled off a major coup last year and probably the sweetest victory of his reign when an unheralded and written-off WIT side recovered from extra-time wins in the quarter- and semi-finals to take the spoils.
It could be a very special few weeks for Bonnar as Ballyhale Shamrocks, who he co-trains with former team mate Andy Moloney, prepare for the All-Ireland club final on St Patrick's Day.
Pat Mulcahy (Cork IT)
Beaten in two of the last three Fitzgibbon finals, CIT are so close they can taste it. Will 2015 be the year that they finally make the breakthrough and claim third level hurling's top prize?
Former Cork captain Pat Mulcahy has been at the helm for both losses and he has transformed the Cork side into a formidable force with an effective game plan which suits their style and personnel.
The Newtonshandrum man saw first-hand the efficiency of the short passing game employed by his side and replicated by the Rebel seniors in the early noughties, and he has implemented it with the college side.
With John "Bubbles" O'Dwyer, Aidan Walsh and Mark Ellis in top form they have a great chance to go one step further. The former Allstar would be further revered on Leeside should he break their duck.