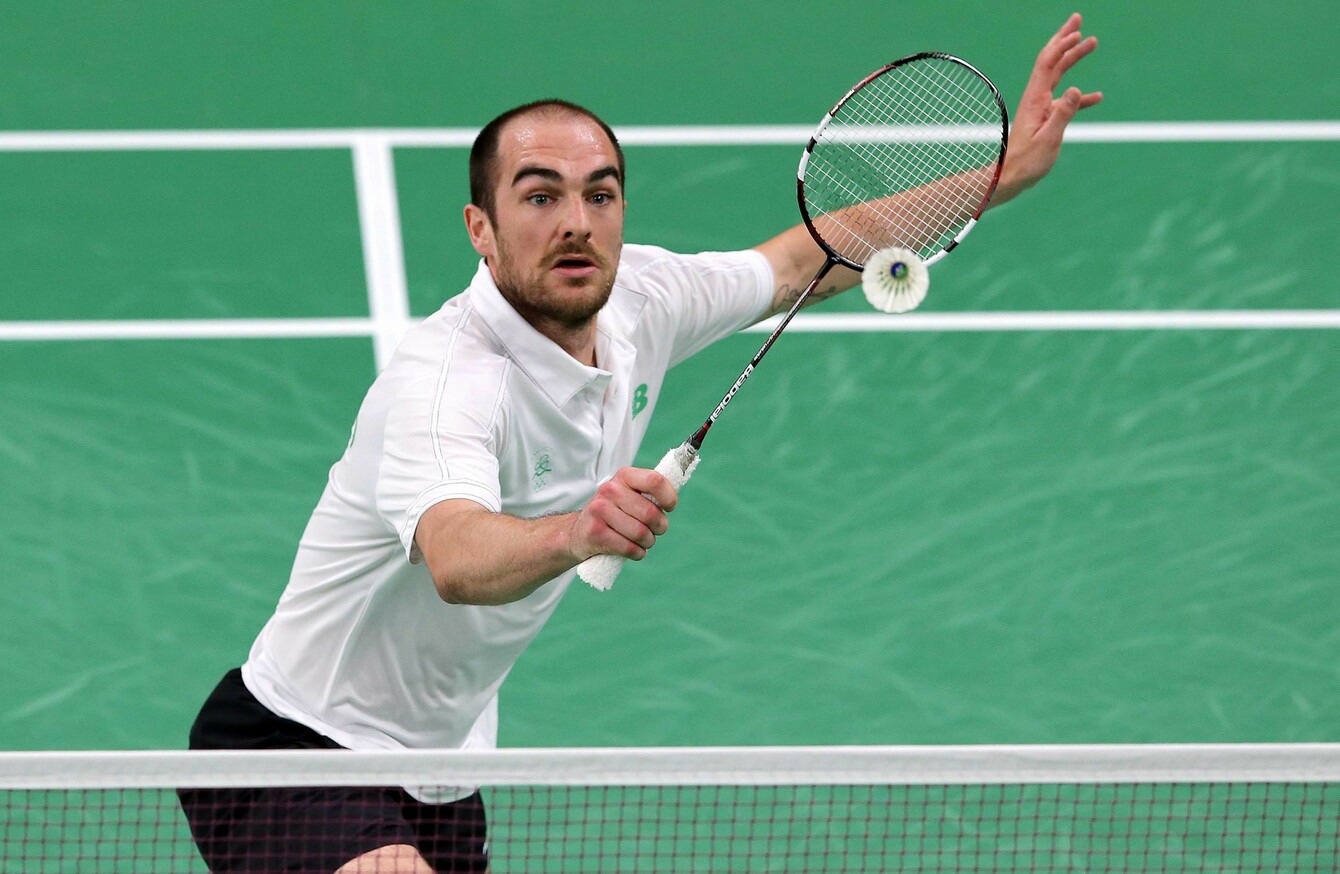 Scott Evans has big plans for 2016.
Image: Ryan Byrne/INPHO
Scott Evans has big plans for 2016.
Image: Ryan Byrne/INPHO
SCOTT EVANS IS Ireland's greatest ever badminton player and his CV boasts eight successive national titles, from 2005 to 2012, and two appearances at the Olympics (2008 and 2012).
Needless to say, the 28-year-old Dubliner is hoping to make that three in Rio de Janeiro this August.
As things stand "a lot would have to go wrong for me not to qualify" but having missed the last three Irish national championships through injury, he knows it's far from certain.
We caught up with him this week from his base in Copenhagen, the Danish capital he fell in love with 12 years ago when he moved there to pursue his dream of becoming a full-time athlete.
"I moved from Dublin when I was around 16 and came here to train full-time," he explained.
In Dublin, there was no full-time coach or athlete and it was very difficult for me to do anything.
"Denmark would be the best in Europe (at badminton) and one of the top eight in the world so I couldn't be in a better environment," he added.
Right now, Evans' focus is on building himself up physically with the Irish championships in two weeks his first major goal of the year.
"This time is a tough period for me, I normally take a bit of a break over Christmas but now I'm just working on physical stuff.
"I'll get into badminton towards the end of the year and all January is just a solid training block to prepare myself for the last bit of the Olympic qualification period."
The last tournament before the deadline for securing qualification points is the European Championships at the end of April.
"That'll be my last, and the biggest, event for Olympic qualification."
Here is how he breaks down his day:
7:15am-7:30am: Go out for a walk with the dog for 10 or 15 minutes.
He has to go out and I like to go out too to help me wake up and get a bit of fresh air.
I find it easier to get going for training if I'm more awake and the walk is good for this.
8am: I'll come in and make breakfast, usually porridge with yoghurt and muesli in the one bowl.
It's low in fat but high in protein and then I'd have a coffee as well.
After that I'll sit and watch TV for a while before leaving for training around 8.50am.
9:05am: It takes me around 15 minutes to get to training and when I arrive I just crack straight into a warm-up.
9.30am: I'm in a club here called Gentofte, I've only been in two since I moved 12 years ago but I've been at the same one now for 11 of those.
We're in the best league in Denmark but this season we finished last. Normally we'd be around 7th or 8th in the league but we wouldn't have a lot of money.
It's a bit like the Premier League, you have some clubs that buy up all the top players and use huge amounts of money but our team only has three players on contracts and they're not big contracts at all. The thing about our club is you play because you love it, not for money.
9.30am-11.30am: I'm building up physically now so this morning was more about longer intervals. We do some footwork drills — movement around the court without any shuttlecocks at all. This morning, I did 18 times 45 seconds work with 15 seconds rest.
Then we do some one-against-one drills which last around a minute with short, 10 to 15-second, breaks.
There, the focus would be on being aggressive, on defence and stuff like that.
At the end of that then I'd so some technique work; standing in one spot and practising certain types of shots.
Noon-4pm: I'd do some video analysis stuff closer to the tournament but today it was just back home for lunch and for the afternoon I'd help out my girlfriend who has a clothing company (Hosbjerg).
She's full-time with that. We have around 25 shops in Denmark that sell our brand. We're still quite new but kept very busy.
Evening: I do three weights sessions a week with the help of my personal trainer.
What are they
really like?
Rare insights on sport's biggest names from the writers who know them best. Listen to Behind the Lines podcast.
Become a Member
I do a lot of core, leg work and dynamic exercises because in badminton you need to be so strong in your legs. So we'd do a lot of deadlifts, squats and leg presses.
I've been having a couple of problems with my knee the last while so I've a lot of stability exercises to do to make sure it's not causing any problems.
I also had an ankle injury so I do a lot of work on that as well.
Normally I train every morning on the court and then I'll do Monday, Wednesday and Friday in the gym.
On Tuesdays and Thursdays I have club practice days and then, to top it off, I'll do one session on the weekend — either physical weight training or badminton.
I always do at least one session and it's usually on a Sunday.
This year is huge for Evans. He has been playing well enough for the past 12 months to suggest that he can go on for a number of years. But with so much wear and tear involved in badminton, he knows he has to seize his opportunities.
"I had a very good 2015 with some really good results and I put myself into the Grand Slams of badminton," he said.
"That means going into the main events, so I travelled a lot and used a lot of my funding to go to places like Australia, Indonesia, Singapore, Japan and Malaysia.
I pretty much used all my funding playing those tournaments and I haven't much left so I've had to cut it down a lot.
His ranking suffers as a result and that's what qualification for Rio comes down to.
"Of course when I'm playing the best events I'm playing the best players and in the last few tournaments I've been losing in the first round and that affects the ranking.
"Thirty-eight will qualify for Rio but there are a lot of different rules. It's not just the top 38 in the world.
"I haven't played that many tournaments in the Olympic qualifying period (May 2015-May 2016) but I should be okay, even now I should be safe enough.
"It would mean a lot of players behind me making good results between now and May and to be honest, it's very difficult for them to do that because the competition is so tough."