CHRISTMAS IS A busy time of year for all postmen and Dean Delany is no different. He only has half an hour to chat before he is flying back out the door heading for work delivering post, presents and parcels.
But it's all the time we need for a quick trip down memory lane to relive some of the greatest and most under-appreciated achievements in the history of Irish football.
A good place to start is the time he kept a clean sheet against Spain at the U18 European Championships out in the dense forests of Sweden. The then-Everton academy prospect beat Iker Casillas to be named Uefa's Man of the Match, for his impressive display against a side which also had Barcelona star Xavi among its ranks.
Ireland secured a 1-0 win and would later pick up the bronze medals at the competition under the stewardship of Brian Kerr and his right hand-man Noel O'Reilly out in Åtvidaberg. Casillas would make his Real Madrid debut a few months later against Athletic Bilbao at San Mamés and by the end of that 1999/2000 season would become the youngest ever goalkeeper to play in and win a Champions League.
"The first game against Spain… me and Colin Healy, who had been at the 1999 World Cup in Nigeria, we were kind of leading that attitude of: 'lads, we can actually beat these'. Obviously Noel and Brian would have always been like that and once again we had another really good squad, Liam Miller was there too," Delany recalls.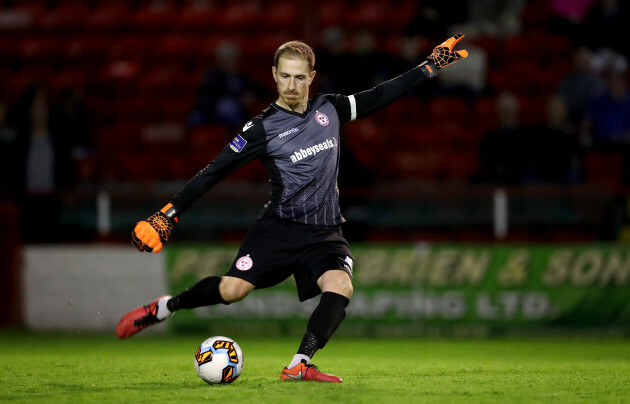 Ryan Byrne / INPHO Delany is captain of League of Ireland side Shelbourne where has has won two Premier Division titles. Ryan Byrne / INPHO / INPHO
"So we were fairly confident and I just happened to have a good day against Spain and we won 1-0. We drew the second game to Georgia and lost the last game to Italy, so we were in for a third place play-off which we won against Greece. It was a good achievement to get bronze medals at a European Championships. A really, really good achievement and it doesn't really get the attention it deserves.
"Obviously the two World Cups — the one in Malaysia in 1997 and the one in Nigeria in 1999 as well as the European Championships with the U16s and the U18s are going to get the limelight — there's no denying that.
"When you look at the amount that Noel and Brian achieved together with the Irish underage teams in such a short space of time in the late 1990s — it's phenomenal. And I really don't think they get the respect they deserve.
"I'm not afraid to say it, but the FAI really should hold their achievements in higher esteem. But I'm sure that if you asked Brian who he would want more respect from, the players that he managed or the FAI, he would always choose his players."
Robbie Keane ✔️
Damien Duff ✔️
John O'Shea ✔️
Richard Dunne ✔️
Richie Sadlier ✔️
Liam George ✔️

Kerr's Kids - The story of Irish Football's Golden Generation premieres this Friday night at 10pm on eir sport 1 🇮🇪🇮🇪🇮🇪 #KerrsKids pic.twitter.com/PqyJZ0HJWV

— eir Sport (@eirSport) November 22, 2018
A recent documentary produced by Kevin Branigan for EirSport recalling the achievements of Brian Kerr's underage teams before the turn of the millenium — "Kerr's Kids" — is the reason why we're chatting about those halcyon days in the late 1990s.
It was an astonishing golden generation of talent in Irish football, when the likes of Robbie Keane and Liam George, Alex O'Reilly and Richie Sadlier, Colin Hawkins, Richard Dunne, Damien Duff, Liam Miller and Delany routinely brought home silverware on the world and European stage.
As the Shelbourne goalkeeper alludes to, the consistency of achievement is quite remarkable, if not always given the level of recognition it deserves. Hence the rave reviews for Branigan's recent documentary which helped remind the Irish sporting public of just how high Kerr and his band of young footballers reached. The film is a brilliant nostalgia trip which cut a stark contrast to the final weeks of Martin O'Neill's era in charge of the current senior setup.
At the 1997 World Youth Championships Ireland — massive underdogs written off before the start of the competition — finished in third place and brought home bronze. At an anniversary gathering at Dublin's Gresham Hotel last summer attended by stars of the Malaysia tournament like Duff, Neale Fenn, Thomas Morgan, Dessie Baker and Trevor Molly, Kerr fondly stated that it was the only World Cup medal an Irish football team had ever won in history. He was dead right, too.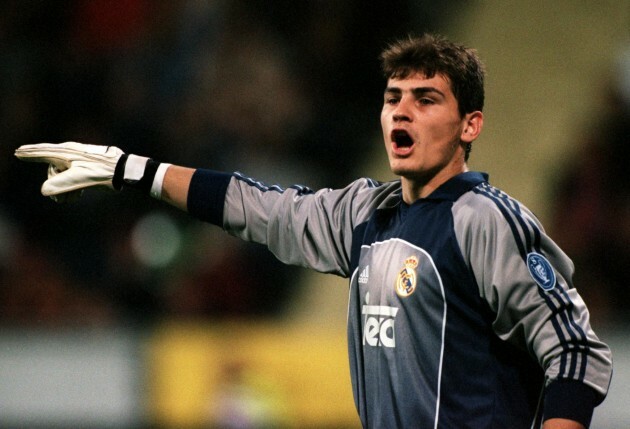 EMPICS Sport Delany faced Iker Casillas in 1999 and the Dubliner was named UEFA's Man of the Match as Ireland beat Spain 1-0. EMPICS Sport
A year later came the historic double; two titles achieved in the space of just 11 weeks in the summer of 1998. Firstly Ireland won the Uefa U16 European Championships in Scotland with a side featuring John O'Shea and Robbie Keane, following that up by winning the U18 Euros in Cyprus that July. Double-European champions, it's a little hard to believe.
The European bronze in Sweden, when Delany bested Casillas in the group stages, is often forgotten about giving the gold medals secured in the years that shortly preceded it, but the goalkeeper was also an integral member of that European U18 success in Cyprus too.
He was picked a year early by Brian Kerr and says that the experience of winning the competition, despite being back-up to West Ham's Alex O'Reilly, and beating the mighty Germany with Timo Hildebrand in goal was a euphoric feeling of ecstasy.
"I'll never forget those years," Delany says. "Cyprus in particular was one of the best occasions I've ever experienced and obviously it's historic because of what we achieved. We were with a bunch of lads and we were literally best mates, every one of us and I think that's what Brian created there. He had such a good team spirit.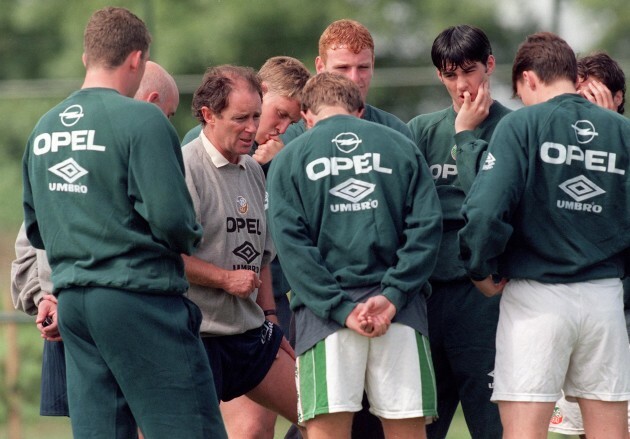 INPHO Brian Kerr talks to his players during an Ireland U18 training session in July 1997. INPHO
"For me, I was a year ahead of myself when I was picked for that U18 squad to go to Cyprus. I'd come off the back of winning the FA Youth Cup with Everton along with Richard Dunne and then we'd gone and won the European Championships. I said it in Kevin's documentary, but at that stage I was thinking 'what do I do next?' To me, I had achieved everything I could when I was 18."
Delany went to Everton at the age of 15 and was the starting goalkeeper of the 1997 team which famously won the FA Youth Cup. In front of him was a young Tallaght kid in the shape of Richard Dunne patrolling the Toffees' defence. Now 38-years-old and as hungry as ever for next season in the League of Ireland with Shelbourne, the goalkeeper says he found it hard to replicate the same feeling of joy and togetherness that he felt when he was with Kerr's Ireland underage teams. A golden generation, he describes it.
"That's one thing we all got out of those international squads," Delany continues, "that we had that bit of freedom, but obviously with that came so much respect for Brian and Noel too. I think all of that showed on the pitch during our games together, because every single player, if you ask them today, they would go to the end of the earth for Brian and Noel.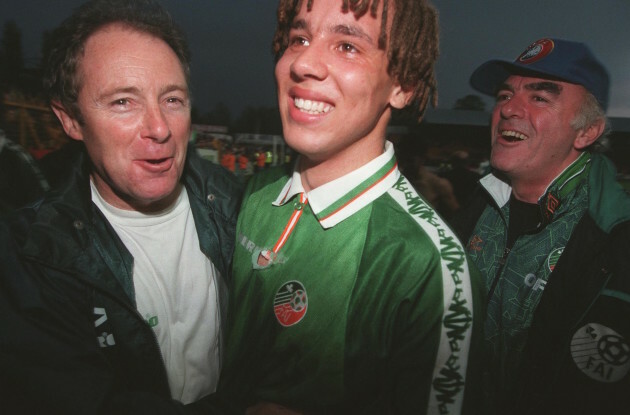 Keith Heneghan / INPHO Kerr and Liam George celebrate beating Greece to win bronze at the U18 European Championships in 1998 in Sweden. Keith Heneghan / INPHO / INPHO
"At the time in the 1990s I think everyone believed that these tournaments and these big competition wins were going to roll on forever. That Ireland were always going to come second or third, or win the thing. But it doesn't happen like that, football isn't like that. It can kick you up the arse if you think success is just going to come to you."
At the U18 European Championships in Cyprus, Ireland beat Croatia 5-2 (goals from Robbie Keane, Stephen McPhail, Richie Partridge and a double from Liam George) and also hammered the hosts 3-0 to top their group and book their place in the final.
In-between those two wins however, Kerr's kids were almost on an early flight home having suffered a heart-wrenching defeat to England thanks to a late Alan Smith winner. Ireland were down and on the brink of elimination, but not out.
After the defeat, Kerr's young troops had their dinner and headed for the hotel swimming pool. Socialising was important in victory and in defeat, so the team cracked open a few quiet drinks and enjoyed a music session to the absolute disbelief of all the other teams staring on from their balconies.
Lorraine O'Sullivan / INPHO Delaney pictured with Robbie Keane, Damien Duff and Richie Sadlier with the Ireland U20 team in Nigeria in 1999. Lorraine O'Sullivan / INPHO / INPHO
"When we lost to England we were all absolutely gutted in the dressing room afterwards," Delany says. "But when we got back to the hotel we had our meal and Noel and Brian suggested we all go out to the swimming pool. Noel always brought his guitar with him, I could play a bit too and Robbie Keane could do a few tunes as well.
"So we all just sat around the pool at night playing music, and the ironic one was 'Leaving on a Jet Plane'. I think Noel was leading that one, and I think that was where we had our golden moment. We were singing Oasis songs too, they were big at the time, and we were all really enjoying it.
"But what you had was the Croatia team and Howard Wilkinson's England team, the one who had just beaten us a few hours beforehand, all standing on their balcony watching us at the hotel thinking 'what's going on here, we're just after beating them, they're more or less out of the group and are going home? What are they singing for?'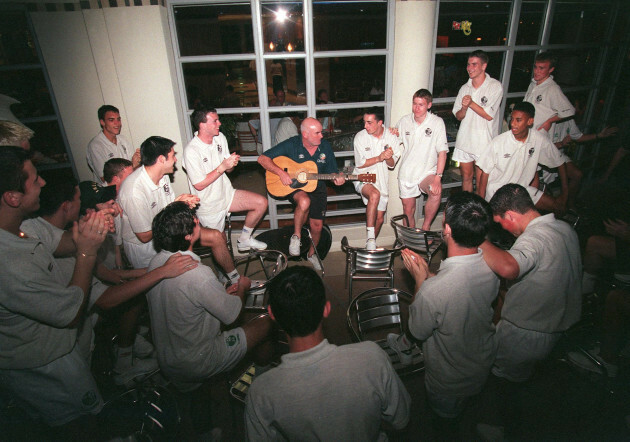 Brian Kerr's assistant manager Noel O'Reilly plays the guitar surrounded by his Irish players.
"And I think that was the mentality that the English team had, that they were deserving of being in the final even though they had one game left.
"Brian spoke about that, because it was a big mistake on their part. We didn't really appreciate their sense of arrogance, because we were given the freedom to loosen up by Brian and Noel and enjoy ourselves off the pitch, which meant we played better on it too.
"Even though we had lost to England in the group stage, when we went into the last game against Cyprus we were calm and we knew what we had to do. We got the result we needed, 3-0, and got to the final."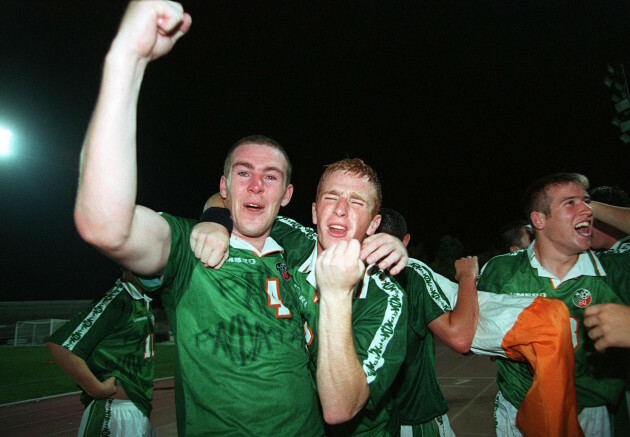 Lorraine O'Sullivan / INPHO Richard Dunne (left) after beating Germany to win European Championships. Delany and Dunne won the FA Youth Cup together at Everton the previous year. Lorraine O'Sullivan / INPHO / INPHO
Delany played almost every qualification game leading up to the championships, but West Ham's English-born talent Alex O'Reilly was brought in by Kerr late on in the campaign and chosen to start between the sticks in Cyprus as a more senior and established pro.
Chosen a year early and still only 16, Delany understood the decision, and was overjoyed for his team-mate when he saved a spot-kick in the final against Germany, giving Liam George the chance to slot home the winning kick in penalties and crown Ireland European champions for the second time in three months. George did so.
I would have been good pals with Alex and roomed with him. I was gutted not to be playing, there's no point in denying that. Because I had played in so many of the qualifying games I was really gutted not to be starting, especially because we got to the final and because it was on telly. Brian always told me I had next year, and he was right.
"I had a good relationship with Alex and wished him the best of luck before the game. Then when it came to the penos I got a chance to go over to him beforehand and wished him the best of luck, and told him that he could be the hero for Ireland — just trying to encourage him as much as I could.
killianM2 / YouTube
(Wearing an orange bib on the running track to the right, Delany races towards goalkeeper Alex O'Reilly in purple after Liam George's winning penalty) 
"Then when he saved one and Liam George scored the winning peno… I don't know if you can see me in the video on YouTube but I make a run at Alex and we're rolling around like two school kids in the grass celebrating. But it's just that pure elation of having achieved something historic that had never been done in Irish history before. And we all felt the weight of that when we won.
There's no better feeling and to be honest I found it hard to match that same feeling later on in my career. The FA Youth Cup with Everton was similar and playing in Champions League games with Shelbourne, but to win something like a European Championships with your country was a different level altogether. I think we all realised what we had done when Liam scored that final peno against Germany."
With a gold European Championship medal in his back pocket, Delany was firmly established as the number one goalkeeper as Ireland prepared for the World Youth Championships in Nigeria a year later in 1999.
Ireland would exit in the knockout stages on penalties to the hosts, a heartbreakingly early exit for the European champions who had been tipped to go all the way. But Delany insists that some of his most lasting memories of that competition were the experiences of seeing a third-world country in the flesh with his own eyes, still only 17-years-old.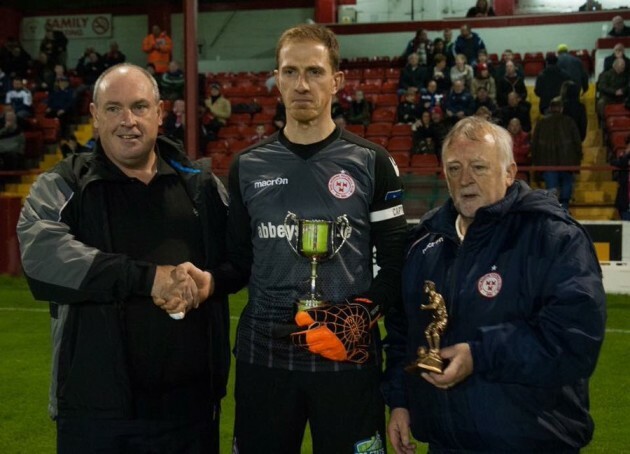 Delany was named in the PFAI First Division Team of the Year for 2018.
"By the time 1999 in Nigeria came around, we had been to the back arse of Macedonia and Bulgaria and Cyprus. We had been all over Europe. We got to see loads of places and got to see how the other side of the world lives. But when we went to Nigeria, I have to say it was a real eye-opener. It was third-world stuff, things we had never seen before in our lives.
"You had these amazing 20,000-seater stadiums, brand new grounds that were only being built by FIFA for the tournament, shoved into the middle of shack towns. That's what we found really hard to get our heads around; we were going from training grounds and stadiums that were state of the art, but a few yards away there would be a shack town that would stretch on for miles.
You'd have all these kids coming to watch us train and the police wouldn't let them watch us. I think when we qualified out of the group, when we got to play Nigeria there was 6,000 or 7,000 people coming to watch us train before the match. Something crazy like that. It was mad in one sense, but brilliant for us in another because some of us hadn't even played in front of crowds that big, let alone just train.
"You're going from one extreme to the other. Some days we'd go down to where the Irish missionaries were and it was grand because there would be houses and nice food. But some of the other places were really run down, and you felt sorry for the people who were there, you know? I think all of us kind of grew up a little bit when we went on that trip."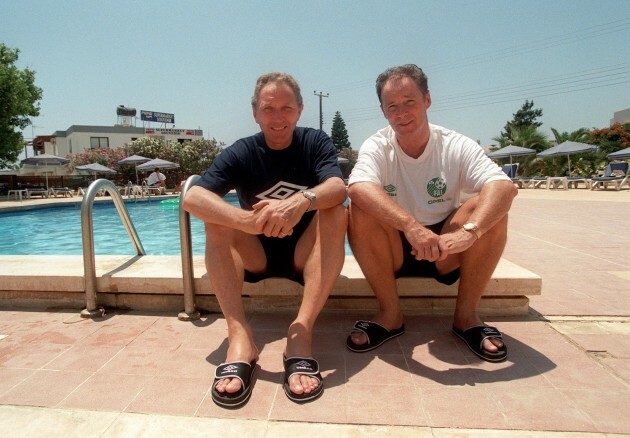 INPHO England manager Howard Wilkinson and Brian Kerr by the hotel swimming pool where Ireland enjoyed many a sing song in Cyprus. INPHO
Unlike his other trips to Cyprus and to Sweden, the World Cup in Nigeria was a completely different type of experience, with Brian Kerr's young team having to have armed guards on each floor of their accommodation to protect them. In Brannigan's new documentary, there are photos of some of the Irish players holding machine guns, with the team enjoying a friendly relationship with the guards.
We were told there was a lot of corruption rife in Nigeria at the time," recalls Delany. "We were told not to step outside the hotel and stuff like that. The guards that were with us were on our floor. Nobody was allowed around the place except for the players and the staff.
"They were great craic though, the guards, because we would have had a load of the Irish Umbro gear and would have been giving them runners that we had. In return they would be letting us hold their guns for photos and having a bit of craic with them. It was great fun to have them there, but at the same time we realised what was at stake having to have security on your floor. Things weren't the same as at home."
Ireland lost their opening game 1-0 to Mexico, the goal scored by legendary defender Rafael Márquez who would make 145 appearances for his country and play in the 2002, 2006, 2010, 2014 and 2018 World Cups.
killianM2 / YouTube
Goals from Stephen McPhail and Damien Duff secured a 2-0 win against Saudi Arabia, before another from Duff alongside more from Sadlier, Colin Healy and Garry Crossley saw off Australia 4-0.
Delany wanted so badly to be the shootout hero in the knockout stages against Nigeria, but Kerr's side would make their exit against the hosts on penalties, with the Shelbourne goalkeeper devastated with the loss in a competition Ireland could have won; a chance to become the first ever Irish football team to win a World Cup.
"The heat was almost unbearable and we actually played really well in the 90 minutes, but come extra-time and the penalties, I think we were all worn out at that stage. It was a long tournament too, I think we spent nearly two weeks there. When we lost on penos it was just such a killer, because you knew what was ahead of you going home. You had a 20 hour flight to get back to Dublin and we were all just so gutted.
"And for me personally with it going to penalties it was a great chance for me to be a hero, just like Alex O'Reilly was in Cyprus at the Euros the year before. So personally it was really disappointing, I didn't even save one peno. I have the photographs at home.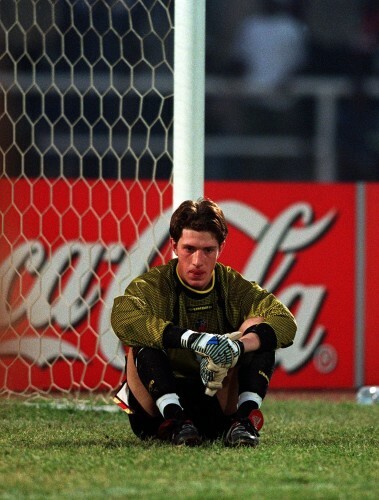 Lorraine O'Sullivan / INPHO Dean Delany pictured after Ireland's penalty shoot-out defeat to hosts Nigeria at the 1999 World Youth Championships. Lorraine O'Sullivan / INPHO / INPHO
"There was even a pitch invasion after the game, I think there was something like 20,000 people there, it was crazy. They were jumping all over the place. Nigeria were hotly-tipped to go to the final, because they had a good team too. They knew it was a great win for them, because they had just beaten the European champions.
For us, we really fancied our chances to go and win the tournament, and then when it was over and we lost it was like the whole world had come tumbling down. We had the 20 hour flight going home and you're just gutted. You felt there was a bit more in the tank to go and win it. Even though we gave a good account of ourselves on the night, it was still very, very hard."
The end of the World Youth Championships in Nigeria recalls heartache and a deep sense of what could have been for Delany, but he says that the overriding emotion when going on a deep nostalgia dive into the past is one of happiness and pride at what Ireland achieved and the fact that he was a part of that history.
A gold European medal in Cyprus, the chance to play at a World Youth Championships and another bronze European medal in Sweden is not a bad return for an Irish footballer. Most are happy just to go to tournaments, but the goalkeeper says that Kerr's attitude was completely different. Completely revolutionary — to go and compete, to go and win, and not just show up, take part and be content with that minimum achievement of qualification as your keep.
killianM2 / YouTube
We return to the topic of Casillas as the postman must get ready to head out the door and deliver the last bit of Christmas parcels and envelopes before the day is out. Not everybody can boast that they won a Man of the Match award when sharing the field with a future World Cup winning captain, surely?
"At the time he kind of had a small bit of a reputation alright," Delany recalls. "People were talking about him, saying that he was really good. He hadn't broken into the Real Madrid first team just yet because he was only a teenager, but he was on the bench a few times, which was a hell of an achievement for him at that age.
At these tournaments you come across so many names of players, that they often get forgotten about years later. It's only when you look back at the squads that you think 'I actually played against such and such'. But it is amazing looking back with hindsight with Casillas given how much he achieved winning the World Cup and the Champions League, it's phenomenal how far he got to after that competition in Sweden.
"It's a nice thing to look back on, to win the match 1-0 against Spain and for me to keep a clean sheet against a great team like that. I suppose to be named Uefa's Man of the Match, personally, it's a great achievement."
Laszlo Geczo / INPHO Kevin Brannigan, Brian Kerr and Tony O'Donoghue at the premier of "Kerr's KIds" at Dublin's Sugar Club. Laszlo Geczo / INPHO / INPHO
He says that the recent "Kerr's Kids" documentary recalled some fond, fond memories of the past. He was there with Duffer and Robbie, Richard Dunne, Liam George and Richie Sadlier. All these players who made history as a supreme golden generation which seems like such a distant past now.
Kerr was special, he says. He created a lasting bond with his players, believed in their talent and ability and treated them as adults even at just 16 and 17-years-old. It was a winning approach and one which succeeded year after year.
Kerr was innovative, Delany says. In the documentary Richard Dunne recalls an anecdote about the manager organising a training camp prior to the European Championships in Cyprus, where Ireland took on a team on behalf of the British Army, and stuffed them 37-0.
"I was laughing when Richie was telling that story when I watched the documentary," Delany grins. "We were in this kind of place that was like Mosney and we had to go out and play the British Army on a pitch that was similar to the Phoenix Park… a big wide-open place.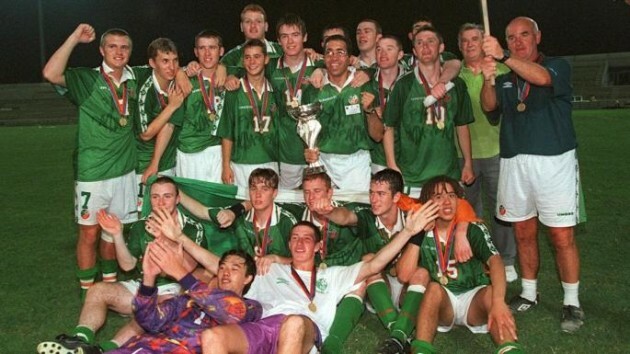 Inpho Delaney (in white t-shirt) after Ireland were crowned U18 European champions in Cyprus after beating Germany on penalties. Inpho
"These lads were getting stuck in, but we were absoutely hammering them. They were saying to us: 'lads, will you just let us score one goal?' But we told them that we couldn't because if Noel or Brian saw us showing weakness or conceding a goal on purpose you'd be thrown out of the team," Delany laughs thinking back to the game.
They took that very seriously, even though we won whatever it was, 37-0. But afterwards we went and had a meal with them, had a chat and had a few drinks with them. And that's what Noel and Brian encouraged us to do, was to mix with other people and socialise, and not to just go back to your room and sit there on your own for hours."
"It's mad when you think about it. We beat the British Army 37-0 and a few weeks later won against Germany and were European champions."
Irish football's only World Cup medal in history at Malaysia 1997, two European Championships in Glasgow and Cyprus, and another European bronze a year later in Sweden — Kerr's kids were truly a golden generation the likes of which Ireland will be very fortunate to witness again in our lifetime.
Kerr's Kids: The story of Irish Football's Golden Generation will be repeated on EirSport Christmas Day at 9.00pm
Subscribe to our new podcast, Heineken Rugby Weekly on The42, here: