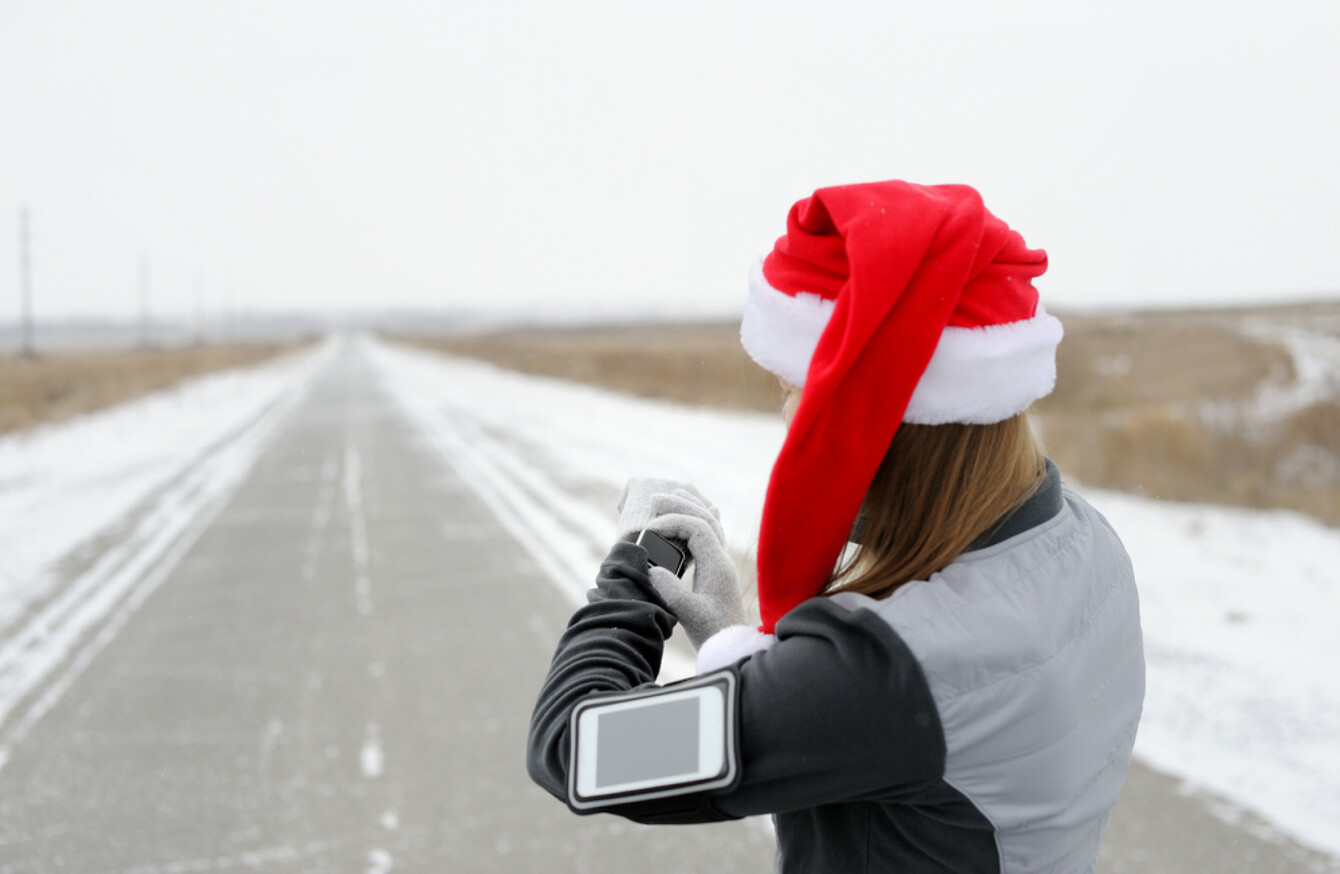 Image: Shutterstock/LMproduction
Image: Shutterstock/LMproduction
WITH CHRISTMAS FAST approaching it's pretty safe to say that the majority of us are going to be a little short on time what with the amount of parties, shopping, and general social occasions that we'll find ourselves committing to.
Couple that with the fact that most people generally eat their way into a diabetic coma when every daily action is punctuated by a handful of Ferrero Rocher… although that last bit may be just me every Christmas.
It's no wonder that each and every Christmas most folks find themselves a little thicker around the midsection, and why going to a big commercial gym in January is an absolute nightmare with how many panicked new members seem to be taking up every spare metre of space.
While I could go full-on life coach and talk about how you shouldn't binge, or how you should do just a little of what you fancy, or advise you that it's just one Ferrero Rocher, I'll refrain. I'm an exercise professional darn it, and I like to stay in my lane.
So with that in mind here are a few tips that you can employ in the run up to Christmas to make sure that you can still get your workout in no matter how short you are on time (no strategies for the crippling chocolate hazelnut addiction, sorry).
On a personal note I've found some of these strategies useful over the last few weeks as I spent most of my life outside of work coordinating a charity event which is this weekend.
If you're curious check it out here.
So, with the introduction out of the way here are my favourite workout ideas for those who may be a little tight on time.
Timed- Block System
A timed block system is the most no-brainer way of getting your workout in regardless of how much time you have available to you. Often times I hear the excuse that a friend, colleague or trainee only had X amount of time to get a workout in so didn't bother at all.
The funny thing about this is that if you count up all the 15/20/25 min blocks during your day where you could train but instead choose not to, you could put together a pretty decent workout, cumulatively. While you probably won't work your way up to a massive PB within a shorter workout, or set the world on fire with what you manage to accomplish in 15mins, every little bit you do will help when it comes to keeping the spare timber off this winter, as well as helping to keep you in the habit of moving about so the January rush to get back to full fitness doesn't come as quite such a shock to the system.
The layout of a timed block really couldn't be simpler;
Assess how much time you have available to you, discount whatever time you need to warmup and/or cool down.
Select what energy systems or muscle groups you wish to train.
Set about doing as much work within those parameters as you possibly can.
Want progressive overload? Just repeat the block again but aim to beat your best number of sets/reps/etc.
To give you an example of what you can do in one of these timed blocks look no further than below:
Strength In 30 minuntes:
A1. As many sets of Trap Bar Deadlift @ 75% of max, for reps @ 8RPE
A2. Push Press to 3RIR (Reps in Reserve)
OR
Conditioning In 20 minutes:
A1. 5 Pull Ups
A2. 10 Pushups
A3. 30m Prowler March
A4. 30 Kettlebell Swings
OR
Death in 15 minutes:
A1. 8 chest to floor burpees
A2. 10 med ball stomp
A3. 12 cal Row/Air Bike as fast as possible
You can employ one or more of these timed blocks within a workout, and the length of time can vary. As an example of a workout which would incorporate more than one timed block please see below:
Giant Circuit
Similar in set up to the aforementioned timed blocks, a giant circuit can encompass many different movements, body parts, and/or energy systems in a single round.
I personally like to choose between 5-8 exercises per round, and arrange them in order from most technically or metabolically demanding (such as squats, cleans, or deadlifts) down to the most simplistic (air bike/skipping/sled push).
There are two ways you can structure these giant circuits within the amount of time you have allotted to train; the first is to directly copy the layout of the timed blocks above and allot an amount of time to getting through as many rounds on each given circuit as possible, the alternative is to give yourself a specific number of sets to hit in the shortest amount of time possible.
In both cases a simple increase of work density is the way to progress the circuit, for example in example 1 you could look to do more rounds in your allotted time, in example 2 you could strive to finish your prescribed number of sets in a shorter time period.
This goes without mentioning the obvious methods of linear progression such as increasing intensity or increasing the volume on a given exercise within the circuit.
An example of a giant circuit I may use with a client when tight on time and looking for an all over training effect:
20/25/30min AMRAP of:
Chin Up: 4 – 6 reps
Goblet Squat: 6 – 8 reps
Barbell RDL: 8 – 10 reps
PushuP: 10-12 reps
Prowler March: 30m
Med Ball Slam: 12-15 reps
Target Number of Reps
The final method I like to use when short on time is very similar to a "chipper" workout which can be seen in many Crossfit WODs. In essence, a chipper is a single round circuit with multiple different movements done for a single, ultra high volume set, inevitably there are two ways to go about this: you can set the intensity of the exercises such that each exercise will need to be broken down in a number of smaller sub sets, or you can set the intensity such that each giant set of each exercise can be done in one harrowing go.
The idea of this is that you directly target the amount of volume you need for maintenance of muscle mass and/or growth, and aim to hit it with as simple a method as possible; straight sets. As you can imagine this becomes incredibly handy when short on time and needing to get a training effect to stave off the winter spare tyre.
In order to increase the metabolic training effect of this type of workout the trainee should seek to complete each exercise in the "chipper" in as few sets as possible while maintaining good technique.
An example of a decent strength/hypertrophy workout using these guidelines would be:
50 Squats @ 70% 1RM
60 Deadlifts @ 65% 1RM
50 Chin Ups
100 Pushups
100 Walking Lunges (50/per leg)
100 Inverted Rows
200 Kettlbell Swings
And for a more metabolic conditioning workout which uses less barbells and more bodyweight exercises:
100 Air Squats
90 Step Ups
80 Reverse Lunges
70 Cals Rower
60 Kettlebell Swings
50 Wall Balls
40 Ring Rows
30 Pushups
20 Slams
10 Chest to Floor Burpees.
Wrapping Up
So when you're tight on time this festive season and think you may just leave the workout altogether just remember that there are always options which will give you a training effect, even if all you have is 20mins to mash out some deadlifts and push press.
If you try any of these workouts and want to give me some feedback, or just general abuse, my inbox is always open.
Dean Merton is a Dublin-based strength coach and personal trainer. For more information you can follow him on Facebook and Instagram, or you can send him a direct message here.
You can also see some of his previous articles here. 
The42 has just published its first book, Behind The Lines, a collection of some of the year's best sports stories. Pick up your copy in Eason's, or order it here today (€10):