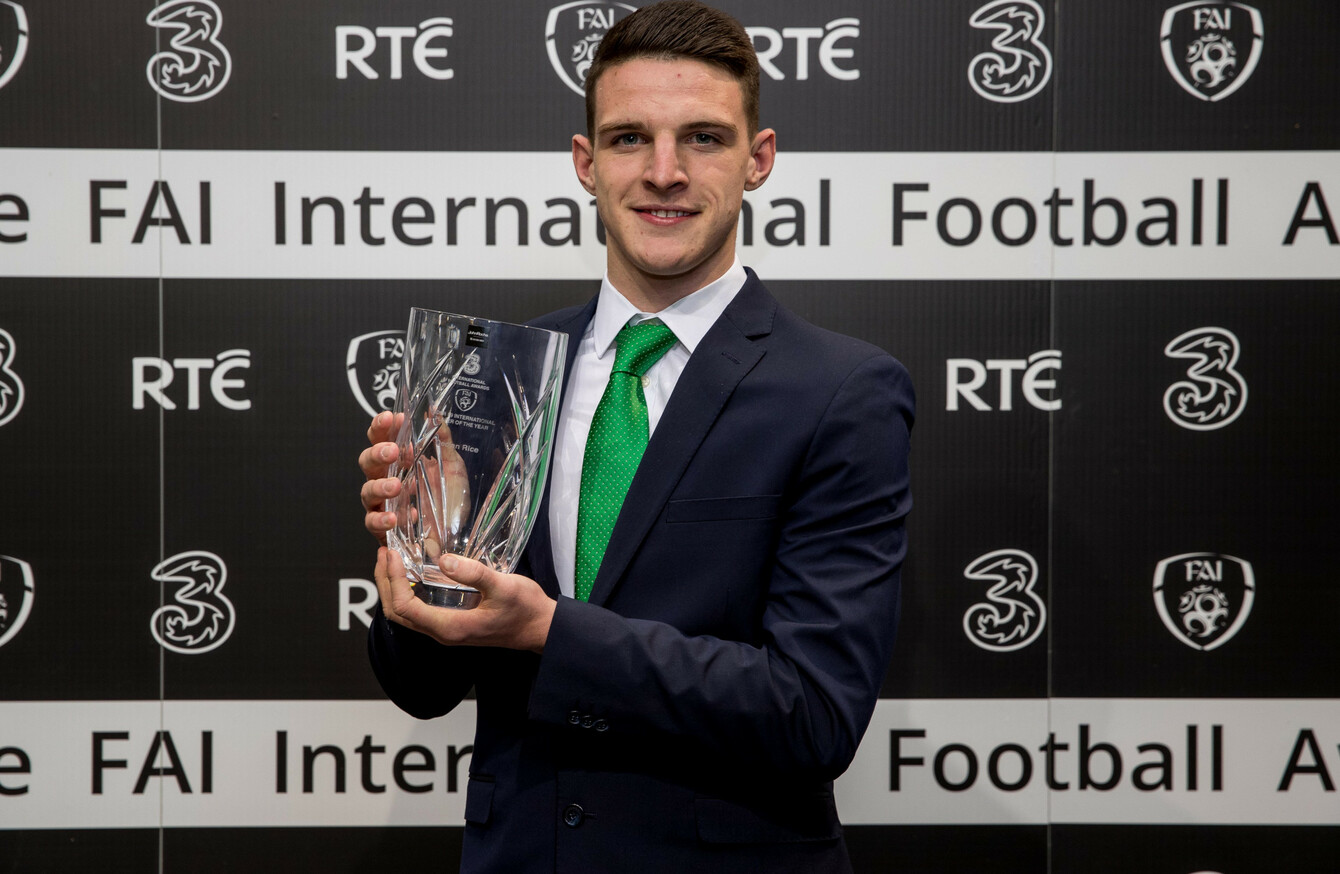 Declan Rice poses for a picture after being named U19 International Player of the Year.
Image: Morgan Treacy/INPHO
Declan Rice poses for a picture after being named U19 International Player of the Year.
Image: Morgan Treacy/INPHO
TWO AND A half years have elapsed since the Jack Grealish saga came to an end, when the Aston Villa youngster confirmed he was switching to represent England rather than Ireland at international level.
Grealish was far from the first or last player to change his international allegiance, but the decision was easily the most high-profile case from an Irish perspective in recent years.
Indeed, the impact of the call is arguably still palpable today. Though everyone will insist they have moved on, there is almost a sense of near-paranoia now whenever a high-profile English-born Irish underage player is put under scrutiny.
One ramification of that was the false rumour being spread that Harry Arter was considering declaring for England, which came to light in October 2016, prior to his first competitive Irish appearance. The Bournemouth star subsequently spoke about the "vile" Twitter abuse he received as a result of the unsubstantiated claims.
It is just three years since — with the speculation surrounding his international future intensifying — Grealish collected the U21 Player of the Year accolade at the FAI Awards.
On Sunday night, two other talented young English-born players were in the limelight, with Declan Rice receiving the U19 Player of the Year award and Josh Cullen following in Grealish's footsteps in one sense by claiming the U21 accolade. That similarity, however, is seemingly where the parallels with Grealish end, despite some speculation to the contrary with regards Rice.
Recent media reports indicating that the London-born West Ham youngster was being monitored by England boss Gareth Southgate prompted concern among some that another Grealish-esque situation could occur.
However, after picking up his award on Sunday, Rice confirmed that he was fully committed to Ireland and quashed any suggestions that he was in anyway tempted to represent the Three Lions, following a series of eye-catching Premier League performances this season.
"I'm here now. I've just picked up the award and I'm very privileged," he said.
I've been playing with Ireland since U16 level, my mindset is fully on playing with Ireland.
"I'm really looking forward to this [Turkey] game at the moment and I'm really enjoying the environment."
Although Rice is technically still eligible to play for the English team until he represents Ireland in a competitive match, his recent call-up for the upcoming friendly with Turkey had seemingly put to rest any doubt over the matter.
It is the second time Rice has linked up with the senior squad, having been invited to a training squad last May, just days after making his Premier League debut for West Ham.
Since then, the youngster has gone on to progress significantly at club level. Now 19, he has made 23 appearances in all competitions for West Ham this season, including seven Premier League starts, while recent reports have indicated he is set to be offered a new contract by the club.
Rice's most impressive performances in the English top-flight have come at centre-back, an area where Ireland are relatively well stocked, with Shane Duffy, Ciaran Clark, Richard Keogh and Kevin Long among those competing for a spot in the starting XI.
However, Rice has been a regular in central midfield along with Josh Cullen for the Irish U21 team and with James McCarthy out for an extended period after suffering a broken leg and Glenn Whelan's future at international level uncertain, the youngster may be needed more urgently in the holding role for his country.
"It's a position I've played since I was eight years old — that only changed at U18 level," he says, when asked whether he would feel comfortable playing further forward for the Irish senior team than he has been at club level of late.
I do love playing at centre-back, I like playing on the pitch in any position. I've played in midfield for the U21s, I like playing there, I like getting forward, I like the defensive [side of it] as well."
What position he is chosen in remains to be seen, but Rice is expected to get some game time when Ireland face Turkey in Antalya.
Honoured to have won u19 player of the year! Cannot wait for my first trip with the senior team💚 #COYBIG @FAIreland pic.twitter.com/xRF7x6SgrP

— Declan Rice (@_DeclanRice) March 18, 2018
A senior international debut will complete an incredible 12 months for the starlet, who only turned 19 in January.
"This time last year, I was picking up the U17 award. Now, I'm going away with the first team. It's been a breakthrough year.
"I think it's very important that I get myself training well, showing the manager what I can do, getting myself on the bench and hopefully getting some minutes in the game.
"It's important individually that I do well and the team do well and that I get off to a good start in this new campaign. Especially with the Nations League coming up, a lot of jerseys are available and you've got to make yourself available to get one of them and get in the squad.
"I spoke to Martin [O'Neill] today and he welcomed me in and said that I'd had a very good season so far and to carry that on to here and keep pushing.
"It's refreshing to see so many young players in the squad. It's a new campaign and we're looking forward to it."
Despite it being a positive season on a personal level for Rice, it has been a turbulent campaign for his club. West Ham currently sit perilously close to the relegation zone, with the side 17th in the table with eight games to play.
This tense situation has led to supporter unrest and anger at the board, which was highlighted by unsavoury scenes whereby some fans invaded the pitch during a recent home clash with Burnley.
Rice, however, suggests such challenging circumstances can be character-building and plays down the significance of the disconcerting scenes at London Stadium the other week.
It hasn't been like that all the season. They have been very good, the fans, this year. It's the first time I've witnessed that and it's maybe good at a young age to see that sometimes.
"I'm pretty sure towards the end of the season, we're going to push on and finish strongly."
Consequently, a busy few weeks await Rice. After the Turkey game, along with Manchester United youngster and fellow senior squad member Kieran O'Hara, he will link up with Noel King's U21 side for their important Uefa European Championship qualifier against Azerbaijan on Tuesday at Tallaght Stadium. From there, he will return to the Hammers and ideally help them avoid relegation amid a nerve-racking run-in.
It is a lot to ask of someone who is still a teenager, but the player's laidback demeanour and composed displays in recent months suggest he is more than capable of coping with the pressure.