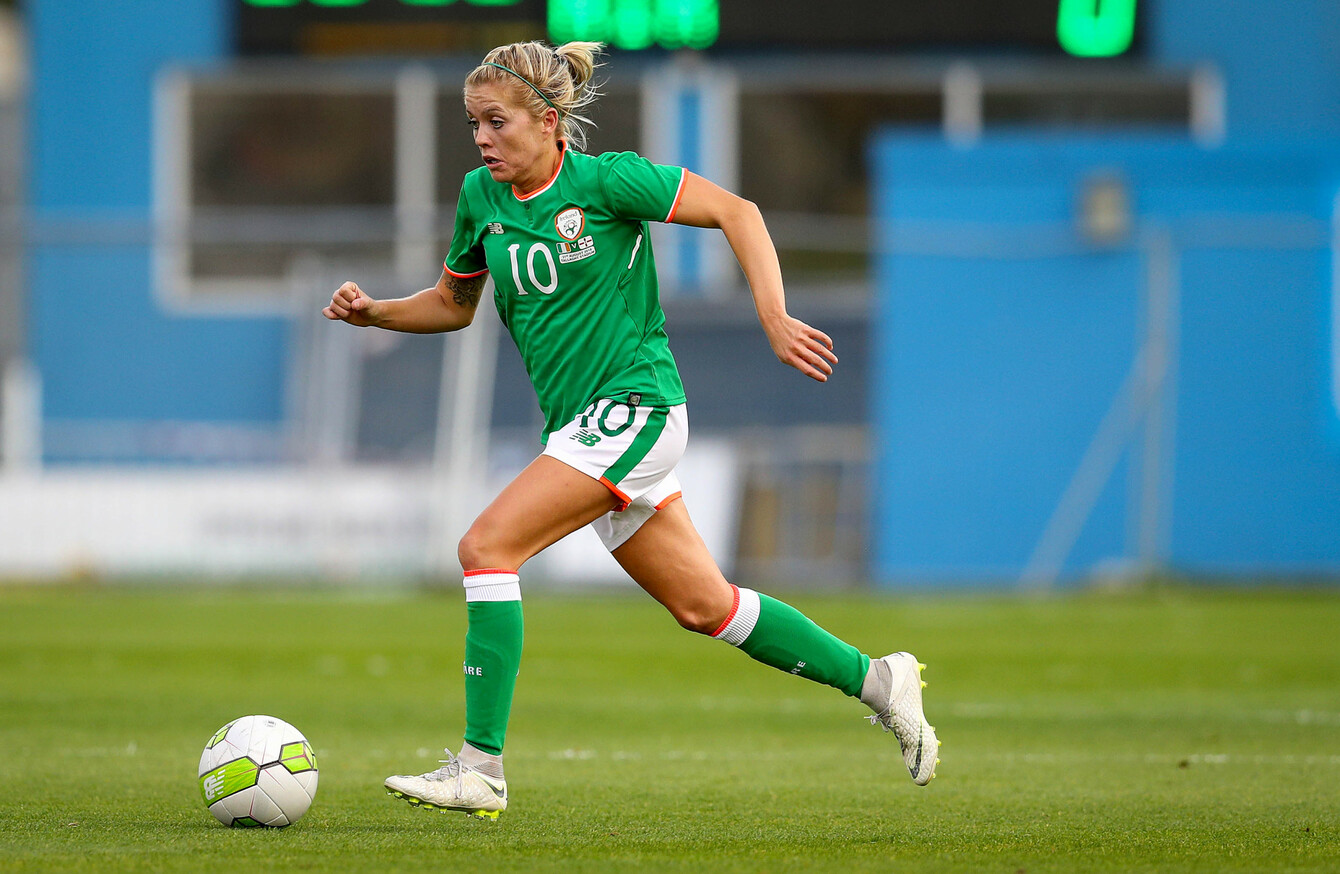 Image: Ryan Byrne; ©INPHO/Ryan Byrne/INPHO
Image: Ryan Byrne; ©INPHO/Ryan Byrne/INPHO
DENISE O'SULLIVAN is playing it cool when she answers the phone. And fooling absolutely nobody.
"I'm doing very well now. Just excited about the game, really."
Coy. Very coy.
For a proud Corkonian, that's highly unusual behaviour.
24 hours earlier, O'Sullivan had been named Most Valuable Player by the North Carolina Courage, capping a magnificent season for her and the team.
"I was shocked," she says.
"I couldn't believe I got it. I wasn't expecting it at all."
Then, finally, she lets the guard down. Pure Cork.
"I was like, 'What the fuck?'"
She might have been surprised but nobody else was. Under Paul Riley's management, O'Sullivan has blossomed in her first full season with the club. Later today, she'll play in her second successive NWSL championship final in the United States. She's already been a two-time league winner. Earlier this year, she was part of the Courage side that beat five-time Champions League winners Lyon in the inaugural ICC tournament.
A face of pure Happiness 😭 can't wait for this opportunity tonight as we take on Lyon in The final! These girls deserve this so much! Let's go 💙💙 pic.twitter.com/dupSlEdBKY

— Denise O'Sullivan (@OSullivanDenise) July 29, 2018
It's been some turnaround.
Frozen out and eventually let go by the Houston Dash in the summer of 2017, she seemed all set for a move to Germany. But then her phone rang.
"I always remember that day when Paul called to ask me to come down and join the team", she says.
He really turned my career around. I was in a pretty shit place, to be honest. Not starting, not on the best terms with the Dash. But since I came here, it's been unbelievable – the league titles, the ICC win, the MVP award and another final. All I have to do is win now and it'll be the best year ever."
O'Sullivan previously spoke of how her confidence and happiness suffered in Houston. But, since signing for the Courage, she's been born again, revelling in the trust afforded to her by the coaching staff.
"This has been a big stepping stone for me," she says.
Super Proud to be part of a team that sets the bar higher for eachother everyday! Shield Winners AGAIN! #NoFinishLine pic.twitter.com/jaLD9FmZra

— Denise O'Sullivan (@OSullivanDenise) August 19, 2018
"I think Paul is one of the best coaches in the world, to be honest. He's made a big impact on me. I wasn't confident when I came away from the Dash and he just believed in me and put me into a team and into a position where I can actually express myself and play to my abilities. I feel really confident. There's no hiding now. I'm just getting on the ball, showing for the ball, going forward."
Earlier this season, Riley was glowing in his praise for the midfielder who, at 24, is an international veteran with over 60 caps.
"We unearthed a gem in Sulli," he told reporters.
She is subtle, bright, understands the game tremendously well and is a workaholic on both sides of the ball."
This term he's dropped O'Sullivan deeper, clearly enamoured with her combination of combativeness and comfort in possession. It means she has a bigger say on the flow of a game and she's easily transitioned to the new role.
"I've moved from number 10 to number 6 and I've played most of the season there, really," she says.
"My work-rate has probably been a big thing in every game. Attacking-wise, defending-wise, creating chances for other players around me. It's the little things – picking up balls and winning balls in midfield."
The difficulties with the Dash spilled over to O'Sullivan's international commitments. There was no release when she was in camp. And the stress and anxiety began to affect her performances with Ireland. Subsequently, she carried around a guilt at not giving 100% to her country.
The move to North Carolina has helped that too.
"It just shows that I am very happy right now," she says.
The club has given me that step up. The training, what we go through and what Paul puts us through as players is just really good. It gets me sharp. I have to be focused every second in training because his drills make you think as player. And that carries over when I go into camp with the Irish team. There's always a smile on my face now. I'm encouraging the girls, showing that I'm confident. And that makes the other players around me confident as well."
The Courage, thanks to O'Sullivan's game-winner in the semi-final, reached last season's decider but were narrowly beaten by Portland Thorns, the same side they'll face later today.
While the teams met on neutral territory in Orlando twelve months ago, Portland have home advantage for this one. Still, O'Sullivan is adamant it doesn't mean much.
"We played the semi-final (against Chicago) in Portland and there was under 5000 there and it was still pretty loud," she says.
"But that was mostly the Portland fans who turned up to cheer on Chicago. To be honest, I don't think it intimidates or affects any of our players. We get motivated by it and it energises us a team. Like, would you rather play in front of 20,000 or 5,000? I'd pick the 20,000 every time because it motivates me more and gives me more energy. So we'll block that out and focus on what we need to do as a team."
Finally, MVP. 🦁 The 2018 NC Courage Most Valuable Player Award goes to @OSullivanDenise! pic.twitter.com/WGIrbskodS

— NC Courage (@TheNCCourage) September 20, 2018
The Thorns can count on some high-profile players and carry more glitz than North Carolina.
There's a litany of US internationals like Tobin Heath and Meghan Klingenberg while Lindsey Horan, who proved the team's hero in last year's clash, is the league MVP for this season. Canadian captain and veteran attacker Christine Sinclair is part of the box too.
O'Sullivan acknowledges Horan is a major threat and keeping her as quiet as possible is an obvious objective. But, with Lynn Williams, Debinha, Crystal Dunn and Jess McDonald all starring this season, the Courage don't have anything to fear. They proved that during the league season, losing just once in 24 games and breaking league records for wins, goals and points.
"Honestly, the coaching staff haven't mentioned last year's game once," she says.
"And I think that's really good. We're just focused and they have a different team anyway. They've lost some players and brought some new ones in. Horan has scored so many goals this season, she gets on the end of everything and is like a magnet to the ball. She's really good in the area so we have to keep our wits about us. We've focused on set-pieces a lot – more than before – because they've got very good players in and around the box. With Horan, it's just about trying to keep her off the ball and focusing on those smaller things and I think everything else will slot into place for us."
Owing to Hurricane Florence, it's been a strange build-up for the Courage. The semi-final against Chicago was supposed to take place last Sunday at their own stadium in Cary. But, instead, it was rearranged and eventually took place in Portland on Tuesday.
"It's been a long few days for us just waiting around here for the final," O'Sullivan says.
"But the atmosphere is very good and the girls are just buzzing for the game to come around. Everyone is really excited. With our game getting moved, it might have affected some other players but everything went as well as it could. We got our training in even when it was lashing down with rain and with some huge winds blowing. We still got the stuff done."
Character building?
"With this team, Paul doesn't even need to mention it anymore," O'Sullivan says.
He's after carving that into us. The atmosphere, everyone being so close to each other – it's a big part of this team. Nobody points fingers, there's no drama and that's hard to find with a girl's team in America. We're very lucky. It just goes into the game. We just want to work for each other and push each other to win."
When she picked up the MVP award, the official press release referenced how O'Sullivan hadn't scored at all during the campaign so far.
So, everything's geared up for her to net the winner today. Surely?
She laughs.
"No pressure!"
"But imagine if it came down to that? It would be unbelievable."
The42 is on Instagram! Tap the button below on your phone to follow us!