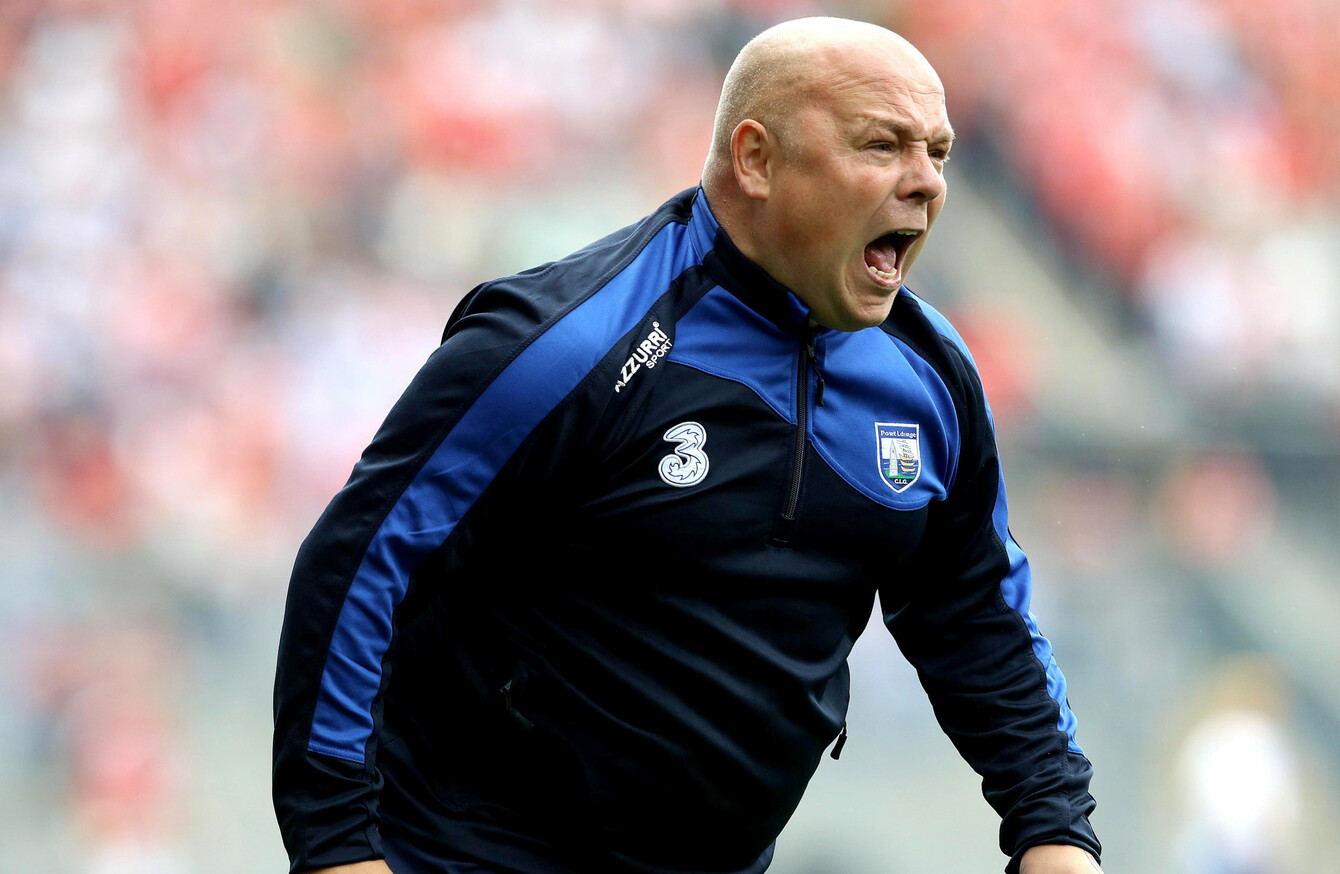 Image: Lorraine O'Sullivan/INPHO
Image: Lorraine O'Sullivan/INPHO
DEREK MCGRATH HAS spoken for the first time about his reappointment as manager of the Waterford senior hurlers for the coming season.
McGrath's future was up in the air ever since Waterford's All-Ireland final defeat to Galway in September, which brought to an end his initial four-year term in charge of the Deise.
But it was confirmed earlier this week that the De La Salle man would remain at the helm for the 2018 campaign.
There had been question marks over the county board's backing of McGrath, with some media outlets claiming they were at loggerheads over the funding for the squad's team holiday.
But, speaking on WLR FM last night, McGrath said he had to get his personal affairs in order before he recommitted for another year.
"I suppose there was a lot to consider in terms of our own personal lives, we're fairly busy in our own lives and the collective effort for Dan (Shanahan) and Eoin (Murphy) and their availability and their commitment to the cause is very important, to secure that as well.
He continued: "So we've committed for the 2018 season. There's no reason behind not committing to anything else. We've just decided to say to ourselves that we'll go all in for 2018 and see how it goes."
"While much speculation has been surrounding impasses, etc, the only real impasse was in our own mind in terms of being able to give it everything we have because it's important this group receive every ounce of your energy and every ounce of your time because we feel they deserve that."
"I met the players on two occasions. I met them on the 30th of September when I informed them that I had a number of things to sort out on a personal level and indeed with the board and the board gave me plenty of time to consider the options.
"I asked for just space surrounding the club championship initially and I got plenty of time to think about it. Sometimes when there's stalemate or speculation you have to intervene.
"It wasn't a case of keeping anyone on the long finger, it was more a case of thinking about the whole scenario and trying to sort out stuff."
On the same show, Waterford chairman Paddy Joe Ryan added: "We're absolutely delighted they're staying on. There was never any question about (the board) wanting Derek to stay on, he always had our backing."
Subscribe to The42 podcasts here: