IT'S ALMOST NINE months since Derval O'Rourke underwent surgery on her Achilles, but the Cork athlete has refused to allow the imposed lay-off to weaken her body.
You might imagine that an injured athlete is a bored athlete, but when we caught up with the Olympian this week she appeared to have filled her schedule to bursting point. She has made a concerted effort to soak in as much coaching knowledge as possible, but more importantly, she has been consolidating her own body. Using the time vacated by races and running to go back to basics, work on technique and even pick up a new skill, swimming.
"When I had my surgery," O'Rourke told TheScore.ie, "the surgeon said 'Oh you can swim after four weeks' and I said 'well, the problem is I can't."
"I'm married to a sailor and we go out a lot, like. I used to be able to splash about, but I couldn't do a length."
"My physio found me a little swim group and it was really enjoyable. I actually became one of these people who go, 'I love the pool, it's really therapeutic'.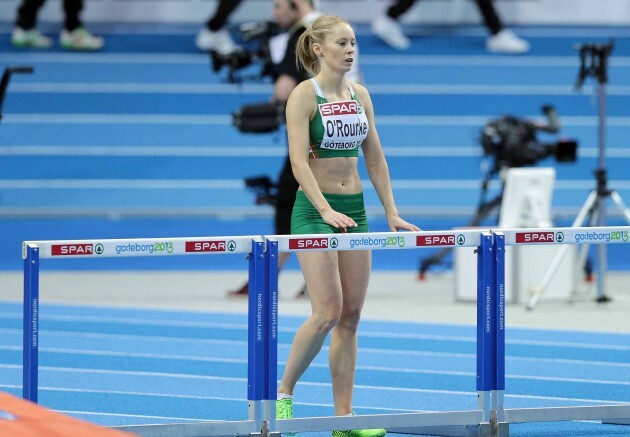 INPHO Getting to grips with an indoor hurdle. INPHO
"I never had time to learn to swim, I had never learned when I was a kid. So I joined a swim group and learned to swim once a week for a few weeks. It was a weird experience because I was learning with an older ladies swim group – ladies in their 80s doing way quicker lengths than me. That would never have happened with any other  injury."
When she wasn't being out-performed by women 50 years her senior, O'Rourke was facing herself down in the gym. There, it was a case of not only focusing on core strength exercises, but almost starting from scratch; deconstructing the athlete so that she could be rebuilt.
"It's funny because when you're doing season in, season out; you don't get a chance to do a lot of your basics. You just don't have time, there is only a certain amount of weeks to prepare for Champs."
How basic?
"Well, walking stuff."
"We had to a lot of walking movement. We had to do a lot of one leg work because I'd had this leg cut. I hadn't done work on one leg in a long time. We just didn't have time. I got quite good at a lot of that stuff."
Once the walking was sorted, the 32-year-old was allowed take her tentative first running steps on an anti-gravity treadmill, which creates a vacuum below the waist allowing the user to operated at a reduced weight.
While cardio work will help return her legs and lungs to full working order, a sprinter will fade fast without working with a little more resistance. And without starts and speed work to sap her time and energy, since December O'Rourke has been able to maintain her explosive strength by perfecting the snatch lifting technique.
Exclusive Six
Nations Analysis
Get Murray Kinsella's exclusive analysis of Ireland's Six Nations campaign this spring
Become a Member
"The Olympic lifts are very technical. I've always done them, but I'd never had a chance to really work on my technique, whereas I've had months now to work on technique and my flexibility to do it. That's been really, really good, really enjoyable. I love the Olympic lifting. I just think it's a great sport."
The Olympian has certainly not been immune to the competitive element around heavy lifting, admitting that she has been fighting to keep up the the specialists. And she goes on to make the case that more women should embrace weightlifting. The myth that weights equal bulk may be dispelling, but it is not fading out quickly enough.
"I don't think I'm particularly bulky, and I lift a lot," she says with a smile, "it's brilliant for women. I wish more women would lift because I just think it's a great way to stay in shape. Anything that can get people out and being active I think is quite good. I love lifting even more now."
The hurdler is still doing most of her running on the softer surface of grass and has decided to postpone the start of her 2014 season by a month. However, she still maintains a hope of hitting peak fitness at the European championships in Zurich this August.
All in all, though, O'Rourke finds it easy to see the bright side of having been forced to sit out the past nine months. She has maximised her time out to step away from the fast lane and make herself a better all-round athlete.
The speed will return but if, in September, she does decide to hang up her spikes after a glittering career in athletics then boredom will remain difficult to find.
"Half a swimmer, half an Olympic lifter. Maybe that's my future!"
Derval O'Rourke is an ambassador for the Coca-Cola Thank You Fund. Applications can be made for grants of €25,000 to go towards organisations promoting physical activity in communities. Visit the website here before June 16 to enter.