WHEN THE DUBLIN footballers collected their clean sweep of O'Byrne Cup, Allianz League, Leinster and All-Ireland SFC medals at their presentation night last December, Diarmuid Connolly left them all in the capable hands of his mother.
She proudly displays all his medals in the family home, hooking them onto a big frame for all to see. It must be weighed down with all the brass. In his ten years playing inter-county football, Connolly has become one of the most successful Dublin footballers of all-time.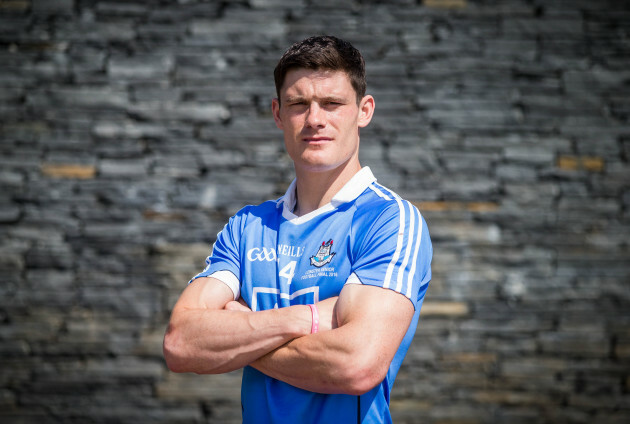 Gary Carr / INPHO Gary Carr / INPHO / INPHO
Since making his debut for the Sky Blues in 2007, he's annexed nine Leinsters, four Division 1 leagues, three All-Irelands.
With his club St. Vincent's, who he'll captain this year, Connolly has won three Dublin county titles, three Leinsters and two All-Irelands.
One of the classiest and most gifted, both physically and technically, players to ever wear the Dublin jersey, it's a little curious that Connolly only has the one Allstar. You'd be hard-pressed to name a player who has won more national titles than Connolly in the last decade. You won't find a more talented one.
But Connolly has an edge to his personality that sets him apart from, say, fellow half-forward Paul Flynn. One year his senior, Flynn has been named on the Allstar team four times. Then again, it's his dark side that makes Connolly such a fascinating character.
Opponents know he has a short fuse and he's targeted on the field of play more than any other player. In this year's Leinster semi-final, Connolly was the victim of an intentional kick to the head by Meath's Graham Reilly.
And then there was Sunday's Leinster final. Minutes before his flare-up with James Dolan, Connolly could be seen appealing to the linesman for protection after some off-the-ball niceties. Once he retaliated to James Dolan's playful tap to the head by taking the Westmeath defender to the ground, Connolly was set upon by three of Dolan's teammates.
After the game, Westmeath manager Tom Cribbin openly admitted that his players were instructed to target Connolly.
"We needed a whammy," said Cribbin. "We have to be fair. We have to be honest. We were hoping to try and entice him. Sure that's what most teams do."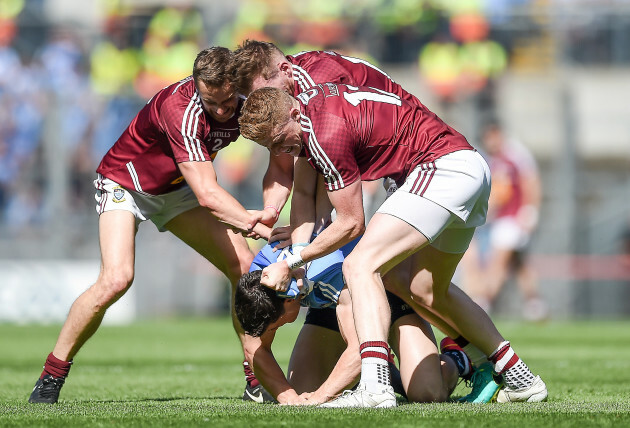 Tommy Grealy / INPHO Tommy Grealy / INPHO / INPHO
If an inter-county manager said that about Colm Cooper, he'd be publicly lynched. Imagine the reaction in Kerry. But it's par for the course with Connolly, because of his checkered past.
An August 2012 incident in a pub where he left a man with a broken eye-socket tarred Connolly's name. He was spared a jail sentence and criminal conviction but complied with a court order to complete an anger-management course.
A year previously, in the 2011 All-Ireland quarter-final, Connolly kicked seven points from play as Dublin blitzed Tyrone to make the last four. Then came the now infamous 0-8 to 0-6 semi-final win over Donegal, where Jim McGuinness made sure he wouldn't have the same influence on the game.
Donegal riled him at every opportunity and he was eventually sent-off for a clash with Marty Boyle. The red card was later rescinded and Connolly was cleared to play in the All-Ireland final.
In last year's All-Ireland semi-final, Mayo's Lee Keegan admitted that he had provoked the St. Vincent's man in an incident where the Dubliner was sent-off. But there was no sympathy for Connolly. People had their minds made up about him.
The curious thing about the half forward is that he didn't even want to be a Dublin footballer when he was growing up. He didn't go to every game in Croke Park like James McCarthy or the Brogan brothers.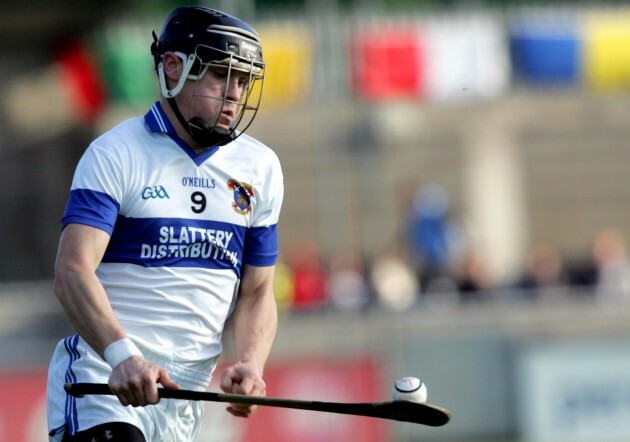 Ryan Byrne / INPHO Ryan Byrne / INPHO / INPHO
"I was actually more of a hurling fan as a young fella than a football fan," Connolly said at yesterday's All-Ireland football launch in Abbotstown.
"I didn't actually follow them that much to be honest with you. Then I kind of got moved into the football side of things and that's when I really started to focus on Dublin GAA really."
It's no surprise that Connolly was more drawn to the small ball as a youngster. With his father from Kilkenny and his mother from Clare, it's a wonder he's not lighting up the hurling championship.
"In the mid to late nineties Clare had a class team and we were brought to Croke Park on all those days as well. So hurling was just a natural thing for us.
"I played hurling all the way up, even at U21 level with Dublin but there was nobody really pushing me towards football, that was just my own choice really.
"I go back every year and play with the club, I love playing hurling. It kind of refocuses you a little bit as well but no I don't think I'm ever going to go play inter-county hurling. I think I'm way passed that at this stage."
A talented soccer player too, Connolly played underage with nurseries Belvedere and Home Farm.
"My next door neighbour, Fran Pearce, was involved in Belvedere. I went down at U14 I think to Fairview Park, did a few trials and played two seasons with them before moving to Home Farm.
"But my big love was GAA, it was never really going to be soccer, I know a lot of lads down there were focusing on getting over to England and making a career over there but that was never my focus."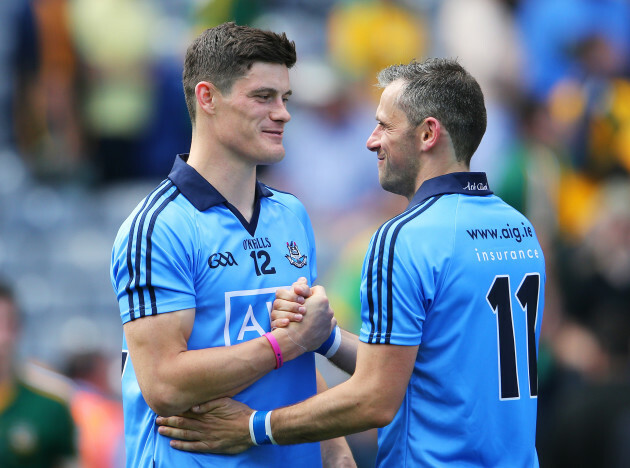 Cathal Noonan / INPHO Cathal Noonan / INPHO / INPHO
Alan Brogan wrote in his column recently that Gaelic football comes all bit too easy for Connolly, something he wholeheartedly disagrees with.
"I don't think so. Sometimes it might look easy to some people, but it's hard work. If you see the training we put in; if you see the hours we put in in the gym and on the training fields.
"When you go out and play in Croke Park, it's not easy! It's 24-25 degrees on Sunday and it was a helter-skelter game. The first half, there wasn't a whole pile in it and we kind of got going then in the second. We kicked on in the third quarter, but I don't think it's a fair comment. It might look easy for Alan sometimes, but it's hard work on my part!"
Connolly scoffs at the notion that he was born with a god-gifted talent. His art was honed with hours and hours of practice. In the nature versus nurture debate, his thinking falls into the latter category.
"I don't know if you've read it in John Kavanagh's book: 'There's no such thing as a natural athlete.'
"I mean, you have to work. Some people are more gifted than others, but you have to work on your game and try and tweak things here and there, and be the best that you can be. It's pure and utter hard work."
"I just saw the quote there the other day, a friend of mine was reading it, I'll have to borrow it afterwards. It's supposed to be a good book, yeah. I'd be a fan of MMA. I like to see it.
"It's not something I pursue. I watch it!
"Aren't we a nation of bandwagoners, aren't we? Obviously if Conor McGregor is doing well, I like to watch it. I like to follow it a little bit as well so, yeah."
There's been no word yet if Kavanagh approved of the headlock and takedown technique he performed on Dolan last Sunday.
But if he darkened the door of the Straight Blast Gym, he'd be welcomed with opened arms. On the Dublin GAA website, Connolly lists the former boxer and MMA fighter Butterbean (Eric Esch) as his childhood sporting hero.
Unlike his idol, Connolly is an absolute physical specimen. In his recent interview with the Irish Independent, Footballer of the Year Jack McCaffrey spoke about a few unnamed Dublin players who "would do extra [gym work] and pay close attention to what the nutritionist says, which is what I am not very good at."
You'd suspect that group includes Connolly. Yoga and sea swimming are among the other curricular activities he does to stay in the best shape possible.
"I've been blessed with no injuries and long may that continue. I'm living down by the sea close down in Clontarf so I get down to the sheds down on Bull Island and jump in and recovery the body. I was down there yesterday afternoon."
Donall Farmer / INPHO Donall Farmer / INPHO / INPHO
No longer the skinny teenager who joined the panel in 2007, Connolly has emerged into a real leader in the group. He recalls being overawed at the big names who sat across him in the dressing room in those early days.
"When you're a young lad coming into a dressing room with massive leaders like the Ciaran Whelans, Alan Brogans, Coman Goggins, Stephen Cluxtons, these guys. You're trying to learn, that's what you're trying to do.
"You can't expect yourself to go straight in similar to the likes of Ciaran Kilkenny and Jack and stuff. They had a couple of years learning their trade and when they came on they were ready to pounce really and that's kind of the natural progression at inter-county football.
"This is my 10th season, that was my first season going into it. You're kind of a little bit overawed. It's your first time training with a Dublin team. It's your first time running out in Croke Park with 80,000. It's a completely different experience I suppose but one I'm really enjoying still."
Does his mother have much room left on that frame to hang a few medals?
"There's a few hooks left," he laughs.
You bet she does.
Diarmuid Connolly on…
Jack McCaffrey and Rory O'Carroll taking a year out
"Rory went over for work reasons. Jack wanted to go and do a bit of charity work. More power to them really. We're just going to have to focus on what we've got. We can't be looking at what could have been or what might have been.
"We've got a strong deck at the moment. Everyone's playing really well. There's massive competition for places so we just have to focus on that. I've only a couple of years left so I'll stick them out while we've such a good team at the moment."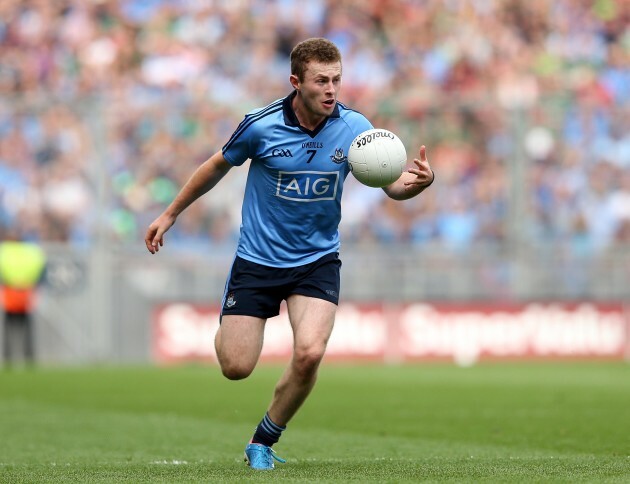 Ryan Byrne / INPHO Ryan Byrne / INPHO / INPHO
Winning back-to-back All-Ireland titles
"It's not in the back of my mind. I know there's a lot of talk about it. Someone asked me earlier on (about being) the defending champions. We're defending nothing. We're going out to win a quarter-final and hopefully move onto a semi. That's where we're at. We're going to attack this Sam Maguire."
Playing attacking football
"If you ask any footballer, they want to play man on man. That's a kind of traditional GAA, and when you were a young lad that's how you played but – let's be honest – no one plays like that any more.
"I don't get extra satisfaction, but it's just something you go through. You learn. We played against Donegal in 2011 and we learned so much from that game. It was like a surprise for us. Now everyone is doing some sort of a hybrid or some sort of a defensive structure, and it just takes time to break it down. You just have to learn and grow and try and break it down as best you can."
The42 is on Snapchat! Tap the button below on your phone to add!