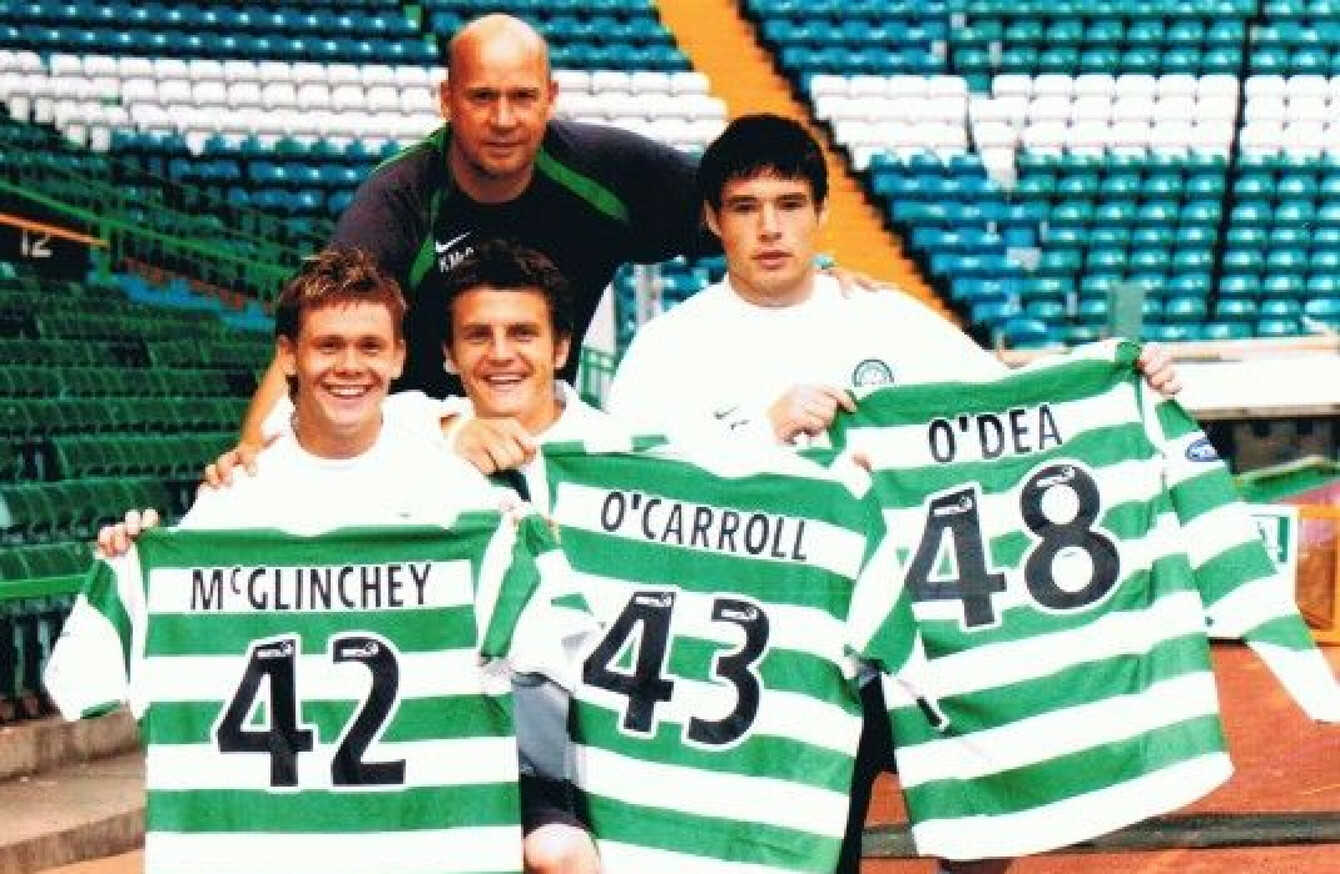 O'Carroll alongside O'Dea and Michael McGlinchey at Celtic.
O'Carroll alongside O'Dea and Michael McGlinchey at Celtic.
DIARMUID O'CARROLL IS often told he's crazy for opting to retire as a footballer at the age of 29.
There were no crippling injuries to force his decision and the striker had just won four consecutive leagues title in Northern Ireland's Danske Bank Premiership — with Cliftonville and Crusaders.
But by last year, his passion for playing had long been surpassed by a love of coaching.
"People think I'm mad and tell me all the time that I'll regret it," O'Carroll told The42 this week. "They say 'play as long as you can', but I genuinely believe you should play as long as you want. And the want was gone from me.
"I'd prefer to earn buttons — in comparison to what I was making as a player  – and take a coaching session."
In truth, O'Carroll wasn't far away from turning his back on the sport altogether years ago.
Born and bred in the Gaelic football stronghold of Kerry, young Diarmuid took a keen interest in both codes and balanced lining out for Dr Crokes and Killarney Athletic.
It was always a tussle between the two and I was probably the black sheep because I was leaning one way when the county was leaning the other," he explains.
He enjoyed success in football and featured at the Kennedy Cup before earning call-ups to underage international teams and invitations to go on trial in England.
By U15, O'Carroll decided he would play a year in the Dublin District Schoolboy League (DDSL) and had his pick of heavyweights Cherry Orchard, Lourdes Celtic and Home Farm.
Already familiar a large chunk of their players through the Ireland set-up, he signed for Home Farm and instantly struck up a friendship with Darren O'Dea. As fate would have it, the pair went on to sign for Scottish giants Celtic — along with Gareth Christie and Gary Walsh —  as part of a quartet from the same schoolboy side.
"It was a strange one for me because I never thought it would happen," he admits. "I remember being offered the deal by Celtic. In the back of my mind I suppose I thought I had a chance but you never really expect a pro contract to be put in front of you.
"Nobody I knew locally had ever got this kind of opportunity so I couldn't turn it down."
Making the move with a group of lads he knew well was a major help during those early days in Glasgow.
"We all lived together, which was brilliant. It didn't work out for Gareth and Gary and they didn't stay across that long. But me and Darren roomed together in the digs and we bought a house at 18."
They remain the closest of friends to this day and O'Carroll was even best man at O'Dea's wedding. At Celtic, both players were making headway in the youth teams under Tommy Burns too.
"I flew up through the ranks at the time. Me and Darren progressed at a similar rate and Aiden McGeady and Charlie Mulgrew were a year ahead of us.
Tommy was the one driving us all on. It was a really strong group when you consider how many have gone on to have careers in the game."
On his own playing style, he adds: "I was an old-fashioned centre forward with my back to goal. I looked up to Alan Shearer and that was the role I saw myself in. I probably wasn't selfish enough. There was plenty of hard work but I wasn't blessed with pace."
At 17, O'Carroll picked up what he refers to as a "reasonably-bad injury," meaning 10 months on the sidelines followed. Although he refuses to use that as an excuse, something didn't sit right from that point onwards.
"That was the beginning of the end for me," he says. "I still kicked on, captained the reserves and won leagues and cups but I was never the same. I think it was more mentally than physically and I never really bounced back.
"There are no sob stories with me, but before the injury I had the arrogance of a guy that didn't care and just went about my business. After that, I second-guessed everything and worried too much about my performances."
Celtic sent O'Carroll, by this time an Ireland U21 international, out on loan to Ross County and it proved a worthwhile exercise.
"That was a real culture shock. You think you're the business when playing against guys your own age and then you come up against heavier, wily, old pros and they make you look stupid. It was a brilliant experience but it brought me back down to earth."
When he returned, it was clear first-team manager Gordon Strachan wasn't going to give him opportunities so a move was needed.
At 21, he joined Morecambe in League Two and enjoyed a promising season — making over 40 appearances — but felt he should have been starting every game: "That's the arrogance of youth".
Then it was back to Scotland to sign for Airdrie United, and although he calls it a "brilliant experience" overall, the self-doubt was beginning to be a real problem.
That was the time that I was starting to fall out of love with it," O'Carroll explains. "The mental side of it, I couldn't take. If I had a bad 20 minutes in a game, it would have disrupted me for a week. I was never a guy who could brush it off and move on.
"Anyone that knows me will tell you I'm a confident person, but for some reason there was something in football. Maybe it was because I strived for perfection. People watching could tell after 10 minutes if I'd be any good or a waste of time.
"It wouldn't even just affect that game, I'd still be down in the dumps the following Tuesday or Wednesday. It was affecting all of my life. Even though I only trained a couple of hours a day, all I could think about was football and how crap I had played on the Saturday. It was consuming everything."
Towards the end of his spell there, he began considering a life away from football. The plan was to return to Ireland, study and maybe play some Gaelic football.
"I had no love for the game at that stage and if you offered me £1,000 I wouldn't have played a five-a-side. At the time I just couldn't enjoy it. It became a job, a chore and I hated that."
Needing some space to clear his head and happy to get the chance to experience a new culture, O'Carroll accepted an offer to go play in Iceland for three months with Reykjavik-based Valur.
While over there, he got his first little taste of coaching and immediately realised he gained a huge sense of enjoyment from that.
O'Carroll had met his girlfriend Anne (who's now his wife) during a trip back to Killarney while still at Celtic, and she had an influence in his next move.
"She was doing Riverdance," he tells. "One of my mates was involved in organising the end-of-show party. I was home from Celtic and I latched onto the party. It was random how we met. Anyway, she's from Belfast so we moved there. I was looking at scholarships in college and different options."
He signed for Glenavon on a part-time basis and moved on to have considerable success during his final playing years with Cliftonville and Crusaders.
But coaching is where he began to focus more and more.
"I was doing coaching and a coach at Glenavon, Packie McAllister, came in and gave me the kick up the arse I needed.
"He had the mentality of 'what are you doing? Why are you here? You shouldn't be here'. A switch went off in my head and I've loved it ever since.
"My friends joke but I've literally gone on to do every course and badge that I've had the opportunity to do. I love it.
"With that, my playing career improved too. I was playing part-time and I was very successful. We won four league titles in four years. The main thing for me was trying to get the experience off the pitch.
"At that time, I decided that if I can't be a professional footballer, I still love the game so how can I get back to that environment as a coach?
"It's been a five-year plan since then to get the Uefa B license, the A license and to gain coaching experience with the Irish FA."
Last year, he called time on playing to concentrate on the other side of the game — and doesn't regret it one bit.
"I was blessed in terms of injuries over my career and didn't miss a game in four years. I had options and could have stayed where I was. There are opportunities that you wouldn't get if you were committed to being a player. It's probably short-term pain for a long-term goal.
It suits my personality better than playing ever did. The setbacks were a disaster at the time and I was wondering what I would do but in hindsight they were the best thing that ever happened to me because I found an area of the game I love."
These days, O'Carroll juggles his role as a development officer with the Irish Football Association and working as the Academy Director at Crusaders.
"It's been great because I'm putting into practice everything that I've learned over the years. People would say that sounds horrific in comparison to playing but I genuinely prefer it. It's horses for courses and one man's disaster is another man's dream."
At 30, time is well-and-truly on his side and O'Carroll has ambitions to climb the ladder as he develops as a coach.
I would like to go back across to England, Scotland and other places to work professionally. At my age, to be getting this experience is invaluable and it will stand to me.
"Now I'm saying 'what's the next step?' 'Are there avenues I can look at to go back into professional football as a coach or an academy head?' You want to kick on and achieve at the highest level. If I start young then I have a better chance at it."
The well-travelled O'Dea, who has 20 Ireland caps to his name, has played in Scotland, England, Canada, Ukraine and Indian. He's still enjoying life on the pitch, now at Dundee, but maybe one day the two old friends could be reunited as a managerial duo?
"You never know, that's what I tell him!" O'Carroll smiles. "Whether he listens or not is another thing. Darren has had a fantastic career and he will play for another five or six years.
"But he has ambitions to be a manager and I've been helping him with his badges. He wants to be a manager and I want to be a coach so it's probably a good yin and yang, but we'll see how it happens."
The42 is on Instagram! Tap the button below on your phone to follow us!