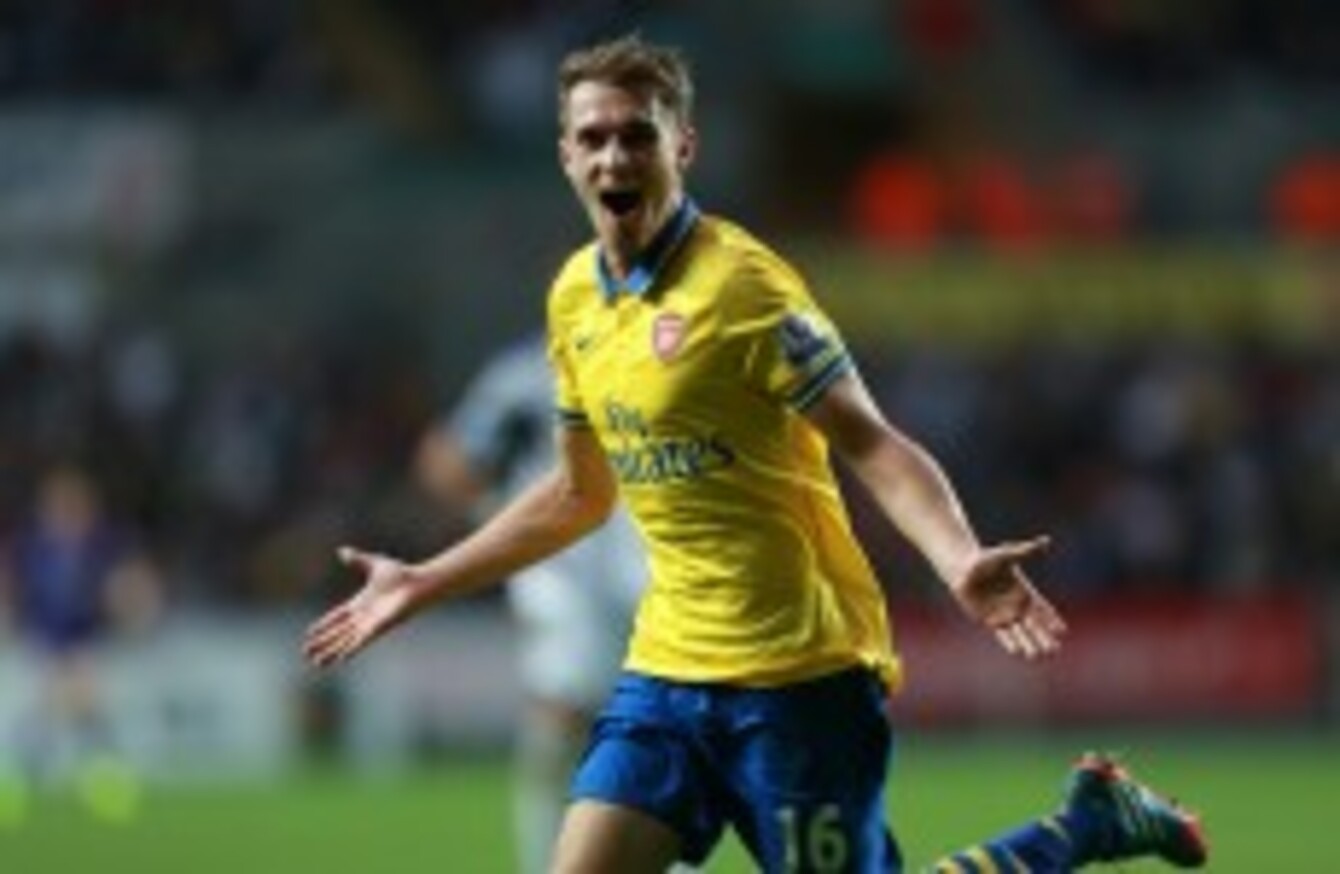 Arsenal's Aaron Ramsey celebrates scoring his side's second goal of the game.
Arsenal's Aaron Ramsey celebrates scoring his side's second goal of the game.
IT'S THE BIG one this weekend — a top, top match if ever there was one to mark an even more super Sunday than usual.
Unfortunately, we have deigned to refrain from putting any Swansea or Stoke players in our side though, so we'll have to settle for focusing on the United-Arsenal match.
David Moyes' faith in his under-fire side has unfortunately not been emulated by us — the number of United players in our team precisely amounts to zilch.
However, we will be keeping a close eye on the exploits of Aaron 'the Premier League's most improved player' Ramsey and Olly 'the Premier League's second-most improved player' Giroud.
Elsewhere, our decision to allow Luis Suarez to lead the attack line may have looked wise when he hit a hat-trick against West Brom two weeks ago. Nevertheless, this wasn't the case more recently with the striker looking like he could barely hit the proverbial barn door amid an unusually ineffectual performance last week, as Arsenal outclassed Liverpool.
The Reds thus consolidated their reputation as the Premier League's own flat-track bullies, as it didn't exactly work out when they finally picked on someone their own size.
Moreover, in light of their recent hammering at Liverpool, the Baggies can't exactly be expected to thrive away to Chelsea this weekend. Hence, we've done the sensible thing and used our one free transfer on a Blues player — Oscar, who, like most Brazilian footballers with one name seem to be, is very very good at football.
In addition, we were left cursing our lack of patriotism last week, as Ciaran Clark was left out of our starting XI and went on to secure six points i.e. five more than Dejan Lovren — the player who we ill-advisedly placed faith in — earned, thanks in no small part to a mixture of Asmir Begovic's flukiness and Artur Boruc's incompetence.
Thankfully, unlike our defence, most of our midfielders performed admirably, with Yaya Toure, Aaron Ramsey and David Silva all scoring strongly. It's just a pity our inexplicable reliance on Peter Whittingham didn't quite pay dividends (again!).
So not quite top, top Fantasy Footballing by our meticulously high standards, but this week will be better*.
*if you take 'better' to mean 'probably worse'.