THE ANNOUNCEMENT WAS inevitable yet there was still an enormous sense of disappointment and frustration among MMA fans when the UFC confirmed that Conor McGregor and Nate Diaz will meet again at UFC 200.
The secret has been out since Ariel Helwani first reported that the fight was in the works a fortnight ago. Judging by the reaction to last night's breaking news on 'UFC Tonight', MMA's social media community had been in denial. They clung to the hope that McGregor would move back down to the more familiar territory of the 145lbs division to defend his featherweight title in Las Vegas on 9 July.
Baffled by the decision to give McGregor an immediate rematch with Diaz, they questioned the logic of the UFC's decision to headline a landmark event with a fight that won't have implications in any division. Bear in mind that Diaz-McGregor was initially merely a marriage of convenience due to an injury to Rafael dos Anjos.
The message from the majority appears to be that a rematch between a featherweight champion and a lightweight contender in a welterweight bout makes little sense, and it's an assertion that's difficult to argue with.
However, the caveat to those expressions of disapproval is a widespread admission from the complainants that they'll be tuning in nevertheless to see if McGregor can avenge his only loss in the UFC to date. Therein lies the reasoning behind the UFC's decision to book the rematch.
The dyed-in-the-wool fans want McGregor to put his featherweight belt on the line against Frankie Edgar, who represents the last unanswered question for the Irish star at 145lbs. It's an intriguing match-up and one that has the potential to be as tricky as any for McGregor, but the fight — even with the UFC's biggest asset involved — wouldn't have the same capacity to entice observers with a casual interest, which is the difference between a successful event and a record-breaking one.
When there's a clear distinction to be made between the earning power of two respective contests, the decision-making process becomes simple for Dana White, Lorenzo Fertitta and the UFC's top brass — particularly when they can pass it off under the disguise of the demands of an "obsessed" fighter.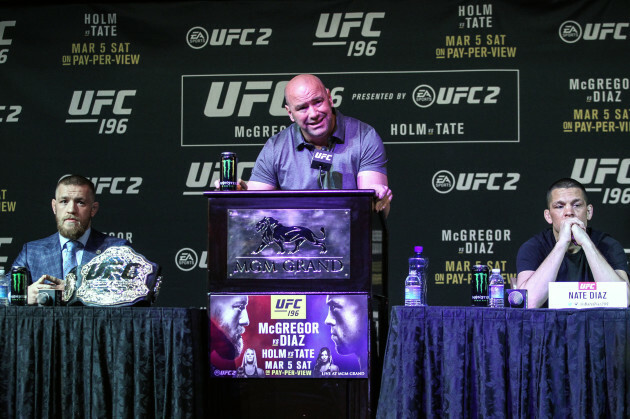 Raymond Spencer / INPHO Conor McGregor, Dana White and Nate Diaz at the UFC 196 pre-fight press conference. Raymond Spencer / INPHO / INPHO
Sure, the UFC's default plan was for McGregor to face Edgar this summer, but when White and Fertitta recently visited the defeated Dubliner in Las Vegas to discuss "what he was thinking and what's next" — which the UFC president told ESPN's SportsCenter last night, as if it were a luxury afforded to every fighter — they hardly expected anything other than pleas for a rematch from a guy like McGregor, whose pride was badly stung at the MGM Grand on 5 March.
The SBG fighter's calls for a second crack at Diaz would have been music to the UFC bosses' ears. They've been in the game long enough to know that 'Cocky superstar takes big risk in the pursuit of revenge' sells far more pay-per-views than 'Humbled champion returns to featherweight with his tail between his legs'.
And who could blame McGregor for calling for that opportunity? As his coach, John Kavanagh, wrote this morning in his column here on The42, McGregor is adamant that "the last fight didn't accurately reflect the skills and ability he possesses". If he truly believes that and can exert sufficient influence over the men in control to engineer a chance to rectify it, it would be remiss of him not to do so.
Could it backfire? One defeat has arguably made McGregor an even bigger star than he was pre-UFC 196. Two in a row would prove detrimental to his reputation as a man who has transcended the sport of mixed martial arts like no one has ever done before — a reputation he worked hard to construct.
But a slip-up against Frankie Edgar, in this observer's view, would be just as likely. There's no easy option for McGregor, although his insistence on facing Diaz at 170lbs appears to be an unnecessary move fuelled by stubbornness and a bruised ego.
Edgar is the big loser in this equation. McGregor's delayed return to featherweight has backed Edgar into a corner. Already the number one contender at 145lbs, the 34-year-old New Jersey native now must reaffirm that status as the leading challenger by overcoming the last man to defeat him.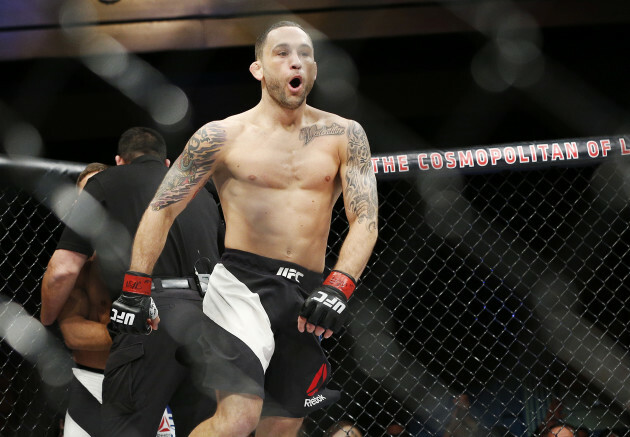 AP / Press Association Images Frankie Edgar, who'll face Jose Aldo for an interim UFC featherweight title at UFC 200. AP / Press Association Images / Press Association Images
If Edgar can succeed against Jose Aldo in July's token-gesture interim featherweight title fight — a bizarre scenario with the reigning champion competing on the same card — his reward will be to remain in the very same position that he's in now. The former lightweight champion has nothing to gain and everything to lose, and his predicament is a consequence of the power Conor McGregor has at decision-making level in the UFC.
Exclusive Six
Nations Analysis
Get Murray Kinsella's exclusive analysis of Ireland's Six Nations campaign this spring
Become a Member
As the man who generates more revenue than any other fighter, McGregor can afford to do as he pleases — for now at least — which he'll maintain is a reward for his substantial efforts as a promoter. The current landscape in the UFC is being shaped by one man's plans, irrespective of the damage it may do to the ambitions of his rivals.
The debates will continue to rage as fans try to make sense of what the UFC are aiming to achieve here, but the search for logic shouldn't take too long. The UFC is, first and foremost, a private business. Revenue is their priority. Only once that has been addressed does it become a sporting organisation.
Historically, one of the advantages the UFC possessed in its rivalry with boxing was that, more often than not, the champions faced the top contenders, who were incentivised by the existence of an established pathway to the summit, and then rewarded with a title shot when they got there. Can we now expect an increased focus on fights that sell over fights that are dictated by the rankings?
Conor McGregor has often stated that his preference is the former — "I'm here for a fight and a cheque and that's it. Fuck the belt," he said before his fight with Nate Diaz earlier this month. Diaz echoed those sentiments during last week's appearance on 'UFC Tonight': "The best fighters in the world are getting paid the best money. The belt is a fairytale, as far as I'm concerned."
According to Dana White, Conor McGregor will finally defend his featherweight title once the Diaz rematch is in the books. Whether that decision will be authorised by McGregor remains to be seen.
But as long as the audience overlooks its pithy protests by continuing to consume what's being served up, the future will be determined by revenue, not rankings.
The42 is on Snapchat! Tap the button below on your phone to add!