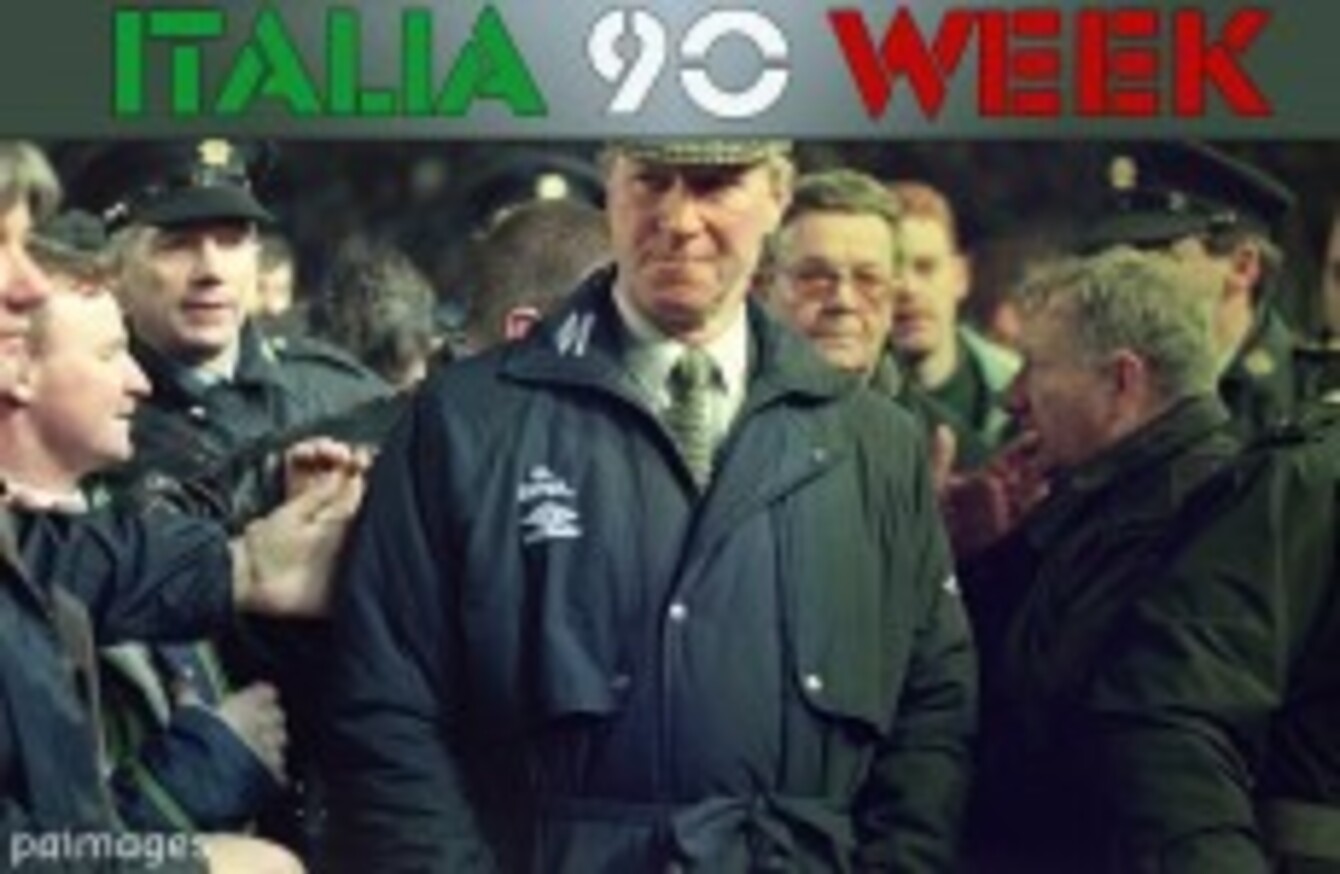 Jack Charlton spent almost 10 years as manager of Ireland.
Image: PA Archive/Press Association Images
Jack Charlton spent almost 10 years as manager of Ireland.
Image: PA Archive/Press Association Images
AT A CERTAIN point in time, it seemed like sacrilege to question Jack Charlton's judgement.
The former Leeds player and World Cup winner with England is the most successful manager in the history of the Irish national team, reaching two World Cups and a European Championships during his tenure.
After years of failure and organisational chaos, Charlton had suddenly made the Irish side a force to be reckoned with on the international stage and consequently, he was an enormously popular figure throughout the country.
Those brave enough to criticise 'Big Jack' were not well received, as an increasingly upbeat nation began to embrace the good times both on and off the pitch, shunning those who dared to rain on their parade.
However, with the benefit of hindsight, people have begun to cast a more critical eye over this extraordinary period of Irish football. The central argument was that during Italia 90, as well as for the decade or so that Charlton was in charge, Irish football enjoyed a relative golden age. The likes of Liam Brady, John Aldridge, Ray Houghton, Frank Stapleton, Roy Keane, Paul McGrath and Kevin Sheedy all possessed considerable experience at the top level of the game, and Charlton had all these stars at his disposal at one point or another.
Was Charlton therefore merely fortunate to come along at the right time? Would another manager have performed just as well, or even better, in his place?
Another contentious issue was the style of football employed by Ireland throughout Charlton's time in charge. The high-pressing long-ball-oriented game was considered quite unusual at the time. Many, including Irish footballing legend and former manager John Giles, believes this tactic indicated Charlton's lack of trust in the players, as he reduced the potential for mistakes to be made, while also preventing the Boys in Green from playing an attractive or fluid brand of football, upsetting purists in the process.
(Liam Brady was ultimately deemed surplus to requirements by Jack Charlton)
Ireland's classy midfielder, Liam Brady, who was used to being part of a more stylish brand of football with clubs, such as Juventus and Sampdoria, was one of the few individuals to express reservations with Charlton's methods. There was a sense that acrimony existed between the pair and although Brady played in Ireland's Euro 88 qualifiers, he was prevented from competing in the tournament itself due to suspension. Moreover, Brady also had aspirations to represent Ireland at Italia 90, but hopes of this scenario occurring were dashed when Charlton infamously substituted the ageing star before half-time in a pre-tournament friendly with West Germany.
Charlton's dubious treatment of arguably Ireland's most technically gifted player ever, for many, was a telling indication of his coach's stubborn, uncompromising approach to management — anyone who didn't wholeheartedly buy into his vision would ultimately pay the price. Another fine footballer, who found himself ostracised from the side for many years, was David O'Leary. Charlton controversially chose the less talented Mick McCarthy at the back, with O'Leary reduced to a peripheral role at best, even when he did eventually regain a place within the squad.
Such situations have led some critics to question whether Charlton really did get the best out of the players at his disposal. Writing a piece for The Independent in the aftermath of the 1994 World Cup, Eamon Dunphy called for Charlton to resign and dismissed his ardent supporters, referring to "the congealed ignorance of a nation dazzled to the point of mass hysteria".
"The minority who know their football well enough to distinguish between fact and fantasy have long since decided that even though the show is great, the football of the Charlton era has been, too often, lousy," Dunphy continued.
"Gifted with one of the most formidable squads in Europe — as the record of the qualifying series and pre-tournament friendlies proves — Charlton squandered it all. Imagine what Ireland might have done if led and inspired by a man of vision and courage. This is not very hard to do: remember Giants Stadium, when, with the spur of an early goal, the players overcame miserable tactics to humble Italy."
(Despite beating Italy, the 1994 World Cup was ultimately adjudged a disappointment by many)
Others, however, have defended Charlton's somewhat controversial tactics. In a recent interview with The42, Alan McLoughlin, who was part of Ireland squads for both the 1990 and 1994 World Cups, said:
"Jack had decided that was the way we were playing. It went on for another four years into America. He got success in 88 with that way, so why would he change it then? He went with what he was comfortable with. He kept it simple for the players.
"There was method to what we did. It wasn't just 'crash, bang, wallop'. I had a specific role to perform and it was taught and spoken about to me by Jack and Maurice and the other players. It worked… No matter what anybody says about it, it worked."
However, McLoughlin did at least partially agree with Dunphy, suggesting that by the end of the Charlton years, a change in style was required.
"Obviously, when we went to America [for the 1994 World Cup], that high-pressing tempo game in Orlando in 34 degrees was not going to work, so maybe it pointed out that football was evolving and you have to adapt and change.
"And that's what Mick McCarthy did when he came in [as manager]. But no one can criticise Jack Charlton's achievement — to take a nation who were really scratching around the periphery, to performing at the highest level and taking them to their highest position in the Fifa World Rankings."
Moreover, are those who attack Charlton guilty of over-romanticising his squad of players? Whereas the common consensus now seems to be that Ireland had one of the most talented squads in Europe for much of Charlton's tenure, the manager himself appeared to think less highly of his side's abilities.
Reflecting on his time in charge, the Northumberland-born coach said:
"We never had a huge squad and we never had a great deal of choice. But in many ways that helps because you've got to make do with what you've got. You don't have too many problems about picking the team, you just hope that everyone turns up on the day."
Upon further scrutiny, Charlton's point seems valid to a degree. Take the 1994 World Cup squad, for instance. Aside from five First Division players, two Scottish league footballers and one defender on the verge of retiring (Kevin Moran), there were 14 Premier League players. However, at least three of the PL players – Ronnie Whelan (who was about to join Southend), Eddie McGoldrick and Alan Kernaghan could hardly be classed as staples of the first team. That leaves 11 players on the plane to USA 94 who were playing regular Premier League football.
What are they
really like?
Rare insights on sport's biggest names from the writers who know them best. Listen to Behind the Lines podcast.
Become a Member
Compare the 1994 figures with the Irish squad that played Scotland recently and the difference is not as stark as the average fan might assume. Of the current group, nine are currently expected to be playing regular Premier League football next year, and that could increase if Robbie Brady and James McClean secure summer moves to Aston Villa and West Brom respectively. Furthermore, the lower numbers are slightly offset by the fact that it's now much more difficult for Irish players to thrive in the Premier League, given the substantial influx of foreign players increasing competition for places in England since 1994.
(Roy Keane had yet to reach his prime during the Charlton years)
The biggest difference between the two aforementioned eras, however, lies in the quality of players in the first XI. While Roy Keane, at 22, had yet to reach his peak, and Paul McGrath, at 34, was probably a little past his best (despite a stunning performance against Italy in Giants Stadium), the current squad still boasts no one of their calibre.
That said, the difference between Ireland then and now is surely not as great as many people would assume, and a last-16 exit was probably a fair enough reflection of the side's ability at that point.
Similarly, excluding relegated teams, at Italia 90 Ireland had 10 players in England's top flight from their squad of 22. They also had a player apiece in the first and second divisions of Spain and France respectively, along with two players in the Scottish league. Consequently, again, while there were a couple of top-class players such as Ronnie Whelan and Kevin Sheedy, the Boys in Green were somewhat lacking in squad depth.
It's therefore tempting to draw parallels with modern day circumstances. Ireland are undoubtedly less successful now, and even on the rare occasions when the side flirt with success — the 2012 Euros being a prime example — the style of football is invariably ridiculed by some critics, as it was in the early 90s (albeit, less fervently in the latter case).
However, just as is often argued now, many sceptics back then suggested Ireland were incapable of playing the type of free-flowing football that some onlookers demanded.
But would this more enterprising approach have worked, considering that two of Ireland's main strikers at the time — Niall Quinn and Tony Cascarino — were surely more comfortable with the ball in the air rather than on the surface? Would the team have been quite so solid defensively, conceding only three goals in five games at Italia 90, had they opted to discard the safety-first approach and adopt a more creative type of football?
It's impossible to know for sure, of course, but it would be unfair not to give credit where it's due regardless. Jack Charlton's win ratio of 50.5% is higher than any other Irish manager in history apart from Brian Kerr (54.5%). Consequently, while he undoubtedly made a few mistakes along the way, Charlton surely deserves his status as someone who changed the Irish team for the better. So as revolutions go, the football may have been less than progressive, but there was no doubting its effectiveness over a sustained period of time.