WHILE MOST OF the sporting public were gearing up for Ireland's crucial Six Nations clash with England, Fergal Somerville was experiencing intensity of a different kind last Sunday.
The Irish athlete was down in Malahide swimming intensively, despite the fact that it was snowing.
Somerville wasn't getting paid — he was simply doing what he loves doing.
And the Dublin-born ultraswimmer is just one of the many unique Irish athletes that feature in 'Extreme' — a documentary airing on Setanta tomorrow night.
Ireland's association with extreme sports and taxing expeditions can be traced as far as famous explorers like Tom Crean and Ernest Shackleton, and their love of adventure evidently still exists among today's athletes.
The documentary follows the fortunes of Somerville along with Cork's Aileen Mann (thundercat pilot), Belfast's Ricky Bell (rock climber), Easkey Britton (pro surfer) from Donegal, Leixlip-born John O'Regan (ultrarunner), Dún Laoghaire native Heather Irvine (adventure racer) and Dubliner Conor Heelan (kitesurfer, BASE jumper and skydiver).
Produced by the award­-winning production company Athena Media, the documentary is written and directed by Helen Shaw and presented by Kipper Maguire.
Maguire, in particular, brings an informed view to proceedings. After all, he is a decorated athlete in his own right – an adventure sportsman and a champion kayaker who has won several national titles and represented Ireland around the world.
Having previously worked as a kayaking mentor on the 2013 documentary 'Get Off The Couch,' Maguire agreed to present 'Extreme' after being impressed by the show's concept when it was pitched to him. He describes the subsequent experience as "one of the best summers I ever had".
While filming the programme, he also worked at a full-time job, but while the experience was "tough at times," Maguire "wouldn't change it".
"We pretty much spent the last 12 months travelling around with seven of Ireland's top athletes," he tells The42. "The sports they do are incredible. They only do it because they love it and what it gives them in terms of travel, buzz and how it impacts on their life. They get such a buzz out of it that they just want more and more."
Maguire was attracted to the project, as it guaranteed to shine a light on these invariably unheralded athletes.
"It's showcasing the type of stuff that doesn't usually get the attention that bigger sports would get," he says. "They are all under-the-radar sports — subcultures, bubbling away, pushing things really hard."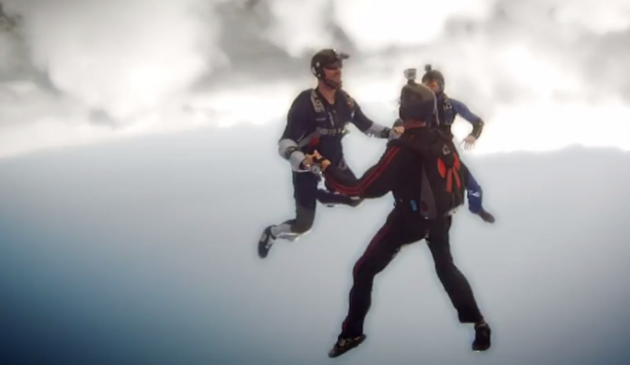 (A shot from 'Extreme')
Exclusive Six
Nations Analysis
Get Murray Kinsella's exclusive analysis of Ireland's Six Nations campaign this spring
Become a Member
He cites O'Regan as one example of an athlete who epitomises the dedication of these incomparable individuals.
"He works in Irish Rail and lives in Leixlip. He runs into work most days. It takes 70 minutes. Then he runs home. And nobody knows this stuff — it's incredible."
Similarly, Somerville is an athlete for whom the label 'extreme' only begins to do him justice.
"He's one of the very few people to swim the English channel, England to France, and the North channel, Northern Ireland to Scotland, which is a much harder swim. It's not done too often because the water is much colder.
"As part of the documentary, he swam around Inishmaan in the Aran Islands — for around five hours — on his summer holidays."
He continues: "One night, Fergal wanted to swim from Howth to Bray and then back again.
"Around 11 o'clock that night we got the call that it was cancelled — it was somewhere around Dublin port. So I took the car down to the port for a quick interview with him — it was like a scene from a James Bond film. 11 o'clock at night, the lights are out, the ships are going past. I thought, 'this is crazy.'"
And while these athletes view what they do as perfectly normal, oddly, they consider their counterparts to be insane for attempting their challenges.
"I remember telling John, 'we met this lad Fergal, he swam the channel.' And John couldn't believe it," Maguire says.
"Later I said to Fergal, 'we're filming John, he's running for 24 hours.' And he goes 'Jesus, that's nuts.'
"So they don't see what they're doing themselves as nuts, but they're doing what everybody else sees as nuts.
"They only do it because they can. They have the ability, confidence and skill. They're not doing something that's out of their reach. But they're still doing something that's really incredible."
And while each of these athletes has their own idiosyncrasies, what they have in common is an unflagging sense of determination and a slightly obsessive nature.
"Although a lot of sports are different, it can be a similar experience. You sacrifice so much of your life, give up so much of your time and you're not getting paid to do it. You're getting a little bit of sponsorship, but you're doing it for the passion and what you get out of it.
"These people are different but all hugely driven and passionate about what they do. They've all found a sport that they love.
"So they've found things they're passionate about and done so much of it that they're at a really high level. And if I said to them, 'you're great extreme athletes,' they'd go: 'I'm not an extreme athlete! I just do what I do.'"
 'Extreme' will air on Setanta on 5 March at 8pm. For more info, click here.