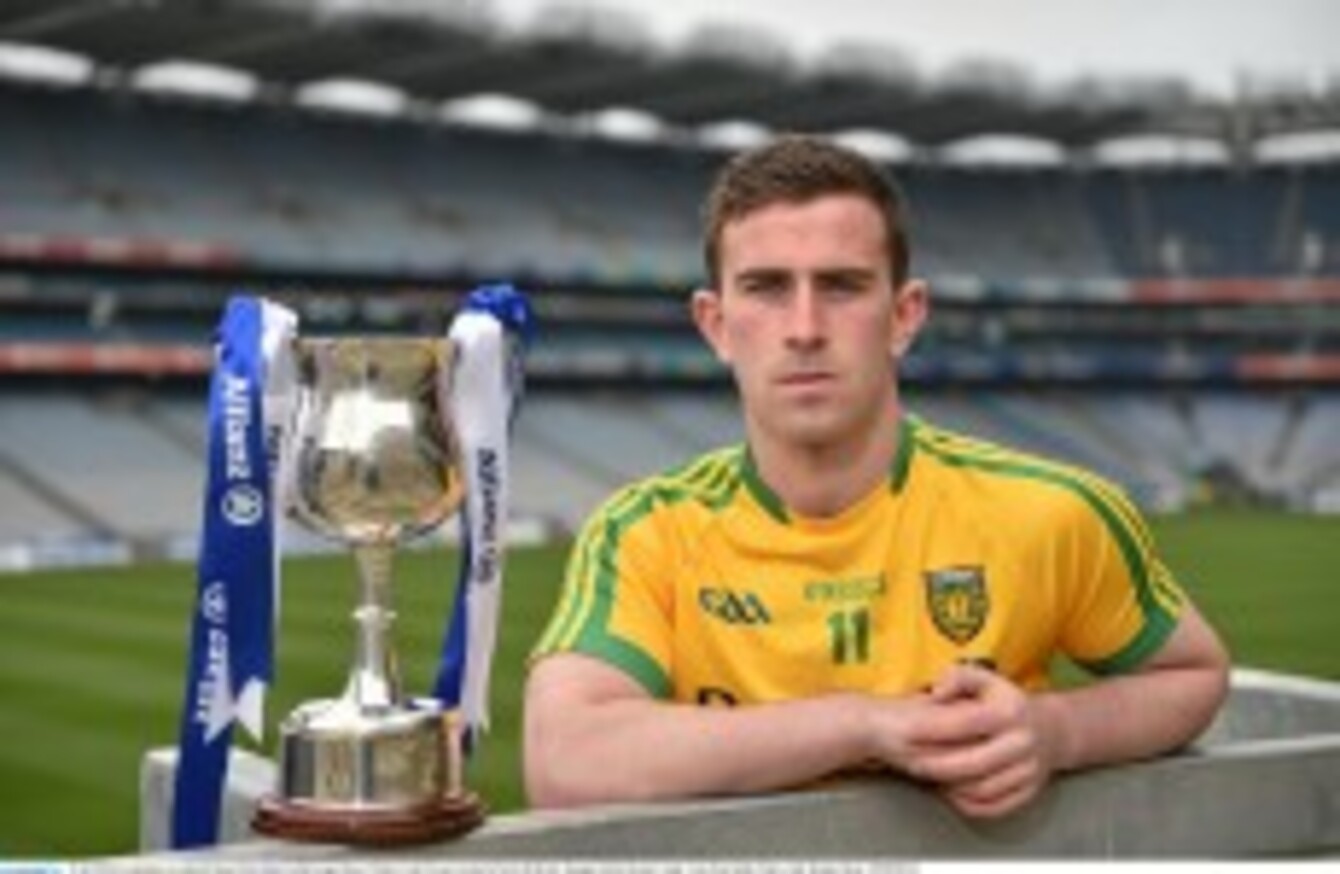 Donegal's Patrick McBrearty.
Image: Brendan Moran - Sportsfile
Donegal's Patrick McBrearty.
Image: Brendan Moran - Sportsfile
THE TITLE MAY be engraved with Division Two but Donegal, and their forward Patrick McBrearty, are desperate to get back in the winners podium ahead of the championship summer.
Donegal take on Monaghan in this Sunday's Allianz Division Two final, at Croke Park, and McBrearty is happy to be taking on the side that landed the first of two knock-out blows to the 2012 All-Ireland champs.
"It's probably the game you want with championship only a few weeks away," he said. "You want to be playing in the big games against the best team in Croker so we are looking forward to this Test on Sunday."
Derry are first up in the Ulster championship for Jim McGuinness' men and McBrearty says his side will only turn their focus on the Oak Leaf men once they have dealt with Monaghan. Having faltered badly in the league last year, and getting relegated in the process, the forward and his teammates are keen to return to Division One in 2015 with some silverware to show for a year in the wilderness.
All the focus of 2013, McBrearty admits, was on the Tyrone game in Ulster, with the league overlooked in terms of importance. "That was a top quality Tyrone team we played and we got over it and then we played a very good Down team," he said. "People say we didn't play well that day but they forget that Down are a really good team.
We scraped through that and we came up against Monaghan who blew us out of the water and they will be a force for years to come in Ulster. People might say it was a bad year. We got to an Ulster final which five or six years ago would have been a big thing for Donegal football, people forget that. But obviously as All-Ireland champions you want to be emulating that success the year after. It was disappointing the way it ended."
The media spotlight has shifted to Dublin and Mayo in the past nine months and Donegal, in McBrearty's words, have been able to prepare for their season 'under the radar'. He believes it is too soon to say if his county is close to the form that won them a Sam Maguire, preferring to compare the team with the 2011 side that won the NFL.
The 21-year-old and his Donegal teammates have recently returned from a weeks' training in Portugal. It was the first time, he said, that Donegal 'went foreign'. He added, "It was a week away with the lads and we got a lot of conditioning done and you are living in a professional environment for a week so it was really beneficial. And it was a good bonding session for some of the new lads that came in over the winter so it was good to get to know them as well."
McBrearty is another young GAA star to be burdened with the task of playing club football, for the U21s and the senior team. Success for Donegal has bred a congested fixtures list but, ahead of a final and a quest to reclaim their championship,  McBrearty would not have it any other way. Going foreign can wait until September — as late as possible.