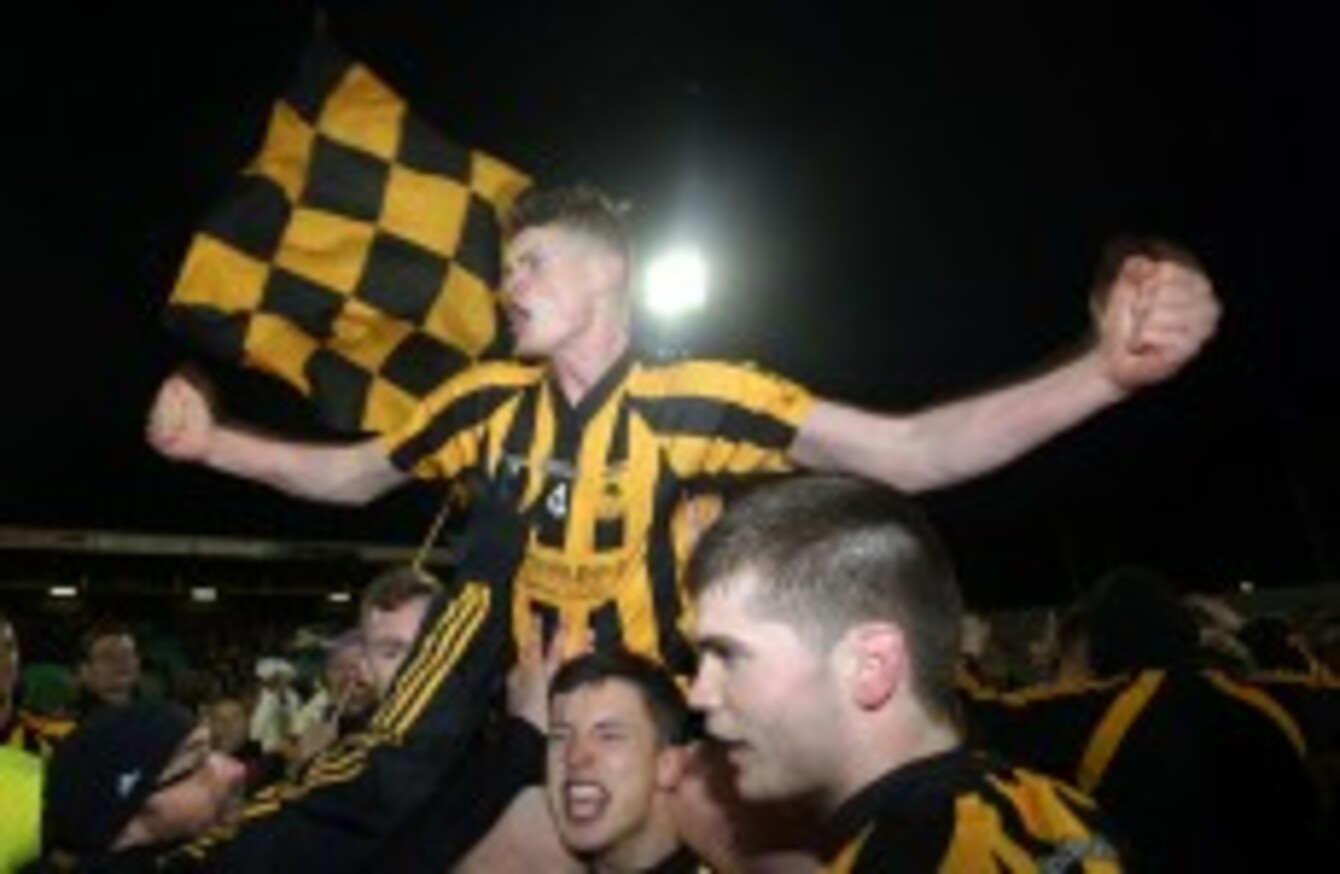 Conor Morrison celebrates at the final whistle.
Image: Presseye/Lorcan Doherty/INPHO
Conor Morrison celebrates at the final whistle.
Image: Presseye/Lorcan Doherty/INPHO
St Eunan's 0-9
Glenswilly 0-6
WHEN YOU HEAR the song 'Letterkenny Town' blasted across the tannoy it can only mean that St Eunan's have their hands on the Dr Maguire Cup as Donegal RTÉ  Raidió na Gaeltacha SFC winners once again.
Rory Kavanagh, the club captain, accepted the trophy on behalf of Maxi Curran's team in the Ballybofey rain after their 0-9 to 0-6 victory over neighbours Glenswilly this evening before dragging well-known club stalwart Brian Kelly forward for the rendition.
Although some might object to the official number, the record books will state it was St Eunan's 14th senior title and that's enough for them to join Gaoth Dobhair on the top of the Donegal roll of honour.
Patience was the name of the game at the conclusion of their six-week championship in the wake of Donegal's 2-9 to 0-12 All-Ireland final defeat to Kerry in September.
While St Eunan's utilised a game plan of patience in possession, their opponents Glenswilly, whose ground is just four miles outside of Letterkenny in the same direction, are known for a more robust and powerful strategy with Allstars Neil Gallagher and Michael Murphy on board.
It was an intriguing clash of styles and although St Eunan's were never behind, their victory wasn't assured until the very last play of the game.
Glenswilly's Ruairí Crawford planted a Hail Mary ball into the St Eunan's square towards Murphy in injury time, only for Kavanagh to rise the highest in the cluttered space. The Donegal midfielder set-up the attack that concluded with Conall Dunne kicking his fifth point of the afternoon, with the last kick of the match.
Thirteen months ago, Gary McDaid's Glenswilly had lamped 3-19 in the county showpiece to obliterate Killybegs on their way to the Ulster club final, where they went down to Ballinderry Shamrocks from Derry.
This evening, however, Glenswilly were excellently shackled and scored just the once from play, when Brian Farrelly popped over in the 27th minute. Murphy was double and often treble-marked in the populated St Eunan's defence and when the Donegal captain wandered he was stuck to by Eamonn Doherty.
After 23 minutes St Eunan's were 0-4 to 0-1 up with Dunne firing over three of his team's points before Murphy laid down his first marker. The full-forward made a rampaging run from his own half, knocking challenges from those in black and amber jerseys to his side like bees from a hive before being dumped by Michéal Martin. Murphy scored the free and – after Farrelly's effort – then pointed another, with a wonderful effort from the sideline.
Those of a St Eunan's persuasion would've been worried at this stage having seen their side kick eight first half wides and Glenswilly, despite being second best for the most part, were level thanks to the explosiveness of Murphy.
Right on the whistle, Conor Gibbons pointed to edge St Eunan's into the slenderest of interval leads, 0-5 to 0-4. Worryingly, St Eunan's had lost influential midfielder Kevin Rafferty – a five-time county champion – to a serious eye injury and it was left to John Haran, who turns 38 on Tuesday, to man the middle third with Kavanagh against Glenswilly's Ciaran Bonner and Gallagher.
St Eunan's, though, with Haran and Kavanagh, continued to dictate the pace of the game. They broke in numbers to give the man in possession a series of options and as Glenswilly struggled to get their attack functioning, picked off points through Sean McVeigh, Gibbons and Conor Parke.
St Eunan's were 0-8 to 0-6 in front when Glenswilly's last salvo came to nothing and Kavanagh broke in the move that Dunne finished with a tap-over free.
Clichéd as it sounds, but it was a victory for youth and experience with Curran introducing a flood of youngsters to supplement the more wily campaigners this season – the manager's first in charge. In Donegal things have changed. But the more they do, the more they stay the same.
Scorers for St Eunan's: Conall Dunne 0-5 (4f), Conor Gibbons 0-2, Sean McVeigh, Conor Parke 0-1.
Scorers for Glenswilly: Michael Murphy 0-3 (2f, 45), Gary McFadden 0-2 (2f), Brian Farrelly 0-1.
ST EUNAN'S
1 – Sean Daffan
2 – Conor Parke
3 – Michéal Martin
4 – Conor Morrison
5 – Caolan Ward
6 – Eamonn Doherty
7 – Darragh Mulgrew
8 – Kevin Rafferty
9 – Rory Kavanagh
10 – Conor Gibbons
11 – Conall Dunne
12 – Sean McVeigh
13 -Rory Carr
14 – John Haran
15 – Sean Hensey
Subs: 21 – Mark McGowan for Rafferty (11), 25 -Donnacha Gallagher for Martin (43)
GLENSWILLY
1 – Gerard McGrenra
17 – Aidan McDevitt
3 – Eamonn Ward
4 – Ruairí Crawford
2 – Brian McDaid
16 – Leon Kelly
6 – Cormac Callaghan
8 – Neil Gallagher
9 – Ciaran Bonner
7 – Joe Gibbons
11 – Gary McFadden
12 – Brian Farrelly
13 – Darren McGinley
14 – Michael Murphy
18 – Oisin Crawford
Subs: 5 – Cathal Gallagher for Bonner (35), 25 – Kealan McFadden for Farrelly (48)
Referee: Martin Coll (Gaoth Dobhair)