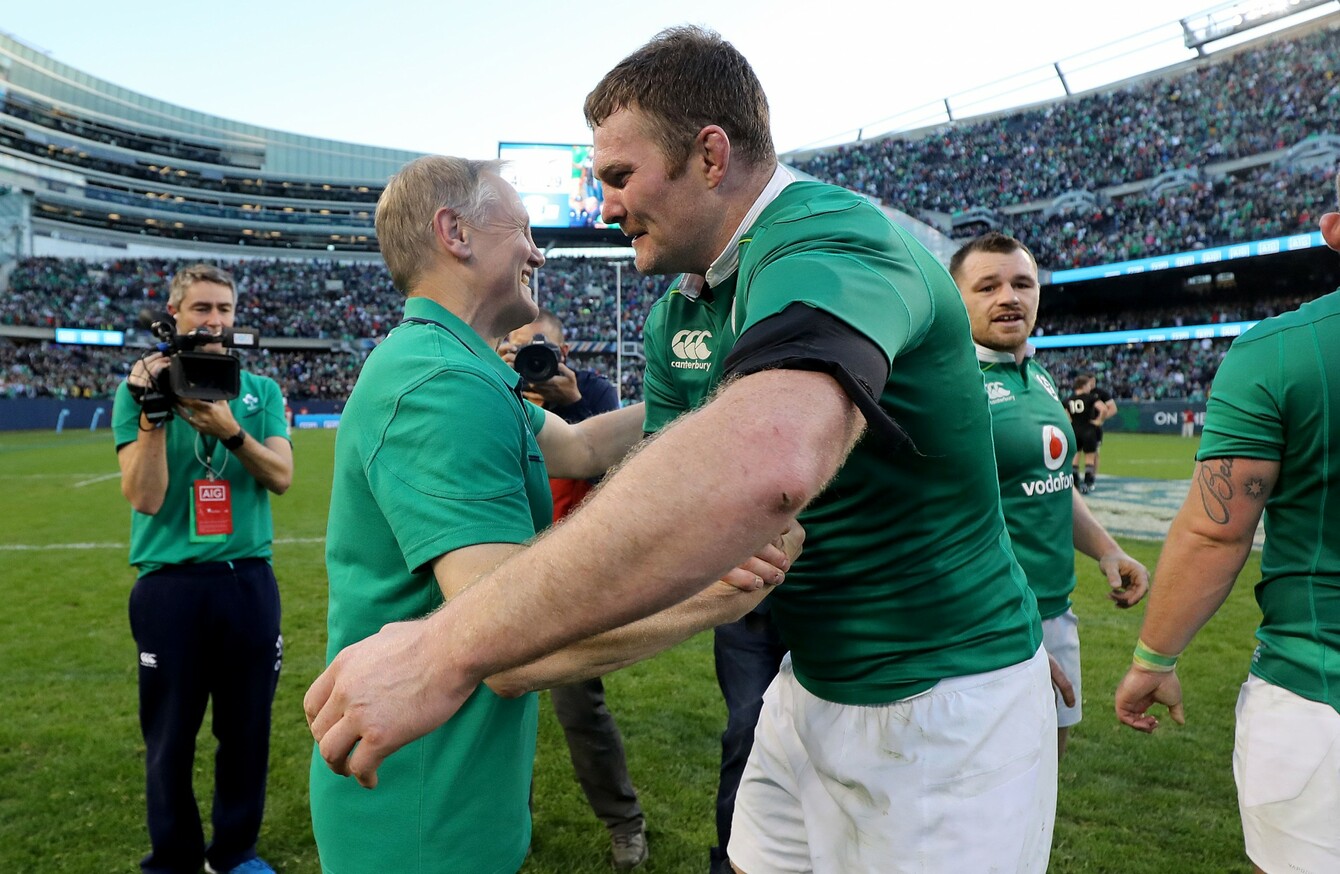 Schmidt and ryan embrace in Soldier Field.
Image: Dan Sheridan/INPHO
Schmidt and ryan embrace in Soldier Field.
Image: Dan Sheridan/INPHO
IRELAND HEAD COACH Joe Schmidt insists 'the door is never closed' for Donnacha Ryan's international prospects while saying that the money on offer in Ireland was not the reason the lock decided to make the move to France.
Ryan has committed to a two-year contract with Racing 92 after reports that there was no central IRFU contract on offer to the Tipperary man.
Joe Schmidt, however, is happy that the deal on offer to Ryan was enough to retain a player who wished to stay as 'it wasn't far off' matching the €300,000-a-year package from Paris.
"Donnacha has been at a World Cup, he's done most things in the game, he's won Six Nations Championships, you know, he thoroughly enjoyed November and the experience that he had there," Schmidt said in Carton House yesterday.
So he felt that there was an opportunity to experience something a little bit different before he finished his career and broaden his experience a little bit, in case he wanted to extend his rugby career in a coaching role or mentoring role.
"So I understand that, and he also understands our stance."
With another 33-year-old forward, Jamie Heaslip, inking a fresh central contract to keep him through the 2019 World Cup, there is understandable consternation that Ryan has been allowed leave while the number eight is rewarded. Privately, the IRFU are bewildered by the fixation on central contracts when, in such a tight-knit four-team system, money effectively comes from the same pot. And in the case of Ryan's contract, they were prepared to pay up to 66%, with the remaining third to come from Munster's budget.
From Schmidt's perspective, the Tipp man's move to France is for a change of scenery rather than monetary reasons. However, people within the Munster setup and close to Ryan would contest that view.
"He was definitely offered a contract," Schmidt said, "I don't think it was far off his old one. I don't know the numbers to be honest, but I think people definitely worked hard to keep him. I know the phone calls I made and also the discussions I had.
"Also, I have huge respect for him. As I said he's done most things in the game, and he has, I think, a valid reason for doing what he's doing and he made a choice."
Although Ryan is going to the same club Johnny Sexton represented for two years while being selected in Ireland squads, his absence from the squad for the summer tour of the USA and Japan was to be expected. Ireland have a long track record – stretching back well before Schmidt's tenure – of opting against selecting players based overseas. Still, the Kiwi insists the only barrier to Ryan earning a recall is the Top 14 club's schedule and that his exclusion is simply to introduce young locks James Ryan and Kieran Treadwell to the Test arena.
"The door is never closed. And it's not closed on any other player who is playing externally, but it becomes a very difficult calculation.
"The other thing with Donnacha is he's 33, he will be 35 by the time the World Cup comes about. I know age is just a number and it's not the most important number; the number is how many line-outs you win clean or how many rucks you hit well or effective tackles you make.
"But I do think that if we were ever going to have a look at these young guys (it's now). We play South Africa, Fiji and Argentina (in November), if we need the kind of grit, strength and experience that Donnacha brings then that would probably be a place that we may involve him again. But on this particular tour we think it's a real opportunity for young guys."
"I have a huge amount of respect for him and you make your best pitch. But when he explains to you his reasoning… I don't know if you've spent too much time talking to him, but he's a very clever man and he knows his own mind.
You present your argument, he presents his and you present another argument, just to try… and, in the end, I think there's personal reasons and some professional reasons, and some broadening opportunity that has been part of it.
"I don't think it's a massive financial difference. There's always going to be a financial difference but, for me, I'd rather be excited talking about the guys we have got now."