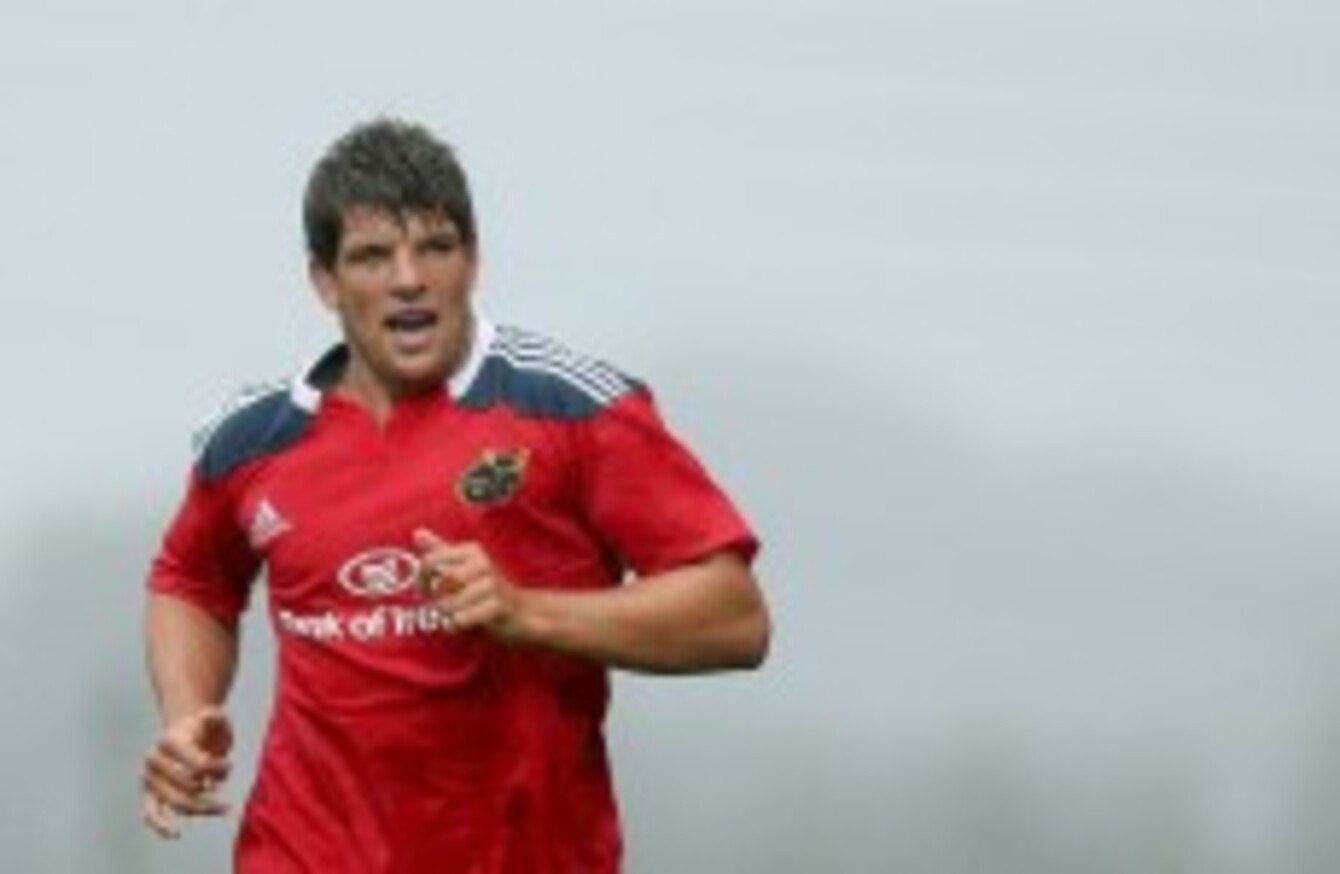 O'Callaghan remains an important presence for Munster.
Image: ©INPHO/James Crombie
O'Callaghan remains an important presence for Munster.
Image: ©INPHO/James Crombie
DONNCHA O'CALLAGHAN IS likely to receive deserved plaudits this weekend as he prepares to become Munster's most capped player of all time.
The tireless lock is in line to make his 241st appearance for the province if he is included in the squad to face Zebre at Musgrave Park, as expected. O'Callaghan made his senior Munster debut in 1998 against the Edinburgh Reivers at the same Cork venue.
His service ever since has been exemplary and Munster head coach Rob Penney says the 34-year-old has earned respect and praise as he gets set to surpass Ronan O'Gara's record for caps.
"It's a great achievement for Donncha," the Kiwi told TheScore.ie. "A great man being replaced by another great man in the record books, which is what happens. Donncha deserves every plaudit and superlative that you can dish out to him.
He's been such a great professional for such a long time and he's still got a lot left in the tank yet. He's a pretty special athlete and he's got a great mentality. I can't speak highly enough about the man and what he's done for Munster."
O'Callaghan signed a new two-year contract with the southern province in December, meaning he will stay with Munster until at least the summer of 2016. Penney believes that second row could follow in the footsteps of the likes of Simon Shaw by playing until he is close to 40.
Many of the glimpses into life behind the scenes at Munster through the years have painted a picture of O'Callaghan as a key man in the creation of squad spirit. Penney admits that that facet of his personality hasn't changed too much.
"You can't take that out of people. He's naturally gifted in that way. He's calmed down a bit, because otherwise his kids will start having those traits and learning what he's up to. He's got to pick his time and place, but he's still a comedian around the group."
There is so much more to the lock than his personality and ability to enjoy being around the Munster squad though. O'Callaghan is teetotal and highly disciplined in his approach to training, recovery, rehabilitation, rehabilitation and video analysis.
Beyond the joker image, the Cork man is a serious, diligent trainer and that allows him to operate with a huge work rate on the pitch. His rucking skills have been invaluable to Munster, while his choke tackling has been field-leading in the last five years.
Those skills in the tight, coupled with his line-out work and powerful scrummaging, are among the least glamorous duties on the pitch, but O'Callaghan's excellence in carrying them out has made him important for Munster again this season.
Penney is a big fan of the Ireland international and points out that the province have been trying to get more from him in an attacking sense in the last two seasons.
He's got a massive work rate, so if there's things to be done, he's in there doing it. He'll be the one that puts his hand up if there's some hard work to be done. He's also very skillful and that's something we've been trying to bring out in him.
"He's such a positive influence psychologically around the group. So there's layers to his game, you can't take one bit out of it and say 'That's Donnacha.' There's multiple layers to what he brings and some of them are tangible rugby stuff and others are intangible psychological, social type stuff."
Munster play Zebre tomorrow night at Musgrave Park [KO 6.45pm].