THE REUNION is planned for today at noon in the Greenhills Hotel in Limerick.
Afterwards the short walk will be taken up the Ennis Road to the Gaelic Grounds for the 2pm throw-in.
They will meet and stir up memories of a time when St Colman's Fermoy were hurling kings in Munster and then see if the current crop can attain that level of success in this year's final instalment of the Dr Harty Cup.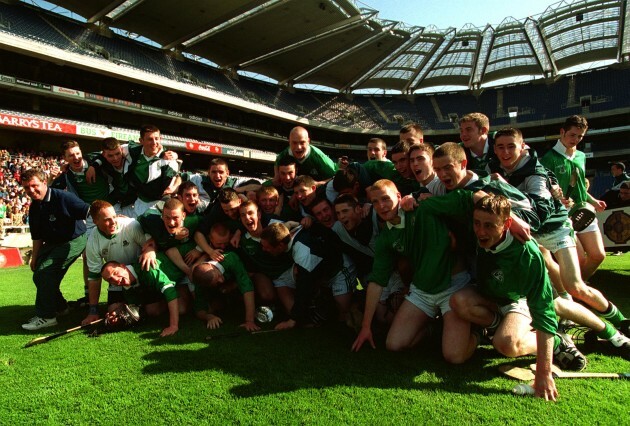 Lorraine O'Sullivan / INPHO The St Colman's team celebrating their 2001 Croke Cup final win. Lorraine O'Sullivan / INPHO / INPHO
It is the end of a 14-year wait for the North Cork school to be one of the last two standing. The lack of a final appearance has been all the more glaring when contrasted with the era where they illuminated the colleges hurling scene.
Maurice O'Brien's hurling days of late have taken him on the inter-county circuit with Limerick and Dublin.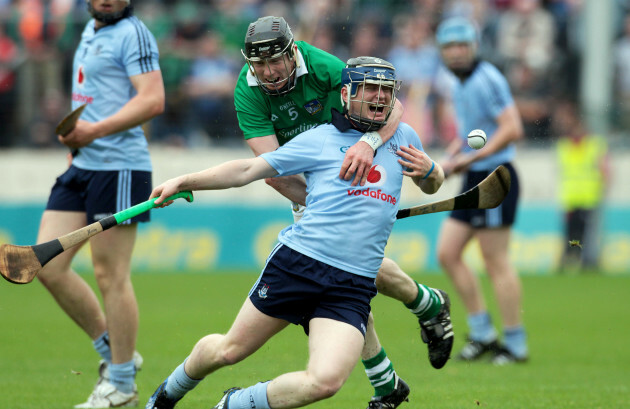 Cathal Noonan Maurice O'Brien in action for Dublin against Limerick in Thurles Cathal Noonan
But St Colman's was a guiding light in his development and he's pleased to see them back on the main stage.
"It's surprising it's taken so long. I guess the end of the boarding would have to be a big factor, but in our time, there was a lot of locals in the team.
"The old school ties are still very prevalent. We'd great times up there. Gus Kelleher, a former teacher in Colman's, got on to a few of us after the semi-final about meeting up before the final and we spread the word. It'll be good to meet up with all those old faces."
O'Brien was at the heart of a glorious run. He won Dr Harty Cup medals in 2001 and 2002, bouncing on both years to collect the All-Ireland Croke Cup. He had finished school in 2003 when St Colman's completed a Munster three-in-a-row in Munster being foiled by St Kieran's Kilkenny in the All-Ireland final.
He makes no secret of the fact that hurling was at the root of his decision in choosing what secondary school to go to. Toying with the idea of heading to St Flannan's in Ennis, the 1996 All-Ireland win by St Colman's nudged him in their direction.
The Fermoy school is only a half hour from his Garryspillane home in south Limerick. He enrolled as a boarding student and what unfolded was a steady stream of shining hurling moments.
He started out playing Harty in third year. Different games jump out in his recollections. They lost a semi-final one year to a Farranferris team powered by Tom Kenny. The battles were constant with St Flannan's, a team anchored by Limerick's Niall Moran and future Clare seniors like Gerry O'Grady, Barry Nugent and Andrew Quinn. They finally put the Ennis school to the sword in the 2001 final.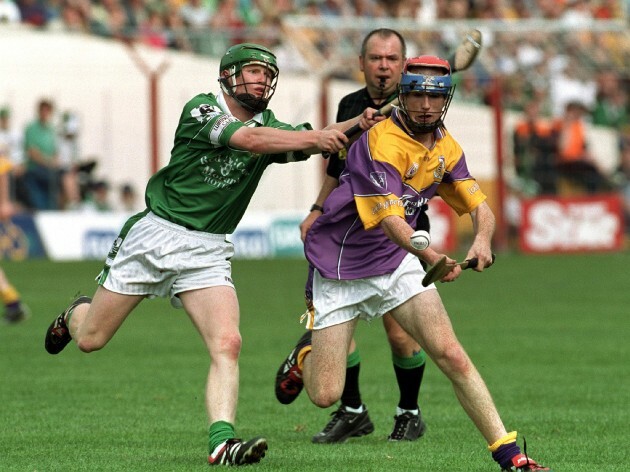 INPHO Maurice O'Brien won an All-Ireland U21 medal with Limerick in 2001 against Wexford INPHO
"When you're in Colman's, the Harty team is the pinnacle," says O'Brien.
"You're training a lot for it. We hadn't seen it in my time in the school.
"To get to the final and beating Flannan's was the pinnacle. It was massive for us and the celebrations were huge."
St Colman's entered the All-Ireland series that year and prospered. They beat Gort Community School in the final played in Croke Park, a bunch of wide-eyed teenagers sampling hurling life at headquarters.
"However Denis Ring managed to swing it, what was meant to be a puck around, we got to have a bit of a training session a couple of days beforehand," recalls O'Brien.
"It was a fantastic experience. I remember Iarla Tannian was playing for Gort, I ended up playing alongside him for LIT in the Fiyzgibbon, when Davy (Fitz) was our manager."
Then there was St Kieran's, the Kilkenny benchmark that loomed large every year for Colman's to measure up against.
"We'd a good few battles with them. We played them in challenge matches throughout.
"It was a bit of shadow boxing, not playing our top players and probably the same at their side. We were always hoping we'd meet them further down the line.
"The 2002 (All-Ireland) final was a titanic battle. It was a horrible day in Thurles, very low scoring, we only won by a point. They'd Cha (Fitzpatrick), John Tennyson, Richie Power, (Michael) Rice, the backbone of a very good team.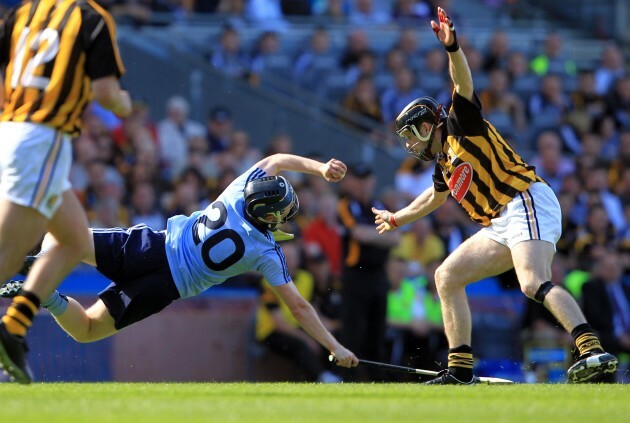 Donall Farmer / INPHO Maurice O'Brien and Michael Rice in opposition in the 2011 hurling league final Donall Farmer / INPHO / INPHO
"Looking back at the match programme, they'd some calibre of player. It was a huge victory."
When O'Brien recites his own team-mates, it is a sparkling roll call of players who used St Colman's as a springboard to bigger and better things.
Brian Murphy would go on to win All-Ireland's with Cork at corner-back. The Kearney brothers from Tallow hurled for Waterford, Aidan at senior level during Justin McCarthy's time.
Stephen Molumphy became a Waterford senior captain in time, standing on the Munster winners podium under the Thurles floodlights on a July Saturday night in 2010. O'Brien would go on in 2002 to win an All-Ireland U21 medal for Limerick with Patrick Kirby.
Brian Murphy (Cork)

Source: Morgan Treacy/INPHO

Aidan Kearney (Waterford)

Source: Lorraine O'Sullivan/INPHO

Stephen Molumphy (Waterford)

Source: Lorraine O'Sullivan/INPHO

Patrick Kirby (Limerick)

Source: INPHO
One name shone brighter than others at that time. Every electric free-scoring display that Andrew O'Shaughnessy produced, only served to increase the hype about the incredible hurling talent from Kilmallock.
"Myself and Shaughs started together in Colman's," says O'Brien.
"Andrew was a phenomenal player. Some of the performances he put in were magical for us.
"I remember the day against Gort, when we were probably under the cosh a little bit, he popped up with 2-8 in an All-Ireland final.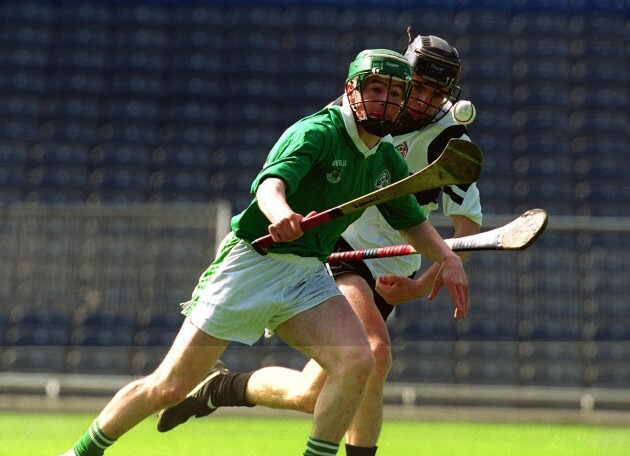 Lorraine O'Sullivan / INPHO Andrew O'Shaughnessy in action for St Colman's in 2001 in Croke Park. Lorraine O'Sullivan / INPHO / INPHO
"And even in lesser games when we were under pressure, against Cashel Community School I think it was in 2002, Shaughs popped up with three goals. When we needed him, he delivered.
"Another game against Dublin Colleges, when they'd Conal Keaney and Stephen Hiney playing, I went on to play with a lot of them and they'd a great memory of that game.
"Shaughs popped up with a goal in the last few minutes then as well.
"He was often double marked, really tightly marked by their best player but he always came up trumps for us. An exceptional player."
O'Shaughnessy's Limerick senior career that followed did not deliver a comparable haul of silverware. In 2009 O'Shaughnessy was diagnosed with MS but he battled back to play again and O'Brien was thrilled in 2015 to see his old team-mate part of the Kilmallock setup in a St Patrick's Day club showpiece.
"It didn't work out for a long career but again he did show his qualities at inter-county level.
"He was probably Limerick's top player for a number of years until the illness struck him down. The whole atmosphere in the Limerick setup didn't help with changes in managers throughout the years.
"I guess when we got a little bit of continuity in 2007, he showed his true potential. He won an All-Star that year and had a big say in bringing us to the All-Ireland final.
Haydn West / INPHO Andrew O'Shaughnessy celebrating Limerick's 2007 All-Ireland semi-final win Haydn West / INPHO / INPHO
"It was fantastic to see him back involved (in 2015). Chatting to him in the build up to that, he still wants to play and would still be giving out that he wasn't on the starting team.
"He had that competitive edge and he'll never lose that."
It was a brilliant time in their hurling lives.
"We hurled almost every day. I think looking back, we were probably training at a level beyond everyone else at that time.
"It was a very professional setup. We were even gone into body weights circuits, which was probably ahead of its' time.
"They were very special teams to be part of. I'd be very proud to have played with them and got to know them."
O'Brien has kept an eye on the progress of the current crop. He came back to live in Limerick a year ago. Coaching is his calling card these days, a spell with the Ahane senior hurlers in 2016 and now he's plotting for the Limerick U21′s this summer.
The Munster scene is one he keeps a close eye on. He noted St Colman's Dean Ryan Cup success last winter and came away from a Dr Harty Cup extra-time win over St Flannan's before Christmas, thinking this was a team that could achieve something.
Opponents Templemore will carry an aura, spearheaded by Brian McGrath, Paddy Cadell and Lyndon Fairbrother, all minor champions with Tipperary last September.
But O'Brien has seen a dogged streak and a sense of unity in this St Colman's side. There's a new Harty Cup chapter to be written.
The42 is on Instagram! Tap the button below on your phone to follow us!