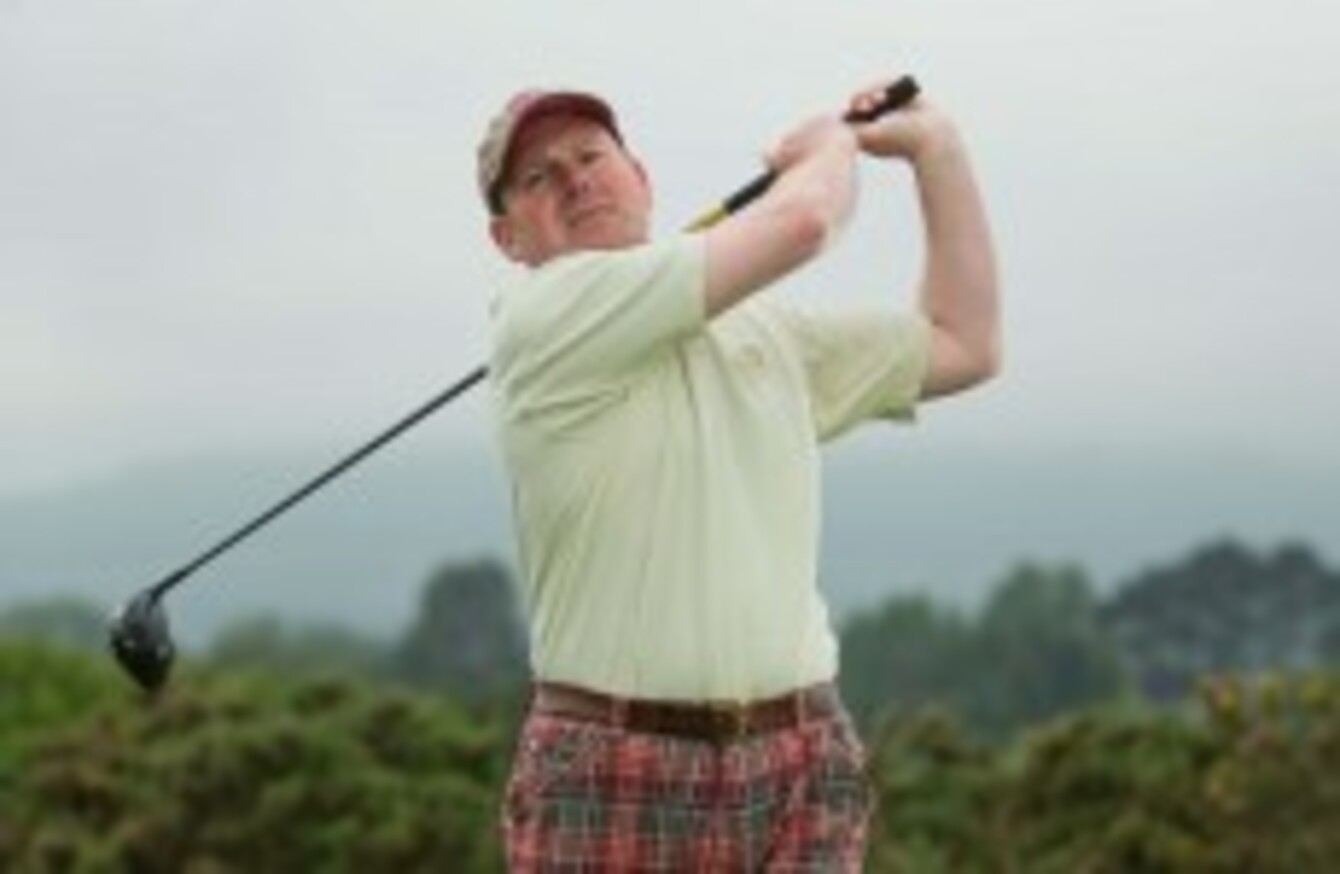 Kevin Markham on his home course Greystones.
Image: Morgan Treacy/INPHO
Kevin Markham on his home course Greystones.
Image: Morgan Treacy/INPHO
THE PHRASE "GOLF is a good walk spoiled" is often erroneously attributed to Mark Twain but, whoever first said it, well, they had it all wrong. That's the view of Kevin Markham who set out on an 11,000 km journey to play every 18-hole golf course in Ireland.
Along the way Markham discovered the overrated, undervalued and every other type of course the country had to offer. He also somehow convinced his wife to let him play two rounds of golf on their honeymoon.
"We went to Waterville to try and play but it didn't work out so we went to Parknasilla instead. A couple of days later we played Killarney and I sold it to her on the location and the views but yeah, I was very lucky."
Those were just two of the 350 courses Markham played but what would prompt anyone to play every golf course in Ireland?
"I was at my local course in Greystones when one of my playing partners said he was off to Newcastle West soon and he asked if any of us knew much about it," Markham told TheScore.ie.
"I had to admit I didn't so, after the round, I went to the local book shop and had a look around at all the golf books they had and not one of them mentioned Newcastle West – my home club was treated the same – and I just thought that was insane.
"Ireland is so well known for it's golf but it's the links courses that everyone talks about because there is such a limited number of them around the world and we've got a third of them so people are going to rant and rave.
"However, for the average golfer like me, who isn't necessarily going to go off and play these courses, some of which can be very expensive, I wondered about all the gorgeous courses around the country that people might not have heard of."
The planning stage was helped by the fact that Markham had already played about 30 courses in Ireland which meant he had enough experience to feel confident about approaching a publisher.
"I could have gone about it haphazardly and just drove around the country playing any course I could find but I didn't think that was the best way to go about it so I tried to plan two, three, four week trips that would take in a number of courses.
"I found the best way to do this was in loops. So, my first trip went across to Cork and came back through Tipperary. Each loop took me away from home for about a month at a time."
Had Markham had to pay his way around the 350 courses on his trip, it would have cost him over €17,000. However, all the courses allowed him play for free once they realised he would be including them in his book.
That's not to say, however, that Markham's adventure was cheap. While he's been too terrified to add up the receipts for fuel, food, etc on his numerous trips, the camper van he used for the trip cost €15,000 and was in such a state by the end that he couldn't sell it for anything close to that price.
Despite playing more than 30,000 shots over 6,400 or so holes, the weather – somewhat surprisingly – didn't actually have that much of an impact.
"Everyone asks me 'what was the weather like' but I never really noticed it. Indeed, only one round was delayed by the weather in all the times I played.
"After I finished I rang Met Éireann to ask for the historical data as to how much it actually rains in Ireland and what I found was that – if you add up all the rain we get here and front load it to the start of the year – it would only last 50 days which means we have 315 days without it and yet, guess what we talk about?"
SEE SPORT
DIFFERENTLY
Get closer to the stories that matter with exclusive analysis, insight and debate in The42 Membership.
Become a Member
The seven handicapper is in no doubt as to which courses were the most visually stunning during his trip.
"Three of the most beautiful courses in the country are in Kerry. Dooks, Waterville and Tralee. I mean, they're absolutely astounding. Obviously the links courses are blessed with location and, really, the only parkland course that stands out is Scrabo in Newtownards, Co. Down."
There were plenty of courses that didn't impress either, including a number of high-profile ones.
"Personally, I think the Smurfit course at the K-Club is overrated.
"Obviously, this is all very subjective but, to me, it's terribly manufactured and you feel that when you get there.
"I like a certain natural element and, for the amount of money you pay to play it, you're playing for the name and I don't think the course is good enough."
Thankfully, there are dozens of courses Markham played that he'd never heard of before which turned out to be utterly enjoyable experiences; places like Portumna and Portarlington.
However, the thing about Driving the Green is that the courses often play second fiddle to the characters.
Some – like Moira and her two new hips – come across really well. Others, like the Mount Wolseley group who were willing to gamble thousands on a single round, not so much.
Indeed, had Markham taken up their offer, the round would have cost him €3,500.
After playing all that golf you'd imagine Markham might want to stay away from the tee box for a while but there's a round of golf waiting for him tomorrow.
There's a good walk to be had afterall.
Driving the Green is published by The Collins Press and available online and in all good bookshops.