IF YOU'RE READING this, there's a fair chance you're on track with your marathon plan.
If so, well done. It's not simple and requires discipline and good time management (I can do better with both), but the rewards at the end are massive.
There's not many things to beat the feeling you'll experience when crossing the line to complete a marathon.
If you've experienced it before, you know what I'm talking about. If you haven't, you have something very special to look forward to.
Cathal Noonan / INPHO Cathal Noonan / INPHO / INPHO
The first time was the best, I found, after finishing the 2009 marathon.
New York in 2010 was special, coming in under 4 hours, but they're all different and exhilarating in their own ways.
You might have had a special motivation for one particular marathon, which meant that achieving your goal had that extra significance.
Whatever it is, carry it with you as we start to seriously build up the miles over the next few weeks, and your mental strength will be tested.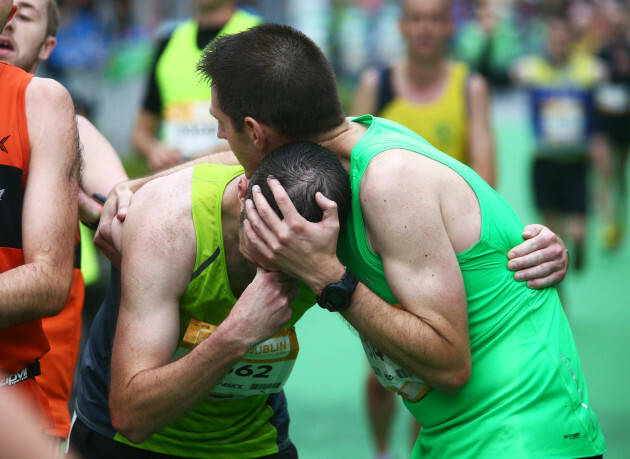 Cathal Noonan / INPHO Cathal Noonan / INPHO / INPHO
Next weekend's long run is 12 miles, and the weekend after that it doesn't get any easier, when you'll complete a half-marathon (13.1 miles).
But please don't look ahead too far, and I've stated this before.
Today's run is 3 miles, get that done, and move on.
You'll really tie yourself up in knots if you look at the weeks to come.
At the end of each week, have a quick look at the plan, take a deep breath, and let it sink in.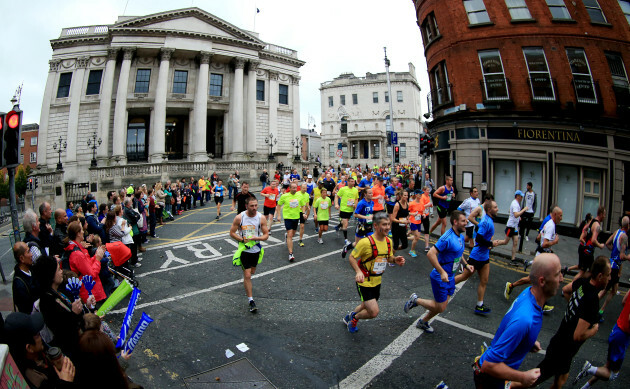 Donall Farmer / INPHO Donall Farmer / INPHO / INPHO
Day by day, mile by mile, continue to build towards 29 October, and that start line.
It will come quicker than you think but if you stick to the plan, you'll be ready, and you'll get there.
I've had a steady couple of weeks, and breaking into double figures with a 10-miler was a nice milestone.
Slow and steady is the key on the long runs but if you feel like really opening up the lungs, hammer into the shorter 3-mile runs.
Here's your next two weeks of the Hal Higdon novice 1 programme:
Week 7
Today 3 miles
Wednesday 6 miles
Thursday 3 miles
Friday Rest
Saturday 12 miles
Sunday Cross training
Week 8
Monday Rest
Tuesday 3 miles
Wednesday 6 miles
Thursday 3 miles
Friday Rest
Saturday Half marathon (13.1 miles)
Sunday Cross training
To finish this week, here are some more useful tips from former Dublin hurler Joey Boland, and the team at Sports Physio Ireland.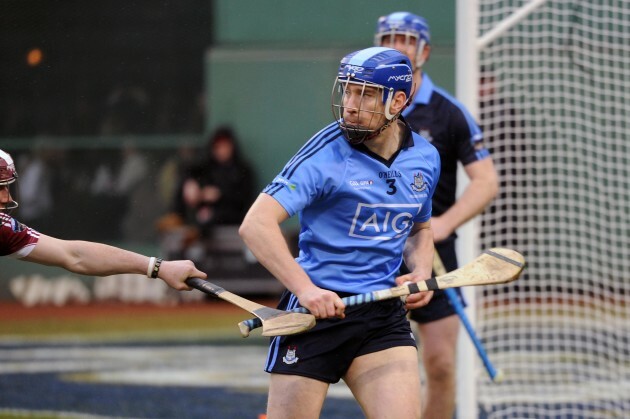 Emily Harney / INPHO Emily Harney / INPHO / INPHO
1. Building the capacity of the legs and trunk to tolerate the loads involved in running.
Strength training has shown to be protective against running injuries. It is important to be strong moving in all directions.
This involves exercises such as a side lunge, reverse lunge and a variety of core exercises such as anti-flexion or anti-rotation exercises.
2. Monitor your training load
If managing an injury while training or not, always track your training regime.
This may involve tracking the distance ran, the pace, rate of perceived exertion x time and symptom response (if managing an ongoing injury).
This may aid runners in identifying factors relating to their programme that may negatively influence performance or their injury symptoms.
3. Progressive Return to Running
A progressive return to running after injury is important, to respect that every injury is different from the degree of injury and the cause.
More info can be found on our blogs on this exact topic, here and here.
And, finally, if you do get injured while running or you are carrying an injury in training, consult a doctor or physiotherapist, as the most important part of rehab is identifying the injury and cause in order to plan an effective rehab.
****
Running is predominantly an activity where an individual is only on one leg at any one time.
This means that an individual must integrate single leg exercises into their rehab and strengthening program.
With that in mind, it is also important to have a balance between knee dominant and hip dominant exercises, as well as have a balance between double leg and single leg exercises.
In our session with Jackie last week, we focused on knee dominant exercises as our main exercises, for the purposes of technique while our next session will focus on Hip dominant exercises (Double and single leg) in order to reinforce the hinge pattern required in hip dominant exercises.
Once the movement patterns are correct, sessions will integrate between hip and knee dominant exercises in order to facilitate a well balanced athlete and avoid overloading any particular structure in the run up to the marathon.
As part of our circuits and recovery stations we prescribed a rehab exercise particularly for Jackie's ongoing heel trouble by focusing on loading the tendon, and eccentric calf strengthening. More regarding injuries can be found on our blog.
The42 is on Instagram! Tap the button below on your phone to follow us!