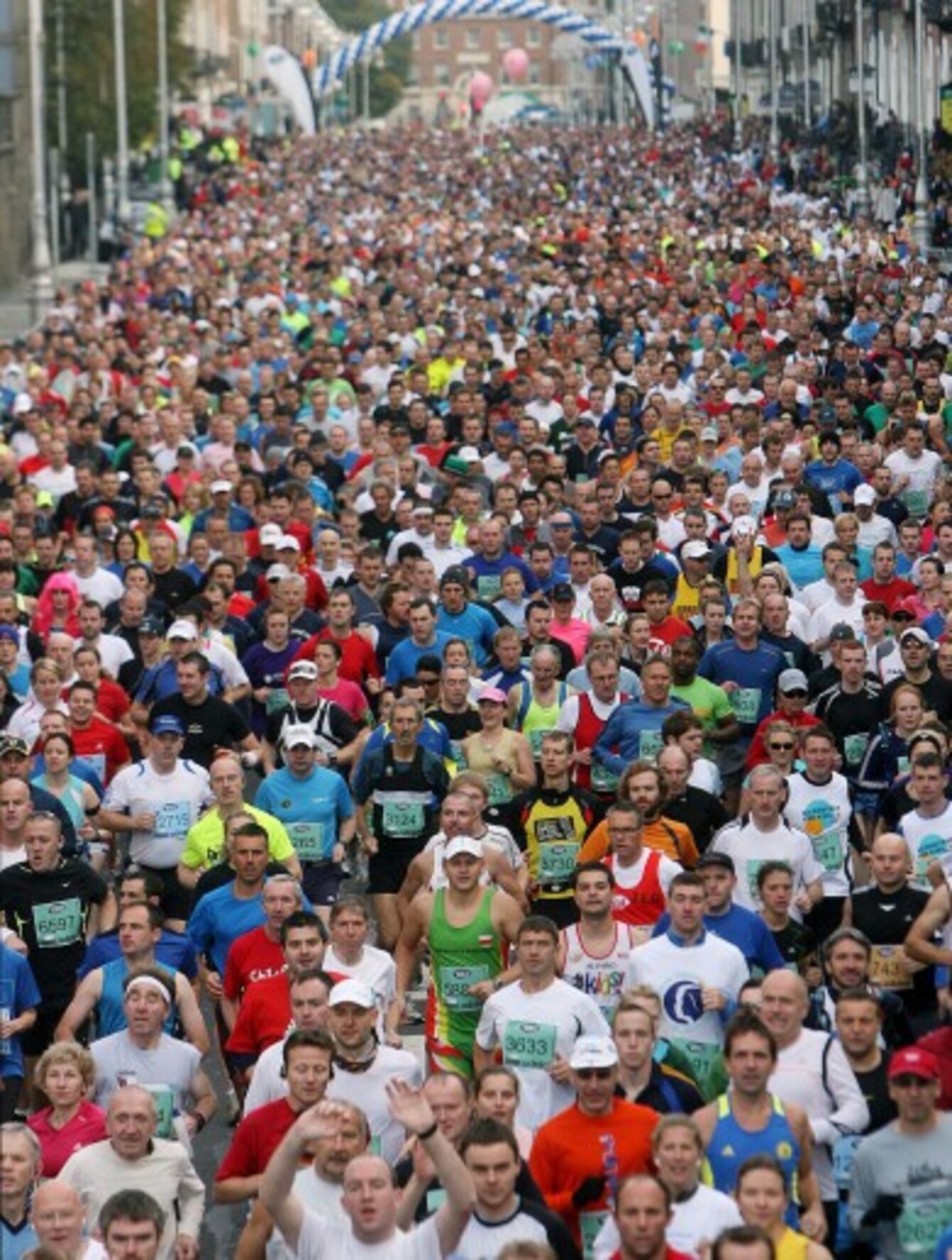 Some of the 12,750 people who took part in the 2009 Dublin City Marathon.
Image: Niall Carson/PA Archive/Press Association Images
Some of the 12,750 people who took part in the 2009 Dublin City Marathon.
Image: Niall Carson/PA Archive/Press Association Images
THE 34TH DUBLIN City Marathon takes place tomorrow and those of you taking part are probably doing your best to relax as you mentally prepare for the 26.2 miles you will run, jog or walk tomorrow.
Some of you will be running it for the first time, some for the 10th so, with that in mind, we'd love to know a few of your memories from running the event.
Here are a few to get  you started:
I'd trained really well for the my first Dublin City Marathon in 2009 — better than I could ever have imagined actually — and had high hopes for a decent time as I took to the start line on that crisp October morning, taking in the sights, sounds and unmistakable smell of Deep Heat.
I was well on course for my goal time at the half-way mark. Shortly afterwards though, I decided I was going to take up the offer of a sweet from one of the onlookers but, returning to the road, I slipped off a kerb, hit my knee, and felt a degree of pain I didn't know was possible (I subsequently found out I'd fractured my knee cap). I hobbled to the nearest first aid area and was advised to call it a day.
However, I was running the race for the Irish Cancer Society — my father in law had died of a brain tumour the year before — and nothing was going to stop me from completing it so I limped around the last 12.5 miles in three and half hours and, even though I was this fat bloke who looked like he was taking it handy, the crowd were still really supportive — almost unbelievably so — and were a huge part of the reason I was able to finish the course.
-Steven O'Rourke, TheScore.ie
The support from spectators along the Dublin Marathon route is always great. My first time running it, in 2004, the crowd at Dolphin's Barn spilled onto the street and runners had to squeeze through, like on those frenzied Alpine stages of the Tour de France.
The marathon also brings out the mythical Dubbalin wit. Runners in last year's race will remember the sign on the North Circular Road: "Look Alive: Morgue Ahead". Then there are the plates of sweets that spectators offer you. Between Harold's Cross and Terenure, the Dublin Marathon is like a trolley dash in the pick n' mix aisle.
In Walkinstown in the 2011 marathon I passed a woman offering a plate of Mars bars; for the next mile I had to fight the urge to turn back and help myself. One unfortunate spectator near Terenure probably doesn't remember the 2011 Dublin Marathon so fondly.
As the 3:30 pacers and their followers (including me) passed by, she shouted well-intentioned words of encouragement: "Keep going, you're well on course for 4 hours!" Who would have thought marathon runners could spare so much energy for the shower of swearing that rained down on that poor woman?
- Aidan Curran, Run & Jump Blog
Unless you're part of a hugely impressive yet borderline lunatic brand of the running elite, slogging your way around 26.2′s always going to be a memorable experience.
Dublin has hefty pros and cons: my stumble around the course in 2012 featured an elephant chorus on the way past the zoo in Phoenix Park and a 'sprint' finish in which I proudly defeated a heavy-set hobbler but lost comfortably to the nine year old son who'd joined him for the final few metres.
The lows come in the mid-late section: the Dublin course has phenomenal support but turns into a serious slog from the 10th or 12th mile onwards right up until the RDS comes into view, a part of the course that could use a serious revamp on the 'points of interest' angle.
The Rathfarnham/ UCD/ RTE section in particular is a grit-your-teeth and go section where it pays to find someone to chat through the pain. In general, it helps if you're greased, prepped and don't let nerves push you off the start line too fast, but that's probably not news.
On finishing, though, only time and pride really matter; I was amazed how much the personalized reaction to a name stamped on my shirt drove me on (don't forget, it's a nice momento too), and how little you can notice a foot-full of blisters and even the rain until it comes time to stop. Ultimately you're only racing yourself, and once adrenaline kicks in, its a step at a time to a life-long memory.
- James Hendicott, journalist
I had played rugby all during school and having tired of the relentlessness of drudging around soggy pitches in the wind and the rain all winter I decided that I'd take up running for a while. This was before the internet was really ubiquitous so I didn't really have a training programme or anything I just knew you get miles under the belt, do a few long runs as you get close to the big day and eat a boat load of carbs.
I travelled up to Dublin from Cork on the Sunday and headed to the RDS to collect my number and after a solid feed hit the sack early. To be honest my ignorance was actually a great strength, here I was 18 years of age, having never run an organised race of any distance let alone a marathon but I knew I'd lots of miles under the belt so it should be fine and to be honest it mostly was, there was a really hairy mile around mile 19 that was straight into the wind but I had found another fella who was running a similar pace to mine and we kind of kept each other going.
The run into the finish, which was in Smithfield that year was great, you knew you were nearly done which gave you so much extra energy and I think my 26th mile was among my faster miles which is what you want. I finished that year in3:13 which at the time I didn't really appreciate was a decent time for an 18 year old in their first race.
I went back the following year and improved slightly to 3:11, before deciding to retire from running aged 19 and go back to play team sports which don't suffer from the solitude of pounding out the miles on your own!
Dave O'Neill, TheScore.ie reader
But what about you, what are your favourite memories of the Dublin event? Let us know in the comments below: