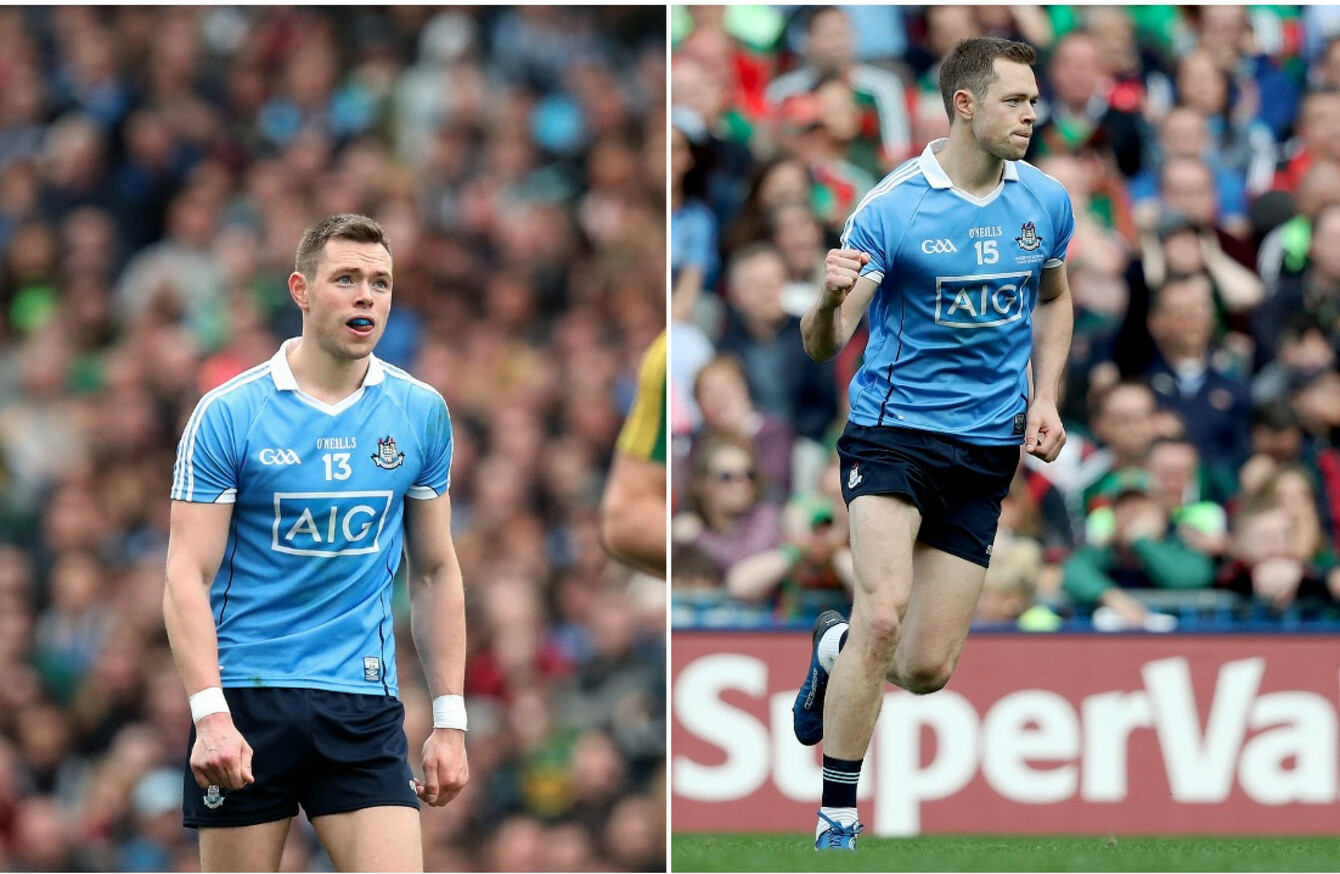 Contrasting emotions on free-taking for Dean Rock.
Image: INPHO
Contrasting emotions on free-taking for Dean Rock.
Image: INPHO
Updated at 09.00
THE CONTRAST WAS striking.
On 9 April, Dean Rock stood over a tricky free from distance in Croke Park and launched a shot that brushed the upright of the goal in front of Hill 16. Kerry cleared their lines, the final whistle sounded soon after and Dublin had been defeated in a league decider.
On 17 September, Dean Rock stood over a tricky free from a more favourable distance in Croke Park.
The stakes were higher, the stadium a cauldron of noise but he held his nerve to sweep the ball between the posts. That would be the last score of the 2017 All-Ireland final and it was a critical one. The point that would separate Dublin and Mayo to ensure the capital were crowned champions.
"At the time he was very disappointed but as I said to him at the time he was very far out," recalls former Dublin star Barney Rock of his son's miss in April.
"He actually struck it well but the ball just never came in. He is trained to kick it and (as) he was being brought up, he was trained to kick all those frees and he was kicking of the ground also.
"It is all practice and he definitely has the nerve. That was the important one to put over, it was a shot to win it and he stood up and put it away well."
Rock coped with the immense pressure and even the unusual occurrence of a GPS tracker being lobbed in his direction in an effort to unnerve the 27-year-old.
"I saw the picture, yeah," admitted Barney.
"When you are taking a free and you (put) it down, you are concentrating on it and you don't see anything else but the goalposts and the ball.
"What amazed me is that it was happening throughout the game that people were coming up, that 10-metre rule around the player it just doesn't happen.
"I thought he played in general well, trying to get on the ball. Certainly in the second half when they needed to get scores he got them."
"I was glad that everything went right for him, but he works hard."
Be part
of the team
Access exclusive podcasts, interviews and analysis with a monthly or annual membership.
Become a Member
Dean Rock has known more difficult days at the Dublin office. His first taste of All-Ireland final action was as a substitute in the 2013 final, he started in the decider two years ago but was called ashore at half-time.
Last year the free-taker stepped up with a 0-4 tally in the drawn game against Mayo and 0-9 in the replay – ten of those points from dead ball situations.
Jim Gavin was keenly aware of what Rock could offer from their All-Ireland U21 winning days of 2010. That helped him remain in the manager's thoughts while the player also had to recover from a serious hamstring injury in 2011.
"I think Jim knows his worth in that end of it, even though he has been taken off in some of the matches earlier," says Barney.
"I'm sure once you go down the line, last year the same thing in the final. He mightn't have started well, but he was still there and he was still kicking the balls in the end. Replay in the final he came out and did it.
"He had a bad injury after the 21′s in 2011. They were beaten by Meath after extra time, and actually the hamstring was tore off the bone.
"That came off, but listen we got it back. We ended up with Dr. Eanna Falvey from Cork.
"He looked after him, got him in there. Monaghan's Ciaran Murray, we went up to Dundalk and he worked on him for about six months to get it right.
"He came back and won a club championship with Ballymun. Listen he had to be devoted to that and make sure he was right."
On Sunday he stood up and kicked the key scores when needed. Barney witnessed his son become the match-winner and Dean's best friend James McCarthy crowned man-of-the-match.
"The two of them grew up together from the age of seven. They played football together from Ballymun. They are the closest of friends.
"From that point of view James drove him on as well and Dean drove James on. So, it was good for both of them."
Subscribe to The42 podcasts here: