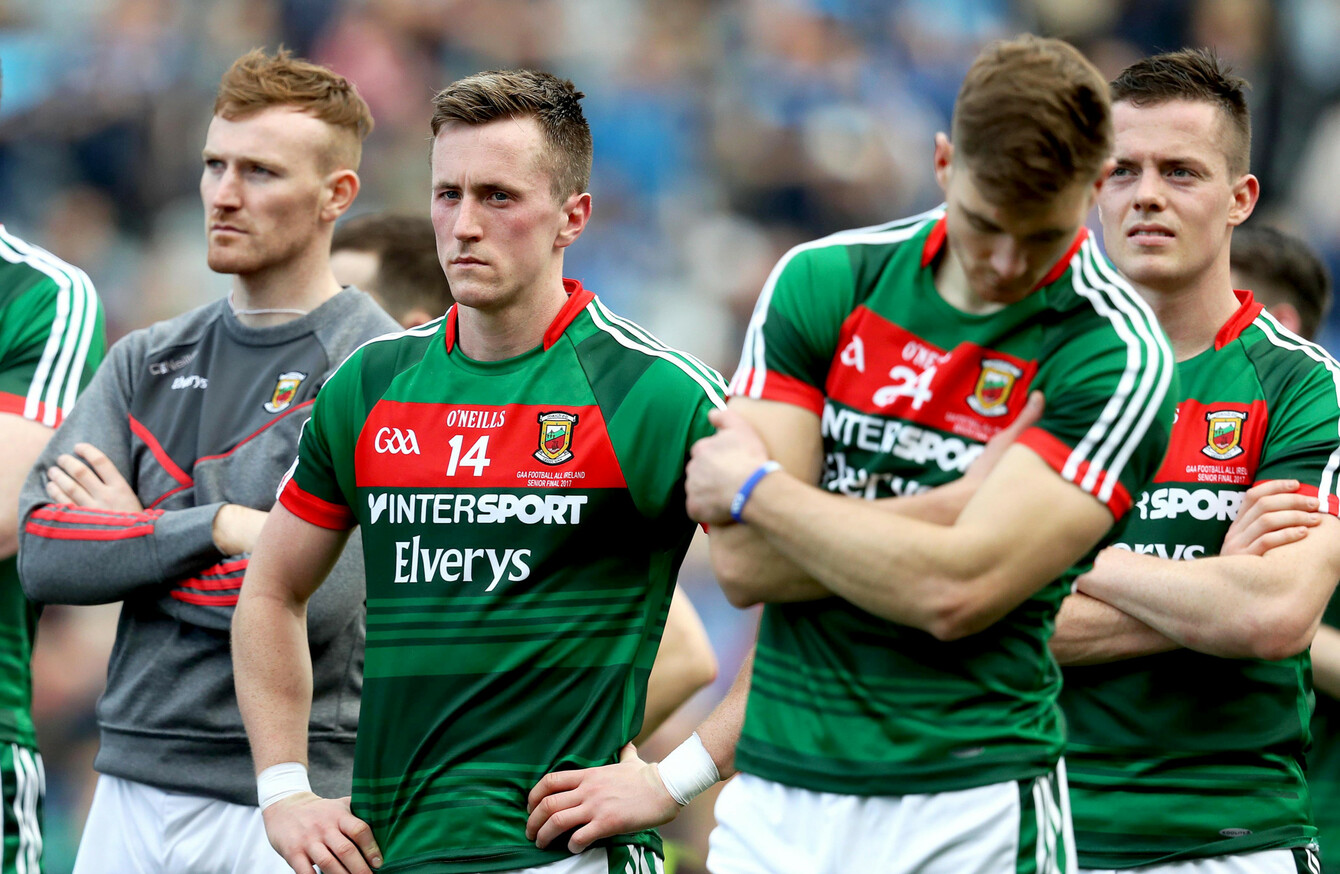 Image: Tommy Dickson/INPHO
Image: Tommy Dickson/INPHO
WITH THE CLOCK reading 75:30 in the replay of last year's All-Ireland final, Cillian O'Connor stood over a free to level the game.
He was situated outside the 21′, and just a few steps away from the sideline hugging the Hogan Stand.
It was a difficult position to score from, and after 75 minutes of sustained intensity against Dublin, it was a big ask of the Ballintubber man.
He had already converted nine frees throughout the game, and with the six minutes of additional time almost up, he had no choice but to kick for the posts.
As he swung his shot toward the Hill 16 goal, the ball began to curl far too early and slipped past the wrong side of the inside post to the chorus of cheers from the Dublin supporters.
Source: GAA Highlights HD/YouTube
Yesterday afternoon, the Mayo captain found himself in similar territory, although in slightly different circumstances.
This time the sides were level, and O'Connor drew a free from Dublin's Michael Fitzsimons at the end of normal time.
But just as he did the previous year, he failed to direct the ball over the bar, with the post on the other side of the goals denying him.
Dean Rock encountered no such cruelty when he was presented with a similar opportunity, as he glided his free over the bar to secure a one-point win.
Mayo scored 1-16 in this year's decider, two points more than what they posted in the 2016 replay. But their rate of improvement was matched by Dublin, who jumped from 1-15 in last year's final to 1-17 yesterday.
These are the things that distinguish the All-Ireland champions from Mayo. For the Connacht side to have won yesterday, they needed everything to go in their favour, both within and outside their control.
They couldn't afford to lose Donal Vaughan to a sending off, or see Jason Doherty's goal bound-effort saved, or have goalposts interfering with Cillian O'Connor's frees.
Dublin suffered setbacks as well of course, but the depth of their panel enables them to deal with those kind of concessions.
Jack McCaffrey was forced off after just eight minutes with an injury, with Paul Flynn coming in to adequately replace him. They lost John Small to a sending off in the second half, but still managed to survive.
O'Connor has always been a diligent servant for Mayo, but All-Ireland finals have been unkind to him at times.
In 2013, Mayo were trailing Dublin by three points as the game headed into stoppage time. O'Connor brought it back to a two-point deficit with a free, but a goal was needed if they were to get a result.
Mayo went on the attack again and won another free at the end of added time, meaning O'Connor would have to hammer a shot at the packed up Dublin goal mouth.
He mistakenly opted for a point instead, thinking they had more time to get an equaliser.
It's highly unlikely he would have scored a goal, but O'Connor later told The42 that he would have handled the situation differently if he had the time back.
If I could go back now knowing that the game would be blown from the restart, obviously I would have thrown caution to the wind and tried to go for the goal," he said

in 2013.
The bizarre repeat of the missed frees between the 2016 and 2017 All-Ireland finals is another unfortunate footnote for him, but there were some moments of brilliance too.
It was O'Connor who ensured that last year's All-Ireland final would go to a replay, when he showed the composure to score an equaliser under pressure with the last kick of the game on a horrible, wet day.
Additionally, he was the joint-highest scorer in last year's replay alongside Dean Rock, which illustrates the kind of consistency he brings to Mayo's attack.
But there have been occasional moments of misfortune for O'Connor, and they tend to stand out more prominently as Mayo's search for another All-Ireland title enters its 67th year.
Subscribe to The42 podcasts here: